The Mismatched Mani Trend Is Truly Perfect For Anyone Indecisive At The Nail Salon
We may receive a commission on purchases made from links.
As summer approaches, thoughts turn to vacations, tropical beaches, and new trends for the season — whether in shoes, fashion, hair, or nails. As we consider 2023's hottest summer nail trends, moving on from dark moody winter shades to embrace bright, daring pops of color, it can be hard to decide what colors to choose. Fortunately, the latest nail trend is the ultimate in living freely and not deciding: the mismatched mani trend.
As the name implies, the mismatched manicure is a new style that revels in variety, using a different color, shape, or design for each hand, or even each finger of your manicure. In a switch from the minimalist look of milky nails or the glazed donut nail trend, made popular in summer 2022 by Hailey Bieber, 2023's summer look is maximalist, embracing all sorts of colors, shapes, and designs — all at the same time. "It's the era of the maximalist," Nails Inc. founder Thea Green told Glamour about the mismatched nail trend. Whether you do it yourself or go to a nail salon, you can indulge in several trends at once and express many facets of your personality all at the same time.
Let's look at some of the many options available to you if you want to try this freestyle, fun new nail trend.
Start your mismatch simply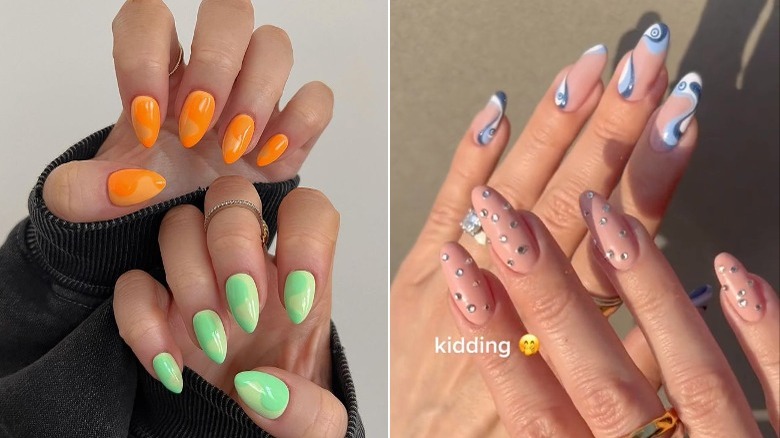 boycott_boringnails/Instagram, heygreatnails/TikTok
If you're not sure about going whole hog with your mismatched manicure just yet, you can start simply by using a different color on each hand. Use a contrasting color on each hand, mixing and matching neons, pastels, or chrome nails. If you want to go a bit bolder and experiment more, start playing with more colors, like a Skittles manicure that puts a different color on each finger, or combine two different shades of a color on each finger. Decide to use a specific color scheme for all five (or ten) fingers, such as groovy pastels or calm neutrals, or do whatever suits your mood. You can match colors, contrast them, or completely clash. It's totally up to you. Anything goes, as long as it makes you happy.
Add colors to mismatch your French manicure
If you enjoy French manicures but want to experiment a little, you can add a little pop of color to the classic look. Start by adding a shaded line to each tip, mixing up from two to ten colors as you go. You can instead, or also, add colors to the half-moons at the nail's base. These simple additions can look more complicated than they actually are. You can also adapt the basic premise of the French manicure, so that instead of having a sheer or nude base with a thin strip of white at the tip, mix it up with different complimentary or contrasting colors. You can even use different colors on each nail.
Create your own mismatched designs with nail art pens
The creativity doesn't end with mixing up colors — in fact, different colors are just the beginning. Use nail art pens to create different designs, from swirly lines, zig zags, stripes, and flames, to animal prints, lava-lamp globules, checkers, polka dots, yin/yang symbols, and more. While you can feel free to create complex patterns, they don't have to be highly intricate. Remember to use contrasting colors. "You usually want a high contrast between text and its background color," nail tech Molly Romah told InStyle, while warning that too high a contrast can look messy or unsettled. "Keep in mind black and white create the highest contrast possible," she said. Play around with different designs, placing a different shape on each finger, and mix and match the colors within those designs. The options are endless.
Expand your mismatched options with stickers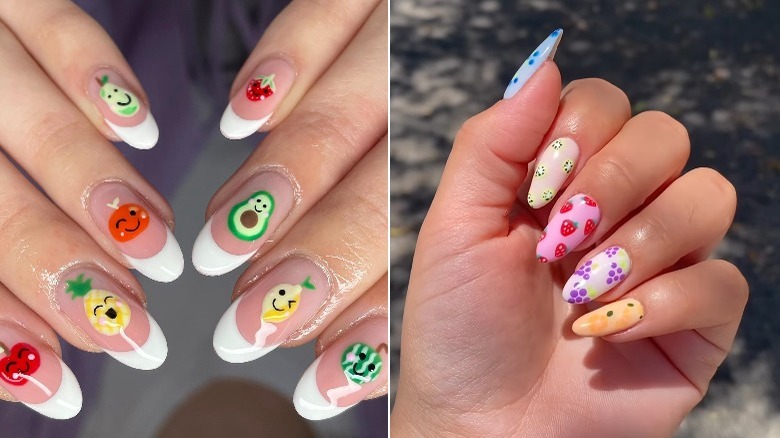 zoemollienails/Instagram, rachelsuenails/Instagram
If you want even more options for your mismatched mani, you can also add little shapes or symbols to your nails, either by drawing them on or applying them with stickers or press-on nails. From foods like cherries, strawberries, avocado, lemon, chili peppers, and even pizza, to flowers like daisies, roses, cacti, or leaves, to other items like eyes, hearts, musical notes, clouds, and aliens, you can add any number of things to your nail art. You can draw yellow smiley faces or add faces to any of the things mentioned above (like hearts, flowers, and fruits). Play with geometric shapes, or be inspired by fine art or patterns on your furniture. Have fun!
Use negative space in your mismatched mani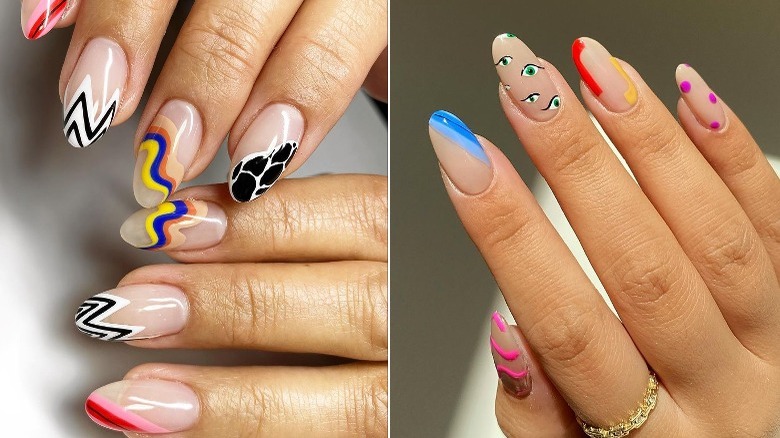 nailditbyalyssa/Instagram, amyle.nails/Instagram
While there are tons of options to choose from for your mismatched mani — colors, designs, etc. — remember that you don't have to fill every bit of space on your nails. In fact, it can look better if you leave some room. That negative space emphasizes the design. "For a minimal take on the trend, keep the colors mismatched, but pair it with some negative space," Molly Romah said to InStyle. If you place different colors and designs on a neutral nail, it can make those designs pop a bit more.
The mismatched possibilities are endless, even text
As you can see, the possibilities for mismatched nails are endless, and there are tons of things to choose from. Feel free to do a different design on each finger, or if you want to go a little simpler, choose five designs (one per finger), and put them in a different place on the other hand. This provides a cohesive look, while the small change in location makes it appear more complex than it is. You can even include text, or cute messages on your nails, like the words on those candy hearts. No matter how you decide to go, do something you'll be happy with. Embrace your indecision and express your creativity with nature's own blank canvases literally found at your fingertips.