What Are Milk Nails? Meet The Summer Trend That Will Soon Become Your Go-To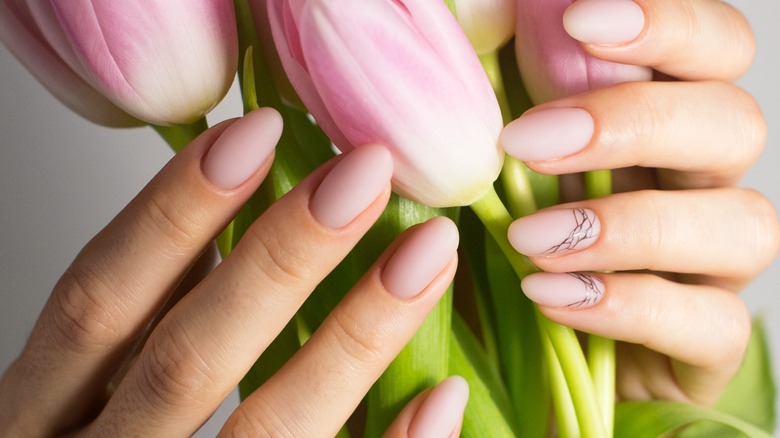 Antonio Baranessku/Shutterstock
Nail trends are notorious for being slightly extra. From 3D manicures to shimmery cat-eye nails that use magnets to perfect the look, there is simply no limit to the lengths that nail artists have gone to when it comes to innovative nail art. And while we have a deep appreciation for bold nail looks, and they're always fun to look at, styling bold nails is simply not for everyone. Throughout the summer months, when we're busy rolling in the sand, traveling out of town, and spending long nights out, we're looking for nails that are low-maintenance but high-fashion. The new milk nails trend hits both marks. 
The name of this trend comes from the semi-sheer "milky" look of these nails, which are not completely clear but definitely not opaque either. These nails are somewhere in between, often requiring just a hint of nail polish to achieve. Following in the footsteps of larger beauty trends that emphasize a "natural" look, these nails are just slightly enhanced, giving your hands a kiss of color without going overboard. Here's how to achieve the look. 
How to get milky nails
One of the best parts about this trend is that it can be achieved at home. First, choose a neutral color that closely matches your skin tone, or go for a classic white. While the sheerer the polish the better, this look can also be achieved with an opaque polish. Next, swipe just one or maybe two coats on your nails, and let the nails dry before using a high-shine top coat. The trick is to ensure that your natural nails are still peeking through the paint. That's it! Because you're using less polish, the drying time for this look is significantly shorter, great for those who need cute nails in a pinch for a last-minute date. And, because the polish is so sheer, should you happen to chip your nails, it will hardly show. 
TikTok user Pamela Gomez (@pamelanaomigomez) demonstrates how she completes her milk nails manicure at home. First, she chooses a pale pink shade close to her skin tone. She then coats the nails just once with the polish "Clean Slate Ridge Filler" by Cirque Colors. Beautiful and effortless, the summer necessities. 
Make the trend your own
While neutral shades work well for this trend, you can also experiment with a touch of color; it is summer, after all. Swipe on a coat of your favorite colorful nail shade, and you're ready to go. We love this gradient, peach milk manicure from Irina David (@iriniaadavid) on Instagram that captures the spirit of the trend. But if this look is too opaque for you, you can always use fewer coats. 
Perhaps you love the simplicity of the trend, but cannot help but wish for a bit more sparkle. Adding a few bespoke nail gems to your nails gives this trend a glittering upgrade. We love how Tiffany Abigail Beauty (@tiffanyabbigailebeauty) sprinkles some shine on her manicure in her TikTok video. 
Maybe pink is your thing. You can also go for a super sheer, pink shade as your summer nail look. TikTok user May (@mayzerbeams) shows off her milk-pink nails in a TikTok video. Even with the simplest nails, the summer sky is the limit.