Marc Jacobs' Fall 2023 Show Relied On AI To Call Out Our Attention Spans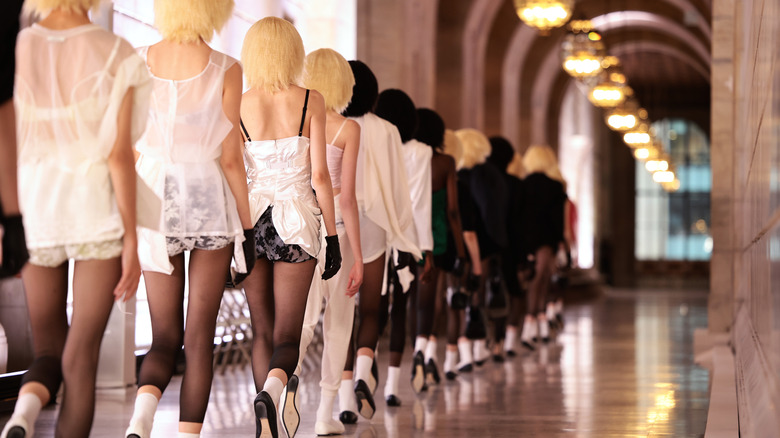 Dimitrios Kambouris/Getty Images
It must be tricky, given today's quick-moving world of fast fashion, for classic fashion designers to stick to the limited schedule of Fall/Winter or Spring/Summer fashion shows (and, occasionally, cruise aka resort collection fashion shows). Where designers used to offer only two or four collections a year, corresponding with the seasons, fast fashion now requires them to release so much more, faster. Fast fashion leaders H&M and Zara put out some 12 to 24 collections a year. 
It seems fashion designer Marc Jacobs has something to say about this fast fashion trend. The rulebreaker made a statement through his Fall 2023 runway show, which took place at New York's Public Library on June 26 — ignoring the typical fashion week schedule, usually held in February for Spring/Summer or September for Fall/Winter. While most runway shows can be anywhere from 7 to 20 minutes long, Jacobs again broke rules, and probably a record, with his show, which was a blisteringly short 3-minutes long. The whole show could be captured in a TikTok video (and was, naturally). There was little advanced notice or promotional advertising for the show, adding to its ephemeral quality, and Jacobs used a computer program, OpenAI's Chat GPT, for the show's notes. The models and looks, the shortened time, and the use of artificial intelligence all contributed to Jacobs' statement — but what was he ultimately trying to say?
What did the Marc Jacobs runway show look like?
The Marc Jacobs Fall 2023 runway show had a very distinctive look, inspired by the 1980s in many ways. The postmodern show was simultaneously progressive and nostalgic. It hinted at an old movie's vision of the future while referencing past Jacobs '80s collections in his 2023 present. The designs themselves were 80s-inspired, focusing on oversized suits and structured minis. Most of the models wore mini-dresses or onesies with ruched or puckered fabric and structured bustiers. Others wore oversized suits (think David Byrne's "Stop Making Sense") with Hammer pants, architectural silhouettes, and upwardly-pointed pagoda shoulders. Most outfits eschewed the bold color trends of summer for black, white, and the occasional metallic gold.
Even more '80s was the presentation, as the models all had a very uniform look — especially from the shins down and the neck up. They nearly all wore black sheer tights that ended just below the calf, with white socks and severely pointed black ballet flats, nodding to the persistent balletcore trend. Their faces were all dour and unrelenting, with the same basic hairstyle: a straight, austere shaggy-bob with too-long bangs. They all looked like Pris, Daryl Hannah's pleasure model Replicant from the 1982 film "Blade Runner." Whether that's what Jacobs was going for or not, the resemblance is quite striking — especially considering how quickly the models walked by.
What is Marc Jacobs trying to say?
@thefashionguitar

Last nigh @Marc Jacobs showed us his #MarcJacobsFW23 collection in the fastest way possible 🪽 at 7.30 on the dot the models walked a runway finale once, then turned around came back marching and we were out by 7.33 EPIC

♬ Makeba - Jain
Yes, the Marc Jacobs fashion show was nearly blink-and-you'll-miss-it fast. "At 7:30 on the dot the models walked a runway finale once, then turned around came back marching and we were out by 7:33 EPIC," a TikTok user wrote. The show literally took three minutes, with 29 models zipping by in quick succession.
This seems to be both a comment on audiences' increasingly short attention spans, made worse by our ever-present internet and endlessly scrolling social media, and a nod to today's fast fashion. Jacobs shared no publicity beforehand, so it's perhaps surprising people knew it was happening — and that might have been his point. Fortunately, despite possibly referencing the ephemeral, you-had-to-be-there nature of older fashion shows, Jacobs' collection was caught on camera. Otherwise, there was little time to see the styles as they went by. The show was a literal blur of regimented models and fashions.
Again capturing historical and modern simultaneously, Jacobs used the much-maligned ChatGPT from OpenAI for the show notes. The AI text reads as generic as one might expect from a computer, speaking in past tense even at the start of the show: "The Marc Jacobs fashion show captivated audiences with its innovative approach to blending menswear-inspired tailoring with feminine aesthetics." Perhaps the use of AI is a comment on fast fashion's speed, quantity, and mass-produced repetition, which makes people look the same; conforming, rather than unique. This certainly shows through the constant stream of "replicant" models in his fashion show. With TikTok declaring what's trendy, it's nearly impossible for consumers to keep up. Is this where fashion is headed?