We Know The Fashion Week Basics, But What's The Deal With Cruise Fashion Shows?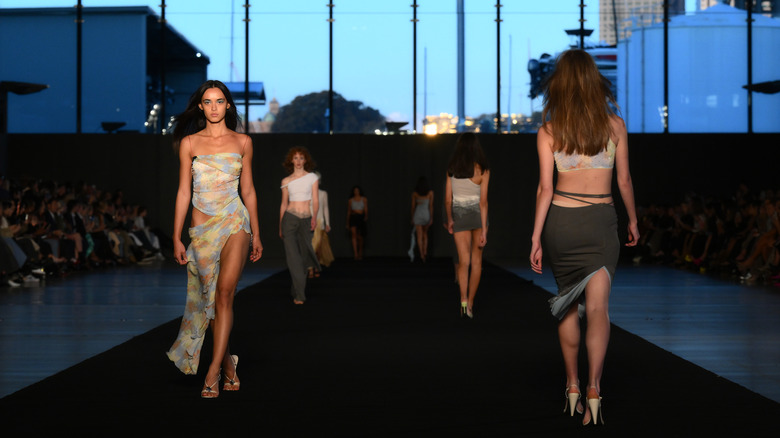 James Gourley/Getty Images
When it comes to fashion weeks across the globe, Spring/Summer and Fall/Winter are the terms we've all heard before — but what about cruise shows?
As some may know, fashion week began back in the 1940s, during World War II — and we have legendary fashion publicist, Eleanor Lambert to thank for it. As noted by Glam Observer, as the war raged on, American journalists and buyers were unable to get to Paris to see the newest creations. Lambert (who, per the CFDA, had long been eager to shine a spotlight on American fashion) found a solution, welcoming the media for what was then called press week ... and the business of fashion was forever changed. Since its inception, the event has gone on to become a fixture not only in its original New York, but London, Milan, Paris and even further afield. And, each year, it's become an almost non-negotiable for designers from across the globe to showcase two major seasons, Spring/Summer and Fall/Winter, giving buyers, media, and even the public a chance to pinpoint and purchase the newest trends. However, in more recent years, that's expanded even further, with several additions to the calendar. 
Enter: cruise or resort collections (yep, they're the same thing), and pre-fall offerings. The names conjure up an image of fabulousness, for sure — but just what purpose do these added collections actually serve, and who is buying into them?
Think of them as in-betweeners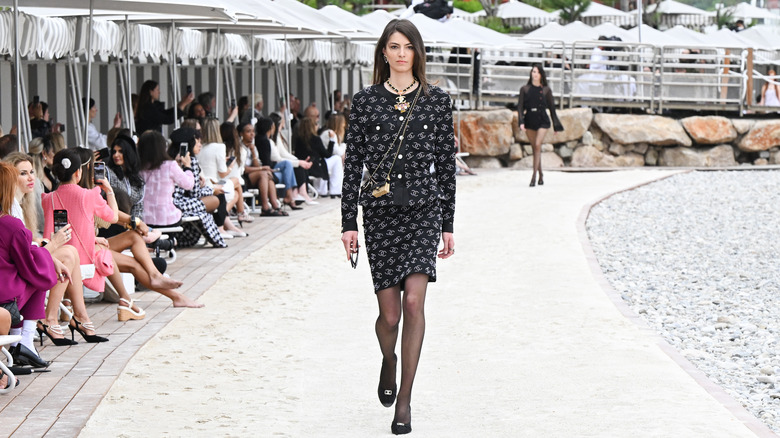 Stephane Cardinale - Corbis/Getty Images
Don't let all the different names confuse you: Spring/Summer and Fall/Winter are still the biggest showcases when it comes to fashion week. In fact, while many brands have cruise or pre-fall collections, as pointed out by High Snobiety, the weeks dedicated to putting them on display are significantly smaller, with most of the featured collections coming from high-end houses like Chanel. Reason being? They really function as in-betweeners.
It's not exactly hard to see why having an in-between collection is a smart business decision. Spring/Summer collections won't go on sale until just before the season begins, so having a pre-season (generally named cruise or resort) gives brands an opportunity to reach consumers in the meantime. Plus, per High Snobiety, pre-seasons generally feature an array of options, from warmer outerwear to lighter, cooler pieces — contributing to what The Flair Edit refers to as cross-seasonal fashion. That makes for easily marketable investment pieces ... and appeals to an even wider audience.
There's also no denying that globalization has affected most industries, fashion being no exception — so creating up-to-date collections that can be worn in a variety of contexts only makes sense. As Dubai Institute of Design and Innovation founder, Sass Brown told N Lifestyle, "A pre-collection ... allows brands to appeal to a broader, more diverse global audience, who deal with a diversity of climates." Cruise collections offer the best of both worlds, then — and brands aren't the only players to benefit. 
Modern consumption has a lot to do with it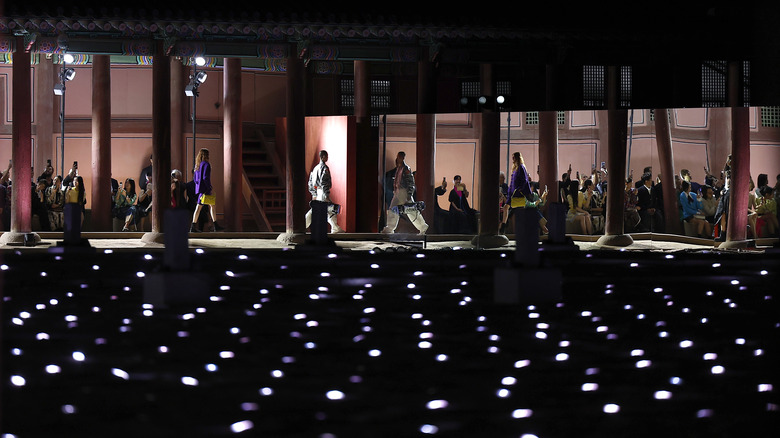 Justin Shin/Getty Images
It's certainly worth noting that, while it's taken longer for pre-season collections to go mainstream, they've been around for a hot second. In fact, per Chanel, though Karl Lagerfeld would only make pre-season lines a major fixture in the early '80s, Gabrielle Chanel herself created a cruise collection way back in 1919. And, as noted by The Flair Edit, a number of other fashion houses have also long targeted travelers, in particular, with their inter-seasonal offerings. 
Having said that, the more recent explosion of pre-season lines also has a lot to do with consumer habits. As Sass Brown explained to N Lifestyle, in a world where people can access the newest trends faster than ever before, "Brands have to keep pace and can no longer remain relevant with just two collections a year." Et voila, the cruise collection, a neat little addition to keep fans of the brand interested, all year long. There's also the fact that cruise collections, unlike the more traditional Spring/Summer and Fall/Winter lines, are usually not tied to any one location, in particular. Far from it — per NSS Magazine, they often take place in locations outside of the fashion capitals, where consumers are known for making luxury purchases. 
So, just what is a cruise collection? An in-betweener, a practical addition, and — some might even say — a collaborative effort between brands and the consumers that love them.