What Do Architectural Silhouettes Mean In Fashion?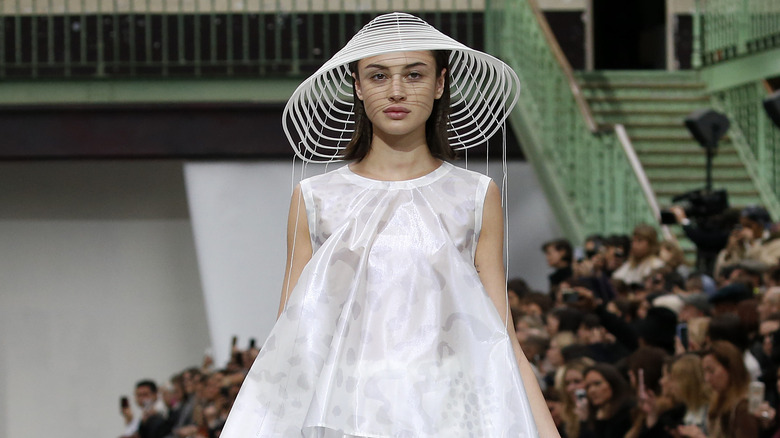 Thierry Chesnot/Getty Images
When fashion designers seek to capture our most luscious movements through flowing skirts and dresses that can dance along with us, art imitates — and facilitates — life. In a similar vein, architects often imitate foundations and patterns found in the natural world, adding new skylines to its rich landscapes. Fashion designers and architects also have more in common than their creative visions and talent for turning their sketches into reality. And of the fashion trends taking over 2023, architectural silhouettes represent both the history and the future of design.
Influencers are investing in outside-the-box statement pieces in attention-grabbing colors, as well as simple neutrals that utilize creative tailoring. Designers like Christian Dior have changed the world of fashion by using the properties of architectural design as a launching point for their culture-making clothing lines. To understand just how much dressing bodies and designing buildings have in common, we'll look toward the artists that invest their creativity into them for a living. 
Fashion uses the body as building materials
Fashion designers have compared the structures that become buildings, bridges, and monuments to the fundamental structures found in nature and our bodies. The Maison Martin Margiela collective shared with Interview Magazine, "The most important similarity between fashion and architecture is that they share the same starting point: the human body," adding, "Both disciplines have a function of protecting — if not sheltering — the body, the flesh, and skin, itself."
Like architectural feats around the world, fashion itself can also become a landmark. Louis Vuitton designer Nicolas Ghesquière described what he believed to be international travel's influence on the brand's fashion. He told Vogue, "People travel a lot for architecture, not only for monuments — and I always thought that the exploration and voyage side of Louis Vuitton could be an architectural journey." But how exactly do we pinpoint the influence of architecture on a piece of clothing's design and dimensions?
Designers take cues from art history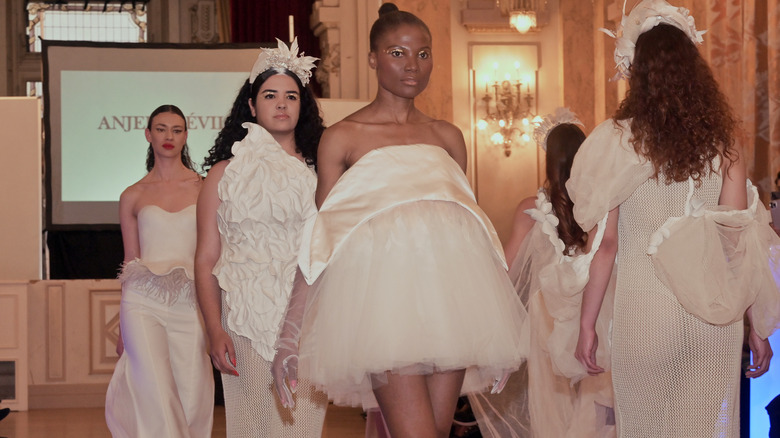 Foc Kan/Getty Images
Architectural silhouettes typically emphasize or exaggerate the body's natural curvatures or focal points — think pointed shoulder pads, or bell-shapes in sleeves and pants. Fashion designer and former student of architecture Josep Font described the inspiration for a 2016 line to Architectural Digest, referencing its art deco style influence. "In some of the looks, there is a very literal inspiration — the color palette, the metallic feel—and in other cases, more abstract influence such as the volume on sleeves and tops." Font is also known for his use of 3D illusions and unusual proportions in his clothing.
Another designer, Yasutoshi Ezumi, explained that the actual process of architectural design is similar to the process of creating clothing lines. Citing famous architect Frank Gehry, the designer shared, "He was really freely making structures of paper architecture models; it was just like fashion draping, so I did the same design for the collection." 
And just as fashion designers are inspired by architects, architects themselves have also transformed the world of fashion. One accomplished example is architect Zaha Hadid, who collaborated with fashion designers including Louis Vuitton, Adidas, and Fendi over the course of their career. Ultimately, it looks like the connection between fashion and architecture is only growing stronger, as architectural silhouettes continue taking our breath away on runways and red carpets.