The Metallic Trend That'll Bring Some Sophistication To Your Favorite Little Black Dress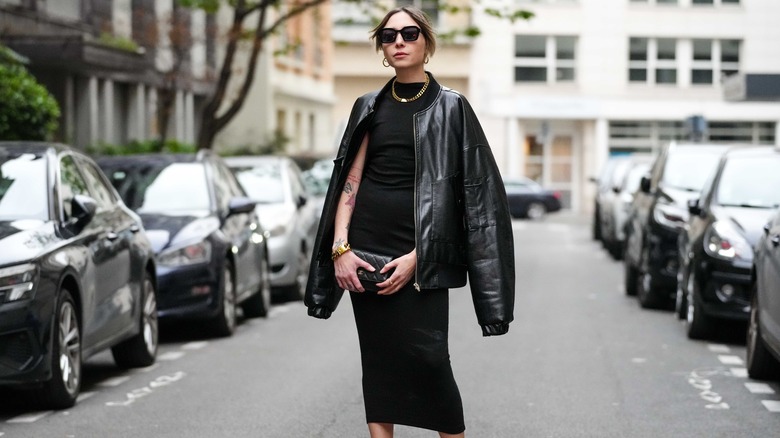 Edward Berthelot/Getty Images
There are many wardrobe staples — the denim jacket and white button-down — but one of our favorites is the little black dress. Whether it's slim fitting, strapless, or maxi length, the LBD compliments every body type. However, sometimes that plain and dark garment can be boring. You don't want to look like you're on the way to a funeral every time you wear it.
Adding chic pieces is a sure way to amp up the fashionista vibe, but trending metallics make your LBD all grown up. It adds an undeniably sophisticated flare. The chrome hues will also blend seamlessly with other high-fashion beauty looks like the trending metallic manicures, and chic tinsel hairstyle.
However, styling metallics take the right pieces and balance. You want to avoid blinding anyone or looking like aluminum foil. So confidently take your black dress to the next shining level with these metallic trend tips.
Shining silver jewelry will make your LBD stand out
Jewelry fits immaculately with the metallic trend. Shining metals, especially silver, will elevate even a T-shirt dress. Baylee Zwart, the founder of the vintage jewelry brand Azlee, told Harper's Bazaar, "Fine jewelry has become something you wear and enjoy every day, not something that sits in a safe for years to come." So shimmering silver is a stellar look for your LBD, whether you're headed to the office, running errands, or attending a wedding.
There's no rule that you have to stick to just one metal color, either. You can pull off mixing gold and silver or other metallic hues like rose gold and bronze. Plus, it's not just the traditional necklace, earring, bracelet, and ring that is a sophisticated glossy touch. Fashionable jewelry like arm cuffs, broaches, and head chains bring that red carpet look and modern metallic feel as well. Since they are less mainstream, they will add a distinct taste to your dark dress. However, jewelry isn't the only way to get depths of metallic into your ensemble.
Metallic accessories brighten up your black dress
Metallic wardrobe dominated the fashion world in the spring/summer 2023 runway. Designer brands Bottega Veneta, Valentino, and Nensi Dojka, among many others, all had metallic garbs sashay down the catwalk. There were several show-stopping pieces, including Tory Burch's glimmering gold jacket and Paco Rabanne's shimmering metal dress. This is all the proof we need that polished metal hues are in vogue. And whether it's a jacket, belt, purse, or shoes, a metallic accessory is a stunning choice to brighten up your LBD.
These pieces provide color and light contrast that pop against the dark gown. While you can find metallic accessories in a variety of shades, to hit the sophisticated mark, it's best to stick with precious metal colors. Silver, gold, and bronze are all neutrals that will complement your dress with a polished finish. For the perfect match, go for a hue that has the same cool or warm undertones as your complexion.