Styling Techniques That Will Complete Any Outfit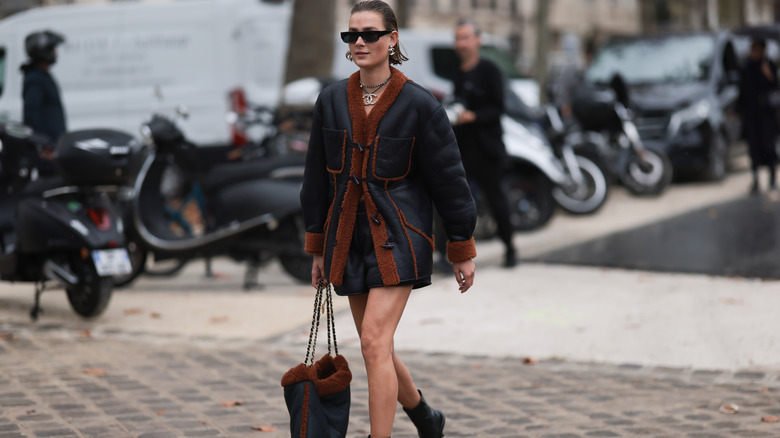 Jeremy Moeller/Getty Images
Regardless of the season, great style is typically at the forefront of any fashion enthusiast's mind when they think of how they want to dress. Whether it be for an occasion, job, or even the weather, no matter what your motivation is, everyone should be able to dress well and feel comfortable doing so.
If you would like to amp up your day-to-day looks without breaking the bank, there are some tips and tricks to elevate your everyday looks and make you feel as though you're a street-style icon during Fashion Week. And though some styling tips are dependent on trends, most tips are evergreen and applicable to almost every wardrobe. So, even if you would not necessarily consider yourself a fashionista, you can certainly look (and hopefully feel) the part if you just adhere to some guidelines when you're putting together your outfit of the day.
Use a belt to accentuate your waist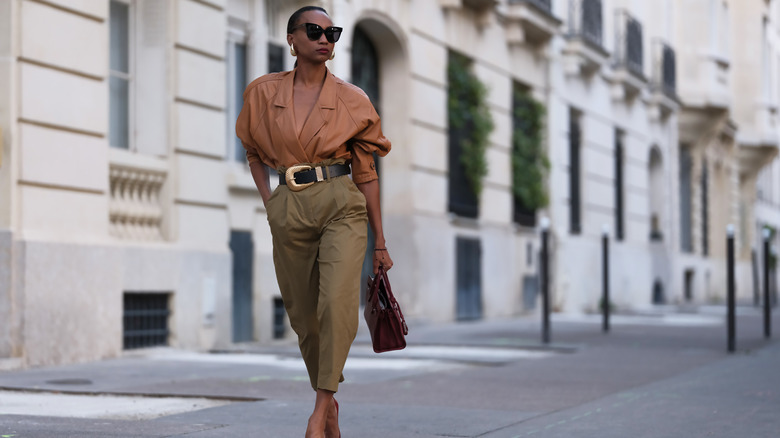 Edward Berthelot/Getty Images
One way to update and style an outfit is to simply wear a belt. This might seem like an overly-simplistic style tip, but there is a method to belting your clothing that can achieve a certain look or silhouette. In the case of the outfit above, the individual pieces of clothing and how the shirt is tucked into the trousers create the ever-coveted hourglass shape. However, by adding a large belt with a bold buckle, the hourglass shape is emphasized, with the buckle drawing the eye to the snatched waist.
You may also want to use a belt around your waist when wearing a long or billowy dress. What this will do is again, emphasize your waist by gathering material that would otherwise be hiding your figure. Another thing belting a long or billowy dress does is create a point on the garment where you can gather and raise the hemline of your dress if it's perhaps too short.
French tuck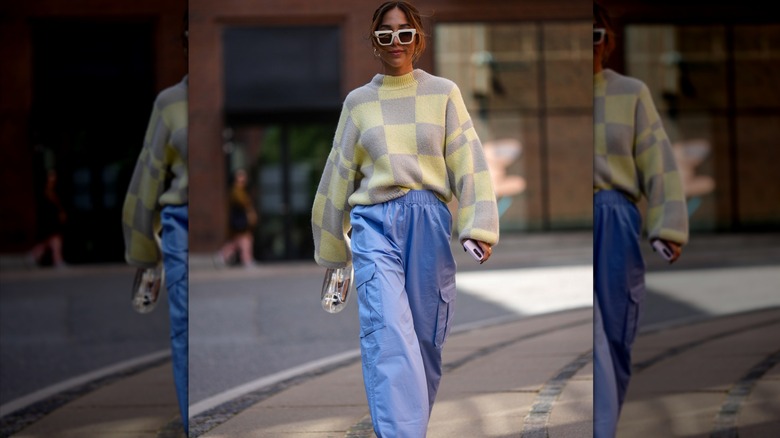 Edward Berthelot/Getty Images
Though the French tuck isn't a new concept, it was brought to the forefront and popularized by Queer Eye host Tan France in recent years. The French tuck works well because it creates an effortless look and adds some shape to a flowy blouse, button-down shirt, baggy t-shirt, or oversized sweater. 
To achieve this look, tuck in the front of your sweater or shirt into your pants or skirt, then pull out just enough of your shirt or sweater so that it billows ever so slightly, whilst still being partially tucked in. If you're doing a French tuck on a button-down shirt, you may want to unbutton the last few buttons on the lower half of the shirt. Then, choose one side of the shirt to tuck in with a French tuck, leaving the other side of the shirt out, to create a more casually undone look to your outfit. 
A statement coat will make any outfit look put together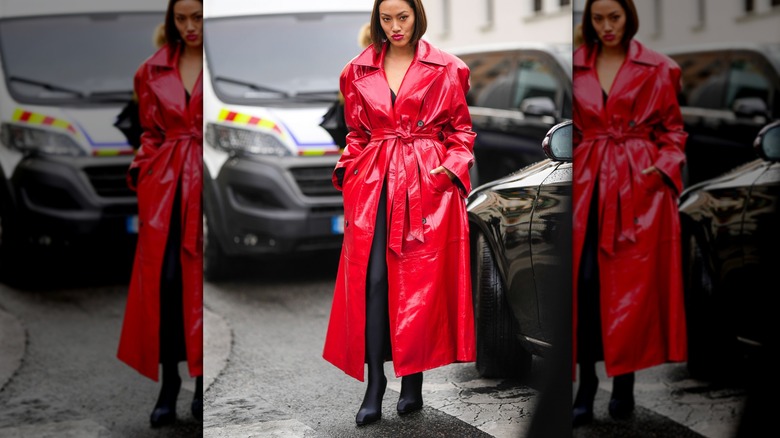 Edward Berthelot/Getty Images
A great style tip to keep in mind is that sometimes, all it takes is one piece to turn a simple outfit into a full-on ensemble. In this case use a statement coat — a jacket or coat that is usually a bright colour, made with exaggerated proportions, or a bold pattern — to create interest, add colour, or give your look some added flair and drama. A statement coat, or any statement piece for that matter, is a great thing to have if you like to dress casually, or if you generally repeat outfits and want to freshen up your look.  
If you want to express some individuality, adding a statement piece to an outfit is a great way to stand out. For colder seasons, statement coats come to mind, as people tend to choose function over fashion, as well as more practical colours for their coats. Even choosing a weather-appropriate coat in a fun pattern or colour can set you apart.
Use your hairstyle as an accessory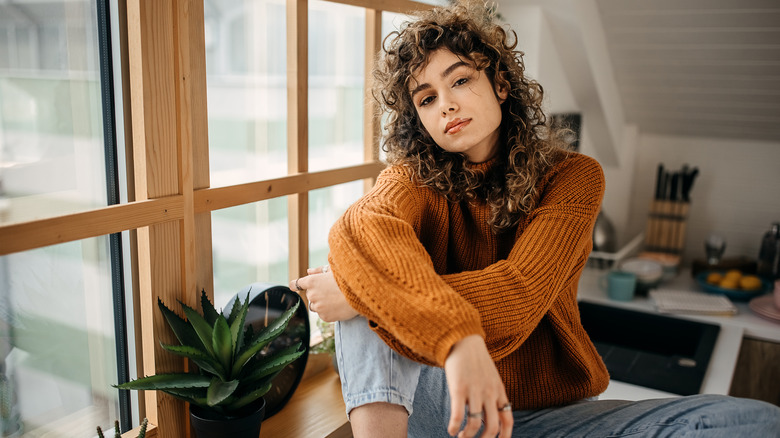 Pekic/Getty Images
Your hair, much like your outfits, is likely one of the first things people see or notice when they look at you. For many women and femme people, hair is also something that they invest a lot of time and money in to look and feel how they want. With all of that effort, shouldn't your hair be a key component to your style and overall look when you're putting outfits together?
Depending on the aesthetic or style you're hoping to achieve, you can use your hairstyle to emphasize or highlight your outfit. For example, if you have a style that leans more vintage, you may want to channel the hairstyles of the era that's inspiring your current style or outfit. The main takeaway is that your hair should not be an afterthought once you've gotten dressed, but rather, an element of the outfit that completes your overall look. 
Invest in good lingerie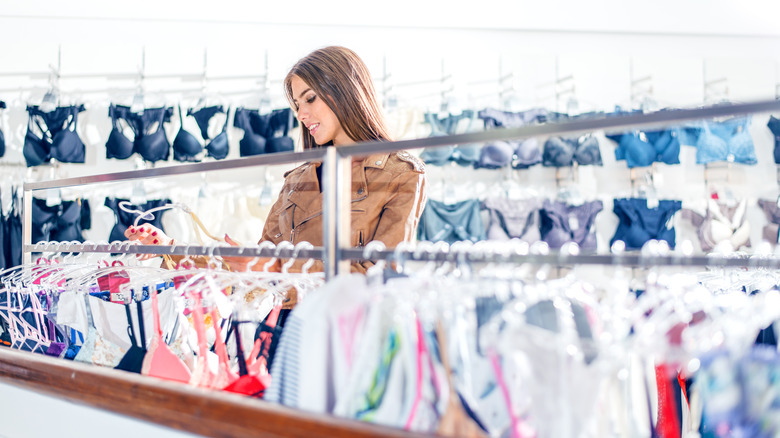 Dardespot/Getty Images
For most people, lingerie or shapewear may not be something you actively think about as part of your style when putting an outfit together. This could be because undergarments aren't usually a focal point for the average outfit. However, if you are hoping to achieve a specific fit or look with your clothing, having good quality lingerie and shapewear that fits your body well can help to ensure that the clothes you're wearing will also fit well, or better than they do without the help of lingerie or shapewear.
Having a variety of quality pieces can ensure that there are no unwanted seams showing under clothes, or straps where there shouldn't be straps. Good lingerie and shapewear also mean that you can feel comfortable and supported when wearing garments that are a bit more revealing or form-fitting. Comfort is key when you're expressing or experimenting with your personal style. 
Follow wash instructions on your clothes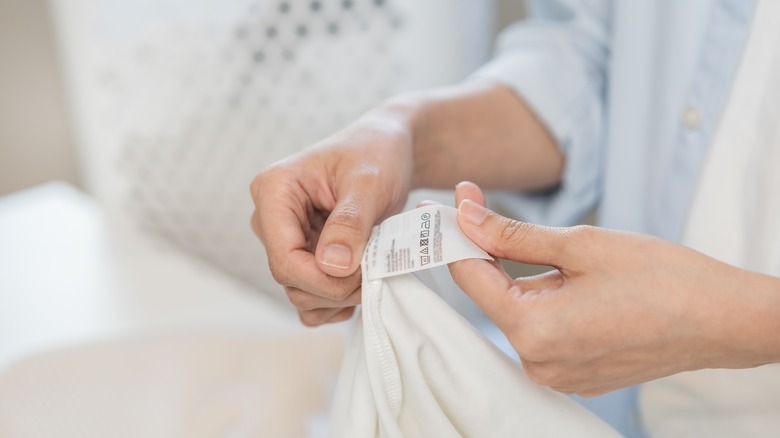 Kmpzzz/Shutterstock
Whether you're investing in designer pieces for your wardrobe, thrifting, or purchasing pieces from a fast-fashion brand, you should be taking care of your garments, and not just for the sake of longevity. Taking note of and following wash and care instructions on your clothes is a great style hack because it helps to ensure that all of your clothing will maintain its shape and color, and look as they're intended for a long time to come. Pilling sweaters and faded colors, for example, can make an outfit look sloppy. If you'd like to avoid this, it's as easy as washing your clothes according to the instructions. 
This is also an economical and sustainable style tip, as taking care of and washing your garments properly means that you won't need to replace them as often. It also means that you're less likely to ruin a garment and want to dispose of it.
Don't match your shoes to your bag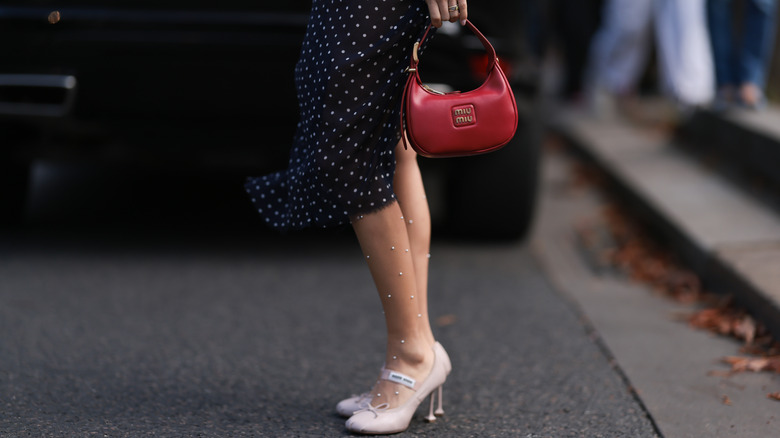 Jeremy Moeller/Getty Images
The idea that your shoes and purse need to match in order for your outfit to look good is one of those older style rules that almost seems to be outdated now. While coordinating or matching your shoes and purse isn't necessarily a bad thing, nor something that makes you look old-fashioned, the idea as a rule feels out-of-date when you consider the sheer abundance of choices people have when it comes to shoes and bag styles.
At this point, with trends like the wrong shoe theory at the forefront of style roundups, you should be aiming to have fun mixing and matching your shoes and bags, rather than painstakingly matching them by color or material. So if you would like to wear a more glitzy formal bag with a sweat suit and sneakers, or if you think that a pair of strappy heels compliments the tote bad you're carrying — you should go for it and abandon any rules that stifle your sartorial creativity.
Play with texture when rocking a monochromatic look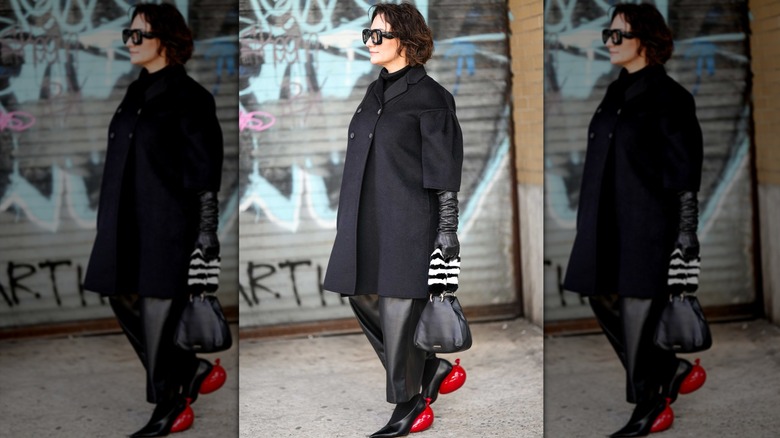 Edward Berthelot/Getty Images
Some might think that monochromatic outfits are predictable or boring, as it can't be that difficult to put an outfit together using one colour, or one shade like black. Admittedly, wearing monochromatic outfits can be an easy way to dress and still feel put together. You don't necessarily have to give much thought to how you piece together an outfit, as you are not risking a mismatched colour scheme. However, if you would like to wear a monochromatic look but still feel stylish, the types of materials you choose can make all the difference in amping up your look. 
For outfits that are just one colour, try choosing pieces will different textures, like patent leather, faux fur, sequins, or lace. Even simpler than that, you can opt to wear structured denim with a chunky knit sweater, so that your outfit doesn't look flat or two-dimensional, even though you are only wearing one colour.
Invest in a little black dress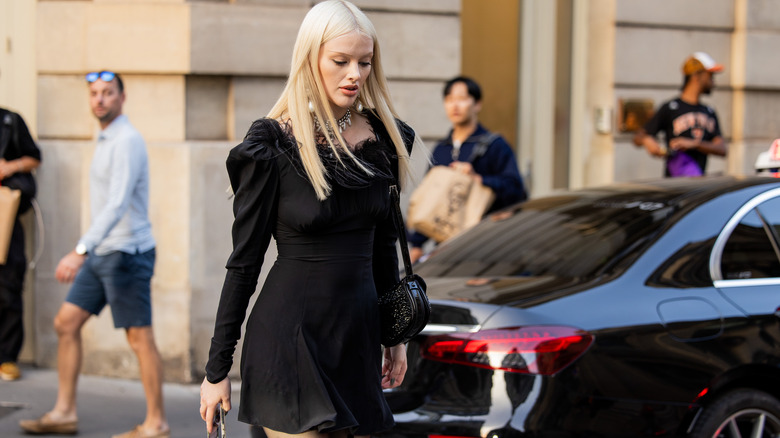 Christian Vierig/Getty Images
A lot of the time, when describing someone who you believe has great style, you might use adjectives such as 'effortless,' 'cool,' or 'glamorous.' When someone owns their look and really embodies their style, it is such that it begins to look really natural and effortless because of how comfortable and confident they are in their clothes.
If you're thinking about pieces that might give you that same feeling and channel your personal style, a little black dress is a great starting point. Because there are many styles to choose from, you know you'll be able to find something that falls within your style or aesthetic. A little black dress is also a great investment, even if you don't spend a lot of money on one, because it acts as a blank canvas for you to accessorize in a multitude of ways, depending on the occasion or event you're wearing it to. 
Find yourself a great tailor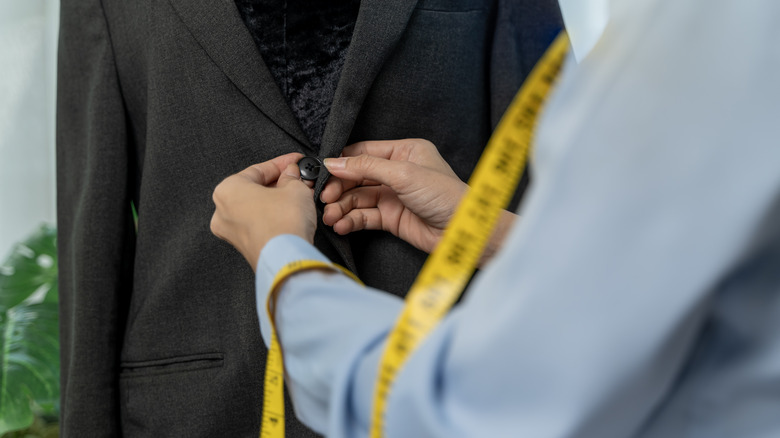 Jittawit.21/Getty Images
Great style doesn't have to mean spending a lot of money on designer garments. Great style also does not have to mean cycling through mountains of clothes from fast fashion retailers every season, or every time there is a new trend.
A lot of the time, a great way to establish your personal style is through elements like color palettes, fabrics and materials, and of course (perhaps most importantly), the fit of your clothing. The fit of garments is important because even expensive or designer clothing can look sloppy or cheap if they don't fit you well. However, if you have a tailor at the ready who can make alterations to ensure that your clothes look like they are made especially for you, you are going to look put together and chic, even if you're wearing something from a fast-fashion sale rack. 
Be choosy when it comes to your jeans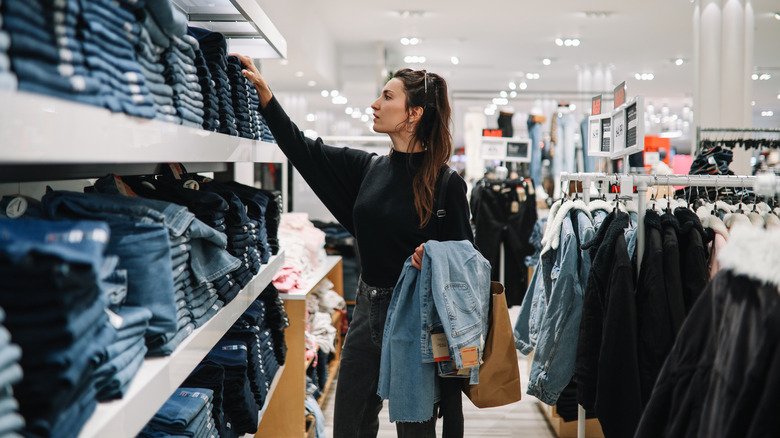 Lechatnoir/Getty Images
It may seem like a silly sentiment to say that you should be choosy when it comes to denim when there are so many people who have a difficult enough time finding just one pair of jeans that fits them well. However, this is the precise reason that one should be picky with the denim they choose to purchase and wear. 
Styles and trends come and go, but there will always be classic pieces of clothing like jeans, that you can wear forever. When shopping for jeans, take your time to find the style of jeans that best fits and is most comfortable on your body. If possible, avoid jeans that have a lot of stretch in them, as this type of fabric is more prone to becoming warped over time, and with many washes. Of course, being selective in your denim purchases can also save you a fair bit of money as time goes on, which is always a plus!
A little steam goes a long way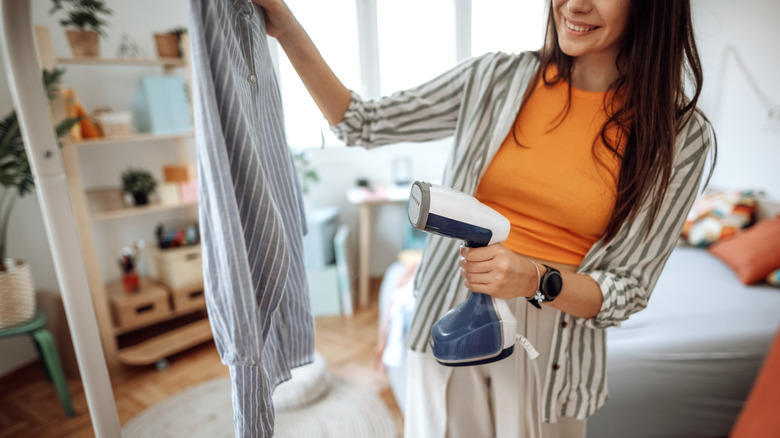 Mixetto/Getty Images
It has likely happened to all of us at one point or another: you may be in a rush, or perhaps you just could not decide on what to wear until the last moment. So, you grab whatever is closest to you, put it on, and go. However, at some point, you might notice that your clothes look like they've come from the bottom of your dirty laundry pile (even though they're completely clean) because they're so wrinkled. Wearing pressed or wrinkle-free clothing is such an easy way to look as though you've put effort into your outfit, even if you are wearing a simple T-shirt and jeans.
Of course, not everyone has the time or the space for an iron and ironing board. This is where a clothes steamer comes in. There are a number of options on the market, varying in size and price point, that you can use to quickly give your clothes a refresh before you wear them out.
Let accessories complete your look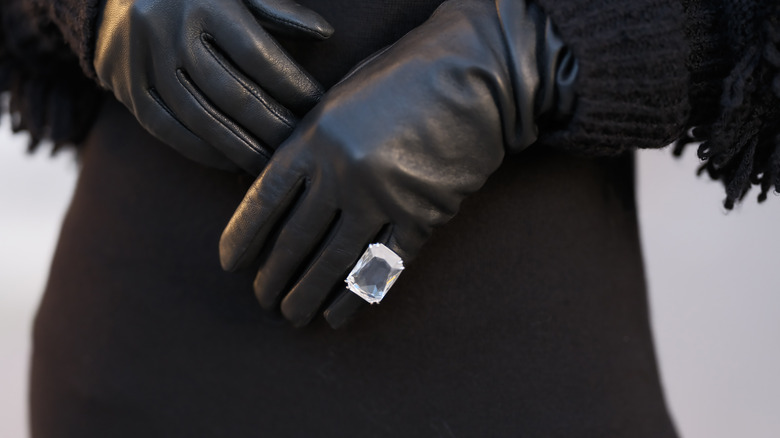 Edward Berthelot/Getty Images
Another great style tip that applies to all seasons and all outfits is to use accessories as a way to add details and focal points to your outfit. When you think of accessories, you may want to think beyond jewelry and expand your choices. For example, rotating between different accessories like hats, gloves, rings, necklaces, and sunglasses can help to bring one outfit from a warm to colder season. If you're an outfit repeater, the accessories you choose to complete and compliment your outfit can also serve to make your outfit feel and look brand new.
Even highly functional accessories like gloves and scarves can completely change and elevate an outfit, depending on the color or pattern you choose. Accessories are also a great way to experiment with new styles and trends, without committing to purchasing new outfits, which can cost quite a bit of money, as well as potentially create waste or clutter in your closet if you don't end up loving the purchase in the future.
Juxtapose masculine silhouettes and feminine patterns for effortless, cool girl style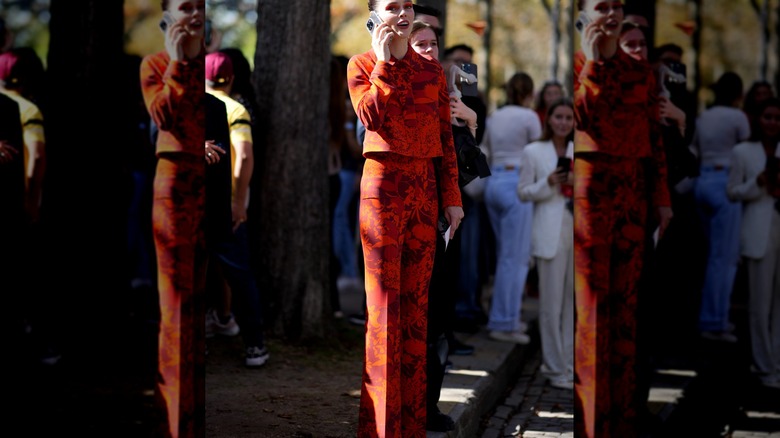 Edward Berthelot/Getty Images
We can't all have a supermodel moment, despite our best styling efforts. However, we can certainly take notes from supermodel Coco Rocha when it comes to style. Again, so much of personal style is about creating an interesting visual with the clothes that you're wearing. Juxtaposition is a great way to do this because it aims to create an unexpected look meant to catch someone's attention.
Here we have supermodel Coco Rocha wearing a tailored two-piece set, complete with rigid and pressed trousers.  The structure of the pieces, as well as her slicked-back hair, create a severe look. This can also be associated with masculine styles. However, the warm colors in the soft, floral pattern of the pieces softens the look. These colors and patterns can also be seen as more feminine. This combination creates that coveted juxtaposition and makes for a visually interesting outfit. 
Wear your clothes with confidence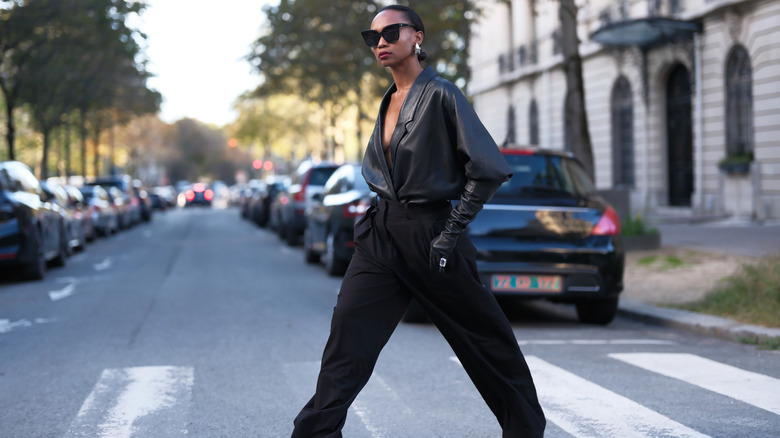 Edward Berthelot/Getty Images
When it boils down to it, style is an incredibly personal way to express yourself. Your personal style is the way that you're represented in public, and may be one of the first things people notice (as it is a very visual and outward-facing quality about a person). For this reason, style rules really should be taken with a grain of salt.
Of course, if you feel as though you need some help or guidance in the style department, do refer to tips and tricks to help you, but ultimately, only stick to the rules and suggestions that make you feel confident and as though you're expressing yourself and representing your personality in the most accurate way possible. No matter your style or what clothes you wear, if you wear it well and with confidence, you will always exude a stylish aura.