Our Best Styling Tips For Elevating Your Oversized Sweaters This Fall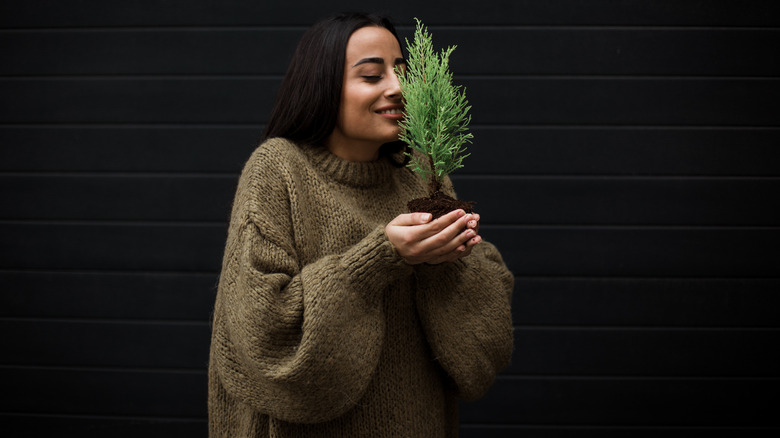 Sneksy/Getty Images
It's the season of oversized sweaters. Fall calls for a number of trends — like the fall coat trends that are unavoidable or the hottest haircuts — but oversized everything trumps it all. Whether you're new to elevating your fall style or are experimenting with fall fashion for the first time, there are a number of styling efforts that can be made for optimal oversized results. While the prospect of styling an oversized sweater may seem simple, there's a method to madness.
Although oversized sweaters have their very own purpose, the item can take many forms and be styled in a variety of ways, per The Zoe Report. Oversized sweaters are typically also inclusive of different body sizes, meaning anyone can find and style the oversized sweater of their dreams. We know what you're thinking: can't oversized sweaters only really be styled with leggings? Lucky for us, that's just not true. Soon enough, you'll thank yourself for the variety of styles that oversized clothes can offer.
A skirt and sneakers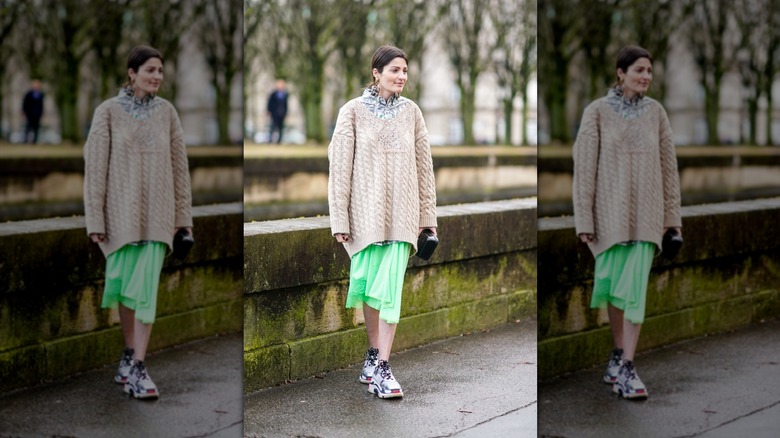 Edward Berthelot/Getty Images
The ultimate clean girl look. The first few weeks of fall are often fickle in weather, where humidity meets wind. Pair a favorite oversized sweater with a tennis skirt or otherwise short skirt; allow for the pleats to slightly reveal themselves under the sweater. Finish off the look with a chunky pair of sneakers, worn with knee-high or no-show socks. Enhance the look with a bold necklace and/or headband, and voila! Your transitional fall outfit is ready to be out on display.
Jeans and a French tuck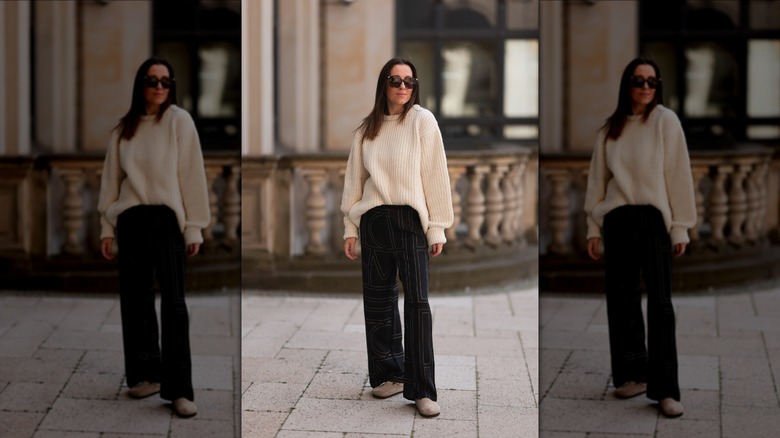 Jeremy Moeller/Getty Images
If you were ever on the Queer Eye boat, you may be all too familiar with a French tuck. They're also one of the best ways to style oversized sweaters. To start, choose pants that can properly compliment the sweater you're wearing — this can include bold pants with print, jeggings, or corduroy pants. Once you've confirmed the most optimal pair of pants, tuck the very front of the shirt into the pants and gently pull it out and around your waist. The tuck offers an effortless look that appears both casual and chic, and you'll be surprised how different the oversized sweater experience is with a favorite pair of pants. If jeans or tight pants aren't your thing, opt for elastic pants or a softer fabric.
Over a maxi dress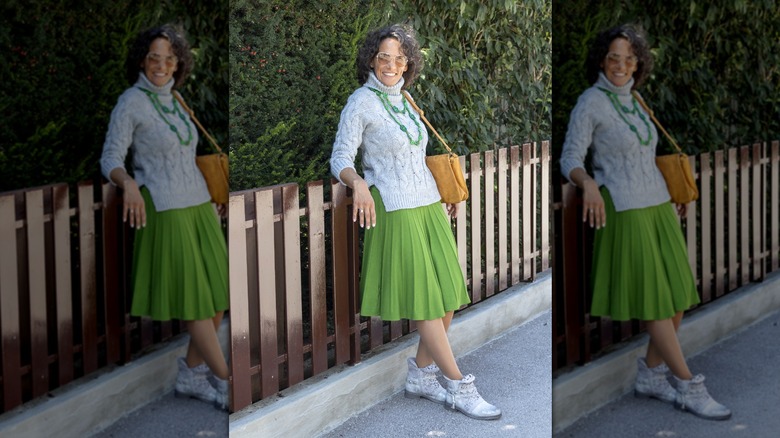 Donnadiavolo/Getty Images
The sweater-over-dress look is not going anywhere anytime soon. A thick sweater or cardigan is perfect to wear over a midi slip, especially during the transition into fall. By fusing the skirts of summer with the sweaters of fall, transitioning into the cold weather will be easier. Play up this look with jewelry, layers, and a chunky pair of combat boots (you'll realize how well they go with midi or maxi skirts). We've already figured out how to pull off maxi styles even if you're short, so why not experiment?
A collared shirt and leggings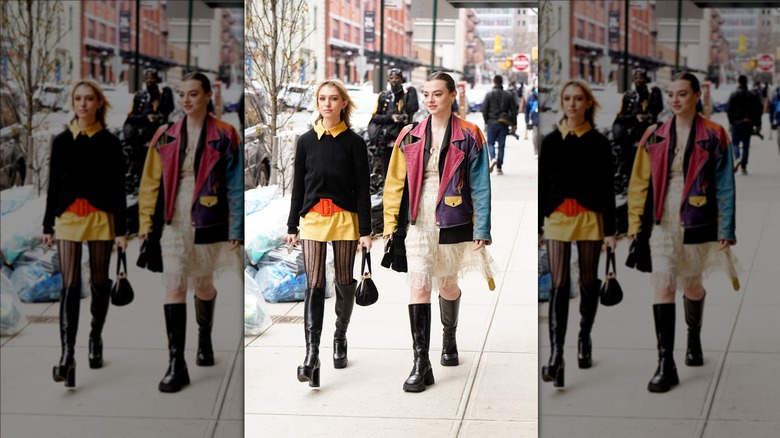 Jared Siskin/Getty Images
Level up any of your sweaters with a collared shirt underneath. According to StyleCaster, layering an oversized sweater with a collared undershirt can help turn chunky clothes into streetwear. For young folks, pair your sweater and button-down with a warm pair of leggings and combat boots. If that's not your style, opt for sneakers or sandals (with socks!). From low- to high-end, some of the most flexible sweaters include ASOS' High Neck Sweater ($21), Old Navy's Oversized Vintage Tunic ($40), and Madewell's Cashmere Oversized Crewneck ($148). Find your favorite collared undershirt, lace up your boots, and you're ready to go.
Cropped sweater with high waisted pants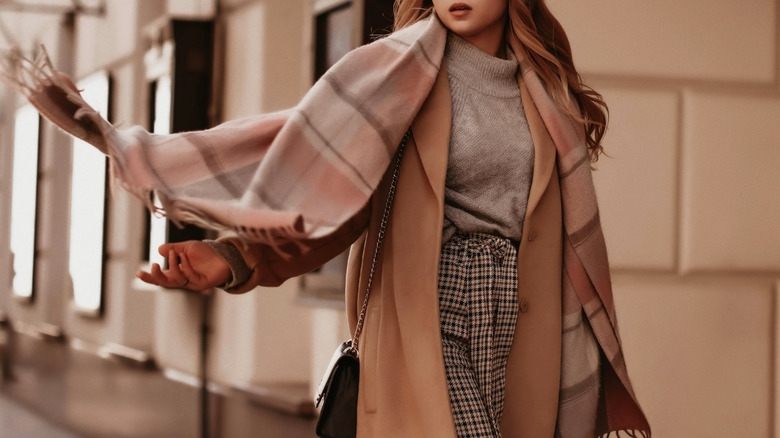 Xeniia X/Shutterstock
Last but certainly not least is the chicest look of all: a cropped sweater with high-waisted pants. If you're someone who runs warm no matter the season, a cropped sweater can help make warm clothes feel breathable and perfect for everyday wear. There are an endless number of chic cropped sweaters — Madewell's Supercrop Pullover Sweater ($30), Abercrombie & Fitch's neoKnit Mini Crew ($70), or Everlane's Cropped Cable Sweater ($85) are a few examples of everyday options. With a pair of high-waisted or loose-fitting jeans, layer a crop top over the pants and accentuate with a bold lip, necklace, or earrings. It's likely you'll never go out of style this fall.