Let Wrong Shoe Theory Elevate Your Outfits To New Heights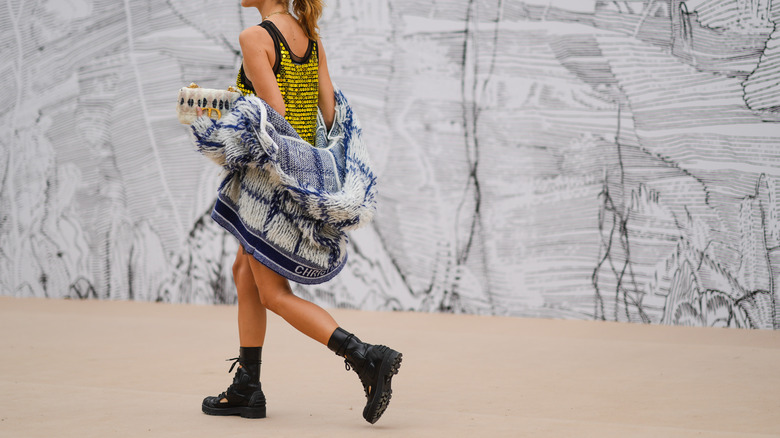 Edward Berthelot/Getty Images
In both fashion (and culture), everything old is new again, and this means that trends reappear after 20 years or so, and then mini-trends pop up within a shorter period. Fashion stylist Allison Bornstein blasted TikTok with her "wrong shoe" theory. Although the term she coined is new, the idea behind the wrong shoe has been a styling trick used by the world's top fashion designers and stylists for years. It means making an offbeat shoe choice and working against the expected vibe of your outfit for something more unique and intentional. For example, classic pointed-toe heels are back, and we'd love to see them paired with a spare, architectural jumpsuit.
Almost 30 years ago, innovator and iconic fashion designer Isaac Mizrahi applied the wrong shoe idea to his clothing. In his now-famous 1994 collection, he showed a classically crafted full ballgown skirt made from crinoline and paired it with a simple, white t-shirt, completely reversing expectations to create something new. In fashion retail, mixing together the unexpected also resulted in conservative Nordstrom teaming up with TopShop to feature the edgier, more fashion-forward boutique in its stores.
What wrong shoe theory looks like out on the street
We adapted this list from numerous TikTok creators and WhoWhatWear. Picture a contemporary, casually styled woman in a tracksuit ... but wearing formal slingback heels in a deliberately contrasting color. Or an Amish/Little House on the Prairie floral maxi dress... with a pair of defiantly chubby Doc Marten-style boots.
Take a chunky, heavy pair of flat black sandals with lots of hardware ... and add wide white trousers for a grounded yet light summer day look. If you have a fitted, sleek maxi skirt with a side slit and spaghetti tank top, pair that with clean sneakers instead of the expected strappy sandal. If your daytime outfit is sleek shorts and an unpatterned t-shirt, try adding socks and black penny loafers. Want to feel comfy in cargo pants and a big sweater? Add a pair of ballet flats in a delicate lavender-pink color. Another idea is to match an airy, open tropical vacation skirt with a more sober, sensible loafer. The dad shoe isn't going anywhere this summer, and we love it with a sleek, metallic midi skirt.
How to think about wrong shoe theory
In addition to being more about intention than function, as Allison Bornstein puts it, there are lots of ways to think about how wrong shoe theory actually works. There's always an element of surprise or an unexpected twist and that's how you can make this look uniquely yours. Use your intuition or check back with these guidelines.
Scan your closet in your mind's eye, or better yet, get in there and have a look. Do you have any outfits or separates that are particularly boxy, masculine, or military-looking? This is the perfect opportunity to pair those pieces with an ultra-feminine kitten heel or slingbacks, possibly with short, frilly socks. Mix highbrow and lowbrow together; think sleek golden eveningwear with a chunky boot. If your clothes are loose and flowy, mix them up with a structured, formal shoe. If you love hyper-modern clothing, see what happens with some Victorian-style lace-up boots for an antique touch.