You Can Keep A Repeat Outfit Looking New By Changing The Final Layer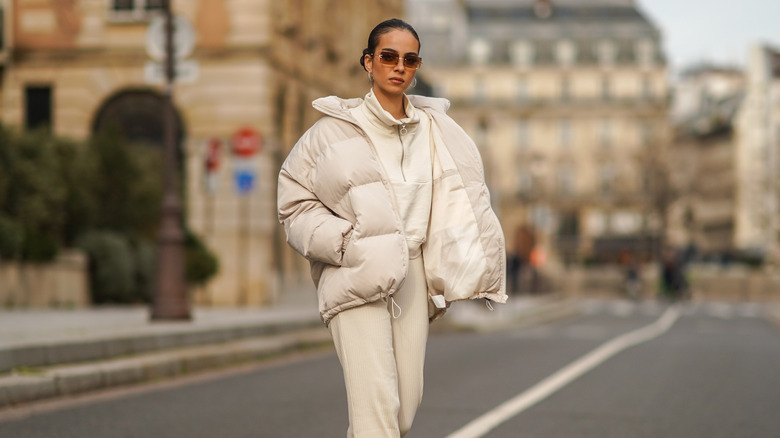 Edward Berthelot/Getty Images
Re-wearing an outfit is definitely nothing new — even the royal family repeats outfits on occasion. If you bought an outfit that you love and feel confident in, it makes sense to wear it over and over. It's also much more environmentally friendly to wear what you already own, so you should definitely feel no shame in your outfit repeating game. Still, you may be worrying that your friends, family, and colleagues will notice when you wear the same fit on several occasions. 
Luckily, there is a solution to this issue, and that's changing out your coat. Swapping out your regular coat or jacket for a different one will put a new spin on any look, particularly if the coat is a statement piece by itself. You may think they're purely for warmth, but, when styled correctly, a coat can actually bring a whole new level of depth to an outfit. A coat can also elevate your outfit so it doesn't look like something you just threw on, but something you thought out instead. Here are some of the best coats and jackets to layer on top of your repeat outfit.
Planning ahead will help when you're repeating an outfit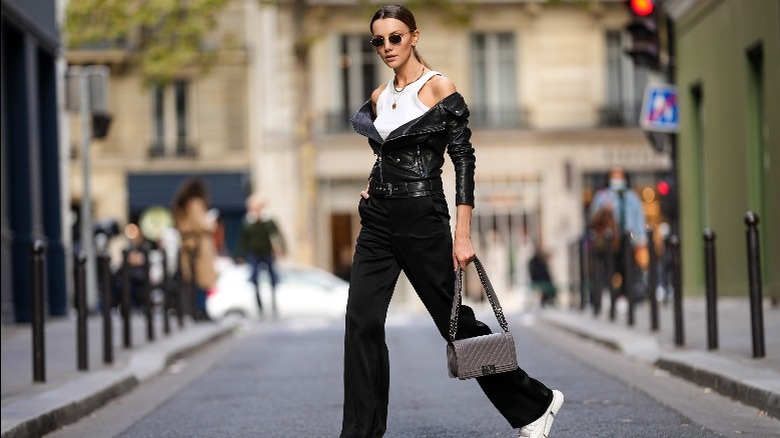 Edward Berthelot/Getty Images
One of the most common outfit dilemmas is when you're going for drinks straight after work. You need to look professional during the day but don't want to kill the vibe wearing a complete business casual look to the bar. To solve this, pack an alternative jacket for the drinks portion of your day. If you're wearing a chic pantsuit look during work hours, embrace the bikercore trend and swap out your blazer for a biker-style leather jacket to instantly add edge to your outfit. 
You could also pack heels or platform boots if you wear flats to work — switching up your shoe will help to give the impression that you're wearing a different outfit than the one you wore to work. It doesn't have to be a biker jacket, just any jacket that can be worn day or night. Just like how a capsule wardrobe focuses on items you wear year round, your chosen jacket/coat should match with everything in your wardrobe so it's trickier to tell if your outfit is actually a repeat (spoiler: it is).
Try out this style of coat to change the game for repeat outfits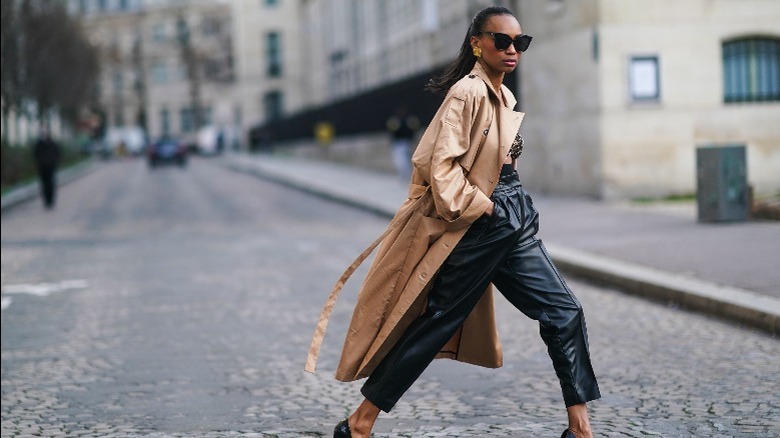 Edward Berthelot/Getty Images
When it comes to outfit repeating, nothing is better at camouflaging the fact you're wearing the same thing as a trench coat. A true style staple because of their timelessly stylish design, trench coats have been around for centuries in various formats, though the ones seen nowadays are often more tailored. While they're especially ideal for spring because of the more lightweight materials they are made from, a trench coat can be worn in all seasons depending on how you layer.
As mentioned above, a trench is particularly good if you're trying to conceal that you're repeating an outfit as they can be styled in lots of ways. The first way is to wear your trench coat completely open — this is a good choice if you're repeating an outfit that hasn't been seen for a while so you're not particularly worried about others recognizing it. Alternatively, you could also button up the top section of your trench if you want to conceal your top, or the bottom section if you want to cover your pants more. 
Overall, changing out your coat or jacket is a no-hassle hack that will let your outfit repeats take on a new life.