Voluminous Neptune Waves Are The Texture-Heavy Hairstyle You'll Want To Try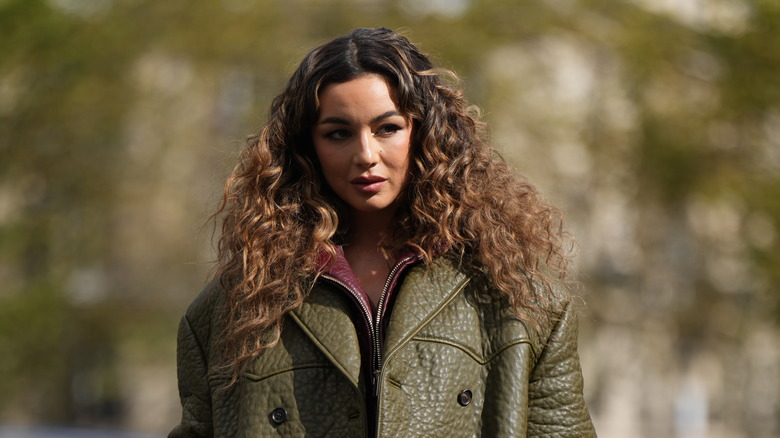 Edward Berthelot/Getty Images
We may receive a commission on purchases made from links.
Neptune waves are the new version of the Botticelli curls that we fell in love with last year. What made Botticelli curls so popular was their Renaissance decadence; the look was all about big, full, romantic curls. While Neptune waves are similar, this new, decadent style isn't quite so precious. Named for Neptune, the ancient Roman god of water and sea, the curls take their cue from beachy waves. Think of it as the salt and sand look, but with a little more effort involved. We've seen Neptune waves styled most commonly with a middle part. But as with all trends, it's up to you whether or not a middle part or a side part works best with your face. So choose accordingly. 
Hair stylist and trend forecaster Tom Smith told Glamour U.K. that Neptune waves are everything right now. "Countless celebrities have been seen sporting flat 'S' shape waves, most often with a middle parting and lots of volume," he explained to the outlet. "Unlike the Botticelli Waves of last year, Neptune Waves are more fluid and stretched out, with thinned out ends and a fluffy silhouette." The look is glamorous and gorgeous, and fairly easy to master using either heat or overnight braids. 
How to achieve Neptune Waves with heat
Neptune waves are meant to be a little more messy and tousled. The strands of your hair don't have to end with a perfect, polished curl; in fact the point is that they intentionally remain a little unfinished. As Tom Smith notes in his TikTok video, Neptune waves are the "frostier, cold weather equivalent" of the more polished Botticelli waves. Neptune waves are essentially flatter curls, adding volume and energy to hair. 
The most common way to achieve Neptune waves is through heat styling; use a 3-prong tongs or an "S waver" hair device to get them. The Bed Head Hair Waver is an option for under $30, while the Bondi Boost Wave Wand 3-Barrel Hair Waver from Sephora retails at $58. Artel Salon featured stylist Eileen in a YouTube video offering a tutorial on how to use the 3-barrel tool to get these textured waves. First, apply dry shampoo if you're working with second day hair, and heat protector spray. Section hair out by clipping up the top half with a sectioning clip. Then, clamp the 3-barrel device along the strands. Drag it all the way to the ends if you want to carry that curl through, but rest assured, it won't have an overly-fussy looking finish. Smith told Marie Claire, "Don't touch [the curl] while it's hot, that's really key; let it cool in place and then run your fingers through it and fluff it out." Polish it off with a strong hold hairspray. 
How to achieve Neptune Waves without the heat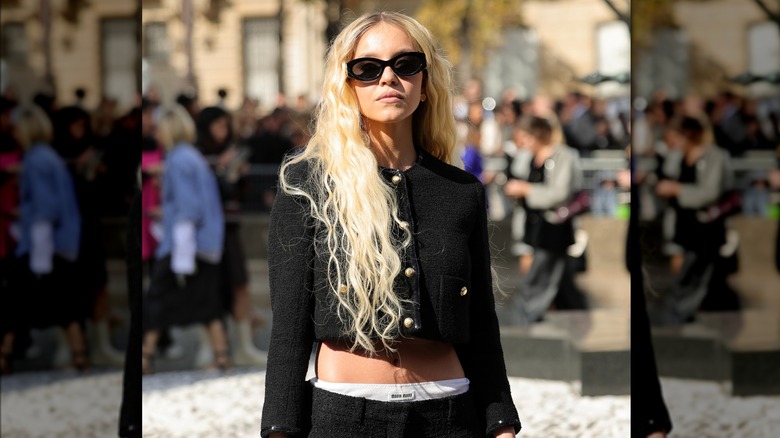 Jacopo Raule/Getty Images
You don't have to use heat to get Neptune waves. Tom Smith told Marie Claire that hair with a natural wave to it already tended to have the easiest time creating Neptune waves, so keep that in mind. For those with tighter natural curls, Smith suggested that one blow dry the hair straight first. You can achieve Neptune waves by sleeping in braids, though Smith recommended using a little heat to secure a hold. "It might be as simple as a middle parting and then braiding either side of the hair and sleeping in it or using the hair dryer or a straightening iron run over the braids to add heat setting it in quickly," Smith explained. "But a loose braid on wavy hair will kind of allow the waves to be manipulated slightly to that S-shape, neptune wave style." 
For heatless styling, Smith recommended a hairspray that had a wax consistency. "Using a slightly waxy hairspray is good, I really like Redken Wax Spray or Evo Shebangabang for this, and then maybe the tiniest bit of oil or serum [on the ends]," Smith suggested. Don't get too fussy with Neptune waves; the perk of this look is that strands are voluminous and wavy without too much fuss.