Side Vs Middle Parts: How To Tell Which Style Is Best For You
If you're anywhere near TikTok these days, you probably know there's a generational battle being waged over where to part your hair. Millennials are firmly team side part, while Gen Z has vehemently declared that the middle part is more flattering. For those of us who sport side parts it's a tough pill to swallow learning that we nay be dating ourselves with our hair. Excuse us while we clutch our skinny jeans.
But is it really so cut and dry? As it turns out, no. Just because parting your hair in the middle is more trendy right now doesn't mean that it's best for all faces. Stylist Roman Sys told Glamour UK that a lot of factors should go into where one should part their hair. "I always take into account a client's personality and other facial features, like their eyes, nose, brow, and lips," Roman explained. "A parting should feel instinctive and work with the rest of the hairstyle and look — there is no rule book for this."
So how can you tell which one looks better on you? It helps to know your natural part. The best way to figure this out is by combing back wet hair and then gently pushing hair forward from the crown of the head. Oftentimes, the way your hair naturally falls can guide your parting technique. While this is foundational, there are other ways to determine between a middle and side part.
Who benefits from a side part?
Stylist Mika Fowler told Byrdie that those with square-shaped faces do best with side parts. "The sides of the face are commonly straight, meaning an extra-deep side part is your new best friend," they explained to the outlet, adding that bangs can work really well with this face shape too. 
Those with heart-shaped faces, meanwhile, may find a deep side part can enhance their bone structure by making their angular features seem less harsh. This is because the different levels of volume create asymmetry that softens the overall look. The same effect works on diamond-shaped faces. "A side part really complements your strong cheekbones and bone structure," Fowler added.
Don't worry about appearing out of date with this look either. "I don't think a side parting is aging," stylist Luke Hersheson told Glamour UK. " A center parting is more undone and feels more grungy in a 90s way, but a side parting can look even cooler with connotations of an 80s supermodel." So how do you style a side part to keep it fresh? Consider rocking the part in a low sleek bun, serving ballerina vibes, or with a loose pony. Or, if you're in the mood to channel some romantic, Lana Del Rey energy, wear a side part with brushed-out curls.
Who looks best with a middle part?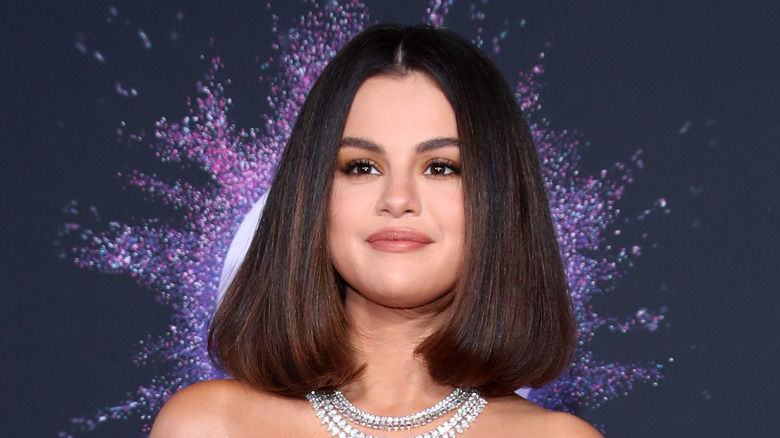 Rich Fury/Getty Images
Despite what some Millennials say, there's a reason the middle part is so popular online these days. For one, the balanced 'do is particularly flattering on oval or oblong face shapes because it plays up individual facial features. Cheryl Bergamy told InStyle, "It gives a more youthful look without looking childish."
This part is favored by Gen Z because it looks great in a slick bun or in hair pulled up with a claw clip. Moreover, because of its symmetry, you don't have to worry about one side of the head appearing to have much more hair than the other. Styled up or down, the middle part looks sophisticated and effortless. Colorist Silvia Reis told InStyle there is one warning to consider before trying the part. "It can be the least forgiving if there are any uneven areas on the face, as it can call attention to them, and on long faces, it can exaggerate the shape," she said.
Ultimately, though, there is no rulebook that says you have to stick to one part or the other so it's worth playing around with your hair to see what looks best for you. In the experimentation process, try taking some selfies to see how different parts look. The choice is much more about personal style and face shape than generational trends.