You Already Know You Need A Heat Protectant, But Are You Applying It Correctly?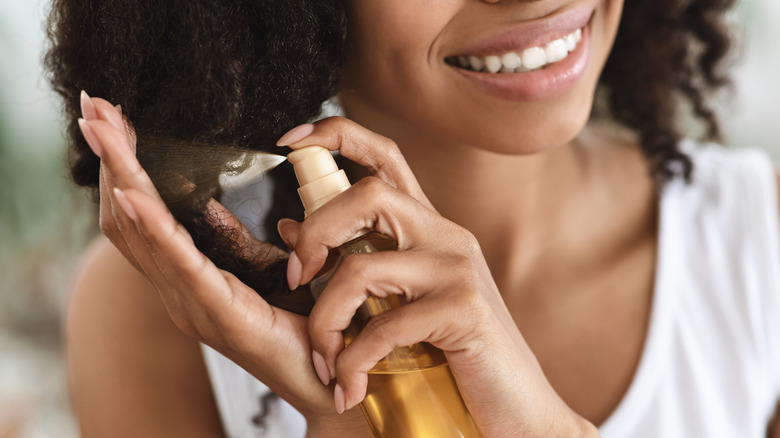 Prostock-studio/Shutterstock
For those of us who love using hot tools on our hair, we know we need a heat protectant. It's key for preserving hair longevity and health. Much like sunscreen on our skin, heat protectants form a buffer between our hair and blow dryers, curling irons, hair straighteners, and other tools. And if we're after thick, shiny, healthy hair, we know this is the way to go. "Heat protectants act as a protective barrier between your hair and a hot tool, protecting it from burning, drying out, and becoming dull," stylist Alex Brown told Byrdie. "It will also help smooth the cuticle and leave hair looking shiny and healthy."
Hot tools can get hot and our hair needs something to prevent the potential damage. Our hair will show signs of permanent damage if exposed to anything over 392 degrees Fahrenheit, Dr. Joseph Cincotta told The Cut. Curling irons run at 200 to 400 degrees Fahrenheit, and straighteners run even hotter at 300 to 450 degrees Fahrenheit. Just for reference, you can bake cookies at cooler temperatures than those high ends. There are a few things worth knowing about heat protectants, though, and we need to make sure we're using these products correctly in order to save our hair and get the most out of our styling routines.
How to pick and use a heat protectant properly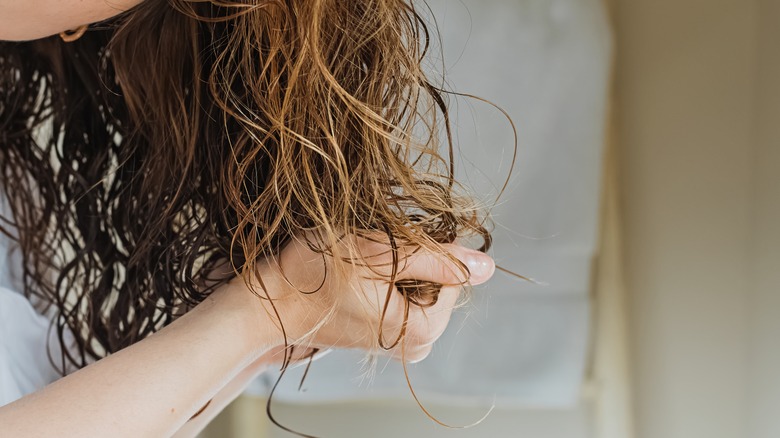 Chiociolla/Shutterstock
There are a few key things to look for when choosing a heat protectant. For one, you want humectants in the product, also known as ingredients that attract and hold moisture. Some examples are hyaluronic acid and glycerin. An emphasis on moisture is also best for textured hair. You also want something with nourishing qualities, so look for added ingredients like keratin, argan oil, wheat protein, and amino acids. Thick or curly hair works well with a cream heat protector. For fine, thinner hair, choose a lightweight spray.
So how does one apply a heat protectant? "The best time to apply on the hair is when it's slightly damp," stylist Joseph Maine told The Cut. It's also important to use it before using any other styling products. Mousse, volumizers, and any other products come after the heat protectant. When using a spray heat protectant, distance is key for an even application. "I like to hold the product about 30 centimeters [about a foot] away, so I can get a nice even coating but no stickiness," stylist John Pulitano told Byrdie.
Some experts even suggest following up with a nourishing oil or serum after hair is completely dry. The L'Oréal Absolut Repair 10 in 1 Leave In Oil is a fan favorite as is the Olaplex No.7 Bonding Oil. No need to skip out on that moisture!
Do we need to reapply if we're restyling but not washing?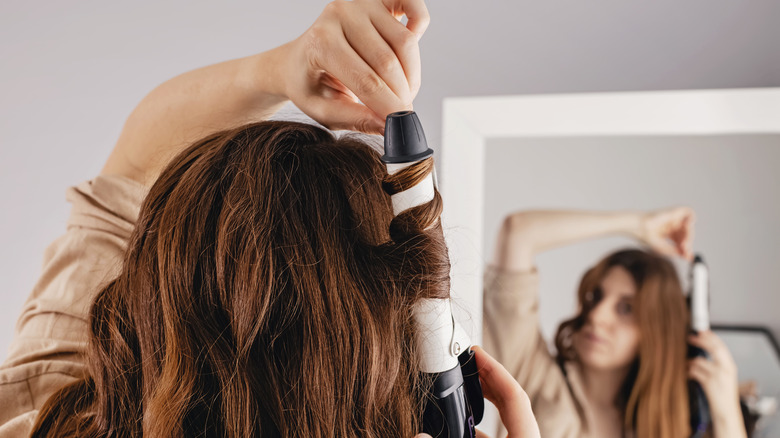 Chiociolla/Shutterstock
Thanks to the wonders of dry shampoo, or for those lucky enough to have hair that lasts between washes, many of us are skipping out on getting our hair wet throughout the week and restyling dry hair. What's the deal with heat protectants in this case?  Craft expert Jordanna Cobella told Who What Wear that in some cases, it's not necessary. "If you use a professional heat-protection spray ... and your styling tool does not exceed the temperature of [365 degrees Fahrenheit], your hair will be protected from heat damage until the next wash," Cobella explained.
Those of us who use straighteners or curling irons between washes would benefit from reapplying a heat protectant. For maintenance like this, a spray protectant is easiest. Why is this necessary? Well, it turns out heat protectants aren't guaranteed to protect every single strand of hair, cosmetic chemist Esther Olu told The Cut. Even though they might have the maximum temperature listed that they protect against, it's not possible to guarantee that every millimeter of our hair gets covered. So in between washes, it's a great idea to err on the safe side.
Another good thing about heat protectants is that they come in all price ranges. There are some high-end ones, like Oribe's Royal Blowout Heat Styling Spray, which currently goes for $69, or there are affordable ones by L'Oréal that cost less than $10. So an effective heat protectant doesn't have to mean a hefty price tag.