Make Your Minimalist Palette Maximalist With Sparkly Neutrals This Season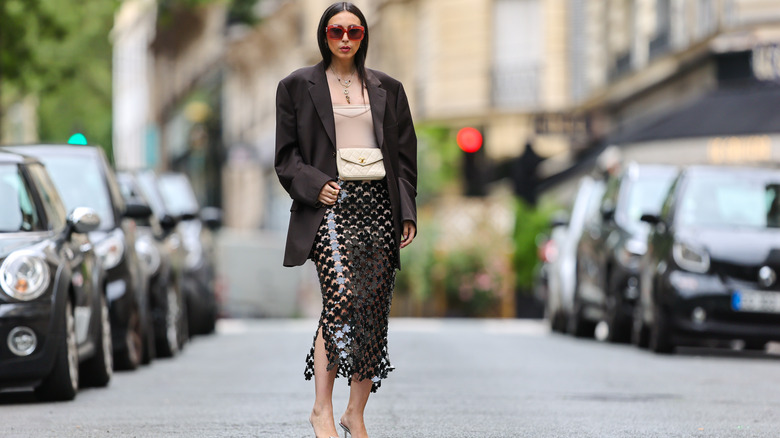 Edward Berthelot/Getty Images
We get the appeal of a minimalist look. After all, beiges, blacks, and browns are easy to style and flatter pretty much every skin tone. But sometimes we're dying for a jolt of energy. And what better way to achieve that than sequins?
We know what you're thinking. Sequins? Aren't those best left to your New Year's Party or concert wear? Sparkles might seem like the last thing you'd add to a minimalist outfit, but there's a way to use this embellishment while style looking classy and understated. While vivid hot pink or green sparkles might feel a bit much, beige, brown, and muted gold sparkles are a great way to add life to a look while still being appropriate for regular day and night wear. Better yet, they are an absolute joy to style, since they can quickly add some razzle-dazzle to a flat, winter time outfit without having to rely on tons of jewelry.
Or, if you need a festive touch, let pieces like this carry a look to nail a cocktail dress code (even if you're wearing pants!) It also brings in an elevated texture to upgrade your style. Shimmer and sequins create the perfect foundation to let a little dazzle in. 
A pale green sequin two piece is subtle but glam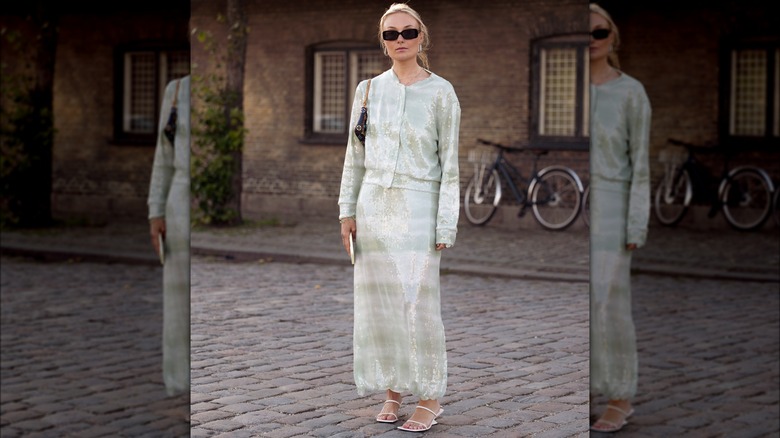 Raimonda Kulikauskiene/Getty Images
This neutral, cream green sequin two-piece skirt suit is the perfect way to tap into some glitz without overpowering a look. Since the pastel green tone is so soft, it reads as a pale neutral and doesn't overwhelm. The long skirt and cardigan offer traditional cuts, while the unconventional sequins keep things fun. Wear with neutral sandals or sleek boots to let the sequins shine. A cool, messy ponytail gives everything an undone, modern edge. 
A brown, sequin maxi dress is everything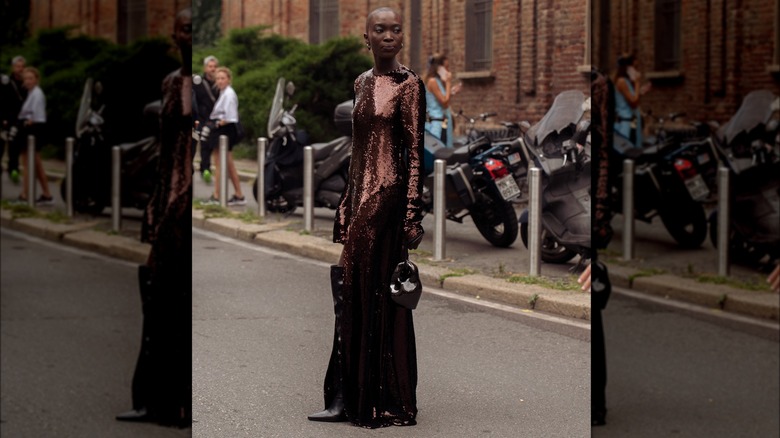 Raimonda Kulikauskiene/Getty Images
Most of us think of sequins as gold, silver, and pink, but chocolate brown is an underrated color worthy of your attention. A rich, warm-toned sparkle is one of the most decadent ways to show off a little shimmer while keeping things neutral. A maxi dress in this shade is just delicious, but even a blazer in this shade would elevate any look. Pair with a small, tonal bag and boots. If you want a more contrast, add a vivid red handbag, scarf, or other accessories.
An all-black sequin look is lavish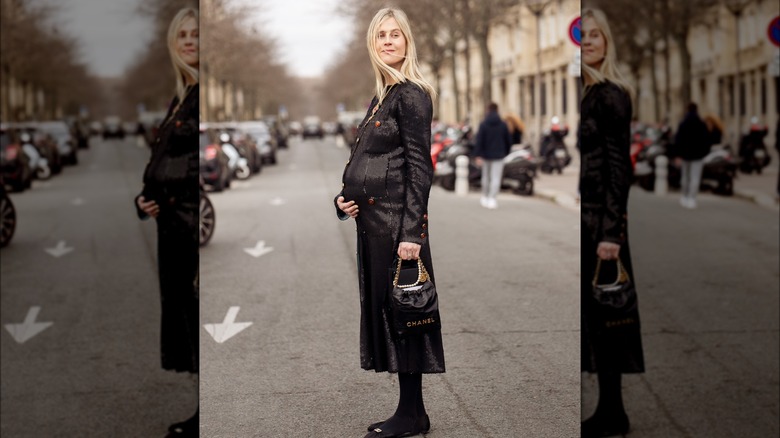 Raimonda Kulikauskiene/Getty Images
Whether you're headed to a holiday party or choosing an outfit for brunch, you can never go wrong with all-black sequin look. Wear with thick, black tights, and black flats to keep things monochromatic, and add gold hardware give the look a classic finish without looking too drab. Keep makeup minimal so that the outfit as a whole remains modern.
Use a woolen sweater to give peek-a-boo sequins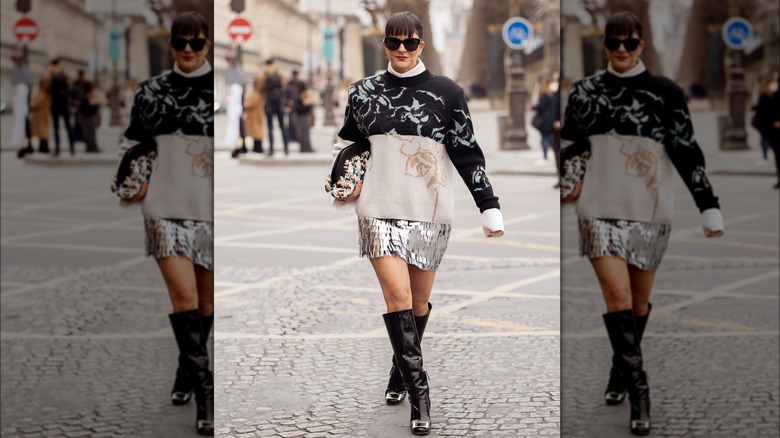 Raimonda Kulikauskiene/Getty Images
Silver may be neutral, but on large pieces like jumpsuits, rompers, and skirts, it can look a bit over-the-top. However, if you have a festive silver sequin dress or skirt you wear it as often as you'd like, layering can save the day. Wear a neutral winter sweater in grounding beiges and black to cover the majority of the sequins. A little bit of flare peeking out is a fun way to add embellishment without going for the whole disco ball vibe. High black boots are the perfect way to add seasonal chicness to the outfit. 
Work in nude sequins with tonal layering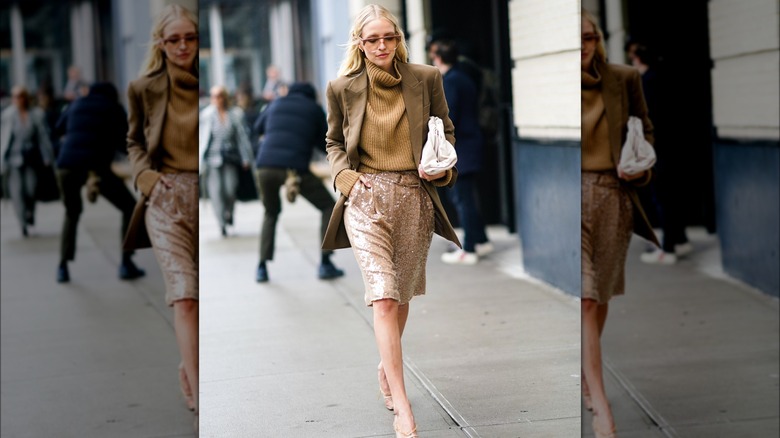 Edward Berthelot/Getty Images
While it might seem impossibly difficult to style, a nude, sequin pair of Bermuda shorts can actually become a super chic daytime look if styled with balanced pieces. Keep things warm by tucking a solid, caramel turtleneck into the bottoms and layering a taupe blazer on top. They'll bring balance to the sparkle while keeping the tones uniform. If the weather doesn't permit bare legs, wear the look with tights and over-the-knee boots in black, Oxblood, or camel. Oversized, neutral sunglasses are a trendy way to polish off the look. 
Pair a white, sequin cardigan with wide-leg jeans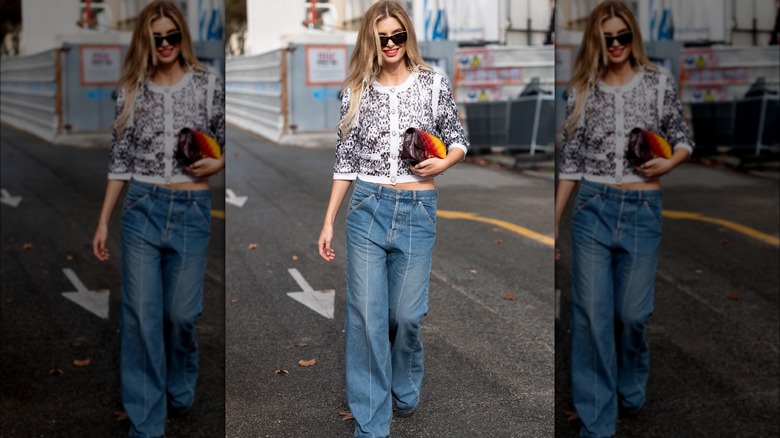 Claudio Lavenia/Getty Images
A cardigan might the last place you expect to find sequins but this crisp white button-up version proves that they're just as welcome as any other embellishment. For a very chill look that still has some sparkle, wear this cardigan by itself over your favorite loose denim. Play with warmth by pairing the look with a fiery red hand bag, and don't forget your sunglasses. It's eye-catching in all the right ways.