Balloon Jeans Are The Relaxed Denim Trend To Try Now
Balloon jeans have inflated, if you will, and left skinny jeans as a thing of the past. This novel denim cut — sometimes called horseshoe jeans or barrel jeans — is a unique take on the wide-leg jean, but there are some specific features. Wide-leg jeans encapsulate the loose denim trend that starts out fitted around the waist and tapers down into either a straight ankle or a wider ankle. Conversely, balloon jeans start out high-waisted, fill out around the knees, then come back into a tapered hug at the ankles, creating the appearance of a balloon.
There are varying levels of how tight the jeans can get around the ankle. Some come back to a tight circle at the base of the pant, whereas other balloon cuts remain a little more loose around the shoe. The important criteria is that the jean is ample around the middle of the leg, creating a billowing — or horseshoe — shape. This unconventional cut requires a little more attention when styling, because it runs the risk of looking bulky. But when styled properly, the balloon jean is a killer way to achieve a show-stopping denim look. 
Wear elongating shoes with balloon jeans
If you're not in the mood to pull off something daring, reach for a straight-leg pair of jeans until you're in the mood for a more ambitious look. Ballon jeans feature an ample amount of fabric in the front, particularly around the middle of the leg. The point is that this type of jean is a statement piece. Fashion content creator Rebecca Nanjego shares styling tips on TikTok for what to do and what to avoid when working with these pants. One of Nanjego's many helpful tips is choosing sleek shoes to wear with these billowy bottoms. Avoid shoes that are bottom heavy like a big sneaker, instead, pick something delicate like a kitten heel to offset your maximalist jeans. 
Wear a long, dark coat with balloon jeans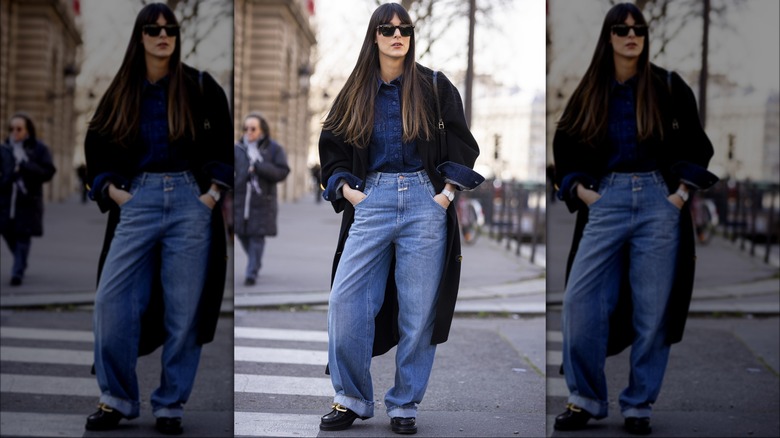 Claudio Lavenia/Getty Images
Loafers have been on trend for several years now, and they look just as good under balloon jeans as they do trousers. Grab a pair of heeled loafers with a buckle if you want to channel the lovely, long lines of a Diane Keaton silhouette circa "Annie Hall." We are loving the dark denim button down with the lighter wash of the balloon jeans. Tucking in your top, no matter how loose the fit, allows the waist to show, which still gives shape to the overall look. Opt for stunning outerwear in the form of a classic long, dark coat, since they're so easy to style. 
Tuck your shirt into balloon jeans
One of the easiest ways to successfully style balloon jeans is simply by tucking in your shirt. This cinches the waist and highlights your natural shape, as well as the unique tapering of the denim. On TikTok, @styled.bysansha stressed the importance of tucking in your top over balloon jeans and offered other advice, such as wearing something more fitted on top, as the pant legs are so ample.
Wear balloon jeans with a cropped puffer coat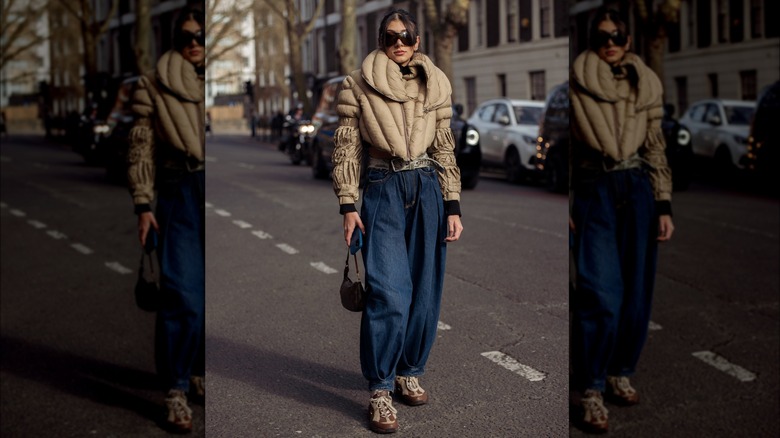 Raimonda Kulikauskiene/Getty Images
Sometimes, weather depending, you need to be in a warmer jacket. But cool days are no reason to omit balloon jeans from your look. Simply keep the mantra going that you want to have some waist shape in your look. A cropped puffer jacket is an easy way to achieve this. Keep the cool girl vibes strong by pairing your balloon jeans with sneakers and oversized sunglasses. Embracing these substances pieces is a fun way to let the look speak for itself. 
A blazer and kitten heels pair perfectly with balloon jeans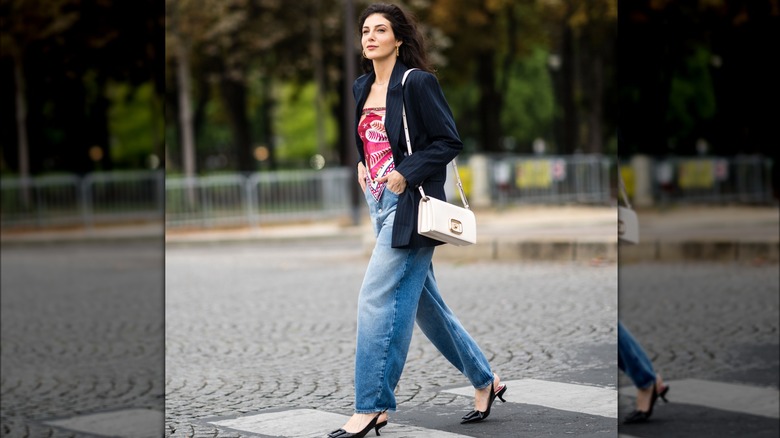 Edward Berthelot/Getty Images
Blazers are everywhere in 2023, and even though they have a more structured shape, they still work well with the relaxed fit of balloon jeans. The doubly structured look gives a polished, deliberate effect. Offset the tailoring by wearing something delicate and feminine underneath, like a lace camisole or silk top. Pair with sleek kitten heels to keep the base of the outfit streamlined. A small, geometric shoulder bag is a great finishing touch.