The Early '00s Hair Pouf Is Back & Sleeker Than Ever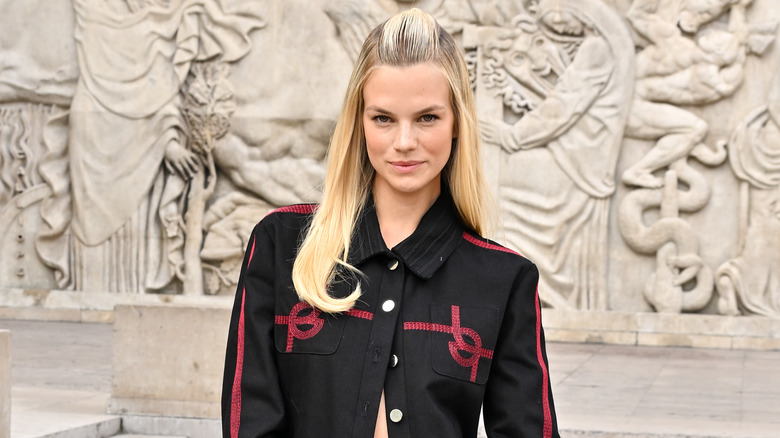 Stephane Cardinale - Corbis/Getty Images
The hair pouf from the early 2000s is back. It seems like many looks from the Y2K era are returning, and even our hair is going nostalgic. The pouf has returned, as has the two-toned hair trend that had everyone dying half of their head. But these looks aren't exact replicas of their outdated counterpart. They're coming back with a fresh take, as they're much sleeker and not so high. The pouf was everything in the early aughts, and every celeb it-girl rocked one at some point. Stars from Lindsay Lohan to Beyonce to Paris Hilton were pulling out the bobby pins and pinching those bangs back. Now, we're seeing the trend re-appear, but the look is more polished than it was back in the day. Instead of frying our ends off with a straightening iron, we're opting for softly curled hair to offset the sharpness of the pulled-back look. 
The hair pouf is actually an easily workable trend. It's a great half-up, half-down look for shorter hair, and looks stunning on long hair too. If you're growing out some bangs, or just want to get your hair out of your face, this is a perfect look to try. 
Add only a small amount of volume to your hair pouf
The hair pouf is a shockingly easy look to master. Simply grab a triangular section of your hair at the front. For a substantial enough pouf (we're grown-ups now), align the section you grab with the highest points of your eyebrows. The effect gives lift to the whole face. Once you've sectioned off the pouf, you can add some volume to it. Now, this isn't "Jersey Shore" anymore, so let's not get too carried away. We're just looking for a small lift. "Unclip the [pouf] section and spray texturizing spray near the roots," hairstylist Clariss Rubenstein explained to Allure. "Starting from the back of the [pouf] section (near the crown of your head), and working your way to the front, in inch section increments, use a teasing brush to tease the root." If your hair is textured, you can omit this since you don't want the pouf to have too much height. 
Once you have some volume, Rubenstein advises using a boar bristle brush to comb down the pouf so that it stays sleek. Any frizz created when adding volume should be invisible by the end. 
We're after a sleek pouf with curled ends
What makes the contemporary hair pouf different from the past is its sleekness. The look is ultra-sharp with no time for flyaways, so grab hair spray and pomades to tame the look. Celebrity hair stylist Sophie Sugarman told Glamour UK how to achieve this. After blowdrying the hair, Sugarman suggests 7SECONDS Glossing Spray as a protectant before curling your hair. Once applied, curl the ends using a curling iron to give the hair a soft finish. Using hairspray, flatten any flyaways and pin back the pouf using bobby pins. Then give the hair a final blast using 7SECONDS Glossing Spray to polish things off with a shine.
This early 2000s trend isn't coming back without a fight, though. On TikTok, people got the nostalgia ick as much as they had the desire to give the pouf another try. When commenting on @oliviarosedemuro's video, people were hilarious. "The pouf has a lot of embarrassing Facebook pics & trauma attached to it for me," one person wrote. Yup! "yes it had a hold on me in middle school," another chimed in. Since Olivia asked for opinions on whether or not the pouf should come back, someone wrote: "I hope not, but this looks good on you!" Honestly, with the revamped style, we might play around with the hair pouf.