5 Half-Up Half-Down Hairstyles Perfect For Short Hair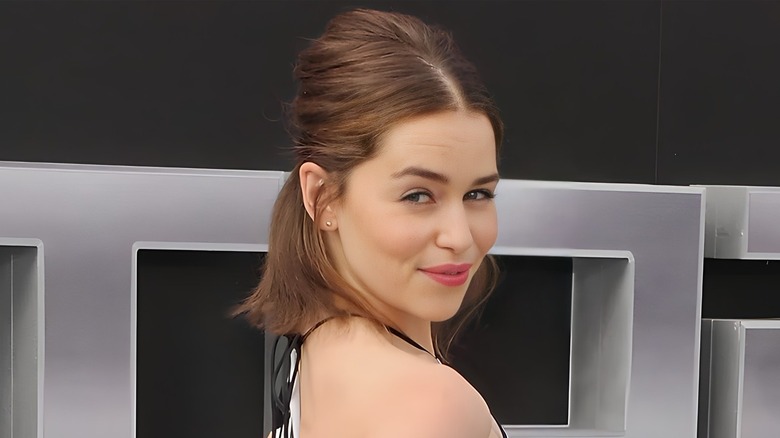 Jon Kopaloff/Getty Images
Figuring out how to style your hair can be challenging, especially with the plethora of looks to choose from. What's even more challenging? Making those same styles work for short hair. One hairstyle that has never wavered, however, is the timeless half-up half-down look. Half-up half-down hairdos are perfect for almost any kind of hair length and occasion. Whether you're headed to yoga class or meeting your friends for happy hour, a half-up half-down hairdo can instantly enhance your look.
While achieving a voluminous ponytail was the hair trend of the summer 2023 to compliment our athleisure wardrobe, we're eager to try some styles that pair with a variety of looks. Speaking to Byrdie, hair stylist Aaron Grenia explains, "An effortless, half-up look is a great way to elevate an air dry or transition an easy day look into a glam night out. Beyond its classy and tasteful look, half-up half-down hair can also help those of us with thick hair avoid a headache by putting all of it up. If you're interested in switching up your hairdo this fall, you've come to the right place. 
High ponytail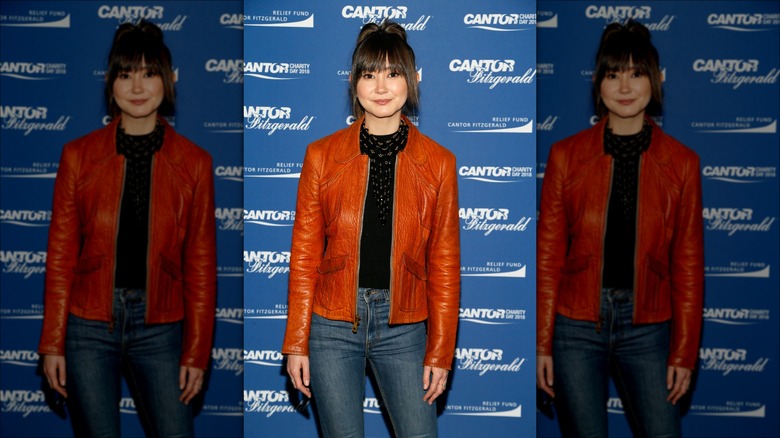 Paul Morigi/Getty Images
For short hair lengths, a high pony can add depth to your hair and allow it to look fuller, but sometimes, your bottom layers may be too short to fit all into one pony. With a half-up pony, however, you can still achieve that high hair look, while leaving some on the sides to give your hair plenty volume.
Hairstylist Ioana Todoran's explains to Byrdie the style is super easy to accomplsih. "Section your hair with a tail comb from ear to ear, in a straight line," she explained to the publication, adding that it's important to apply hairspray to flyaways before tying the hair "on top with a rubber band or bungee, to make sure there won't be any hair breakage." Make sure you comb over any bumps and tangles with a brush before tying hair up. With the likes of Beyoncé and Ariana Grande creating the foundation of this look for years, there's no denying that you'll look completely reinvented with a half up high pony, regardless of hair length.
Front and center
Who says half up half down means the fun has to happen in the back? Switch up your short hair style by placing a fun ponytail or overlapping hair pieces right at the front of your crown. This gives the hair a unique, head-turning look. Although this may take some practice, the end result looks like nothing any other half up styles we've seen, so it may be worth the effort.
Braided style
You don't actually need long hair to wear a half-up, half-down braided style. As TikTok user Kylaleelee demonstrates, section one small area of hair on the back of your head to create a high ponytail. Then, braid two small sections of hair near the temple on opposite sides of your head. Instead of securing each braid with its own elastic, bring them together and tie them with just one elastic, creating a braid loop. Pull the loop back above your head and under the ponytail, then release the ponytail to let the hair fall down over the braids.
Another great way to add a half-up braid detail is the zig-zag braid. Per Cosmopolitan, the best way to do this is by using a rattail comb to create three zigzagged parted sections of hair that meet at the crown of the head. Once all sections of hair meet, regularly braid hair down and put it up using a secure hair tie. If hair is too short to braid all the way down, tie it up into a top knot. Finish off by setting the whole head with hairspray. 
Side part for volume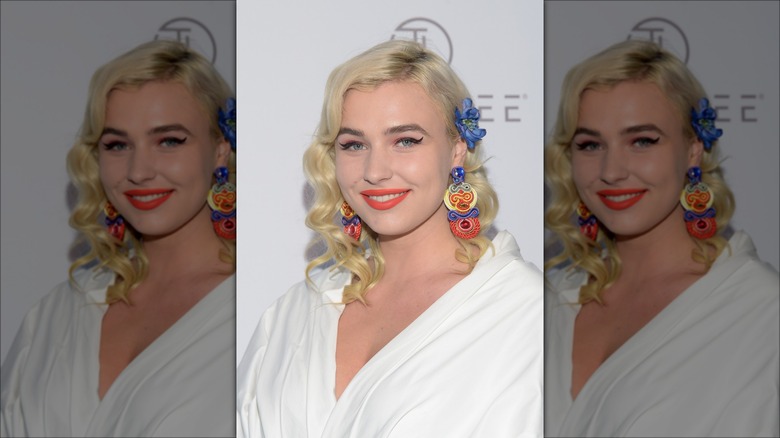 Michael Tullberg/Getty Images
The hardest challenge for short, thin hair is finding the perfect way to do a half up half down ponytail. Even if you have long, thick hair, there is something to be said about how a side part can instantly class up any hairstyle. Per Todoran's advice to Byrdie, you can also enhance this look further by using extensions to add length and volume to the hair, especially for those of us with short hair who still want a variety of hairstyle options. On the other hand, extensions aren't necessary to make this look work. Part hair to the side until satisfied, gently tie or clip hair strands to the back of head, and polish off the look with hair gloss.
Half up, half down pigtails
Forget what you've heard about pigtails being juvenile. This style is the right mix of sporty, flirty, and modern. Best of all, it looks great and is quick to come together on shoulder length bobs and lobs. Instagrammer Kikalateefff demonstrates how to easily achieve this look in seconds on chin-length hair. First, she grabs one section of hair near the rear of the crown on either side and secures it with a small elastic. She then fluffs the remaining hair and ties each pigtail with a ribbon, giving it a pretty, coquette finish.