Simple Tips To Fake A Voluminous Ponytail When You Have Fine Hair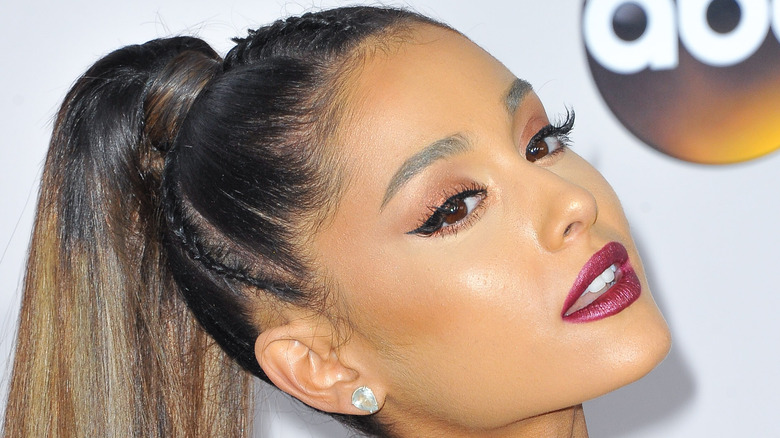 Allen Berezovsky/Getty Images
Do you find your fine-haired self envying the voluminous ponytails of Ariana Grande, Kim Kardashian, et al? These famous ladies are known for sporting luscious ponies with everything going for them, including tons of length and volume. Unfortunately, when you have fine hair, it's often length or volume — you usually can't have both without the help of something extra like halo extensions.
That is unless you know celebrity hairdressers' secret hacks for boosting hair volume, like Chris Appleton's (hairstylist to the likes of Kardashian) viral tricks, for example. While many of these ponytails might look effortless, quite a bit of work goes into perfectly teasing and taming the hair. We can't promise a next-level ponytail will be as easy as just throwing your hair in a band, but we can guarantee your tresses will give J-Lo vibes.
To start, you need to set the stage for some serious height. Adding volumizing products to your hair routine all the way from wash to dry can help you get the fullness you desire. Some of our favorites include Tresemme One Step 5-in-1 Texture Spray and Olaplex No.4D Clean Volume Detox Dry Shampoo which effortlessly adds volume to your roots without weighing them down. Once your hair has a bit of oomph and grip, you're ready to try these viral hacks.
Volume you'll absolutely flip for
And we do mean literally flip for because that's the main premise of these hair hacks. Chris Appleton's mini-pigtail-flip hack, seen in the above video, is perfect if you want to rock the fun and full, half-up-half-down pony that's currently trending (primarily due to our Barbiecore obsession). Simply take the front of your hair, from your hairline to the crown of your head, and split it into two tiny pigtails. Secure them with small elastics close to one another at your crown. Next, connect them with a third elastic. 
Finally, flip them through underneath by pulling the pony from back to front. Cinch it down and let it waterfall out, hiding all the elastics and giving the illusion that you have tons of hair. Kick the volume trick up another level with Appleton's stacked-double-flip-through hack. To start, pull half the half pony from the first trick up to your crown. Instead of pigtails, secure it all with an elastic, then separate it in the middle to pull the hair underneath and through. 
Next, grab enough hair for another ponytail below the first, secure it with the original one, and pull everything through the uppermost pony with a flip. Fellow hairstylist-to-the-stars Cynthia Alvarez uses a similar technique minus the flipping. She sections the hair in half horizontally and stacks one ponytail using the top portion directly over another ponytail using the lower hair, to create additional volume and the illusion of fullness (via InStyle). 
Managing the flip and keeping it secure
In the second, ingenious Chris Appleton hack, it's the first ponytail you make that's doing most of the work. Known as an anchor pony, it helps to prevent your hair from drooping. If you want to ensure that this doesn't happen with your mini-pigtails, you could try using the bobby pin support method. All you have to do is place two bobby pins through the elastic at the back of your pony so that they're standing up vertically. Lay your hair back over them and they'll prop up your pony nice and high. 
Using the proper stronger-hold products is a must, too. If your fine strands shift or start to fall into a narrow stream instead of a waterfall shape you risk exposing your high-hair secrets, like the elastics and bobby pins. A hairspray with holding power combined with a texturizing spray should give you all the grip you need to hang onto your volume all day long. Professional hairstylist Sarah Klein uses a double ponytail too, but she suggested a different concealing method.
According to InStyle, Klein wraps some hair around the base of the pony itself and then secures the extra locks with a bobby pin to hide them. Sure, there's a bit of a learning curve with this. But with some practice, you'll be rocking a sky-high half-pony even Dolly Parton — who once famously said, "Life is short, keep your dreams big and your hair bigger" — would be envious of.