We Tried The 'Naked Smoky Eye' Trend & It Couldn't Be Easier
Heard of the smoky eye? You may remember the term from a few years ago when it described darker eyeshadows (usually blacks, grays, and dark browns) blended to create a dramatic and bold eye look. Well, there's a new twist on the classic coming our way. The' naked smoky eye' is all over TikTok right now and has been seen on a bunch of stars, including resident "clean girl" Hailey Bieber. But what exactly is it? 
At a glance, the look appears to be an offshoot of the 2023 latte makeup trend combined with the understated quiet luxury aesthetic that's also been all over social media. It essentially involves taking different shades of matte brown (we'd recommend one to three to keep things as simple as possible) and applying it all over the eyelid for a very natural, super easy eye look. Unlike the traditional smoky eye, there are no hours spent blending shadows or perfecting a winged eyeliner required, as the idea is the minimal, neutral colors blend effortlessly. But how does it actually look in real life and is it really as easy as TikTok wants us to believe? We here at Women.com gave it a try so you can see how it looks on real skin (#NoFilter, people), and we're sharing the results and our best tips and tricks for nailing this trend.
The 'naked smoky eye' really is the queen of simplicity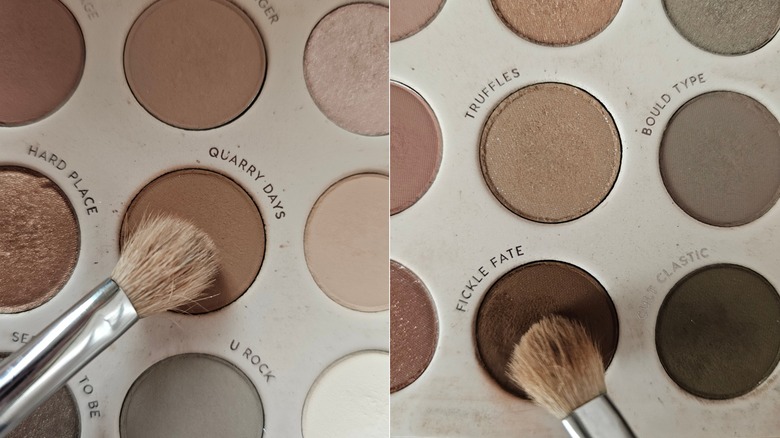 Emily Hutchinson / Static Media
Per Byrdie, one key difference between the regular smoky eye and its 'naked' version is that the latter uses simple, matte shades rather than shimmery ones. TikTok user @zoekimkenealy recommends going for cool-toned browns, so we reached for ColorPop's Stone Cold Fox palette. We chose "Quarry Days" (a lighter, sandy brown) as the main shade and "Fickle Fate" (a darker, more chocolate brown) to add a little dimension — both light-to-medium, matte shades.
We began by using a fluffy brush to apply "Quarry Days" all over the surface of a bare lid and across the lower lash line until it was completely covered with a light layer of subtle, yet detectable brown color. Depending on how oily your eyelids are, or how pigmented your shadow is, you may need to do more than one swipe. We then used the same brush to gently blend the shadow at the corners outward for that signature 'smoked out' effect. 
Finally, we carefully added our darker brown shade, "Fickle Fate," along the upper lash line using a smaller fluffy brush to better frame the eye shape and create definition. As we got further to the outer corner, we pulled the shade up towards the brow bone, carefully blending inward over "Quarry Days" shadow that was already there. This helped to achieve the somewhat smudgy effect we're used to seeing in a smoky eye without the need for eyeliner. 
But we have a few tips to perfect the 'naked' smoky look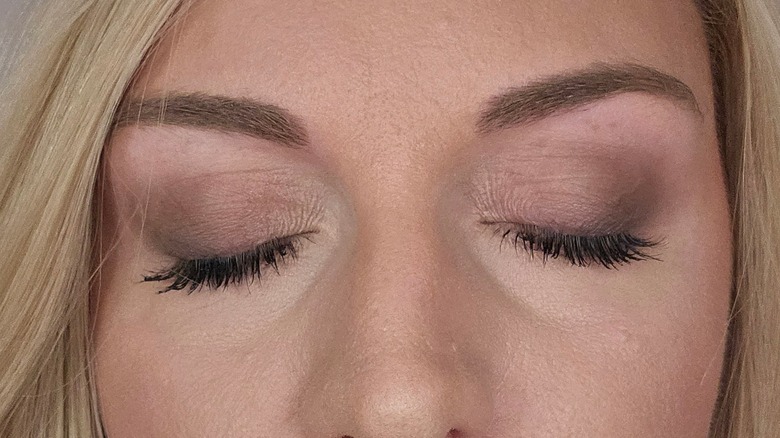 Emily Hutchinson / Static Media
While the naked smoky eye was simple to apply, we did pick up a few tips in our exploring. First, we found that placement is very important with this look. Since it doesn't require as many clear, defined lines as a regular smoky eye, it can be easy for it to look messy. To keep the shadow from getting too muddy near the outer corner of the eye (which can happen with multiple shades of the same color), it helps to create a guideline. For our own test, we used a smaller eyeshadow brush to draw a thin line with the "Quarry Days" shadow (our base, lighter brown color) a few millimeters beyond the lower lash line and up towards the eyebrow at an angle. We found this helped us work out exactly how far out to take our darker shade, "Fickle Fate."
Another tip? If you like your eyes to have some depth, don't put any of the eyeshadow in the inner corner at all. We ended up taking a cotton swab to remove some of the product on our inner eyes so that our bare eyelid was visible. Leaving this amount of space at the inner corner made the eyes appear more open and natural.
And completing the look is pretty simple, too!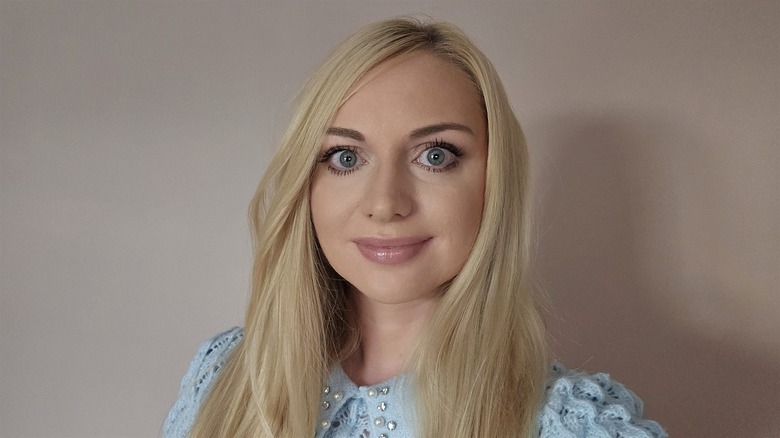 Emily Hutchinson / Static Media
Because the 'naked smoky eye' is all about understated simplicity, it's recommended you keep the rest of your makeup on the same page. As TikTok's @zoekimkenealy explained, glowy skin is totally in for this simple look, so it's best to not to be too heavy-handed with your foundation brush or sponge and instead try a lighter coverage. We also found our eyes looked best with a few coats of mascara on our lashes to add some definition. If you want an even more subtle look, you can use brown mascara.
To keep the lips as natural as the eyes, we completed our look with a light pink, cool-toned Hot Lips in shade Kim KW from Charlotte Tilbury, and lined them using MAC Soar lip liner for extra dimension. We then blended the two together by adding Kylie Cosmetics' High Gloss in the shade Lost Angel over the top. But we'd believe any pink shade on the lips could work. Just keep in mind you may want to go a little pinker if you have warm undertones to bring a little warmth back to your look.
Overall, we found the 'naked' smoky eye to be super easy to DIY and highly wearable. We can definitely see it being a new go-to for so many people because of that. Brown is universally flattering when it comes to eye makeup, and will also help to bring out the eye color of anyone with blue or brown peepers in particular. We can also see this being a big hit with so many people because it can be done so darn quickly. Seriously, you can easily have your eyeshadow done in five minutes or less!