Fall 2023: The Jewelry Trends To Know To Stay Stylish This Season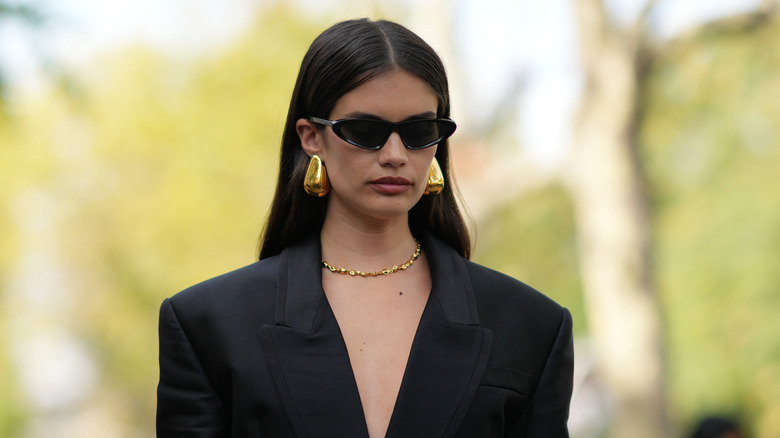 Edward Berthelot/Getty Images
We may receive a commission on purchases made from links.
The fall 2023 jewelry trend is big. We mean that literally. Fashion week in New York, Paris, London, and Milan for SS24 featured big baubles, oversized earrings, brooches, necklaces, and rings. This was true both on the runway and on the glittering guests who poured in and paraded up and down the sidewalks of these cities. The message is: have fun with your jewelry. As far as fall 2023 goes, the bigger the better with jewelry. Pieces are noticeable; they're daring and they're adding to the conversation of an outfit. There are no receding, dainty pieces happening right now. And this is just fine with us. 
There is also a nostalgic element to the jewelry trends of fall 2023. Floral fabric chokers, with wraparound string, are giving us serious Y2K vibes. Oversized floral brooches are also back in a big way. Antique brooches, the kind your grandmother loved, are also having a moment. It seems the past has reared its quirky head yet again. Inexplicably, the mushroom jewelry trend has also taken off. Plus, yellow gold is still huge, proving that the quiet luxury trend is as alive as ever. We're just noticing that the yellow gold jewelry is a little bigger and a little bolder than it was a year ago. Big, bold, and beautiful is the order of the day. 
Big statement earrings bring geometric energy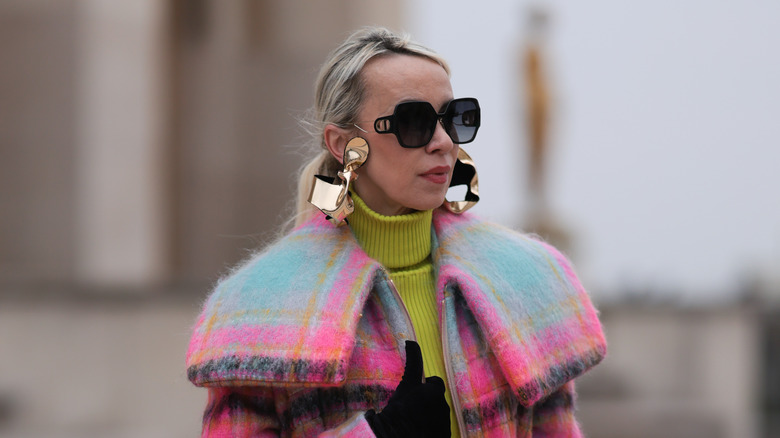 Jeremy Moeller/Getty Images
Without a doubt, oversized earrings are the biggest trend in fall 2023 jewelry (literally!). They add beauty and boldness to any outfit. This year, it's all about large, metallic structuring, and glittering geometric shapes, though we've also seen an uptick in glittering, jewel pieces and floral shapes. The look takes fashion-forward to the next level. Style them with your hair pulled back in a simple ponytail or bun to keep the focus on the earrings, so as to properly show off the beautiful detailing. 
Hair jewels and sunglass necklaces in diamonds and pearls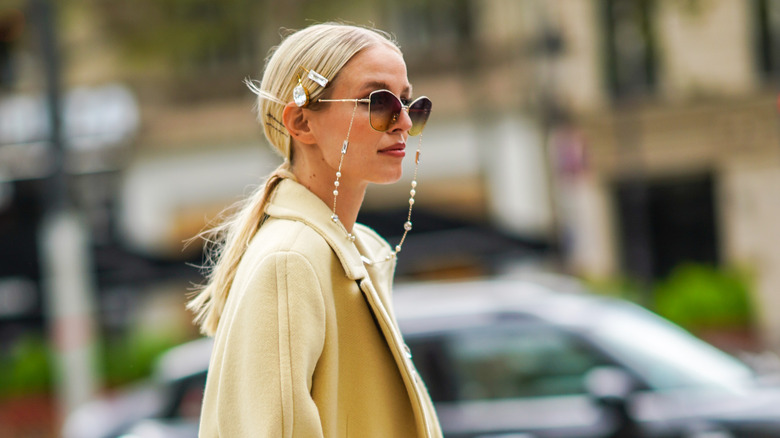 Edward Berthelot/Getty Images
Statement jewelry has become such a huge trend in fall 2023 that it's going beyond the expected pieces like earrings, necklaces, and rings. Hair jewels are the new adornment we're loving this season, with diamonds, rhinestones, and pearls on hair clips and bobby pins. Sure, they have a functional purpose to keep hair in place, but their real purpose is to add glitz to hair. A simple, effortless hairstyle keeps the look contemporary and fresh. 
Sunglass chains are another unexpected place where we've seen the jewelry trend blossom. Fasten your sunglasses with a pearl and gold chain for a decorative sway while you wear them. Plus they can hang around your neck when you want to take your sunglasses off. 
Floral brooches are making us nostalgic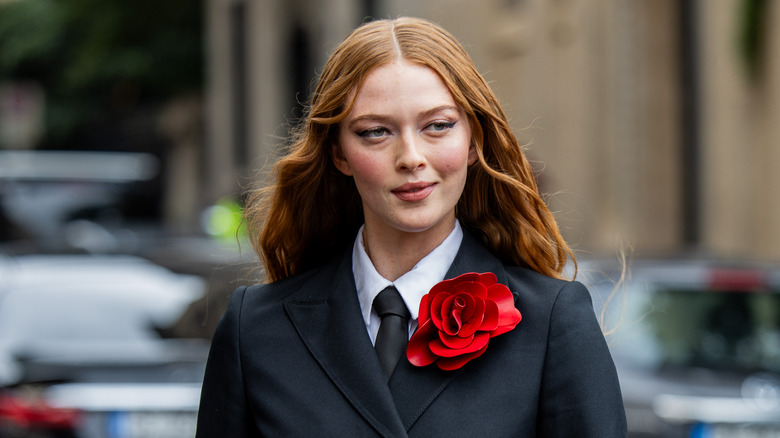 Christian Vierig/Getty Images
The brooches of 2023 are more structural; they have an added element of sophistication, but flower brooches are back! It's serving major "Sex and the City" vibes circa season 3, when Carrie Bradshaw started sporting the large, fabric floral brooches. Contrast the soft petals with a menswear suit and tie to play with the wispy and the well-tailored. Wear your hair in dreamy curls to play on the "Carrie" look. It's not just floral brooches that are having a moment. All brooches, from cut crystal to art deco pins are proving to be a necessary addition to fall outerwear.
Yellow gold jewelry is still hot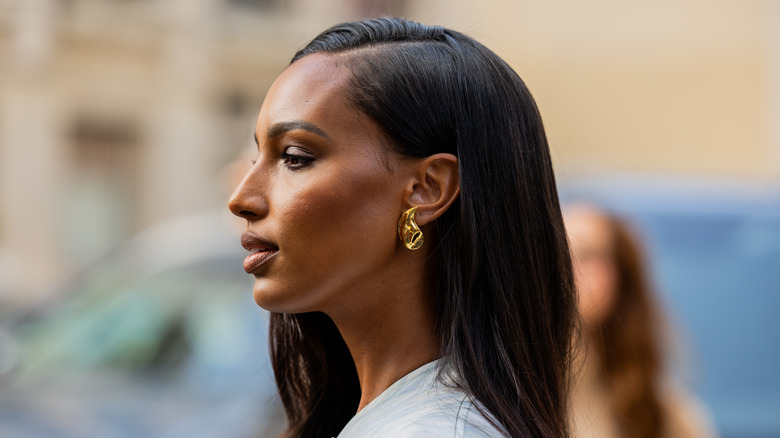 Christian Vierig/Getty Images
We've had our eye on yellow gold earrings for a while now. Thanks to the likes of Hailey Bieber and Sofia Richie, we've been made aware of the charms of yellow gold jewelry as the perfect tone for quiet luxury to take over our 2010s rose gold pieces. This is because yellow gold is flattering on everyone, and looks good with pretty much everything. "In my opinion, yellow gold is much more complementary to more colors than white or rose gold," jewelry designer Brent Neale told Net-A-Porter. You don't even need jewelry with stones in it. The yellow gold trend tends to stand out best when the gold is the focal point.
Floral chokers for the Y2K dreamers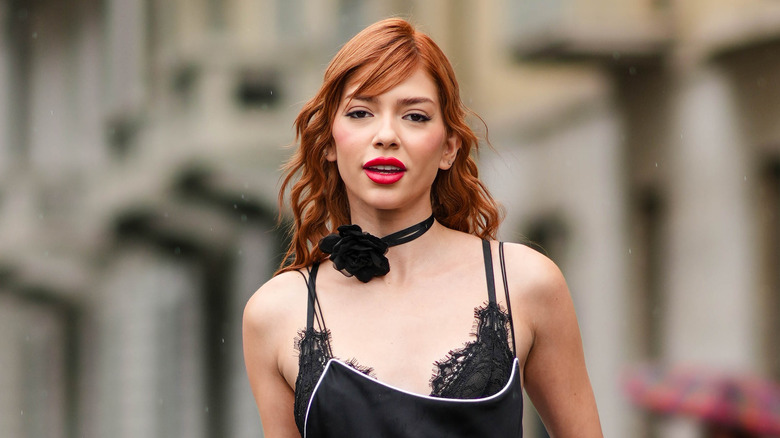 Edward Berthelot/Getty Images
Ah, Y2K. While some of our nostalgia for the early aughts has come and gone, the choker has remained a decorative mainstay from the past that we still want to keep around. What's specifically taken off in fall 2023 is the fabric, floral choker. The specific necklace is dreamy and romantic, proving to be the perfect accessory for a night out. The Amanda Uprichard X Revovle Mandy Rose Choker is a perfect representation of this whimsical trend. 
Nameplate necklaces and the Boleyn necklace are huge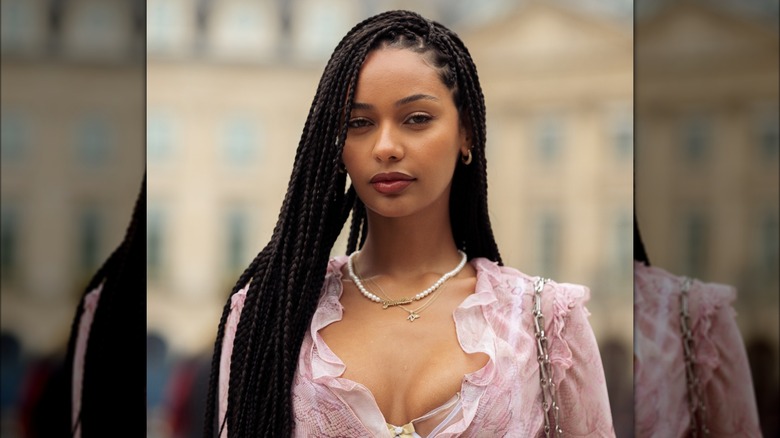 Raimonda Kulikauskiene/Getty Images
In another moment of Y2K nostalgia, and yes, "Sex and the City" throwbacks, the nameplate necklace is happening again. This time, the nameplate is fastened to a delicate strand of pearls for the right synthesis of timeless and modern. Layer and stack one of these with other tonal necklaces that feature tiny images. Not everything is oversized in the fall 2023, but it all certainly tells a story. A more historic variation of the nameplate necklace, the Boleyn necklace, is also experiencing a huge comeback. Named after the tragic and short-lived Anne Boleyn, the Boleyn necklace features one letter in gold with pearl embellishments dangling from it. It's another lovely way to play with pearls and yellow gold, which complement all your trending fall outfits.