The Bigger The Jewelry, The Better For Fall 2023 — The Right Way To Wear The Trend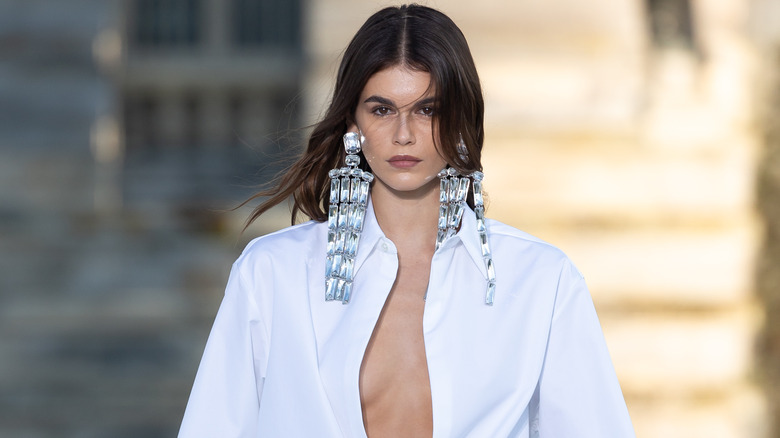 Marc Piasecki/Getty Images
Oversized jewelry and maximalist designs are everything right now. Among the many big takeaways we had from the New York Fashion Week Spring/Summer 2024 shows, this was one of the most obvious. And it was hard to miss. Runways were glittering with larger-than-life earrings, decadent broaches, thick bracelets, and weighty, statement rings. Cuffs and decorative belts were everywhere. Clustered jewelry is major, and everything from nameplate necklaces to lockets are having a moment. This doesn't mean that dainty, minimalist jewelry is gone for good. It just means that minimalist pieces act as a foundation to create space for the one or two major baubles in your look. 
Eccentricity and excess are the name of the game this season in fashion jewelry, and pieces are fun and playful. However, large-scale jewelry can be challenging to style, so we have tips to make the pieces pop rather than overwhelm a look. The rule of the game is to keep the rest of your outfit, as well as hair and makeup, simple, so that the statement ornaments can come through as the major talking pieces. 
An oversized, industrial necklace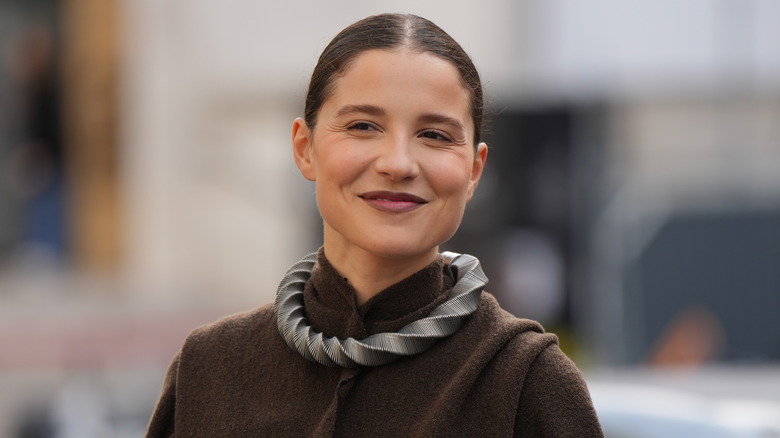 Edward Berthelot/Getty Images
Thick, collared necklaces and short, heavy chainlink necklaces are at the forefront of jewelry this season. Links are oversized and visually take up the entirety of the throat and décolletage. Wider than chokers, this necklace style sits at the base of the neck either on the skin or overtop of a collar or turtleneck. A dark, metal collar necklace in a brutalist style works well on its own. Don't wear it with earrings, as any other jewelry will detract from the stand-alone piece. Keep makeup minimal; at most, wear a matte, berry-colored lip to add a soft touch of polish without going heavy on the rest of the face. A middle part or hair pulled back in any fashion also keeps the focus on the necklace. Long waves or curls would overwhelm the face and neck area, making the necklace appear too busy. When working with a necklace of more industrialist design, pair it with richly textured, natural fibers in earth tones. 
Go gold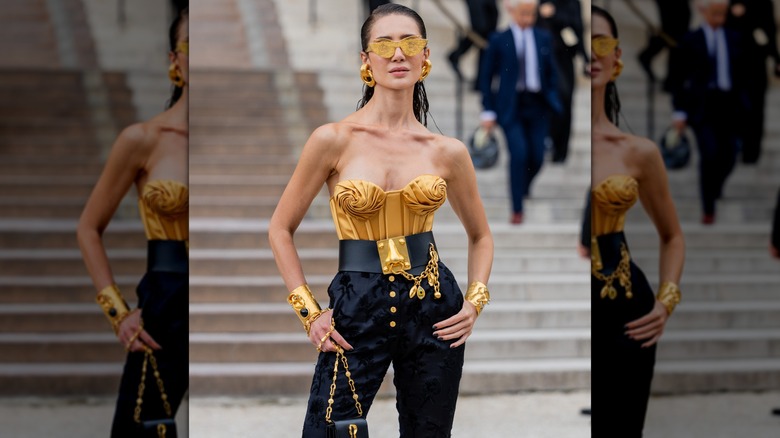 Christian Vierig/Getty Images
Yellow gold was everywhere at the 2023 New York Fashion Week shows, both on the runway and on guests. The maximalist jewelry trend put the pedal to the metal with thick, yellow gold earrings, belts, cuffs, and hardware on handbags. What keeps such looks from becoming overpowering is that all of the fashion jewelry is tonal; amazingly, the rich, yellow gold even matches the bustier and sunglasses, so bring your accessories in on the fun. 
Instead of bracelets, cuffs are the order of the season; it's not just one cuff, either. Both wrists are getting dolled up in heavy, matching cuffs. We love the sculptural element of cuffs, and how well they work in both warmer and cooler months. In the summer, slide them on bare arms so that they function as the final touch of a top. In cooler months, slide them over a fitted, long-sleeve, black turtleneck to give the simple layer regal polish.
Don't forget that belts can be jewelry too. We've seen this with the classic Chanel charm belts for decades, and the look is as elegant as ever. Play with the oversized jewelry trend by working in an oversized belt. It both cinches the outfit and keeps the yellow-gold tone consistent. Don't be afraid to pile it on; just keep the jewelry tonal and let the base color be a neutral. Black tends to be the easiest to work with and looks great with yellow gold. 
Big, huge, massive earrings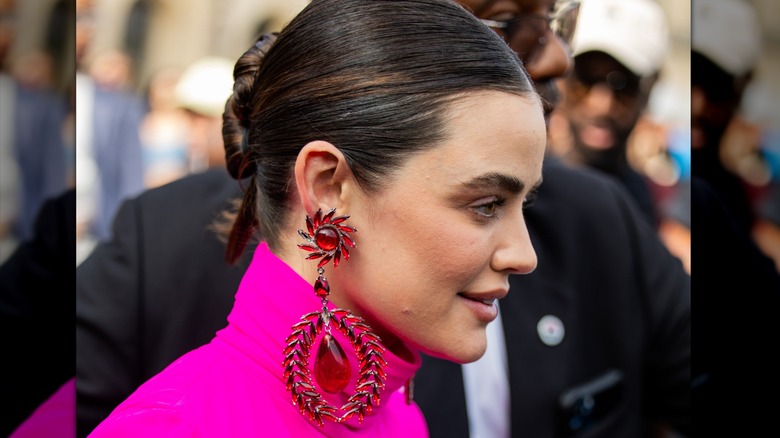 Christian Vierig/Getty Images
Oversized, festive earrings are the order of the day. Dangling, shimmering excess is what we're after, and nothing says it quite like ruby-toned hoop-drop earrings. They're the perfect party accessory and, thanks to their power, act as the only jewelry you'll need all night. Opt for colorful stones, adorned with crystal embellishments; they'll catch the light beautifully. Notice the effectiveness of the not-quite-matching tones of red jewelry and the fuchsia pink turtleneck. The contrast of reds and pinks make for a romantic color palette.
Notice, too, how the styling trend in regard to hair is consistently simple when it comes to working with large jewelry. Keep hair slicked back in a simple, unfussy bun. The wet hair effect is a perfect choice for this look, as it keeps the focus on the earrings. Nothing else can overshadow this look. Makeup is minimal and natural. Full eyebrows keep the look youthful, while the makeup tones are soft, earthy, and do nothing more than enhance one's natural beauty. 
A statement ring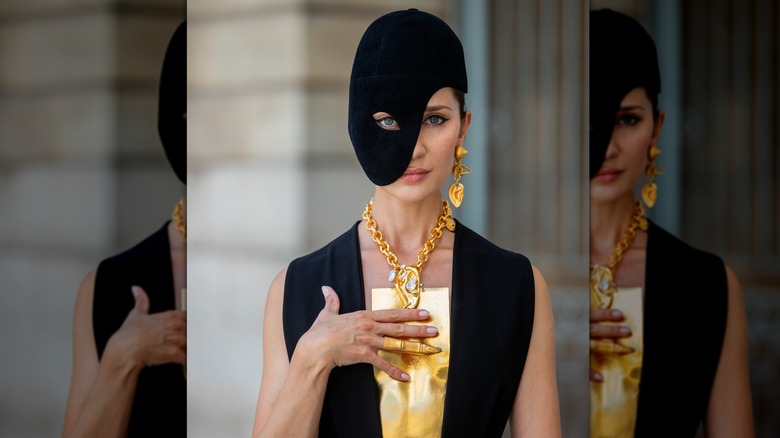 Christian Vierig/Getty Images
You don't have to pick one piece to embrace the huge jewelry trend this fall. If the theme is big, then everything can be big: the necklace, earrings, and ring. If you can, throw a hammered chest plate in the mix too. Why not? This season is all about gold maximalism; we want indulgent, dizzying amounts of gold. A finger sleeve ring plays with the aesthetics of medieval armor, and does so much more than a typical ring can do. Hand jewelry, from finger shields to snake-like spiral rings, takes things to the next level. The sculptural element of this jewelry makes it a work of art. 
Asymmetrical earrings are also a recurring style this fall. Have fun with the regalia of one long earring alone; the other can be a tonal stud or something equally simple. As always, keep hair simple and neat to keep excessive jewelry looking current and deliberate. Look for tops that create space for this large piece, or choose something that acts as a second skin. A simple, well-fitted body suit can be the perfect base for these big pieces.