Why We're Loving The Endless Possibilities Of A Nameplate Necklace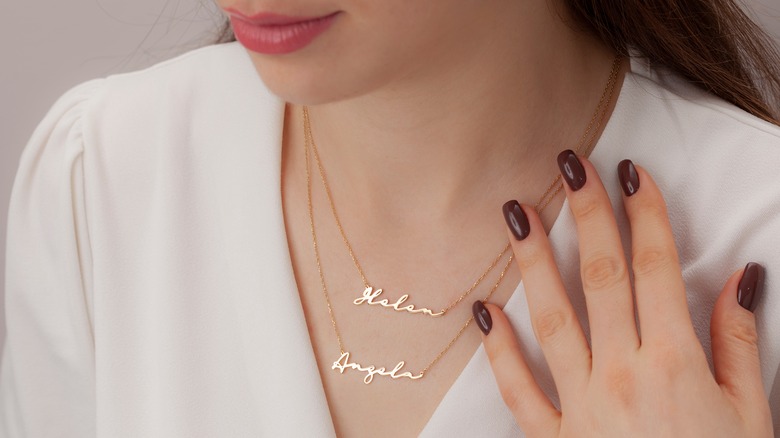 1jewelry/Shutterstock
There's no accessory that's quite like a nameplate necklace. In a way, they're a chance to represent identity by way of name, color, style, and design. You may have already tried to put a spin on the classic chain-link necklace or are on your way to becoming a necklace layering pro, but allow us to introduce you to the nameplate necklace. 
Available at a range of prices, a nameplate necklace and its unique versatility allows you to wear a timeless piece of jewelry that's personal to you. They're also incredibly fashionable, with different designs in materials like gold, silver, and rose gold. There are a number of ways to incorporate nameplate jewelry into your daily accessorizing, which can be worn as a form of permanent jewelry or a staple piece. Worry not if you're not sure you should invest in a nameplate necklace. We have a number of reasons why they may be the newest addition to your jewelry collection.
Styles, designs, and languages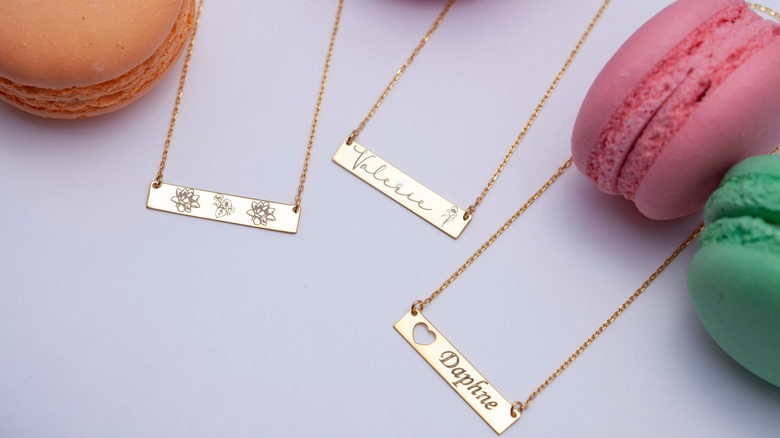 1jewelry/Shutterstock
When it comes to the versatility of nameplate necklaces, the possibilities are endless. You can opt for the delicate look by going for an initial rather than a name, which signifies the importance of someone in your life in a subtle way (a perfect option if you want to keep a loved one close to your heart but aren't looking to get a tattoo). If you're simply interested in showing off the beauty of your own name, a cursive or plated design is a fabulous option. For those who speak multiple languages, a nameplate necklace in your native script can show off your name and a piece of your identity — all in one.
Additionally, nameplate necklaces can quickly become sentimental jewelry through personalization. As LA-based jewelry designer Rachel Karich explained to Fashionista, "People love being involved in the process of customizing their own pieces. There's something so special about a keepsake with a personal touch [such as] your baby's, dog's or significant other's name made into it." Whether you choose an initial, full name, or different language, your nameplate necklace will become a staple jewelry piece to keep close to your heart (literally and figuratively).
Layering galore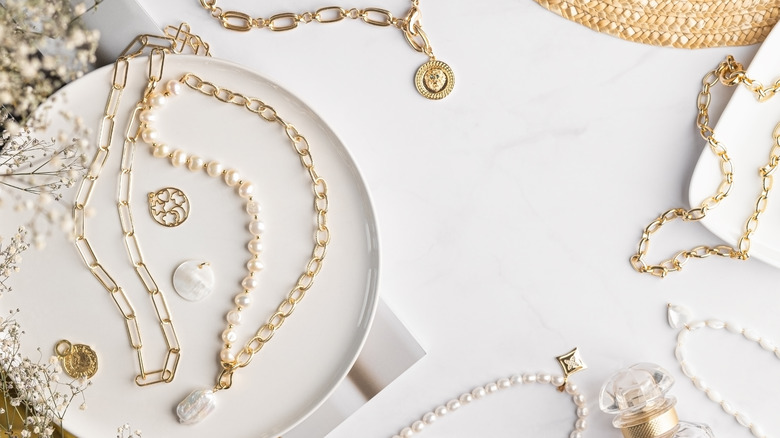 Alena_Kos/Shutterstock
The necklace layering trend isn't going anywhere — and what better way to spice it up than to introduce a nameplate necklace? Since they come in a number of different lengths, you can add them to your layered necklace collection by purchasing them shorter or longer. When it comes to styling, jewelry designer Rachel Gindi recommended to InStyle that experimenting with different lengths is the way to go, depending on what kind of look you're going for: "Keep it 2 inches apart for something more subtle, or go super long with the second length for a dramatic look. Any way you go, having that foundation is always the start." Once the foundation is established, you can continue introducing new necklaces to the mix.
If your nameplate necklace is large in size, use it as the center point of layering. Avoid incorporating similarly bold pieces into the mix, and instead opt for dainty and plain chains. You can also try pairing them with clothes that bring out your accessories, a pop of color, or unique shapes.