The Most Embarrassing Fashion Mishaps & How To Avoid Them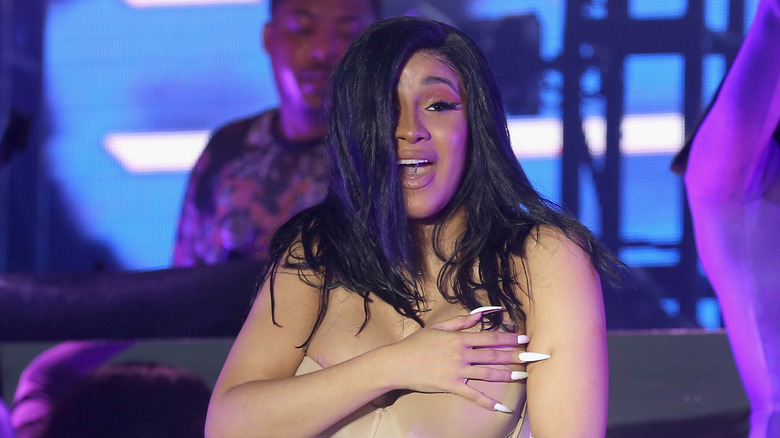 Gary Miller/Getty Images
If there's one thing no one is immune from, it's a fashion faux pas. We have no shame in admitting we've certainly found ourselves on the wrong end of an embarrassing fashion mishap or two when it comes to our clothing. And we're not alone. In fact, even with money and access to stylists and designers, celebrities have also had more than a few clothing mishaps over the years. From nip slips, to unfortunate gusts of wind, to split seams and wrinkled outfits, the red carpet and paparazzi lenses really have seen it all.
But whether you're famous or a mere mortal like us, we don't have to be resigned to the possibility of a clothing mistake every time we step out of the house. There are countless hacks, tips, and tricks you can keep close to your chest whenever you may need them. We've rounded up some of the most useful advice to help you avoid ever having an awkward fashion moment again.
Wear the right color bra to prevent underwear-bearing photos
We've all been there. You throw on a fabulous outfit, check yourself out in the mirror and think you look pretty great. But then you see the pictures the next morning and realize your outfit was totally see-through and your bra was visible. All too often, this can happen thanks to a camera's flash while wearing black or white clothing — and it's pretty darn embarrassing. But worry no more!
There are a couple of bra colors you should make sure you have in your draw to avoid this embarrassing mishap. Though you might think a white or nude bra is the way to go for white garments, it actually isn't. In fact, a white bra can still show under a somewhat sheer white top. Instead, the color bra you want to rock is red. As TikToker @jessmiao showed us in a viral video, a red bra can actually blend in with the red undertones a lot of people have in their skin, resulting in the bra being totally invisible underneath the white garment. Magic!
Another way to combat an awkward bra mishap? Grab your camera or phone before you head out and take a photo of yourself using the flash. That will reveal any potential faux pas with your outfit (involving your bra or otherwise) before someone else spots them first.
Try your outfit on in advance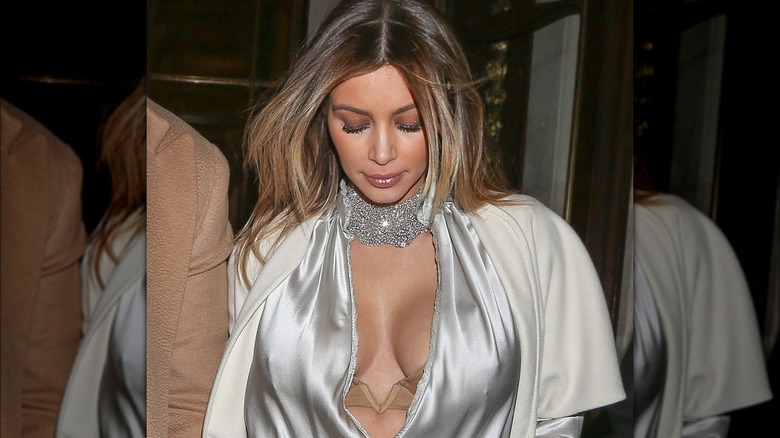 Marc Piasecki/Getty Images
When it comes to side-stepping underwear mistakes, it's not just the color of your bra you need to think about. Seeing the bulky outline of your underwear can be just as embarrassing as having the color show through your unintentionally sheer clothing. So, how do you avoid a visual panty line (aka a VPL) or visible bra line, we hear you ask? Try on your outfit with enough time to spare in case you realize you need to switch out your undergarments. If you're getting ready for a special occasion, we'd suggest trying everything on at least one week before the big day. That way, you can check there are no deep cuts that might show off your bra (as in the outfit Kim Kardashian fell victim to above) or tight sections that might reveal the outline of your underwear.
But what do you do if your underwear lines are showing? Fashion expert Allison McNamara recommended to Reader's Digest that you get your hands on specific seamless underwear, as they will appear invisible under even the tightest of clothing. A thong or G-string can also work wonders in eliminating a VPL, while smoothing everything else (shapewear can also work well for this, but we'll get onto that later). Likewise, for a bra outline that's showing, you could always go braless under your dress and instead opt for properly placed body tape, or a stick-on bra for backless looks.
Use body tape to prevent any nip slips
When wearing a low top, strapless top, or anything that gapes at the chest, body tape can be a total God-send. That's because it has so many uses. Of course, you can use double-sided tape to keep garments in place (which can be particularly useful if you're wearing something low cut or that gapes) while it can also be used to cover up any parts of the body you don't want to risk being exposed. Many celebrities opt to place tape over their chests when wearing strapless tops or garments with built-in bras just in case things go awry. There are also countless videos out there showing you all the different ways you can apply the tape in a flattering and practical way to keep everything in place.
Tara Reid learned this one the hard way. The "American Pie" star famously suffered a pretty major nip slip while attending P Diddy's birthday party in 2006, but, thankfully, she saw the funny side of it all when she opened up about the totes awkward moment to FHM. "My hooters are under control," she joked. "I'm taped up now, totally. I'm using double tape. Double double tape. My boobs are going nowhere again.
Wear shorts under a billowing skirt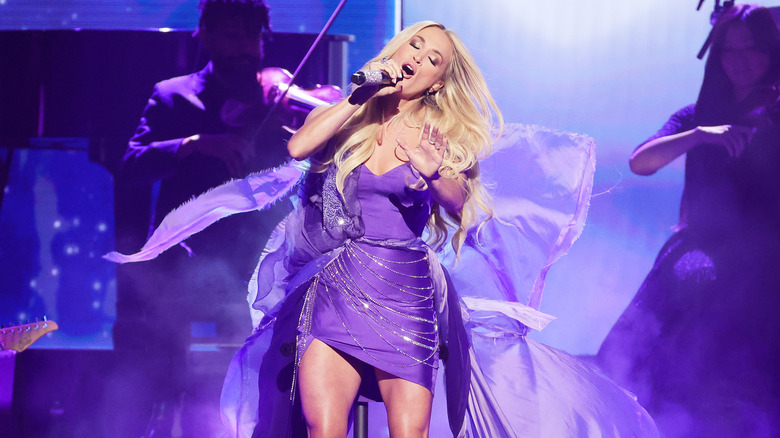 Rich Fury/Getty Images
We've all seen those iconic pictures of Marilyn Monroe in her stunning white dress, trying to deal with a sudden gust. And a lot of us have experienced it ourselves, too. All it takes is a sudden gust of wind, and, well, the whole world is getting a glimpse at our undergarments. Awkward.
But Carrie Underwood has a secret that keeps those potential upskirt moments at bay, allowing her to be active on stage without flashing the world. "Underneath every skirt, every dress, I'm wearing shorts. So that everyone in the world knows, if I ever fell down, nobody would get a peek at anything," she told Allure back in 2013. Now that's a trick we can get behind!
To really make this work though, you need to be careful with the shorts you opt for. You don't want to add any extra bulk underneath your outfit (let's be honest, any extra inches around the hips aren't what most people want). To avoid a bulky silhouette, opt for something like skintight bicycle shorts that don't have obvious lines or too much weight around the waist. Shapewear will also do the job well, as it's literally designed to smooth everything out instead of adding lumps and bumps. Equally, there are plenty of dresses and skirts out there now with built-in shorts, which will give you a smooth outline.
Let your deodorant dry before dressing to avoid unsightly marks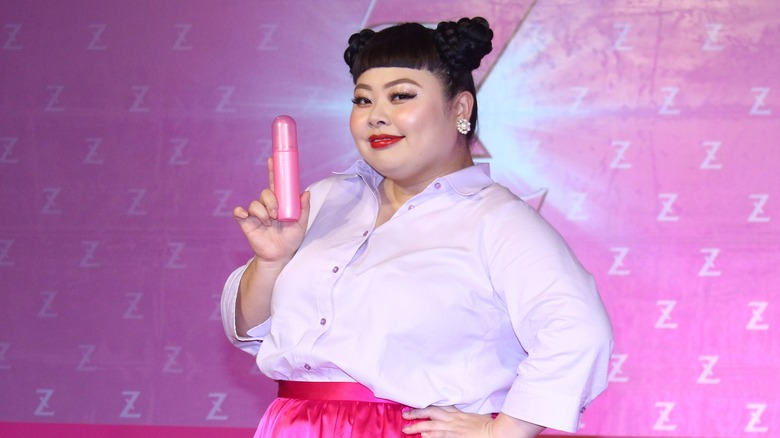 Tpg/Getty Images
If only we had a dollar for every time we've looked in the mirror in a super chic LBD, only to realize it's got unsightly white deodorant marks all over it. Not only can this look be totally embarrassing, but the marks can actually be really hard to remove — especially when you're trying to get rid of them in a rush so you can head out on time.
But how do you stop the stains from transferring from under your arms? By waiting as long as possible between putting on your deodorant and dressing. It's recommended that you wait at least two minutes for your deodorant to dry before putting clothes on — but the longer you wait, the less chance there is of those pesky white marks ruining the party. You can also minimize the likelihood by opting for a product specifically designed not to leave stains on clothing.
How do you remove those stains when they're already there, you ask? Nivea recommends mixing three parts of baking soda with one part water until it forms a paste. Then, put that paste (or you can use good old soda water) onto the marked area and rub it into the garment. Leave it to dry, and the stains should soon be gone.
Do your heel research first so you can strut with confidence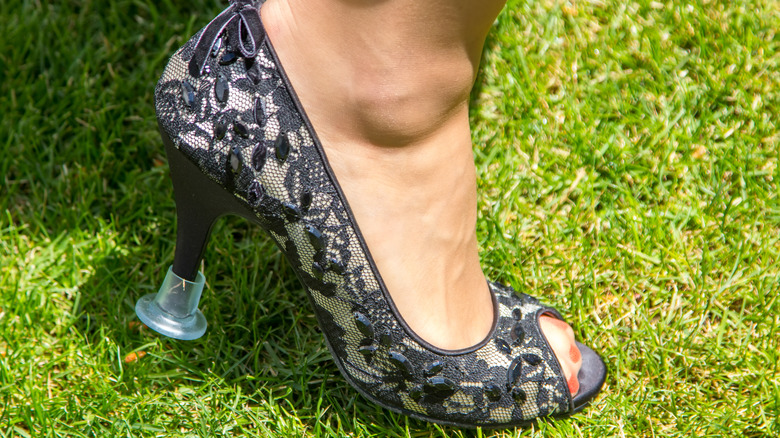 Jose Angel Astor Rocha/Shutterstock
Doing a little research before deciding on what shoes to step out in could save you a seriously awkward fashion mishap. It's safe to say that stilettos and grass do not mix, nor do stilettos and grates. Kate Middleton learned that the hard way during an outing in 2018 when her thin heel got stuck in a metal drain. Luckily, People reported the stunning royal laughed the whole thing off, but we find it hard to believe she wasn't pretty mortified in the moment.
To steer clear of a disaster like this, try your best to find out what kind of terrain you'll be walking on before heading out. If it looks like there's a lot of grass, stairs, or uneven ground, but you still want to wear your fanciest shoes, it may be better to go for block heels that will offer more stability. Or, if you're determined to wear stilettos (we get it, there are some stunning heels out there!) keep a pack of high heel protectors in your bag. These affix to the bottom of the stiletto to give it more surface area, so you won't get stuck in a grate or sink into the grass.
Button up your top differently to stop uncomfortable gaping
Those with bigger chests know the pain of a gaping button-down potentially exposing a bra (or worse!). But you don't have to be resigned to gappy tops just because of a larger bust. There's a special way to button up anything from a shirt to a cardigan that will close up those pesky gaps and not only protect your modesty but also make your whole outfit look that bit more chic.
TikTok user @mimichanbuna shared a video in which she shared her unique method for closing the buttons without all those holes in between. The social media influencer starts by buttoning up the garment as normal from the bottom up, but leaves the top three buttons undone. She then slid the third button into the second hole and the second button into the third hole, creating a crisscross that hides the unusual buttoning style. She then adjusted her top to make it more even, and, voilà! Just like that, there's no more revealing gaping.
Carry an emergency kit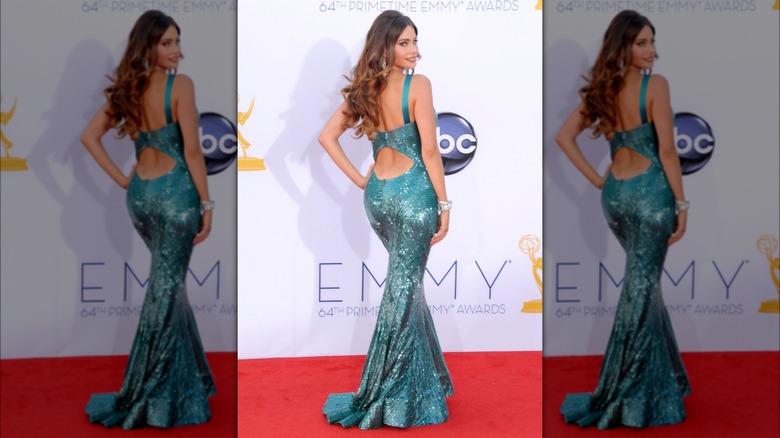 Barry King/Getty
Always having an emergency kit to hand could help fix any sudden fashion oopsies, like clothing suddenly tearing at the seams or a busted zipper. Sofia Vergara is one of the celebrities who's benefitted from this forward-thinking after her Vera Wang dress burst at the back in 2012 while she attended the Emmys. "Dress malfuncion !!! Thank you emergency team!!" she wrote on her now-defunct WhoSay account alongside a snap of one of her team literally pulling the sparkly green dress over her derrière. Clearly, an emergency kit works.
There are a few things it's recommended you keep in the kit, so if your outfit does rip (some things are just unavoidable, unfortunately) at least you can make a quick recovery a la the "Modern Family" star. Amongst the handy tools it's suggested you place in the kit? A couple of sewing needles, two or three different rolls of thread in neutral shades (so you can sew almost anything up without seeing the stitches), buttons, and safety pins. Just remember that some events with security in place may not allow you to take sharp objects like needles and pins with you, so keep this in mind before potentially having your kit confiscated.
Avoid ugly wrinkled clothing with a hairdryer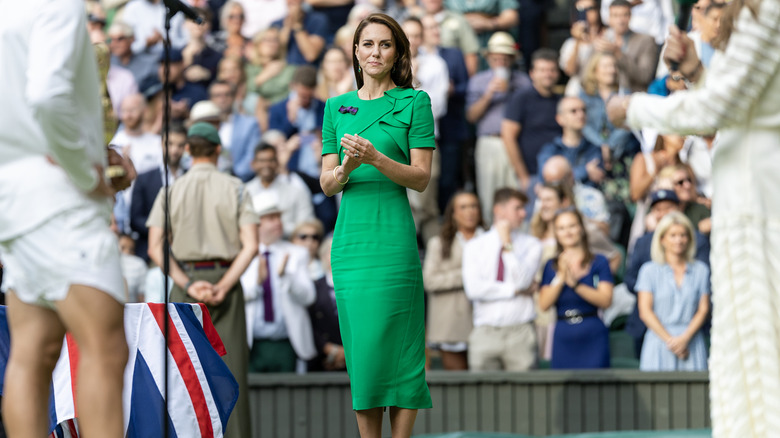 Tim Clayton - Corbis/Getty Images
You may remember that Kate Middleton stepped out in July 2023 wearing a totally creased dress, which hit the headlines for all the wrong reasons. The royal stepped out at the Wimbledon tennis tournament in the Roland Mouret outfit, which sadly had succumbed to some crumpling when she sat in it. But there was a way she could have fixed her outfit without having to grab an iron (although, she's Kate Middleton, so we're sure she could have got her hands on an iron or steamer at the sporting event if we wanted to).
For those of us who don't have the ability to summon an iron or steamer at the click of our fingers though, one thing you may be able to get your hands on a little easier is a hairdryer. And that can easily be used to remove clothing creases in a pinch. TikTok user @mulanistalking showed us how in a video posted to the social media site, revealing that a little spritz of water and a hairdryer blowing hot can have the exact same effect. Just wet the area that's creased and place the blow-dryer close to it, pulling the creases out by gently tugging the clothing downward. We'd recommend taking off your clothes before trying this though, as hairdryers can get pretty hot.
Use your earrings to fix a broken strap
Remember when Mariah Carey's dress strap broke mid-performance during a Moët & Chandon event in 2021? "It was very, very close to being a full-on scandal but we made it work," the star admitted on her Instagram Story after the mishap. Yikes. But that scandal (near or otherwise) never has to happen to you. Unlike Queen Carey, we're not all lucky enough to have a glam team run to our rescue, which means we need to get savvy with things on our person.
If you're ever dealing with a broken strap on a dress or top, TikTok user @viluong showed us how easy it can be to fix while out and about. And you won't even need your emergency kit with a needle and thread! All you'll need is an earring. Preferably a stud, though almost any kind can work as a temporary fix. Take the jewelry out of your ear and push the pin through the end of the broken strap away from your body. Then insert the earring (which should now be attached to the broken strap) through the main part of the garment where the strap was once affixed. Then, all you have to do is add the butterfly back onto the end of the earring to keep the two pieces together until you can fix it more permanently.
Use hairspray to stop stockings laddering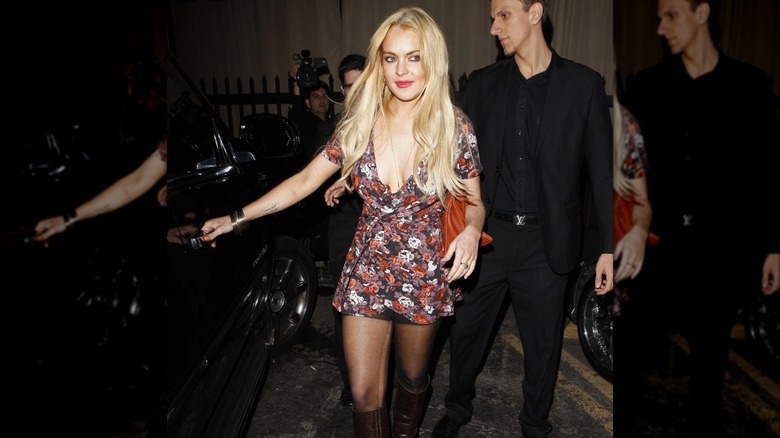 Jean Baptiste Lacroix/Getty Images
Another super useful tool to have in your arsenal against embarrassing fashion mishaps? Hairspray! Yep, this household item has way more uses than just being able to keep our locks in place. And one of its magic uses is preventing laddering in tights. Lindsay Lohan has fallen victim to this fashion faux pas before. Candid paparazzi shots taken of the star back in 2010 showed her out and about in Hollywood wearing sheer black tights. Only, the hosiery had a giant ladder that ran all the way up the inner side of her right leg and down into her knee-high boot. Whoopsie.
So, if you ever find yourself with a ladder, apply a little hairspray to the affected area to help the ladder/hole stay at that size and not stretch any further. You can also use hairspray on your hosiery as a preventative measure, as spraying it on your tights before wearing them can actually strengthen the fibers, which makes getting a ladder less likely in the first place.
Hairspray can also prevent light clothing from getting foundation marks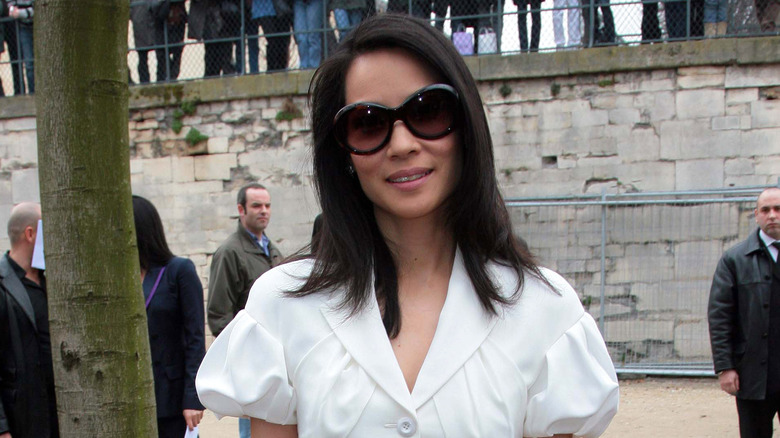 Michel Dufour/Getty Images
Anyone who loves foundation knows it's key to put the makeup on your neck as well as your face to ensure the two match (and applying foundation this way also helps create a more natural look). But while that might make everything look a little more seamless and natural, it can also mean constant foundation marks on your clothes — particularly around the collar and neckline. But hairspray can fix this embarrassing mistake too.
This hack comes courtesy of TikToker @rachynugent. She shared the tip to show how she stops unsightly marks getting onto the collars of her white button-down shirt. "I took some hairspray, sure it can be any hairspray, [and] sprayed the collar in hairspray," she explained in a video, which shows her applying a generous amount onto her clothes to prevent transfer. One thing hairspray probably won't fix, though? A foundation stain on a white wall, like the one we saw when Kourtney Kardashian and Kim Kardashian totally went at it during Season 18 of "Keeping Up with the Kardashians." 
If it's too late and you've already got makeup on your clothing, Kim herself has a hack for that. "Shaving cream often does the trick. Just apply to the stain and then lightly wet or wash," she wrote on her now-defunct blog in 2017. "If the stain still won't come out, you can also use a drop of rubbing alcohol mixed with the shaving cream."
Trim your messy hems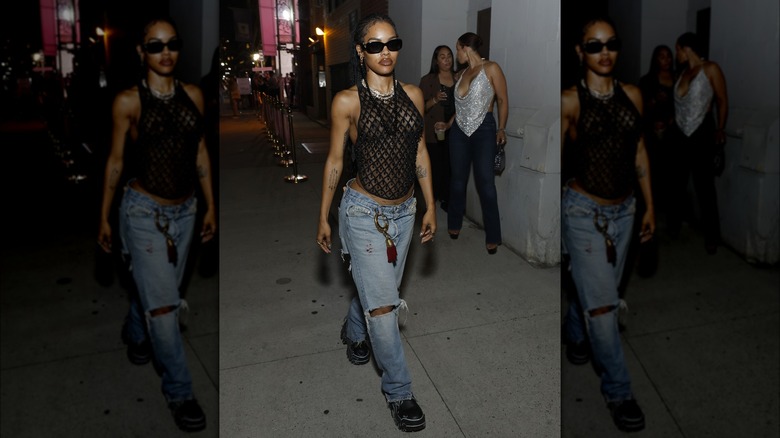 Mike Coppola/Getty
We've all got those jeans in our wardrobe that are supposed to have frayed edges. As well as those jeans that weren't actually designed to be frayed, but have now taken on a life of their own. One of the most embarrassing things that can happen when it comes to this style of pants is when the hems get just too frayed, and you end up walking on stringy parts of denim that get dirty and tangled. Too much of a scuffed edge on your jeans can bring down your whole outfit, making it look unkempt and messy.
But it doesn't have to be that way. To avoid this denim disaster, trim the frayed edges of your jeans with nail scissors so they still look somewhat uniform and don't end up dragging all over the floor. "Even purposefully frayed edges need to be maintained. I always have to remind myself to give my frayed-edge denim and gauzy shirts a trim after a wash — it helps it look intentional and relaxed," fashion entrepreneur Amy Voloshin admitted to Reader's Digest.
But what if you spot fraying and you want to stop it? There's a way to fix that, too. At the first sign of a scuff, fray, or thinning material, put a little clear nail polish over it. This will reinforce the fibres and keep the clothing stronger.
Carry extra clothing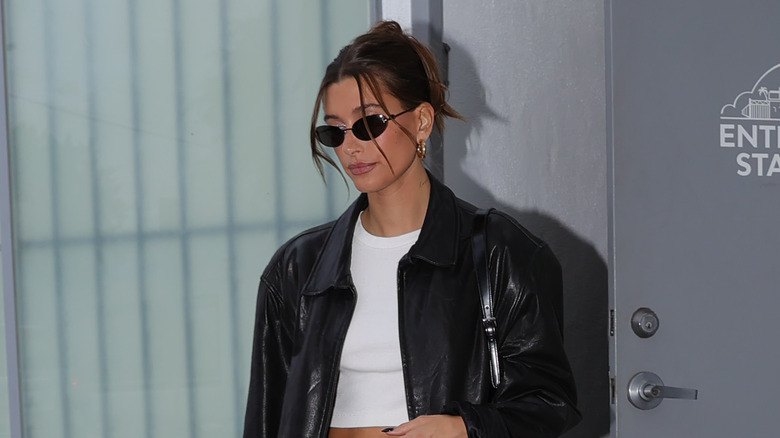 Rachpoot/bauer-griffin/Getty Images
If you ever have a Seth Rogan-esque interaction with Beyoncé, an extra garment like a jacket could do wonders. Back in 2021, Rogan told E!'s "Daily Pop" that he had a bit of a run-in with the superstar's security team at the Grammys that resulted in him spilling a drink all over himself. Oops. "I was hit so hard by her security guard that I spilled a drink. I was drinking a screwdriver, which is a bad drink. I deserved what I got," he shared. "I was humiliated and I didn't get to meet Beyoncé." So, yeah, it's safe to say that was a pretty embarrassing night for the actor, as he also admitted he had to stand in an odd position all night to cover the stain. Awkward.
If only Rogan had known that having a spare piece of clothing around could have hidden that mark! It's always a good idea when you're heading out somewhere particularly fancy to have a little something stashed somewhere. That way, you can whip it out in a pinch to cover anything like a stain or even a hole that may have appeared out of nowhere. We'd recommend keeping a spare jacket in the car or tying a scarf around your bag that could then be placed around your neck to cover anything unsightly that may have popped up on your clothes. Especially if you're around young children who may have messy hands.
Use powder to avoid shoe squeaking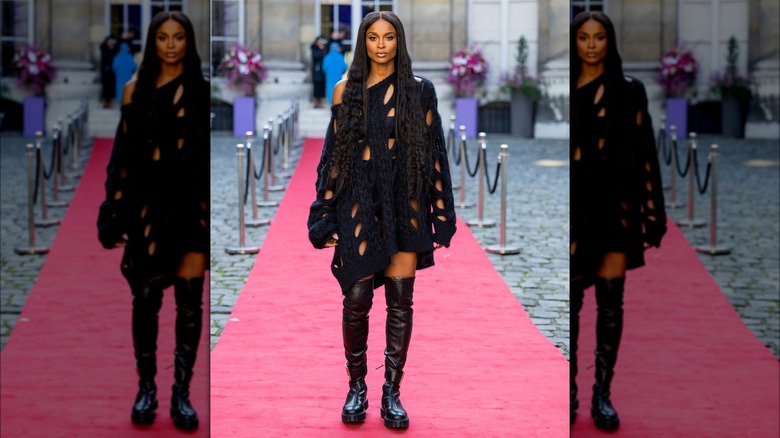 Christian Vierig/Getty
Aside from a full-on wardrobe malfunction, there's little more embarrassing than super squeaky shoes that make a noise every time you take a step. Pretty much everyone at one time or another has headed out the house in a rush — only to find as soon as it gets quiet you can hear nothing but the sound of your super squeaky of your footwear. But don't throw them away just because of a little noise. There's a way to eliminate that annoying squeak.
Getting rid of the cringe-worthy noise can be as simple as putting a dash of powder into the shoes. That's because, in a lot of cases, the sound is caused by trapped air or moisture in the shoe. Powders like cornstarch, baby powder, or baking powder will get rid of the moisture and are also super useful to rub into any air bubbles, so serious squeaking can become an embarrassing mishap of the past!