Here's The Best Way To Apply Foundation For A Natural Look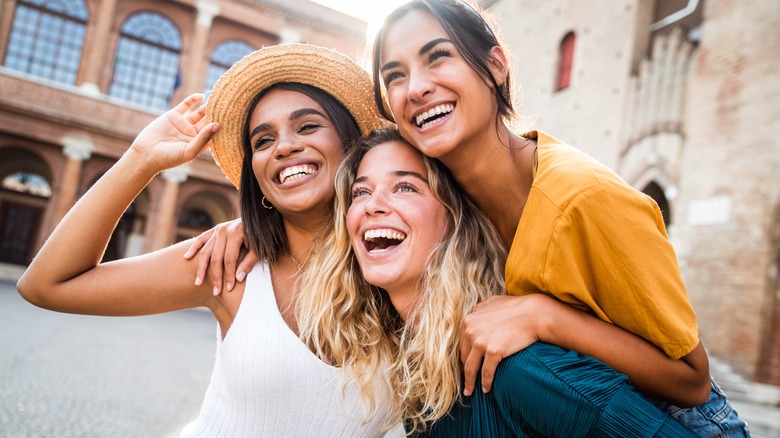 DavideAngelini/Shutterstock
We're after a foundation that looks like a second skin. With makeup trends steering us towards a more natural style, having skin that doesn't look heavy or cakey is everything. After all, foundation powder that's too heavy ends up drying and aging the face. We definitely want to avoid this by leaning into light, dewy, and luminous foundation application.
There are a few factors at play when going for a natural foundation application. There's the skincare procedure beforehand, and there are tools and brushes that make a huge difference. This is why we're so into hydration for healthy skin, and why hydration is a big part of luminous makeup. Batana oil is a cult classic for moisture-rich skincare. Another favorite is almond oil, which makes your skin glow like magic when added to your skincare regimen. But the most crucial part of a natural-looking foundation is the application itself, and this is all about a little product that's strategically placed. The universal consensus with natural foundation is to apply it lightly to the center of the face and work your way out to the cheeks. But there are some other things worth knowing.
Keep some skin bare for a natural foundation finish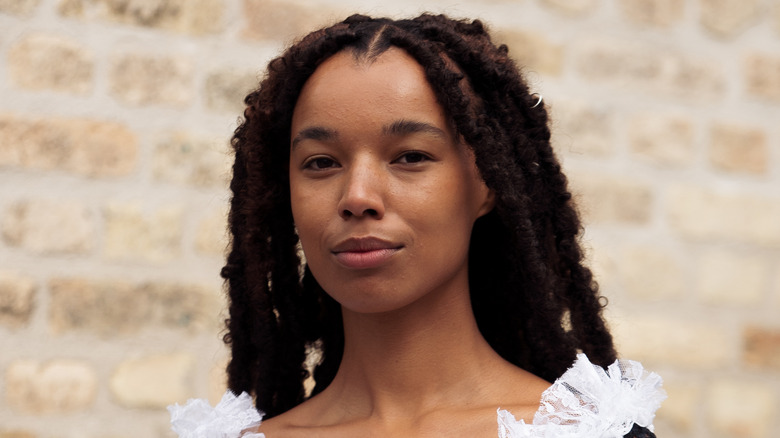 Raimonda Kulikauskiene/Getty Images
The best trick that we've sourced for a natural foundation finish is to keep some skin showing. Makeup artist Violette told Net-A-Porter that the best hack is to keep some natural skin showing on the nose, so avoid completely covering your nose with foundation. "Focus your application on the center of your face first, patting foundation into the sides of your nose, then out onto the tops of your cheeks and under the eyes," Violette explained. "Stop applying more once you reach your cheeks — from there, just blend out what's already on your skin. I never put foundation down the front of the nose, only the sides — if your nose is bare, it makes it look like you're not wearing foundation at all, but your skin still looks great."
Part of the reason for this is because natural skin actually has many different shades. When you apply a full coat of foundation all over the whole face, it actually looks less natural since the face becomes flat and one-dimensional. So by keeping some natural skin peeking through, the foundation looks fresher.
The best tools for application are fingers and a sponge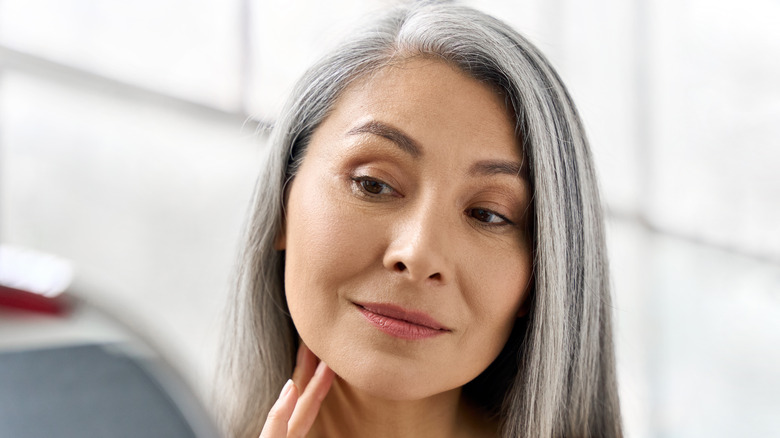 Ground Picture/Shutterstock
There's an ongoing debate about what's the best way to apply foundation. Some people swear by foundation brushes, while others are still devoted to their beauty sponges. Well, the best hack that we've found is a combination of using fingers and a sponge. You need both. "Foundation should look like seamless skin, not makeup," makeup artist Daniel Martin told Net-A-Porter. "I never use a sponge to apply foundation, just my fingers, but I do use a damp sponge as a finisher, as it kind of pulls everything together." Martin went on, "Start in the center of the face and work out, as sometimes when using your fingers you get those little streaks of makeup — that's natural, but the sponge will blend and buff them out and 'settle' the product."
Once the product is on the skin, use setting powder sparingly. If you are a fan of it, use a small brush to apply powder to needed spots, like the nose area. However, an alternative is to use blotting papers over foundation to soak up any excess oil, and reduce the need to apply more product.