12 Makeup Mistakes That Are Aging You And Tips To Fix Them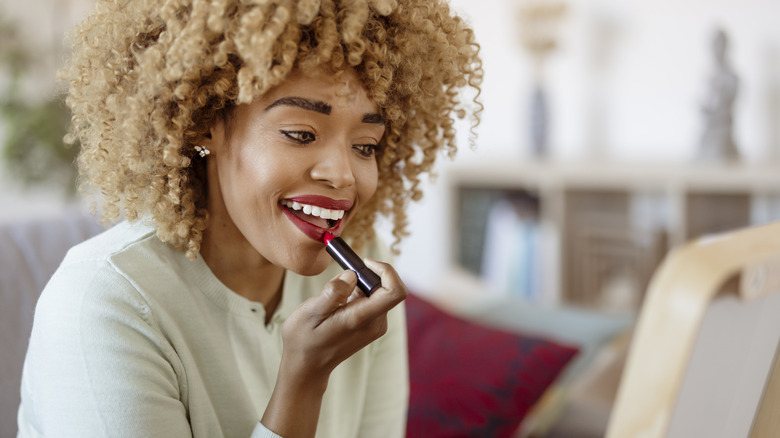 Pixelseffect/Getty Images
There are many reasons we use makeup. It can be a form of self-expression, a way to highlight a particular feature we love like our eyes, or a way to give ourselves a confidence boost. Let's face it though, one of the main reasons we spend so much time (and so much money) enhancing our appearance is to look younger. A little dab of concealer here and a little blush there can do wonders for taking the years off. But while so many of us are hoping to turn the dial backward when it comes to our age, in some cases, we may actually be making ourselves look older when we sit at the makeup table.
There are a number of ways makeup can age us, having the opposite effect than what we're aiming for — and chances are we don't even know we're contributing to piling on the years. But don't worry! We're breaking down some of the most common makeup mistakes we've all been prone to (trust us, we've been there too) to keep us all looking and feeling youthful. Just remember that there's no such thing as hard and fast rules when it comes to makeup, and you should always apply it in a way that feels true to you.
Too much powder can be one of the worst makeup mistakes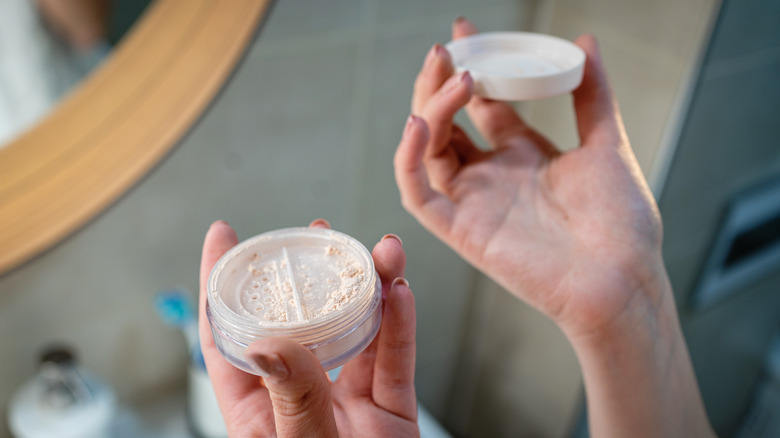 Fluxfactory/Getty Images
Put that powder brush down! We know, we're guilty too — we love ourselves some powder. It's all about the glowy look these days, but too much powder all over the face can actually be one of the main things that's adding years to your look. 
That's because heavy powder is notorious for sitting in your fine lines and wrinkles, exaggerating them rather than blurring them. This can be particularly prevalent for those with dry skin or deeper lines on their face. To help prevent the downsides and keep yourself looking youthful, we'd recommend only applying it to the places you really need it. When using a powder to set a foundation, go easy on places that tend to be drier, or anywhere you have a lot of fine lines or wrinkles, like under the eyes or around the mouth.
Not only will too much powder enhance parts of the face we'd rather not draw attention to, but it can also dull your youthful glow. As makeup artist Liz Pugh put it to Good Housekeeping, "By using powder, you are flattening the skin's texture even more." To stop this, play around with primers until you find one that keeps your skin or foundation looking how you want it (whether that be dewy or matte) without the need for layers of powder on top.
Not reaching for the primer can be a big no-no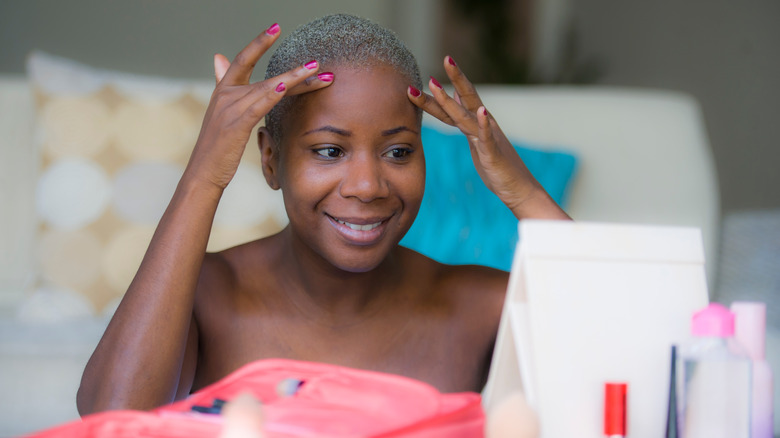 TheVisualsYouNeed/Shutterstock
Though some people may see primer as an optional addition to their makeup bag, we can't recommend it enough. Skipping this step leaves your skin vulnerable to makeup misfires like makeup clinging to dry patches, your complexion appealing dull, your foundation appearing cakey, and many other appearances of aging. Not wearing primer on your skin or eyes is a cardinal anti-aging makeup sin.
"You want to think of primer as double-sided tape for the face. It locks in skin care, helps your makeup stay put, and prevents it from settling into fine lines or wrinkles," makeup artist Nydia Figueroa explained to Allure. Especially when you're aiming for younger-looking skin. Another big plus? Primer can bring a healthy, youthful glow back to your look. Not only will it help your foundation sit better on your skin, but it can also do a lot of the work we'd usually turn to powder for, such as mattifying the skin. And, as we already know, the less powder we use, the less it's likely to settle, and the younger we look.
There are a few things to look for in a good primer. Makeup artist Emily Gray told Allure that choosing one that's heavy or strips the skin of its natural oils can be aging. Instead, she recommends opting for a more lightweight primer that won't sit in wrinkles or fine lines, especially if you have more mature skin.
Not moisturizing as part of your makeup routine is a bad idea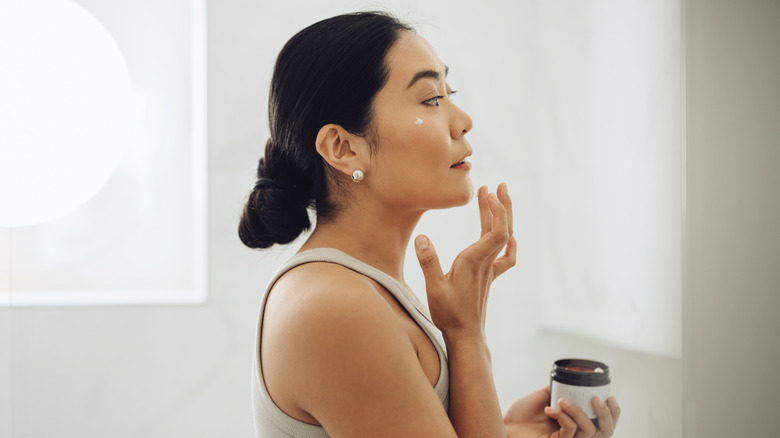 Miniseries/Getty Images
While primer can be one of the easiest ways to a more youthful makeup look, there's one thing you need to do even before that step. Moisturize. Not moisturizing as part of your makeup routine is a surefire way to age the skin. That's because anything you put on top of dry, flaky skin won't look its best. 
Makeup artist and founder of Westman Atelier, Gucci Westman, shared his moisturizing tips with Allure, explaining that a light but hydrating moisturizer will work wonders for those who struggle with dry skin. Just don't go too thick. "Heavy moisturizers are just not compatible with makeup," makeup artist Sandy Linter shared with Vogue, which is why you may also want to consider a face oil to create that youthful glow.
Moisturizer shouldn't only be your go-to before your primer and foundation, though. Moisturizer can also have its benefits when used alongside your foundation. Westman actually recommends dabbing a little foundation into a face oil. Mixing the two will leave you looking more fresh-faced, plus your foundation is less likely to cling to any dry patches on the face, sit in fine lines and wrinkles, or get cakey. And all that spells young-looking.
Too much concealer in the wrong places won't make you look any younger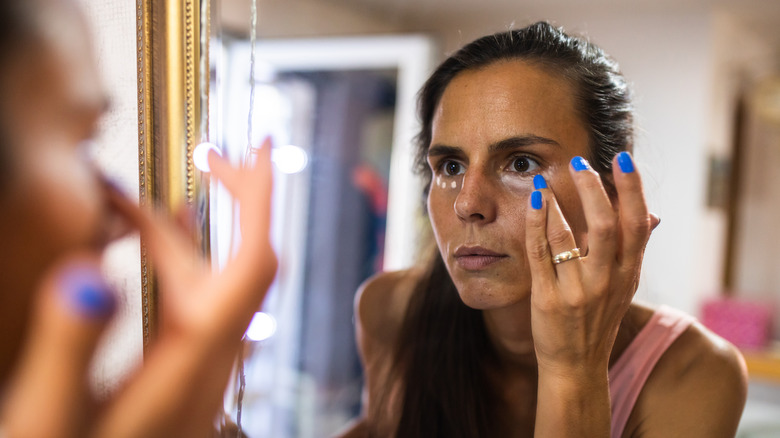 Aleksandar Jankovic/Getty Images
When it comes to concealer, there are a few ways you may accidentally be aging yourself. Putting too much of the product under the eyes where it's not needed can, just like foundation, draw attention to fine lines and wrinkles, instantly making your face appear more aged. Almost all of us have a few lines under our eyes (it's only natural after all), and, all too often, cakey, heavy concealers end up falling into said lines rather than doing their intended job of brightening the under-eye area or concealing dark circles.
To avoid this, Sandy Linter recommended to Vogue that people opt for a creamier concealer that's more lightweight. Apply the most amount of the product on the areas around the eyes that need the most camouflaging. So, if you mainly have darkness on the inner corner of the eyes, for example, focus the majority of the product there rather than applying a thick layer all the way under the eyes where it's not needed. We always recommend avoiding the outer parts of the eye with concealer too, if you can, as that's where most people are likely to have things like crows feet or laughter lines. As we know, they're the places products are most likely to sink into and gather. Of course, we already know a good primer will also help avoid this too!
Applying blush in the wrong place can add years to your face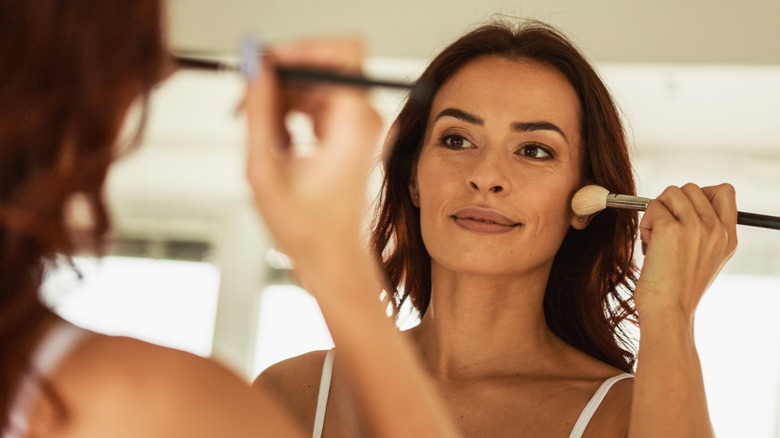 Fotostorm/Getty Images
It sounds like it shouldn't make too much of a difference, but you may be surprised at how big a difference blush placement can make to your look. One thing that may be aging you more than you think? Placing your blush right on the apples of your cheeks. While this may be where so many of us have maybe been placing this product for years, what it's not doing is helping the face look more sculpted to defy any skin sagging.
To combat any facial drooping (hey, it happens to the best of us) and draw the eye upwards, try creating more of a diagonal effect with your blush by moving down from the top of the ear. "I like to apply blush at the top of the cheekbone and then blend inward. You want to point the attention up to enhance," Sandy Linter told Vogue. Linter also recommends opting for a cream blush under a powder product for those looking to add a little more color.
Thin brows could be working against your youth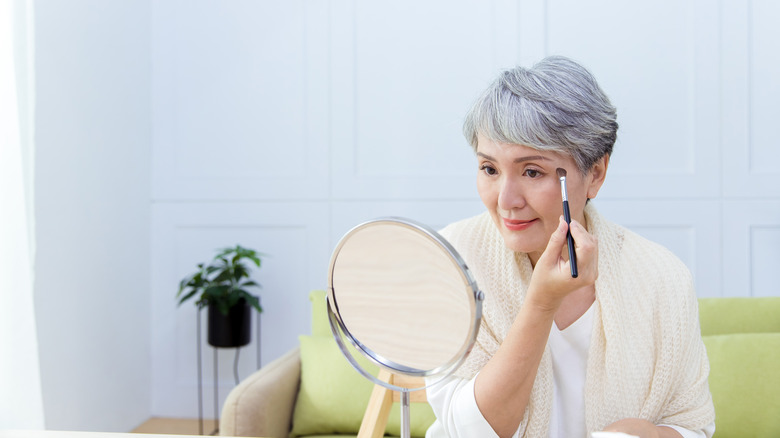 Ginnyyj/Shutterstock
We already know eyebrow makeup can be one of the hardest parts of your routine, and that's because of how a good brow can take years off your face. If you're doing your brows on the thin side, or even neglecting them altogether, that could be contributing to looking a little older than your years. "When you age, facial features like eyebrows become less noticeable as hairs become more sparse, and so most makeup artists would recommend full, bushy brows to help signify your youth," makeup artist and founder of K.P Pro, Karen Betts, explained to Safety in Beauty.
So, how exactly do you do your brows in a less aging way? In addition to thicker brows, which are universally more youthful and flattering, you may also want to go a little darker. How dark depends on your hair color, of course. "Darker eyebrows are ideal for looking younger, as they provide a greater contrast to the surrounding skin on the face," Jamie Long, lead stylist at HD Brows, shared. Just remember to keep things looking as natural as possible, which usually means never going for full-on black brows! "Make sure you don't overdo it...as thick, overdrawn brows can portray a harsh look, giving the opposite of a youthful effect. Less is more," Long shared.
Too much black eyeliner could be aging up your look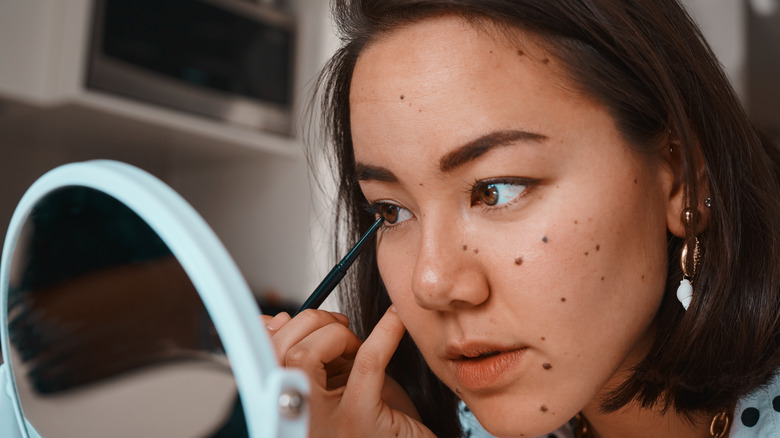 Hiraman/Getty Images
If you're anything like us, you love some eyeliner. From pencils to liquids, eyeliner is an absolute staple in oh-so-many makeup bags around the world. But while it can seriously define the eyes and give a gorgeous smoky effect, one thing it may not be doing is making you look younger. Though you may be forgiven for thinking a good coating of black eyeliner will help peel back the years (hey, all the grungy teenagers are rocking it, right?) it can actually be closing off the eye too much, aging you in the process. When it comes to the eyes, one of the best ways to appear more youthful is actually by making them appear bigger.
To do this, avoid eyeliner in the waterline (that's the area between the eye and the bottom lid) and instead focus on tightlining. For those unfamiliar, tightlining involves filling in the line under your top eyelashes to make the lashline appear fuller. You can also combat aging eyeliner by coming down a shade from black. "If you're using black around the eyes, that's it. Plus five, 10, 15 years. It not only ages you but gives you a very severe look," beauty influencer Ali Andreea pointed out in a YouTube video. Warm browns and darker taupes are a great way to create a more youthful look, as neither are as harsh and will also be easier to blend. 
And so could using the wrong kind of mascara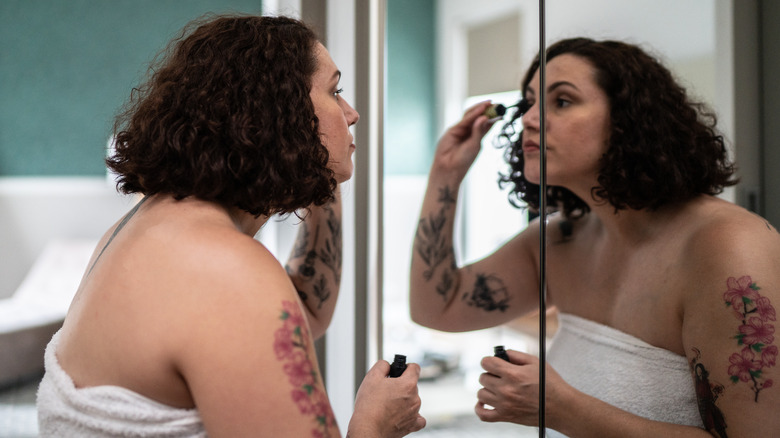 Fg Trade/Getty Images
We get it. It feels like there are approximately a million mascaras out there, and they all claim to do something different. But if you've got your hands on a mascara that clumps when you get it on your lashes rather than lengthening and separating them, that could be one of the ways your makeup is aging you. "There are very thickening formulas that don't work on older women whose lashes have become thinner and more brittle," Sandy Linter admitted to Vogue. "When they don't work, the lashes start to clump and there's nothing more aging than clumpy lashes on a woman over 50."
Equally, mascara that flakes or smudges can also be aging, especially if it's smudging under the eyes. Not only will all that smudgy mascara sit in the lines under your eyes in the same way concealer can, but if the formula is too runny, that could have you reaching for more powder to stop it. And we already know that's a big no-no under the eyes. Picking the right mascara for you will take some trial and error (trust us, we know, we've been there) but, ideally, you're looking for a formula that gives you long, separated lashes that won't transfer under your eyes.
Skipping the lipliner could be a mistake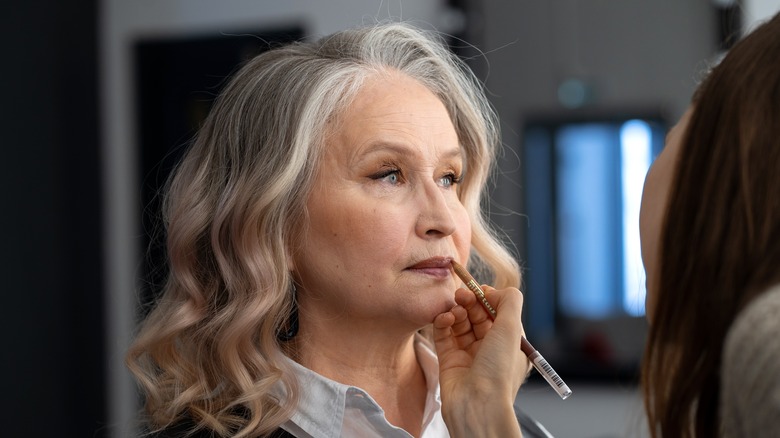 Antonovskay Anzhella/Shutterstock
It's safe to say lip liners have made a major comeback in recent years (we're putting it at least partly down to Kylie Jenner's Lip Kit combos), but it turns out there's good reason for the resurgence. Not using a lip liner can actually be more aging than you might realize. The products can be a great way to not only to make your kisser appear plumper but also balance out lips that have gotten naturally thinner or less symmetrical. 
It's pretty common for lips to thin or become off-balance over time, and thin lips in particular are considered to be aging. But, just like when it comes to the eyebrows or eyeliner, don't stray too much to the dark side. Celebrity makeup artist Christina Flach told She Finds that darker lines can often be aging, particularly for those over the age of 40. "Using a lip pencil that is a shade lighter is a good rule of thumb," she shared.
Another reason why skipping the lip liner might be a mistake? Without it, you may find that your lipstick is bleeding out into lines and wrinkles around the lips. It goes without saying that a bleeding lipstick will very much highlight any lines around the mouth, but a lip liner can help seal it in and lock it in place.
Choosing the wrong lipstick could be adding years to the face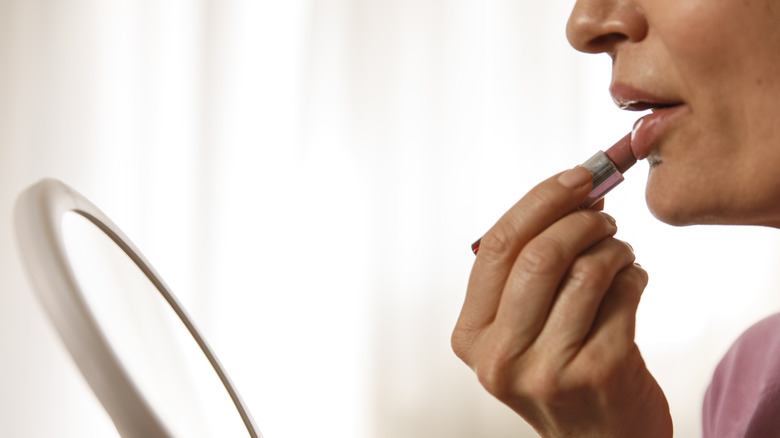 Fotostorm/Getty Images
We know how difficult it can be to choose the right lipstick shade and, sadly, getting it wrong can not only be downright unflattering but can also be very aging. One of the biggest mistakes you may be making when it comes to what's on your lips? Going nude without any definition.
Ali Andreea shared in her YouTube video that a nude lipstick sans lip liner could well be adding on the years. "It takes the life away from your face immediately. It needs something to pick it up," she said, noting she never wears a nude shade without a liner. Though, of course, different shades work for different people, Andreea also shared that she tends to stay away from frosty shades and anything metallic because of the way they can emphasize the lines around her lips.
Another lipstick style to potentially avoid? Mattes or lipsticks without a gloss over the top. "I believe that after a certain age, you need a little bit of shine. The older we get, we don't have color in our cheeks or on our lips," Andreea explained. So get out there and grab that gloss!
The wrong foundation won't make you look any younger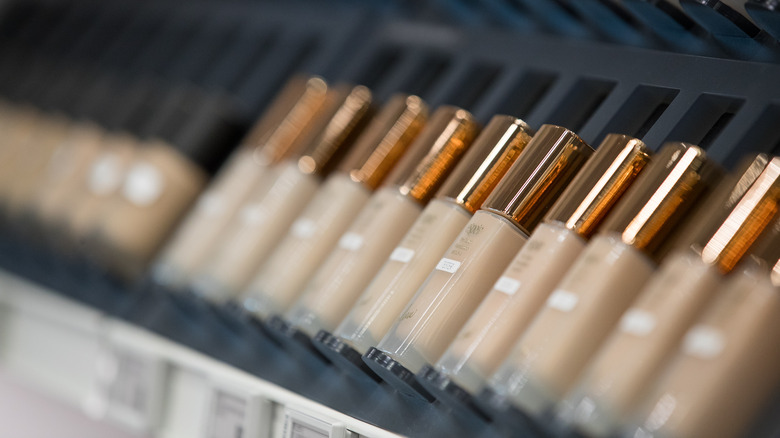 Bloomberg/Getty Images
Foundation is another of the biggest culprits when it comes to makeup that ages the face. A foundation that's not right for you will instantly add years to your look. There are a few things to consider when choosing the foundation that will keep your youth alive. First, make sure you pick the right finish for your skin type. For people with older skin that tends to be drier or is prone to deep wrinkles, a heavy, mattifying foundation isn't going to be your best friend. That's because it will cling to any dry patches, highlighting parts of the skin we don't want attention drawn to. 
The same can be said for a foundation that's just too heavy. "People think that because they're older, they need to go for a heavier foundation to disguise their lines, but actually it makes them look more prominent, as the foundation pools in the wrinkles," Max Factor makeup artist Malin Coleman explained to Good Housekeeping. On the flip side, those who tend to have oily skin will want to avoid a very hydrating foundation, as that will only make the skin oiler — which then means reaching for the powder — and break down the foundation.
Another big mistake here is choosing the wrong shade. As Dior makeup artist Jamie Coombes shared, it's more flattering to wear a foundation shade that matches your skin tone and bring some color back with bronzer or blush.
Harsh contours could be aging your face, too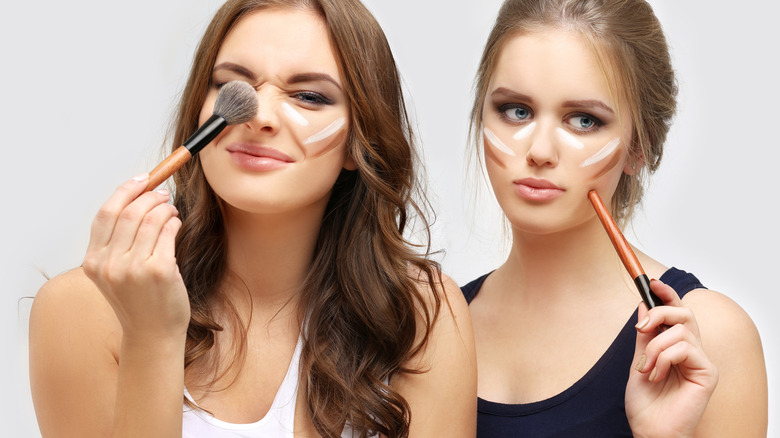 LADO/Shutterstock
Since we learned how to contour like a pro a few years ago (thanks, YouTube and Kim Kardashian!) we've not stopped. But going too heavy and liberal with the bronzer, the contour stick, or whatever it is you use to add a little more definition to the face can actually be aging. That's because rounder faces tend to be considered more youthful-looking. The more angular your face, the more it can age you, particularly for those who may already have naturally lost a little fat from their face with age.
One of the easiest ways to stop your contour from aging you is by steering clear of extra shading on the temples, especially if this area is already on the hollow side. Equally, if you already have a narrow face or cheekbones that naturally sink in, you'll also want to avoid adding too much contour here. That's because it will only make you look thinner and potentially gaunt — which certainly isn't a good thing when you're trying to look younger. 
Instead of focusing on the cheeks, turn your contour attention to the jaw. By creating shadow along the jawline, you'll instantly bring a little youth back to your look, as it will detract from any sagging around the area (as well as disguising those pesky double chins so many of us have!) Still want to have a little contour? Maybe give nontouring a go to stay glowy.