3 Signs You've Found Your Perfect Foundation Shade
Vladimir Gjorgiev/Shutterstock
We've all been there. Staring cluelessly for ages at an array of foundation shades, both in a store and online. We have absolutely no idea which one is going to work for us. There's also the worry that picking the wrong one will leave us looking like Ross in "Friends" with his disastrous spray tan or even like Casper the Friendly Ghost. From warm shades to cool undertones and full coverage to light coverage, sometimes the whole thing can just seem so totally overwhelming. This can be true no matter how much knowledge you do or don't have when it comes to makeup.
But, never fear! If that sounds like you and you're ready to find that perfect foundation match without all the hassle, we've got you covered! There are some tell-tale signs to look out for when shopping for a foundation. These will let you know in no uncertain terms that you've found your perfect match. You won't spend hours at the makeup counter, just to find out that shade you thought was right looks totally different when you walk out of the store.
Match your foundation to your jaw, not your hand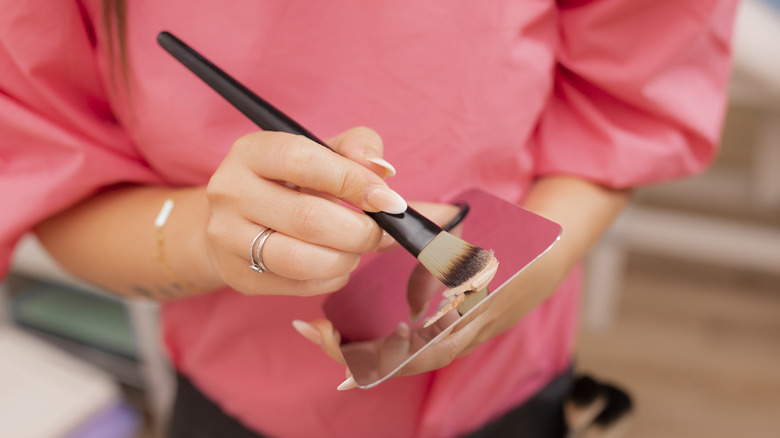 Stock Rojo Verde Y Azul/Getty Images
It seems natural to test foundation shades on your hand so you can see exactly what it looks like on your skin, but it's actually not always all that helpful. Instead, try swatching on your jawline. "Seeing what melds into skin will give you a more accurate shade match," celebrity Makeup Artist Judi Gabbay told Women News. 
The reason for that? Your hand may be a totally different color to your face, and the texture of the skin on your hand will likely be different too. Our faces are more susceptible to things like discoloration and rosacea, while our hands may be a different shade due to factors including a natural or faux tan. "If you tend to spray tan and are lighter on your face, aim to match from the neck up for seamless application," Gabbay suggested.
It's also a good idea to try swatching on your jawline away from the store, as the fluorescent lights in many outlets can make shades look different from how they appear in natural light. Plus, they may oxidize over time, changing color slightly. Gabbay suggested asking for a sample, or samples, you can take away with you so you can see how the shade develops in different lighting before taking the plunge. When you find one that works for you in multiple lightings? You've found the one!
Work out your skin's undertone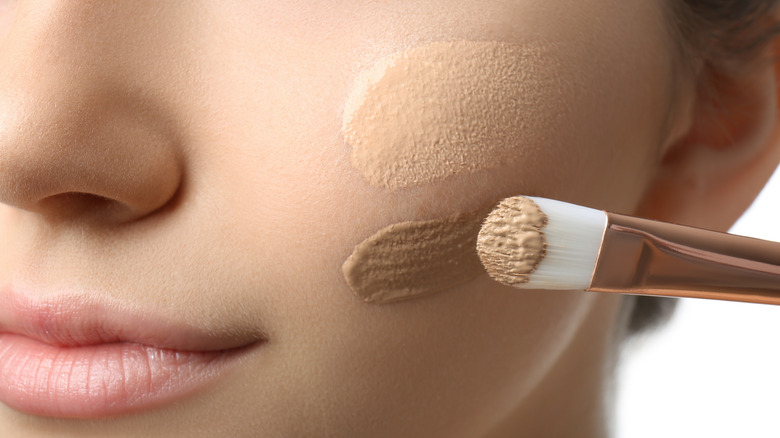 New Africa/Shutterstock
If you know your undertone, finding your foundation match will suddenly become a lot easier. But don't think it's as simple as lighter skin means cool undertones and darker skin means warmer undertones. As Bobbi Brown makeup artist Aimee Morrison explained to Good Housekeeping, you're looking to put yourself into one of three categories. "Cool undertones include pink and bluish hues. Warm undertones range from peach to yellow and golden. Neutral undertones have a mixture of both warm and cool tones," she shared. 
To figure it out yourself, just take a look at your veins! Cool undertoned people will have bluer veins, while those with greener veins having warmer undertones. If you have a bit of both, you have more of a neutral undertone.
When it comes to matching your undertone to your foundation, every company is different, but you can usually tell by the description or shade name what undertone it's designed for. Mac, for example, incorporates N, C, or W into its shade names, so you know if it's Neutral, Cool, or Warm. Once you know what tone you are, Makeup Artist and Beauty Expert Tomy Rivero points out some key ways to detect mismatched undertones saying, "If it's too ashy or gray looking it's too cool — if it's too red or dark it's too warm," he told Ipsy. "If you blend the foundation right in like lotion, bingo you have a winner!"
Customize your foundation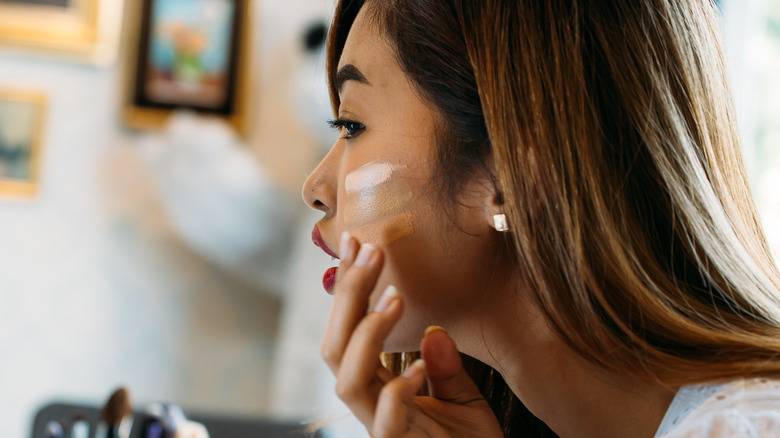 Twinsterphoto/Getty Images
"Look for a brand with an extensive shade range if you're looking for a super accurate foundation match. Brands like Armani and Fenty Beauty are known for their broad spectrum of shades," Judy Gabbay told Women News, but, even with all the shades in the world at your fingertips, you may find it difficult to find your exact shade without doing a little DIY makeup artistry. To really make sure your shade is perfect, don't be afraid to mix two or more foundations to really customize your look and find your ultimate shade match.
It's also a good idea if you want to look a little more tan to stick with a foundation that's no more than two shades away from your natural tone, but use other makeup to add some color. Rivero told Ipsy that one of the best ways to do this is to add some bronzer where it's needed, as going too dark with your foundation can leave you looking too orange and unnatural. Equally, if you're looking to brighten your complexion, use a highlighter rather than a lighter foundation that may leave you looking a little ghostly.
Another pro-tip? Use your online resources. Makeup companies' examples of the shades may sometimes look a little off, but there are plenty of blogs out there that will give you a more accurate representation of the colors. Sites like Findation are also great for comparing foundation shades from different brands.