Batana Oil Is The Moisture-Rich Skincare Secret With An Even Richer History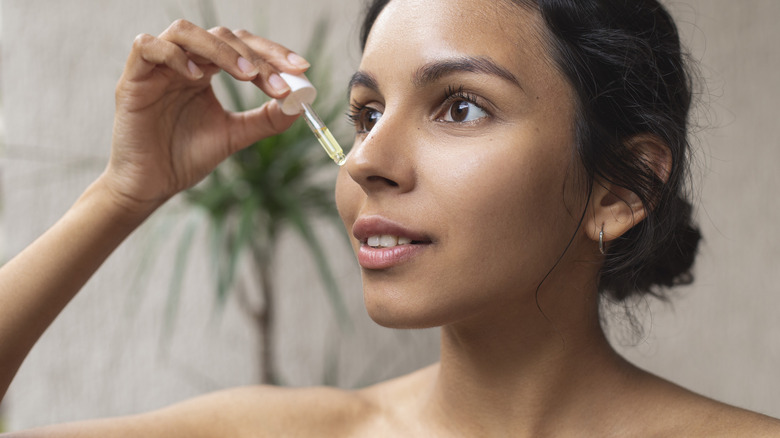 Viktoria Ovcharenko/Getty Images
We may receive a commission on purchases made from links.
Just like most natural solutions to hair and skin health, Batana oil is ancient indigenous treatment that has recently resurfaced in the modern wellness movement. With its roots in Central America, Batana oil is indigenous to the Miskito, or "people of beautiful hair." From turning thin locks into thick, long, luscious tresses, to reducing acne scars and stretch marks, Batana oil has a multitude of uses that have been passed down for centuries.
In a world where we're constantly searching for the best skincare product to balance our biome or seeking acne neutrality to achieve skin acceptance, Batana oil meets at the intersection of both by being a natural yet healing ingredient. FullyVital explained that the oil is packed with fatty acids, vitamins A,B,C,D, and E, antioxidants, biotin, and more. So how does Batana oil work? How is it created? What's the best way to incorporate it into your skin and hair routine? We've got all the answers for you.
Where does Batana oil come from?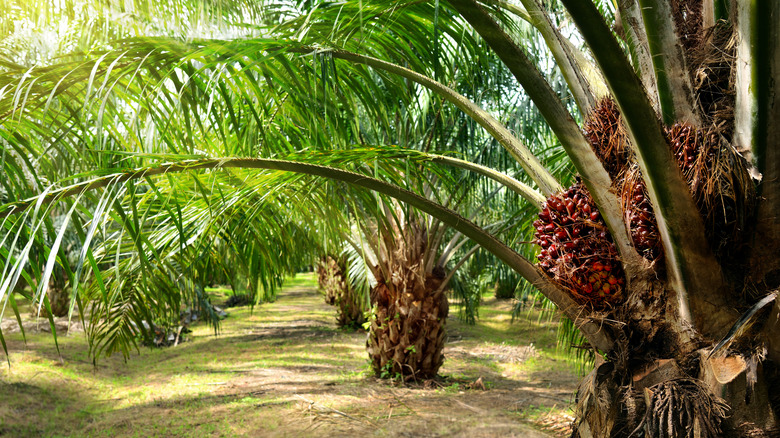 Photoongraphy/Shutterstock
Batana oil, also known as Ojon oil, is native to Honduras and greater Central America. The oil is extracted from American palm trees, which grow rampantly in Central America and offer an endless supply of Batana oil. The plants are harvested year-round, cooked, processed, and used as a natural remedy for skin and hair.
Since the oil is grown and extracted from nature, it's also multifaceted in the benefits it offers. As board-certified dermatologist Dr. Lauren Penzi explained to InStyle, "Batana oil has tocopherols and tocotrienols that act as antioxidants, protecting the skin against UV rays and environmental pollution while fighting free radicals that lead to photodamage." Not only can it help with hair growth, damage, and dandruff, but it also helps keep the skin supple and hydrated, it can fade acne scars and fine lines, and can also be used to improve psoriasis, eczema, and rosacea, per Lindy Cosmetics.
How do you apply Batana oil for best results?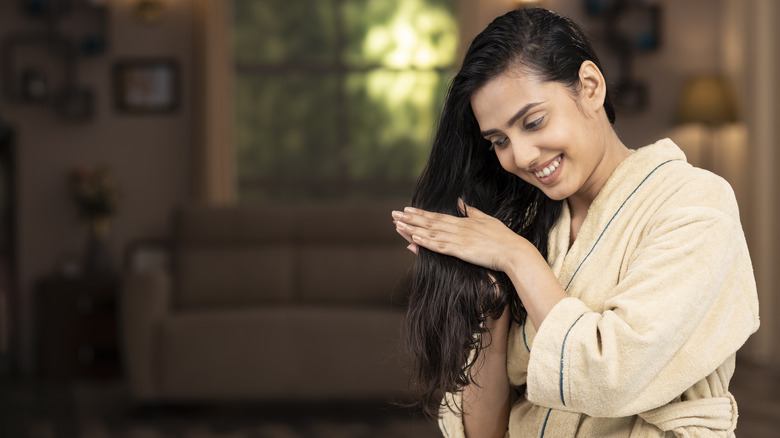 Deepak Sethi/Getty Images
When it comes to skin, Batana oil should be incorporated into your regular routine by mixing it into a cleanser, moisturizer, or serum. Just like most skincare treatments, Batana oil should be worn overnight to achieve optimal results. While daily use products can be worn all day and under makeup, Batana oil should be applied on clean skin only 1-2 times a week. Overdoing it can clog your pores, so if you're concerned about that, you can also massage the oil onto your face before using your daily cleanser. Doing a patch test on your hand beforehand is always a good idea as well.
For hair concerns, Batana oil is here to save the day. Hair growth and damage repair should be addressed by rubbing the oil into your scalp and onto strands, which can also act as a deeply personal self-care practice. While some recommend keeping oil in hair overnight, you can leave it on for just a few hours on wash day. You can also opt to mix a dime-sized amount of oil into your conditioner and apply it to the ends, or purchase a conditioner with Batana oil as part of the formulation. Some of the best products to incorporate into your routine include Princess Mudd's Elderberry Silk Deep Conditioner ($20), Au Natural's Batana Oil ($33), or Batanaful's 100% Pure Batana Oil ($40).
Is Batana oil safe for everyone?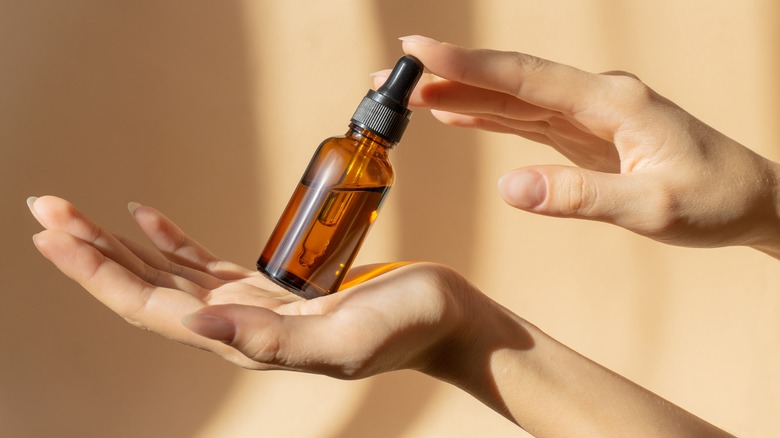 Natalia44/Shutterstock
Batana oil is typically safe for most to use. However, there are cases in which it may cause side effects, such as redness or itching. Dr. Lauren Penzi explained to InStyle that it would be best to apply a small amount on the underside of your arm for a few nights. "If no reaction occurs, you should feel comfortable to start using the product on your face." 
Batana oil can also be extremely concentrated, although its concentration isn't as potent as oils like rosemary. It may be best to mix Batana with another carrier oil, like coconut, jojoba, or castor oil. If you don't have a carrier oil, watering it down can help decrease some of its concentration or chance of irritation. Apply only a few drops, massage in circular motions, and leave on for no more than 4 hours. Wash and follow up with your regular hair routine, and voila! Your hair is soft, shiny, and extra hydrated.