The Ultimate Shopping Guide For Your 30s (Plus Fashion Faux Pas To Avoid)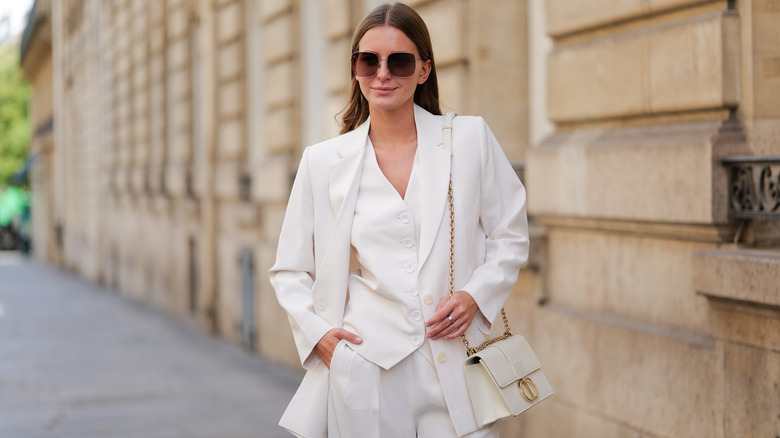 Edward Berthelot/Getty Images
Hitting the big 3-0 can be equal parts terrifying and exhilarating; when you blow out the candles on what is hopefully a delectable cake, do you suddenly become "thirty, flirty, and thriving?" In general, your thirties are a decade full of confidence, maturity, and a wardrobe that says, 'I'm still youthful and vibrant, but I enjoy going to bed at 10:00 p.m. on a Friday night.' Gone are the insecure days of your twenties when you wanted to impress people with your aesthetic. Now, it's all about confidence, knowing what suits you, and finding a wardrobe that works for your lifestyle, whether you're a stay-at-home mom or the CEO of a Fortune 500 company.
Audree Kate López, a New York-based fashion stylist and content creator told Byrdie, "As I have entered my thirties, I have become more in tune with who I am as a woman and how I like to dress. I've stopped dressing for other people or their approval." This is a sentiment that appears to be quite popular among the millennial generation. Just as we teased our parents about their tired, old trends from the 70s and 80s while simultaneously stealing them, Gen-Z has now given us a taste of our own multivitamin. Killing off trends such as skinny jeans and side parts, they've apparently dubbed us uncool.
But, thirty-somethings are now coming into their own and redefining what it means to be stylish. Below is a guide to dressing in your thirties and making current trends work for you.
Is age appropriate dressing a thing?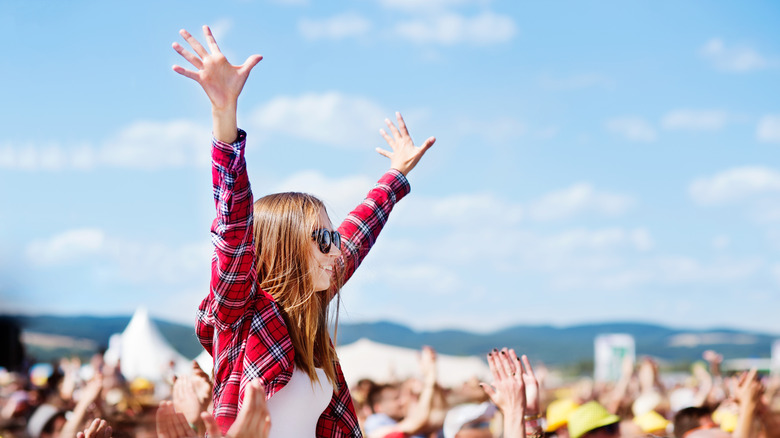 Halfpoint/Getty Images
Telling a woman she needs to dress for her age is equivalent to calling the Duchess of Cambridge Kate Middleton; it's disrespectful and completely ignores protocol. Look, if you're 35 and want to wear a crop top to Coachella while simultaneously pumping your fist to Bad Bunny on a stranger's shoulders, nobody has the right to stop you.
But, is there a right way to dress in each decade of your life or is it simply a natural way of evolving as we become adults? According to Reddit, the majority of women prefer to dress how they want, even if that means looking more youthful than their peers. User Jenstarflower wrote, "I'm 100% for dressing the way you love and makes you happy. Clothes are a creative outlet. The worst thing that has happened to me is that some buzzkill thinks mean things about me in their head."
Dressing in your 30s doesn't have to mean giving up all the trends you love, even if they're geared toward the younger generation. You can incorporate them into a more mature, polished way of dressing that looks chic but doesn't take anything away from your personal aesthetic. For example, if you love concert T-shirts, you can put a more mature spin on them with an oversized blazer on top, or wear high-waisted jeans with your favorite crop top. It's not about shedding your personal style, but rather, adapting it to fit a more adult way of dressing and allowing yourself to evolve.
Essential stores for women in their 30s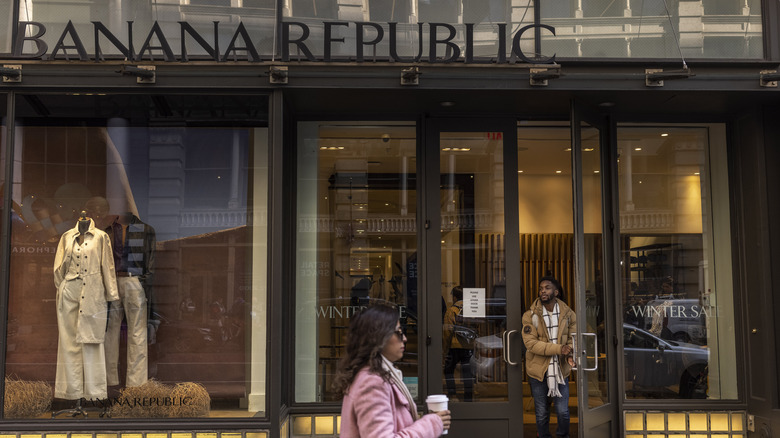 Bloomberg/Getty Images
Your twenties can be a time for experimenting with clothing, wearing lots of bright colors and patterns, and sporting a million trends at once. However, your thirties are a time to really zero in on one cohesive aesthetic that looks polished yet doesn't look like your grandmother's closet. Banana Republic is a fantastic place to start when it comes to building a capsule wardrobe. User tebussy wrote on Reddit, "I honestly love Banana Republic factory. The prices are good and they use a lot of cotton."
The go-to Millennial brand features mostly neutral colors but keeps things modern with flattering silhouettes and a polished take on trending items like crop tops and cut-out dresses. Banana Republic is a perfect place to build a wardrobe for women with a variety of lifestyles, from a teacher who needs to run around with kids to a woman who works in the corporate world and wears blazers every day. The majority of items run between $50 and $200.
Another popular option among Millennial women is LOFT. This store is for the 30-something woman who doesn't want to give up fun colors and patterns just because she's getting older. The store features items that would be fantastic additions to a Banana Republic-built capsule wardrobe and give off a trendy vibe without looking like you're trying too hard. LOFT is a suitable store for someone just entering their 30s who wants to dress more maturely but isn't ready to sacrifice the fun they have while getting ready. Most items cost between $30 and $150.
What suits your lifestyle at the moment?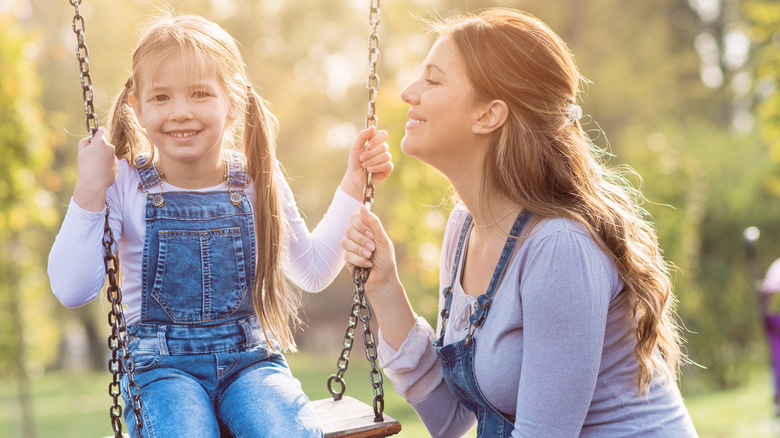 Zukovic/Getty Images
Your 30s can be an especially strange time in life when you look at your circle of close friends. One is holding a baby on their hip and juggling everything that comes with motherhood, while another might still live with their parents and intern at a major company. It can be mind-boggling to think about how different these phases of life are and the fact that they can all happen in the same decade.
With that said, we're all in need of dressing for this time in our lives that feels like it's between youth and full-on adulthood even though our days look vastly different. When building your 30-something wardrobe, it's important to take a look at your weekly schedule and write down what your needs are in terms of your work or activity level. What are the top three things that take up the majority of your time? Are you a mom who needs casual clothes for running on the playground? Are you working in an office that requires a formal look?
Now, it's important to make sure you're buying items that suit your actual lifestyle. For example, having five pencil skirts in your wardrobe is probably not practical if you are divvying up apple slices at soccer practice. And, having a closet full of flared jeans and oversized sweaters won't really work if you need to wear blazers and heels to work at your office every day.
Focus on quality fabrics over fast fashion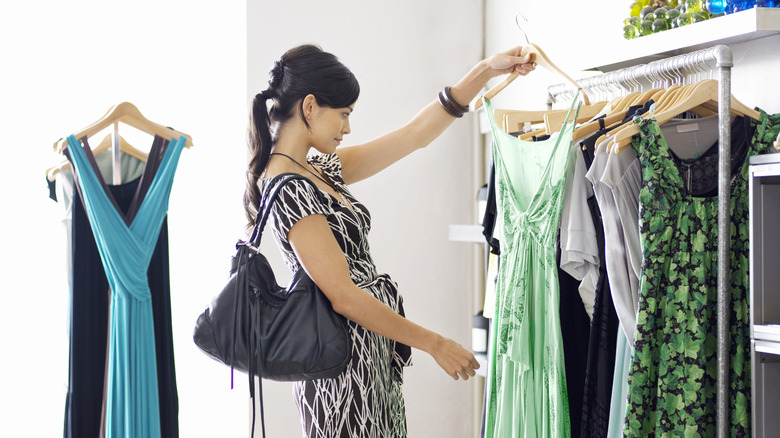 Siri Stafford/Getty Images
Fast fashion is pretty hard to avoid and tempting to buy, but if you're trying to build a wardrobe full of staple pieces, you'll want items that are built to last. It can be really hard to tell what's going to stay perfect for the next five years and what is going to have a tiny hole in it after the first round through the dryer.
Dan Neilsenbeck, owner of vintage store Shop Bruce, told the Guardian, "The best way to assess the quality of a garment's construction is to look inside." He later added, "High-quality fabric will feel better on your skin and generally fit, drape, and wear better." Examples of higher quality fabric include materials made of natural fibers like wool, cotton, silk, or cotton-silk blends. Meanwhile,Max Sanderson, a lecturer at Parson's Paris claimed it's all about stitching, telling the publication that shoppers should look for smaller stitches as opposed to longer ones because they are more durable.
Not only is it important to have long-lasting items for yourself, it's also key for sustainability. The environmental impact of fast fashion is enormous. According to Earth.org, 92 million tons of the 100 billion garments produced yearly end up in landfills, which is the equivalent of a full trash truck ending up in a landfill every year. With those tips in mind, any item that is see-through when it normally shouldn't be is probably bad quality fabric, i.e. trousers and T-shirts. This tends to happen with fast fashion giants such as H&M and Primark.
Find three essential colors that suit your skin tone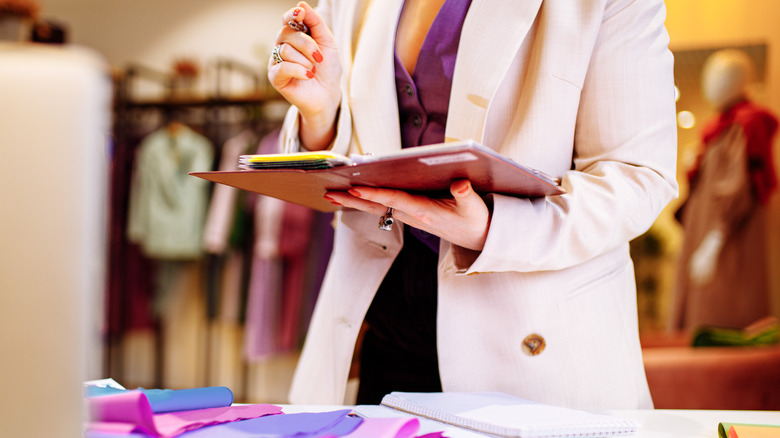 yurakrasil/Shutterstock
We've all heard the phrase, "This makes me look washed out," or "It's just not my color," uttered in dressing rooms while a friend gets stuck in their halter top next door. But, what does that really mean? Based on your overall hair, skin, and eye color, there are certain hues that make you look red-carpet-ready, while others fall a little flat.
Cladwell is an app in which you can build your own virtual capsule wardrobe, and it offers a comprehensive guide on finding the right clothing colors for you in every season based on your complexion. For example, someone is considered a "Light Summer" if they have light to medium ash or strawberry blonde hair, blue or green eyes, and a neutral or pink skin tone. That means their main wardrobe colors should be watermelon pink, mustard yellow, teal, and light blue along with other secondary colors.
 In finding your perfect color palette, make sure you don't fill your closet with too many different hues and mismatched patterns. This could lead to that all too familiar situation of looking at a closet full of clothes and feeling like you have nothing to wear.
Build out from a capsule wardrobe of a few go-to items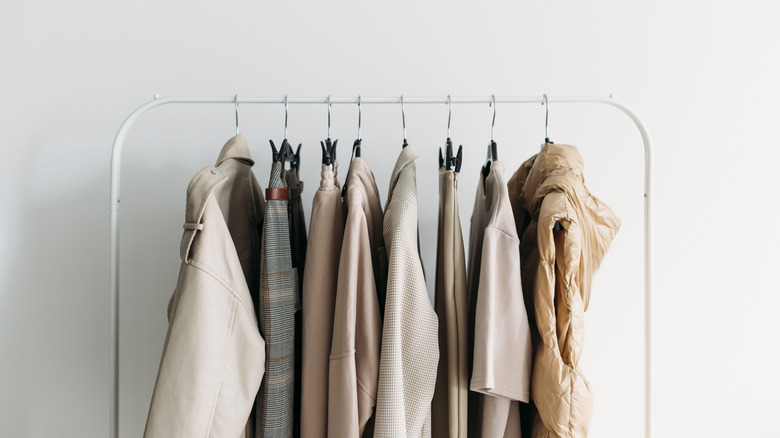 Elizaveta Shishlyannikova/Getty Images
Building a capsule wardrobe can save you enormous amounts of time, and who isn't looking for that while rushing around spilling coffee on the carpet in the morning? If you've ever had the experience of looking at a closet stuffed to the brim with jackets you haven't worn in years, jeans two sizes too small, and blouses you don't even like anymore you could be in need of slimming down your closet. Stitch Fix stylist Gillian McHattie told Today, "Invest in pieces that will last over time, fit your body well, and most importantly, make you feel like your most confident self as you tackle this exciting decade."
The Cladwell app allows users to build a capsule wardrobe digitally, while also offering outfit ideas, and the ability to schedule and save planned looks. If building this sounds daunting, it offers templates including the London Classic, Minimalist, Romantic, and Parisian with new ones coming out every season. 
What to avoid: The whole premise of a capsule wardrobe is to have a few key pieces that can be mixed and matched with the ability to add a few differing pieces later on, like accessories. That being said, it's important that you avoid buying too much of certain items, like having 30 pairs of shoes or 10 different T-shirts, which can lead to decision overload.
Essential items you should have in your wardrobe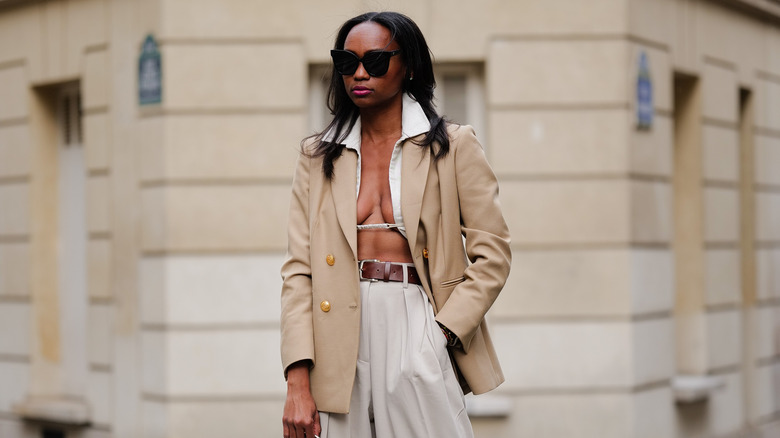 Edward Berthelot/Getty Images
The right jacket can easily take an outfit from "meh" to "Wow!" in a matter of seconds, so it's essential you find the right one for every season. A coat for the colder months should keep you warm without sacrificing style. Olivia Palermo showcases this perfectly in a recent Instagram post in which she wore a long navy coat over a silky maxi skirt and black turtleneck.
During the warmer part of the year, you'll still need a jacket for rainy days or chilly nights, and an oversized blazer is a great all-around option. You can wear it with formal trousers at work, jeans on the weekend, or even pair it with a summer dress for a high-fashion look. Once again the former "The City" star showed via Instagram how a pair of ripped jeans and chunky black boots can be dressed up with an oversized cream blazer. 
Along with jackets, a good pair of jeans is absolutely an essential item in every wardrobe; they can be worn every single day for a majority of occasions and come in several different styles that suit every personality. Stitch Fix has a comprehensive guide on what styles suit different body types along with information on what to pair with each denim silhouette.
Don't underestimate the power of your basics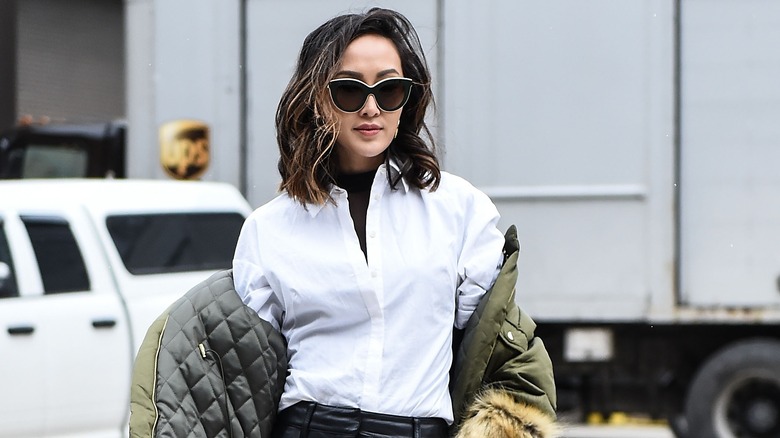 Daniel Zuchnik/Getty Images
One of the most ideal pieces you could add to a thirty-something capsule wardrobe is a crisp, white button-down shirt; it's neutral, polished, and can be styled in dozens of ways for formal and casual occasions. It's been featured throughout pop culture in some pretty significant moments; from Audrey Hepburn riding on a Vespa in Roman Holiday to Angelina Jolie wearing nothing but an oversized white button-down in Mr. and Mrs. Smith. And, let's not forget Meghan Markle sporting the significant piece with ripped jeans and flats in her first official appearance with Prince Harry.
Natalie Kingham, fashion and buying director at Matches Fashion told Harper's Bazaar, "The white shirt is a timeless wardrobe staple, it is versatile and has endless styling options, meaning it can be worn all year round, season after season."
The versatility of the white button-down cannot be overstated, and Tik Tok user Kimberly Johnson, who goes by the name @styledbykimj,  shared a video in which she styled it with several types of jeans. She claimed that you should wear wide-leg jeans if you want to tuck it in, as that will give you better proportions. With straight-leg jeans, she advises untucking it on one side for a casual look, and with loose jeans, leave it untucked with one button undone.
Be selective about trends
Of course, if you did still want to engage with some of the day's trends, there's nothing wrong with that. They key is to take the key pieces of the trend and make it work with your existing wardrobe, rather than trying to change your entire look around the trend. There are several fashion trends today that are easily adaptable for a thirty-something wardrobe. The coastal grandmother trend that has been taking over TikTok for several months now is one example. The trend draws inspiration from figures like Diane Keaton in "Something's Gotta Give" and Emily Gilmore in the "Gilmore Girls" revival, with lots of white and beige, straw hats, linen trousers, and knit sweaters thrown over a white button-down. It is simultaneously polished and relaxed, relying on a minimalist vibe with hints of prep. The neutral color palette is entirely perfect when it comes to building a thirty-something capsule wardrobe.
TikTok user Chander DeHart who goes by @candidlychan on the app shared a series of outfits that follow the coastal grandmother aesthetic with a modern and youthful take. In one video, she shared several outfits featuring high-waisted beige shorts, oversized button-down shirts, and trousers with a cropped top. 
Meanwhile, actress and thirty-something Anne Hathaway shared her own spin on the trend via Instagram in which she wore beige capris, a white button-down, and the quintessential straw hat. She was thrilled that coastal grandmother chic had taken over social media, as she wrote in the caption, "I have been ready for #coastalgrandmother chic since before TikTok was born. May this moment never end." Other creators, like Two Scoops of Style, provide advice for how to update Gen-Z trends for Millennials.