How To Go Braless When You're Wearing A Dress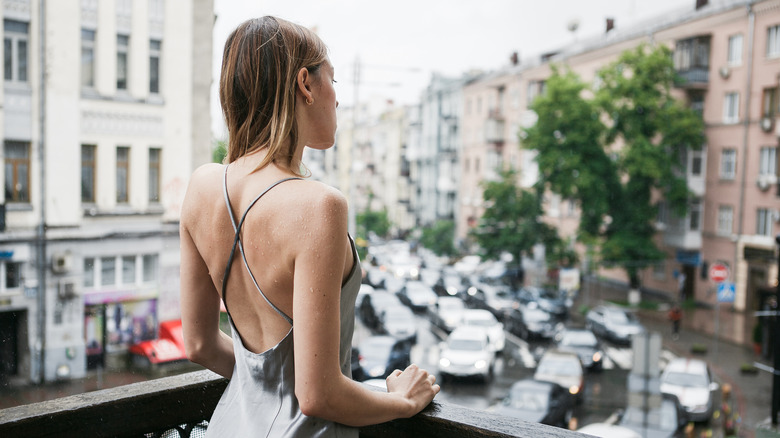 Maunka/Getty Images
There's nothing quite as satisfying as finding that one perfect dress — amazing color, fantastic fit, and maybe even a discounted price tag. However, if you're like us, then you've also experienced the disheartening realization that you have no idea how to style this perfect find with any of the bras in your at-home catalog. Whether the dress features a deep-V neckline or a revealing open back, it just doesn't work with a traditional bra.
Luckily, you don't have to place the dress back on the rack if you're ready to go braless. Such looks have become an increasingly popular fashion choice recently, being especially in vogue among celebrities. For example, we loved Florence Pugh's pink, see-through gown worn for Valentino's Fall/Winter 2022 Haute Couture show, Jenna Ortega's Gucci cut-out dress seen at the 2023 Golden Globe Awards, and Zendaya's green-and-black Versace look for the 2023 NAACP Image Awards.
These stars aren't the only ones who can rock a gown sans bra, though. If you're aspiring to such heights of fashion, then we have some great bra alternatives to help you achieve a fashionable, nip-slip-free look in your new favorite dress.
Experiment with pasties and petals
When it comes to wearing a dress without a bra, there are lots of alternatives you can try out to help you achieve a seamlessly fashionable look. For one, nipple pasties are great for covering up the nipple, which is ideal if you're looking to maintain coverage while wearing a dress with sheer fabric or a loose neckline.
If you're unfamiliar, nipple pasties, sometimes called petals, are patches that are either self-adhesive or worn with adhesive to cover the nipple and areola. They come in a variety of shapes, colors, and designs, allowing you to wear them as a subtle bra replacement or a bold fashion accessory. They can typically be found at stores like Target and Walmart, but brands like Regards, Her and B-Six also specialize in them.
To determine if pasties are the right choice for your outfit, consider the dress you want to wear. For one, the fabric of a gown can affect the visibility of your nipples, with thin materials like silk and satin being more likely to announce your bralessness. If this isn't something you're comfortable with or not the particular look you're going for, then pasties would be a great solution.
Consider using boob tape
If you're looking for a bra alternative that also provides some support, boob tape is your answer. Unlike regular pasties, this nude-colored fabric strip comes with an adhesive back that lifts the breasts and holds them in place. As fashion stylist Joanna Angeles tells The Zoe Report, "The best thing about the boob tape is that it's customizable...You can shape [it] however you want to whatever you're wearing, and it's the best for support for those with a larger chest or people who want a little lift."
In this way, boob tape can be used with any style of top, whether you're wearing a dress with a plunging neckline or lots of cutouts, as it can navigate the dynamic shapes of these pieces more effectively than a traditional bra. Plus, this alternative offers great support to those with bigger busts. If you're looking for some solid options, Booby Tape, NOOD, and Good Lines are popular brands.
In addition to these options, you can also employ fabric tape to avoid any outfit malfunctions while going braless. This tape is double-sided and works on both fabric and skin to secure your clothing into place, making it the perfect add-on to any bra replacement. If the bust of your dress is more loose and free-flowing, fabric tape can help you secure straps and necklines for a seamless experience.