How To Ace The Sheer Clothing Trend — From Pops Of Skin To Fearless Transparency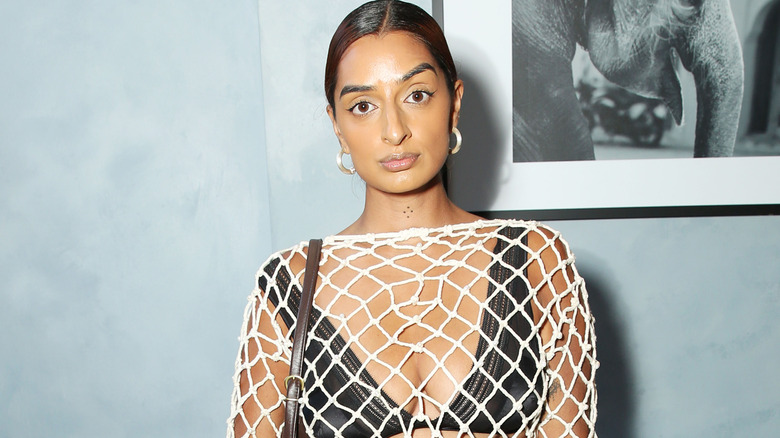 David M. Benett/Getty Images
Summer 2022 was all about chunky necklaces and strapless tops. The trend everyone will be embracing this summer is sheer. For the past few years, we've seen celebrities embrace sheer and transparent clothing on the red carpet. While you probably aren't about to see your neighbors walking around in beaded Oscar de la Renta ball gowns, you are about to see a lot more people working sheer pieces into their day-to-day outfits.
As exciting — and liberating — as the sheer resurgence is, it can also feel intimidating. If you're used to wearing well, practical clothes, you may be thinking "How the heck am I supposed to wear a mesh top to run errands?" This a reasonable question, and luckily one with an easy enough answer. Bearing all (or a least some) doesn't come naturally to most, but embracing your body and you're right to show whatever you want could just be the confidence boost you need.
If the idea of working a little transparency into an otherwise opaque wardrobe excites you, but you don't know where to start, we've got you covered. Read on for exactly what you need to know to embrace everything sheer this summer.
Pops of skin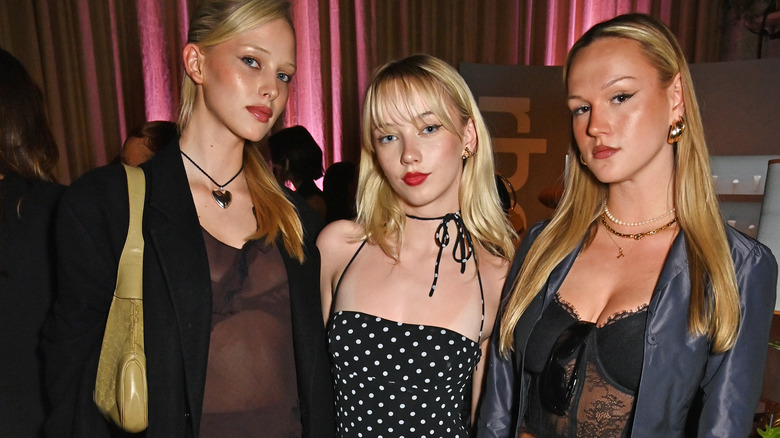 David M. Benett/Getty Images
When dipping your toe in the sheer clothing trend, it's best to start small. For some, especially those who tend to dress more conservatively, donning a sheer dress, shoes, and nothing else isn't realistic. Before you go spending all your money on a new sheer wardrobe, figure out what you're comfortable with. If you find you like a little more coverage, you're in luck. Lots of designers have included cleverly structured sheer tops and dresses that give you just enough coverage exactly where you want it in their spring/summer designs this year.
A quick scroll through your social media will likely reveal an abundance of influencers wearing sheer tops and dresses crafted with a piece of additional fabric to create a drape-like, full-coverage effect over their most intimate areas. While you don't need to drop $500 on the Orseund Iris sheer top, something similar can be a great place to start. Opt for pieces that come with built-in coverage. If you're going for a dress, find something with a sheer midsection, back, or sleeves, but still has opaque enough fabric to cover your bust.
Choose your undergarments wisely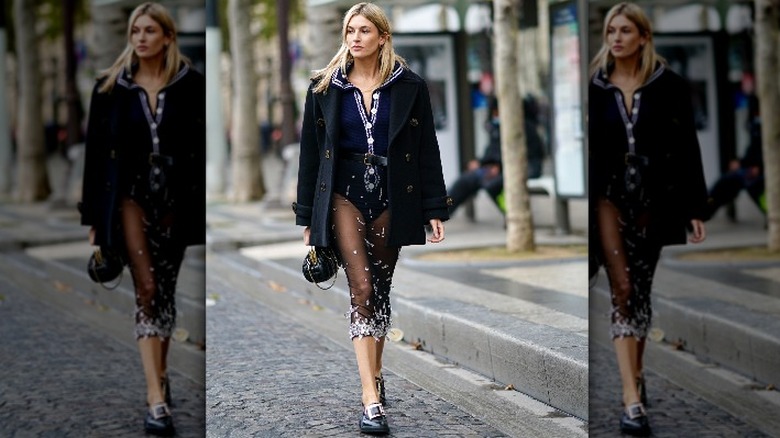 Edward Berthelot/Getty Images
By far the most intimidating part of investing in the sheer clothing trend is figuring out how to cover your more intimate parts while still having the fun of showing off some skin. That's where undergarments come in. Depending on what you're comfortable with (or where you live) tops are pretty easy to style. You may be comfortable going braless under a sheer blouse or dress — in which case, good for you! Problem solved. If that's not your vibe, and you prefer a little more coverage up top, you have a couple of options. The most basic is shapewear or lingerie that matches your skin tone which allows you to create the illusion of showing some skin without actually doing it. Option two is to go bold. Find a fun lacey or patterned bra or bandeau and layer up for a flirty pop of color.
The bottom is where things get a little more complicated. No matter how bold you're feeling, you're probably not going commando under something sheer. This leaves you with a few choices. You could invest in some good shapewear or seamless underwear. Or if you're feeling brazen, throw on some panties and head out the door. A good option that falls somewhere in between is pairing a tulle skirt or even a sheer pencil skirt with a body suit. It provides total coverage up top but still allows you to show off your legs in a put-together way.  
Staple pieces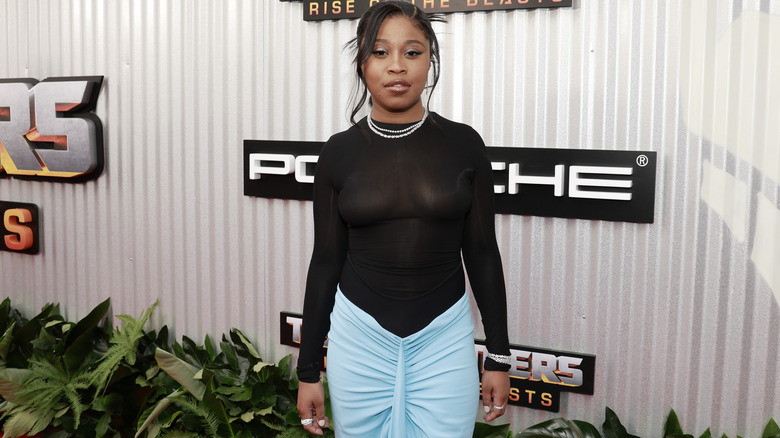 Jason Mendez/Getty Images
You may be tempted to run out and buy a mesh dress and a cute new lingerie set, but a more realistic way to work sheer pieces into your repertoire is by cleverly updating some of your staple pieces. "I'm always thinking about ways to wear what I already have in my closet — what is one simple thing that I can do that can make my favorite relaxed suit or sleek trouser skirt feel new. Updated. More in the moment," Amy Smilovic, creative director of Tibi told Harpers Bazaar.
Smilovic's favorite hack for killing a sheer look is investing in high-quality undergarments that can become staples in your wardrobe. "[N]ot for the sake of modesty, though that's a thing — but rather because it creates interesting new geometric lines," she explained. Wearing your favorite lacey bra, a sheer blouse, and your best-fitting jeans will make you feel powerful, sexy, and stylish, even if integrating so much sheer feels intimidating. "It's a statement, but you definitely don't feel so 'extra.' Just style with lots of ease," she advised.
Don't forget accessories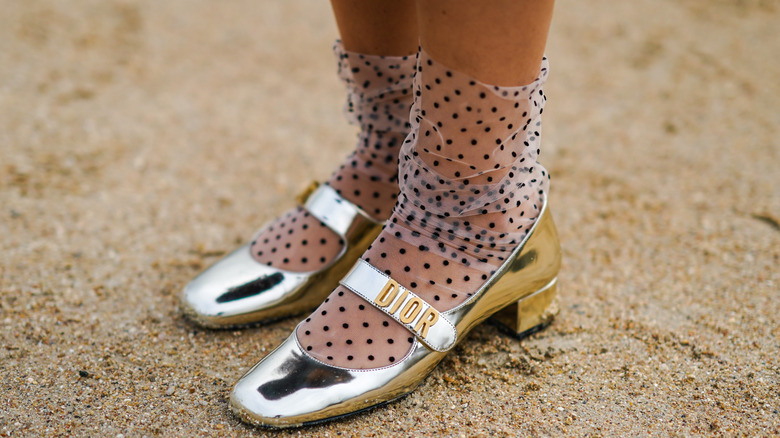 Edward Berthelot/Getty Images
Maybe a sheer dress or sheer pants aren't your vibe — totally fine. If that's the case, get creative with your accessories. Socks, for example, are a great way to spice up an otherwise basic outfit. Pair some sheer socks with chunky sneakers or loafers and a knee-length dress, and before you know it, you're a bonafide fashion blogger.
If you're in the market for something a little more office appropriate, don't sleep on classic sheer tights. They might not offer the excitement of a sheer slip, but tights are a fun way to add some depth to your day-to-day looks. Plain black will do just fine, but they also come in a variety of colors and patterns like polka dots or seamed which, when styled correctly, can elevate any outfit.
Sheer accessories aren't just limited to your legs either. A Georgette scarf or hair bow are great options for someone working with a well-curated capsule wardrobe. Of course, we'd be remiss if we didn't mention gloves. While admittedly a little more difficult to style, when implemented correctly sheer cloves can look sexy and cutting edge. It's best to save this iteration of the sheer trend for a special occasion though. Donning sheer gloves for a trip to Trader Joe's could have you looking like you're on the way to a costume party.
Layer layer layer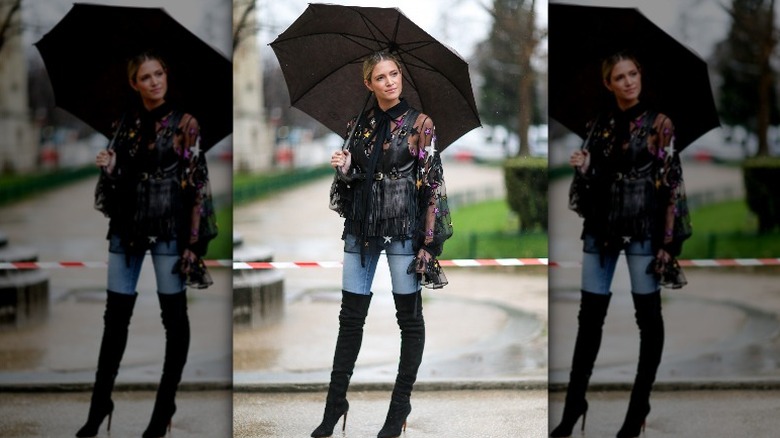 Edward Berthelot/Getty Images
Whether you're looking to totally revamp your wardrobe or simply work a little bit of the sheerness into what you already have, the key to making this trend work is layering up on fabrics. The easiest way to start is by layering a sheer garment with some cute undergarments or a bodysuit. The layering doesn't stop at shapewear, though. Tibi founder Amy Smilovic suggests getting creative with sheer pieces and the pieces you already own. When speaking to Harpers Bazaar, Smilovic explained that she loves adding something sheer to something classic, and designed the S/S23 collection with that in mind. "The texture [of a sheer top] adds depth to pieces I already own, it's the perfect layering piece," she said. "It's the ultimate balancer to a big full pant or a midi skirt that on its own could feel more conservative."
There is no hard and fast rule to layering sheer pieces. A killer outfit could take the form of a mesh top over a long sleeve t-shirt or a couple of beaded skirts on top of each other to create a more opaque look. For the very fashion-forward, this is a chance to get really creative. Embrace the idea of living outside of your comfort zone and pair a mesh beaded dress with some bootcut jeans and a cute bra, leaving you both fully covered and Fashion-Week ready.
Take inspiration from history
Dave Benett/Getty Images
Everything in fashion is cyclical. What's out now will be in again in 15 years and vice versa. Spring/summer 23 isn't the first time sheer clothing has had a chokehold on the nation. So, if you're struggling to figure out ways to work something mesh or sheer into your wardrobe, look to decades past for inspiration. Want something simple but powerful? Look no further than Kate Moss' '90s Elite party slip which was smartly styled with some black panties and nothing else. Want something edgier? Who remembers the long sleeve mesh top Lindsay Lohan wore in "Freaky Friday?"
When it comes to pulling inspo from the past, the key is in finding vintage pieces that can work with a modern wardrobe. "My number one tip is to make it modern. There's nothing worse than looking like you're wearing a costume," fashion archivist Julie Ann Clauss told Who What Wear. If you luck out and find a great beaded skirt on eBay, pair it with something modern like boot-cut jeans or a crisp white button-down. As for bolder pieces — say a dress from the '90s — add a minimalist shoulder bag or square-toed pumps for a more contemporary look. When in doubt, turn to accessories. "The best way to modernize vintage garments is with current accessories," Clauss assured the outlet.