White Trousers Are The 2023 Summer Trend We Can't Stop Thinking About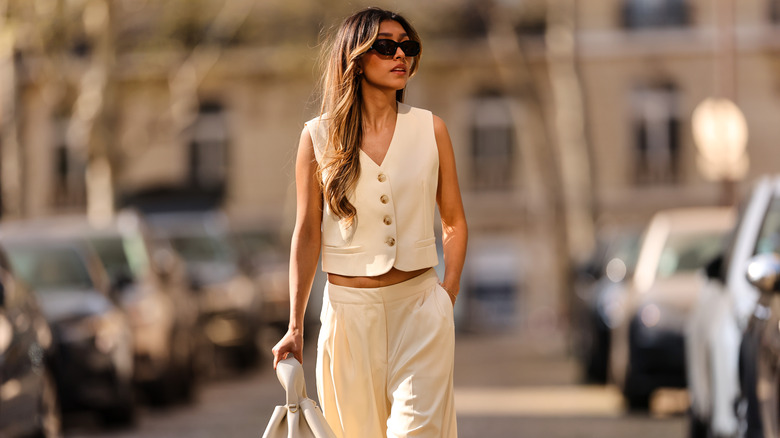 Edward Berthelot/Getty Images
White trousers are the go-to summer 2023 trend that we can't get enough of. The look is as versatile as it is chic. There are high-waisted and tailored pants with crisp pleats running down the legs. There are low-rise looks with ample fabric, creating a slouch above the shoe line that gives us vibes for days. White trousers come in linen, cotton, and blends that are cool and breezy, making them an ideal summer staple.
White trousers are replacing a lot of previous summer looks that we're just not feeling anymore. They're lighter and more polished than denim, and have more structuring than traditional loose linen pants. White trousers tend to work best with a belt since they're more tailored. What we love about white trousers is how versatile they are. You can dress them up for a night out or dress them down for a chill day of running errands — both are home runs.
Keep it preppy
What we love about white trousers is how preppy the look can be. This classic way of styling the pants might be the look we're most familiar with. Think blue and white striped mariner button-downs. Think cashmere sweaters tied loosely around the shoulders that'll be ideal in a place with heavy air conditioning. Think camel-color leather belts with gold hardware.
TikTok personality Fabiana Cristina styled white trousers in the most deliciously preppy way. She tucked a three-quarter zip sweater into the pants and cinched them with a caramel-colored belt. She wore flat, leather sandals that were the same color as the belt and carried a dark brown leather woven bag. She served another elegant styling of white trousers with a pale blue button-down shirt along with flat, black leather sandals and a black leather belt. It doesn't get better than this.
While trousers are a minimalist's staple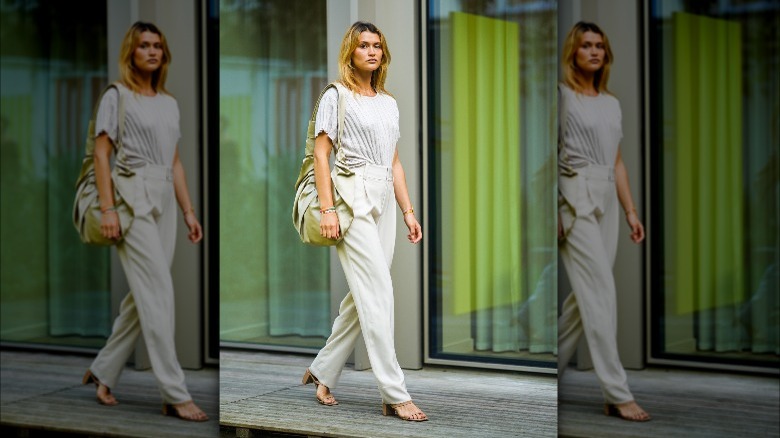 Edward Berthelot/Getty Images
White trousers lend themselves so well to the minimalist trend. In hot summer months, the last thing you're going to want is a complex, layered outfit that requires fussing and tucking throughout the day. These trousers are ideal because they're breathable and loose, while the high-waist nips in the ample legs. Pair white trousers with a plain tank top and you're literally done. Opt for black and white to create a sleek contrast, by choosing a black, linen blazer or simple black top. Or, for a more neutral palate, keep the look within the same tonal family. Opt for soft greens and nudes to pair with the white of the pants. 
Since the pants have their own structure, they read as much more polished than loose denim or other types of summer pants. Keep the look neutral and simple. Finish the look with simple gold jewelry and a black belt.
Dress them up
The versatility of white trousers shows up most clearly with how well they can be dressed up. Pair the tailored pants with a silk tank top and sandal heels for an easy going-out look. Better yet, tap into the style of lingerie as outerwear and pair the trousers with a lace bustier or corset-style top for a sultry evening on the town.
If you're after a more covered look but still want to dress up, pair white trousers with a white, silk button-up blouse for a monochromatic chic look that's perfect for a summer night out. The key is in the accessories. Work a headband into the look or lean into chandelier earrings and other statement jewelry to elevate the look. "Accessories are always fun to play with when it comes to summer dressing," stylist Jay Hine told Marie Claire. "Whether you layer bracelets or stack rings, jewelry always adds a little je ne sais quoi to really complete and sign off the outfit."
Work wear in the summer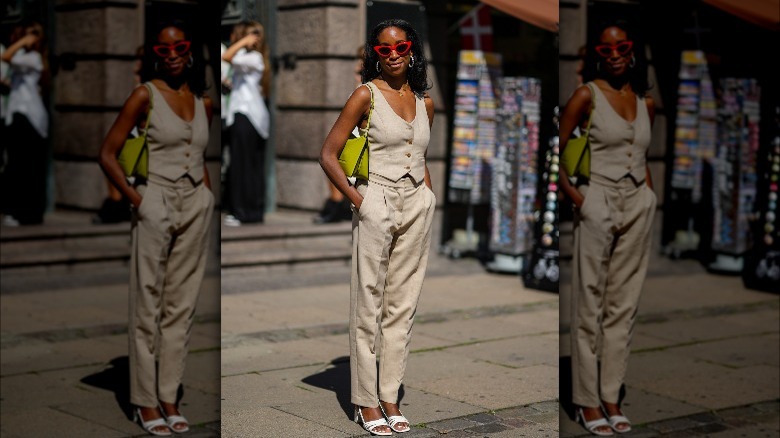 Edward Berthelot/Getty Images
Yes, white trousers are perfect for work. They elevate a workwear look while keeping you cool and comfortable in summer weather. Plus, they elevate the look from more casual clothing like white denim. Keep the tone professional by pairing your white trousers with a blazer or even a vest. Arielle Siboni, Bloomingdale's ready-to-wear fashion director, told Marie Claire: "With the resurgence of minimalism, I think there are so many amazing office-appropriate options right now. I have been wearing tailored vests on repeat with matching trousers. I'm also loving this combo in linen."
We are living for structured, summer tailoring, so keep the look sharp and crisp. But don't forget an added layer. During your commute, you'll work up a sweat, but in the heavily air-conditioned office, you'll likely want something extra.
Going ultra casual in white trousers this summer
The versatility of white trousers expands enough to include a casual dress code. Pair the pants with Converse and a black belt for the perfect play on comfort and sleek accessories. If Converse aren't your scene, wear any pair of sneakers that you prefer, like the Adidas Originals Gazelle shoes or Nike Daybreak sneakers. White sneakers give it a fresh look. Let the formality of the pleats play with the casual comfort of relaxed footwear. In hot weather, pulling your hair back in a slick bun will be a much-appreciated option to keep it off your neck. Create a part down the middle and tie it back for the most walkable summer outfit. Wear with a crop top or a top tucked in, to accentuate the waist. It's important to keep the waist in sight on ample trousers, so a loose top looks best when tucked in.