5 Ways To Elevate Your Denim Style For Fall 2023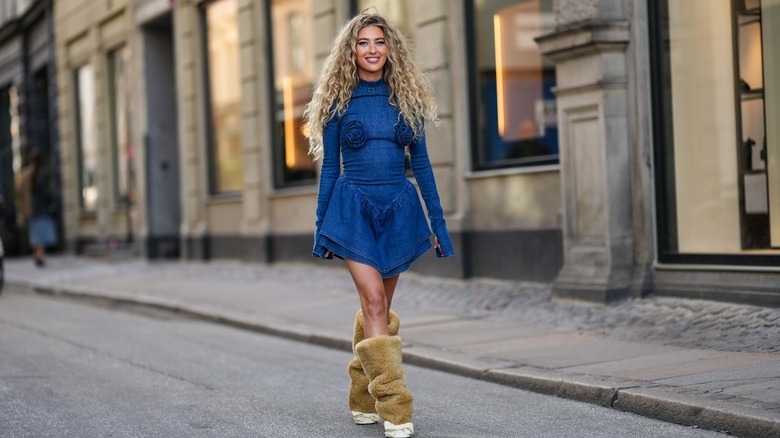 Edward Berthelot/Getty Images
The Canadian tuxedo, once an outrageous way to wear denim, is now the golden standard for fashion. We're dying for denim on denim, and the look has come a long way since the early aughts, thankfully. We're styling flared jeans with denim tube tops, we're working denim maxi skirts with denim jackets, and if you've got a denim dress, you're ahead of the game. The one way (and perhaps the only way) denim is falling behind is with skinny jeans. Sorry, but those really aren't coming back anytime soon. Not to worry, though. Styling looser denim is actually a cinch, and it's way more comfortable anyway. 
With the love for denim growing, we're seeing even more creative ways to style the fabric. Visualize denim way beyond jeans — it is a perfect canvas for unexpected accessories and also makes a stunning trench coat. During fall 2023, we are taking denim to the next level. 
The denim midi skirt with fall accessories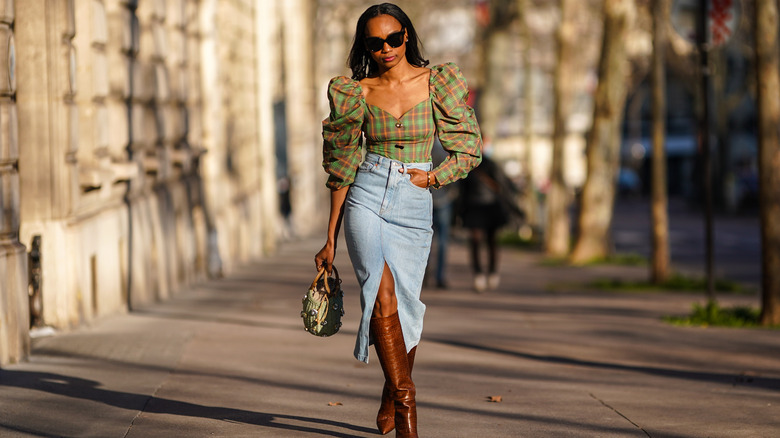 Edward Berthelot/Getty Images
Nothing elevates a fall look quite like plaid, and since denim reads as a neutral palette, it's the perfect base to showcase plaid. Pair a light-wash denim midi skirt with your favorite plaid tops. A voluminous, puff sleeve top works beautifully with the slim silhouette of a midi skirt. A high slit in the skirt gives the chance to show a little skin. Take advantage of this sexy surprise by working in a pair of high saddle boots. There's no better outfit formula for fall. Let denim be the bridge that carries you to the land of plaid! 
Dig that denim embellishment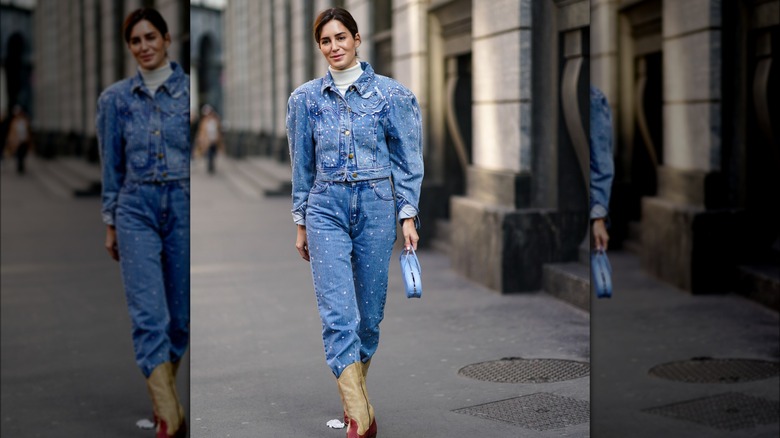 Edward Berthelot/Getty Images
Denim on denim? Check. Denim and shoulder pads? Yes, please. Denim with embellishments? Now we're talking. Add some cowboy boots and we're way in the future. There's no reason why an autumn wardrobe needs to be drab or dull. The same goes for denim. Just because it's been a fashion classic for ages, denim can still be fun and playful. Crystal and pearl embellishments take a basic outfit and make it perfect for a night out. This denim has personality; lean into it by hamming up your accessories, as with these oatmeal and red cowboy boots. And if you need a touch of warmth, a turtleneck acts as a second skin for some cozy layering. 
The denim trench coat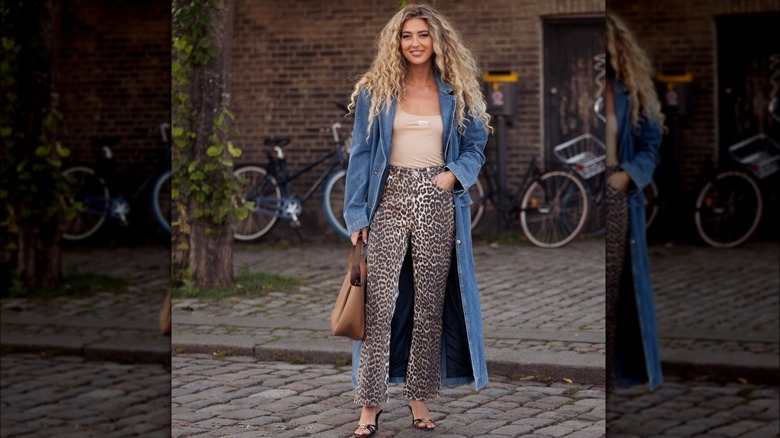 Raimonda Kulikauskiene/Getty Images
Trench coats are having a real moment right now. Part of it is that the style and cut of the coat are just so timeless. Part of it is that the Y2K style resurgence has brought back fun and playful ways of working with the trench coat. While we might not want to exactly recreate "The Matrix" and those patent leather trenches, we're still after that nostalgic vibe. What better way to find it than through a denim trench coat? We're seeing the look everywhere. Reformation has a long, belted denim trench coat in a dark wash. Meanwhile, Pull & Bear features one in a light wash, perfect to pull over a denim corset midi dress and denim slingback shoes (because wearing denim with denim shoes doesn't have to be weird). If you want a little more color to the look, opt for leopard print pants and delicate, black heels. 
Purple denim for days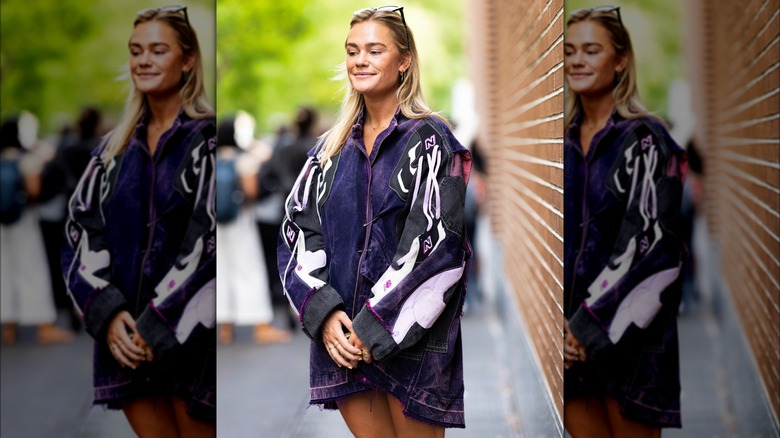 Valentina Frugiuele/Getty Images
Denim isn't just dreamy in blue. The sturdy cotton comes in all sorts of colors, and we're loving these unexpected twists and turns. Colorful denim is back, and you can wear it without looking like you stepped out of 2008. Lean into these new colors, like a purple mini dress that also functions as a jacket. A slight pink acid wash is a most welcome touch. Thanks to this unexpected edge, colored denim is definitely on our radar. Keep the rest of your look simple and understated, since the colored denim is so exciting by itself. There's nothing basic about this jacket, or basic about colored denim at all, for that matter! 
A denim dress over jeans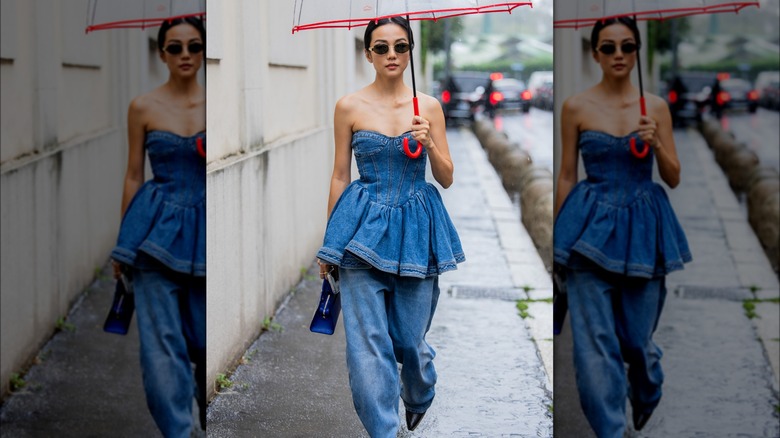 Christian Vierig/Getty Images
The best part about denim is that you can really do whatever you want with it, and we're seeing people take that to the limit this fall. Layer a strapless mini denim dress over wide-leg jeans for an unexpectedly sexy combination of a form-fitting top over ample pants. Since the look is so eventful, keep the rest of your look simple by wearing your hair in a sleek bun and opting for some tiny sunglasses. Layering your denim is the new way to ring in the fall!