The Popular Denim Trend That's Totally Outdated In 2023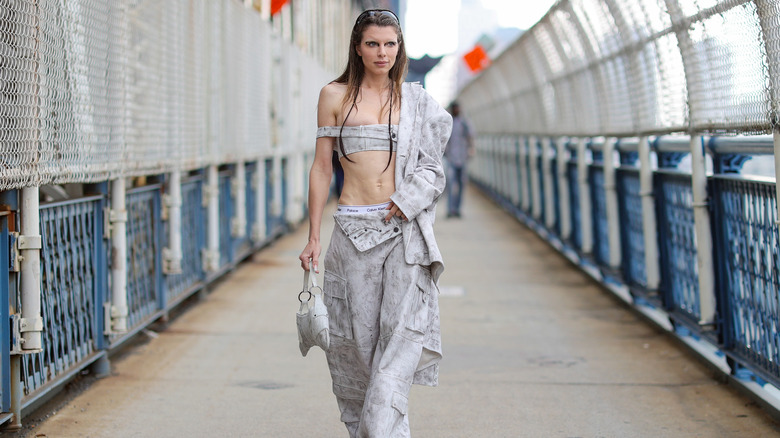 Rachpoot/bauer-griffin/Getty Images
Acid-wash jeans are a trademark of 1980s fashion. The jeans are discolored using chlorine bleach and in some cases, they're also distressed with pumice stones. The appeal of acid-wash, or bleach-washed jeans, was the distressed look that told more of a story than dark blue denim. Naturally distressed jeans, bleached and lightened by the sun, became part of 1960s surfing culture, where surfer's jeans faded thanks to excessive sun exposure. Variations of this look grew in popularity and blew up a few decades later.
While this was the look in the 1980s, though, denim is always evolving. Just look at the debate between millennials and Gen Z about skinny jeans. The latter has given skinny jeans the boot, while millennials are still holding out hope that the tight pants will make a comeback. No matter the cut or wash, there's always some form of denim that's in (and out of) style.
Today, flared jeans are trendy again (but we're not mad about it because they pair so well with white sneakers. Hey, we'll take anything comfortable). The return of the '90s grunge aesthetic means baggy, distressed denim is also back. And up top, denim remains king. Jean jackets are the perfect layer for any outfit. So there's no way denim itself will ever go out of style. It's just the acid-wash and bleached-looking jeans that are getting put back in the closet for 2023.
Acid-wash and bleached jeans are getting shelved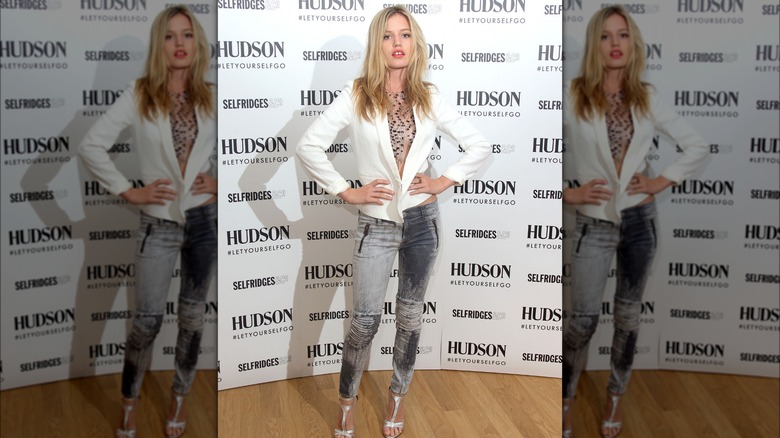 Mike Marsland/Getty Images
It's time to pack up your acid-wash jeans because these babies are out. For such a staple piece of clothing, denim goes through a steady evolution, and the quintessential look of the 1980s is getting pushed to the past. The deliberately distressed jeans no longer hold the cool factor they once did, much like the deliberately shredded and ripped jeans of another bygone era.
Acid-wash jeans are a lot harder to style than their simpler counterparts. What makes denim such a staple in any wardrobe is its ability to be read as neutral. Whatever else you style it with becomes the talking point, and denim holds its own as the solid, comfortable foundation of any look. When acid-washed jeans get involved, they become the whole story, and people are ready for denim to take a step back into its more classic, muted roots.
What to wear instead of acid wash jeans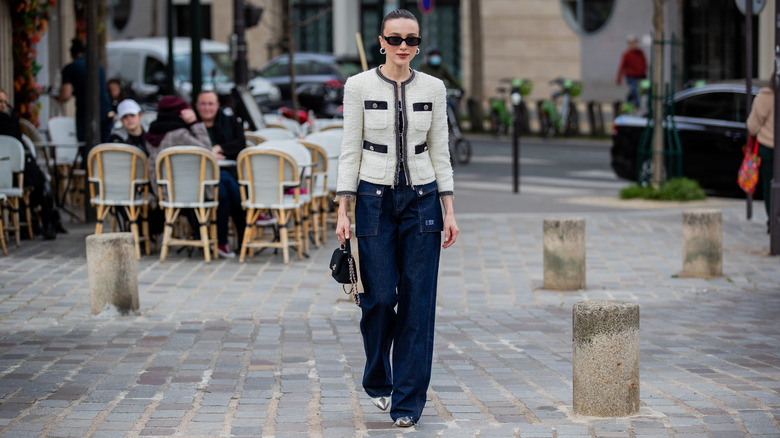 Christian Vierig/Getty Images
Denim never goes out of style. What changes is the wash. For 2023, a simple, light blue wash is everything. The wash isn't complicated, and the jeans don't detract from the outfit because of their simplicity. Milk-colored jeans are another favorite of the moment, and don't believe for a second that you can't wear whites and creams after Labor Day. White and very light denim is a key styling piece for fall and winter.
Medium and dark blue washes are also a classic, and perhaps the easiest way to wear denim. Opt for high-waisted, straight-leg blue jeans that let you style your look in any way you want. Medium and dark washes are versatile too. If you want to lean into a more polished vibe, this is the way to go. Or, if you want to get comfortable with white sneakers and jeans, these washes can take you there. Sorry, acid wash, you just can't do it.