7 Of Fall 2023's Hottest Makeup Trends
We may receive a commission on purchases made from links.
In 2023, we are anything but short of new makeup trends. From applying highlighter to an asymmetrical face to rocking a smoky eye with crow's feet, innovation is here to stay. Now more than ever, professional and amateur makeup artists are spicing up their looks with a new blend of colors, textures, and techniques. While we're far beyond the days when expression through makeup was perceived as taboo, artists are using the new landscape of beauty to incorporate a number of bold shades, invisible brows, and glittery eyelashes to enhance 2023's hottest makeup trends.
As summer comes to a close and we prepare for fall, makeup trends are amping up to bring you the best in face, lips, and eyes. More importantly, fall offers us the chance to go even bolder with our makeup looks, with bronzy latte makeup (to match nature's gold foliage) or multichrome shades of lipstick. If you're not sure where to start, don't worry — we've rounded up some of fall 2023's hottest makeup trends. Let's dive in.
An introduction to latte makeup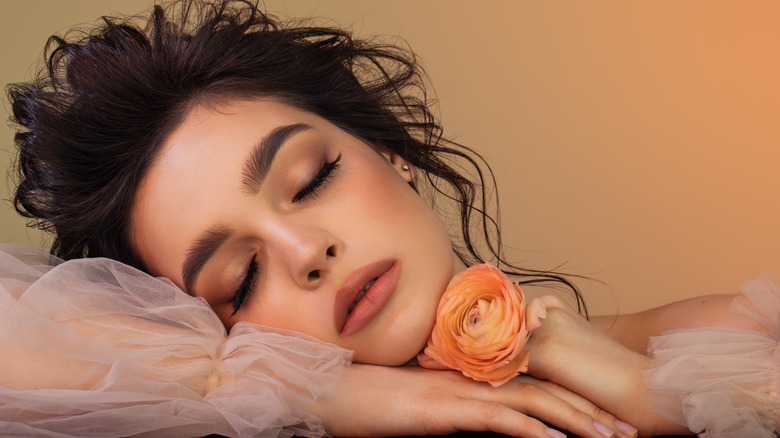 Coffeeandmilk/Getty Images
Latte makeup is everyone's favorite new look. According to celebrity makeup artist Kirin Bhatty, the warm brown shades perfectly encapsulate fall. "We've seen this really have a moment this summer, and I think this will continue on into the fall — employing more espressos and chocolate hues into the mix," she explained to The Zoe Report. "I recommend mixing mattes and shimmers to get a soft focus effect." Ideally, the latte makeup look should focus on browns and neutrals to build an enhancing makeup look (that looks equally as effortless). Start with a neutral base, blend in a brown eyeshadow, and finish off with lipgloss or a bronzy shade of lipstick.
A dark red lip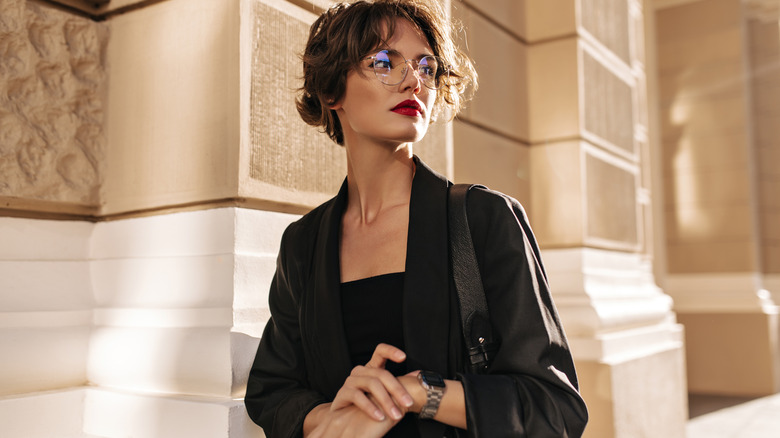 Look Studio/Shutterstock
Effortlessly blended foundation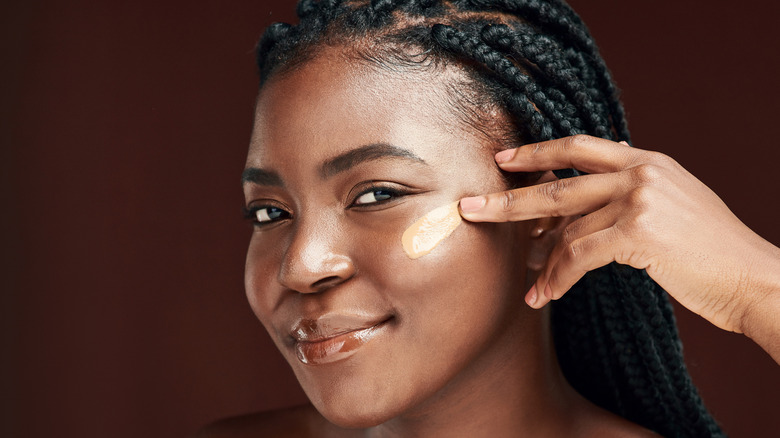 Jay Yuno/Getty Images
It's not fall without a perfectly blended foundation line. Often referred to as underpainting, the technique smooths skin while avoiding those pesky foundation lines, with celebrities like Jennifer Lopez, Kendall Jenner, and Hailey Bieber following suit. After prepping the skin with your favorite hydrating moisturizers, apply concealer, highlighter, and a cream contour onto the skin. Finish with foundation as the last step in your makeup routine and watch those foundation lines disappear! 
According to celebrity makeup artist Alexis Oakley, less is more. "Since you are applying your foundation after your contour, you want to be careful not to apply too much or anything too thick," she explained to Real Simple in a guide to underpainting. "Otherwise it will completely cover up everything underneath."
Dark winged eyeliner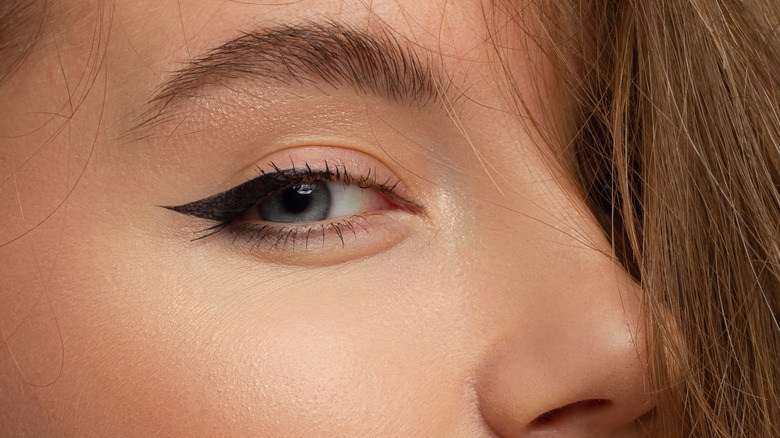 Shtennikova Evgenia/Shutterstock
There's not a better time to wear a dark-winged liner than in fall. There are also a number of new techniques that have been introduced to the world of makeup and beauty, like siren eyes. As explained by makeup artist Lilly Keys, siren eyes play on the traditional eyeliner application process. "Siren eyes are slightly more dramatic, darker around the rims of the eyes, and flicked upwards at the outer corners for a more narrow, cat-eye shape," she explained to Allure. Start by tracing your wings with black eyeshadow for a fuller effect. Using a blending tool, trace the eyeshadow with liner and shape to your liking. By mixing eyeshadow with eyeliner, you should achieve a smudgy and smoky eye.
Glossy and hydrated lips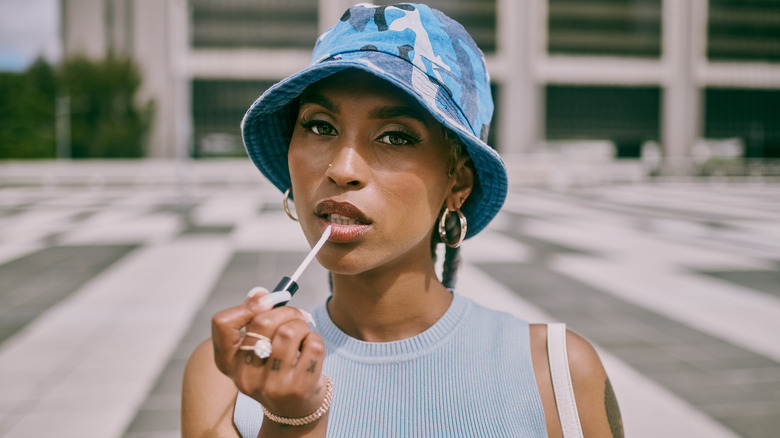 Delmaine Donson/Getty Images
As the weather gets cold, doing glossy and hydrated lips is a makeup trend that's also practical. If you're not a fan of experimenting with lipsticks, a lip balm can enhance the natural color of your lips with little to no effort. For example, Rare Beauty's Soft Pinch Tinted Lip Oil ($20) seals the lips with a hydrating gloss while giving them color. If that's still too much for you, a more simple balm like Glossier's Ultralip ($18) will provide a similar effect with a less intense color. For those of us who can't leave the house bare-faced, a tinted balm can enhance an entire look.
Colorful experimentation with eyeshadow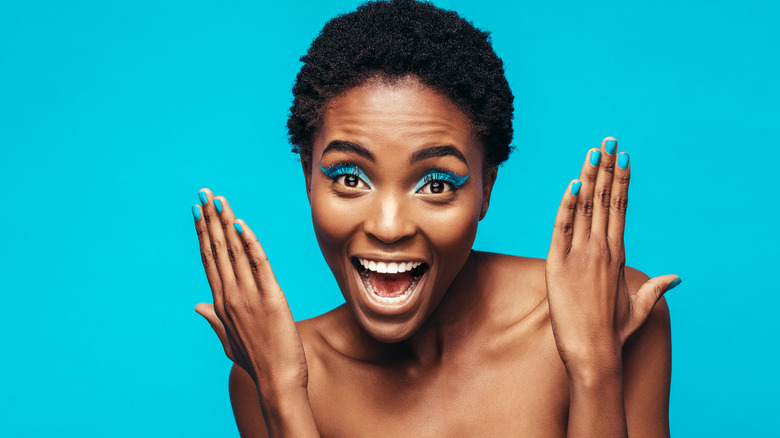 Jacoblund/Getty Images
What better time to experiment with eyeshadow than when the sun sets on summer? Experimenting with eyeshadow in the fall can instantly make you stand out, both as an artist and a person. Rather than opting for the traditional fall eyeshadow colors of maroon, brown, or black, experiment with cooler colors like lime green, purple, blue, and so on. According to makeup artist Daniel Martin, an abstract eye is perfect to experiment with in the fall. "Cool appliqués and splatters of color on the eyes create an art school take on eye makeup," he explained to The Zoe Report. You'll thank your future self — she'll have the best eyeshadow tricks down to a tee by the time next summer rolls around.
Hot pink blush
Blush takes the cake as the most versatile and seasonal makeup product. More specifically, hot pink blush. According to Cosmopolitan, there's a method to the madness that is a perfect blush application. A technique often referred to as "mid-tone blushing" suggests blurring blush and under-eye makeup into one. Once you've finished applying your daily makeup products, finish off by setting the under-eye makeup with powder and blending over with your blush of choice. Apply a lighter shade of blush atop the first, set with setting spray, and voila! You've successfully achieved one of fall 2023's hottest makeup looks.