How To Rock A Smoky Eye Even If You Have Crow's Feet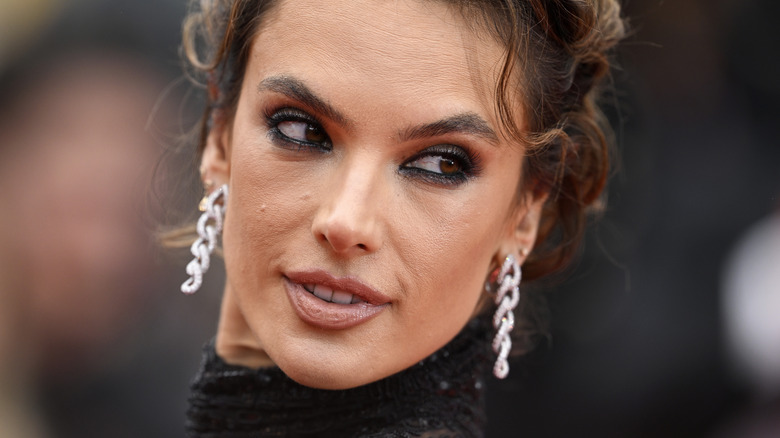 Gareth Cattermole/Getty Images
You've probably been told that as skin matures, certain eyeshadow looks should be removed from your repertoire. Crow's feet and wrinkles might make some styles harder, but you don't need to chuck them out just yet. All you have to do is pull up your favorite e-news stories to see some of your favorite actresses like Toni Collette and Gwen Stefani rocking a perfect smokey eye and looking fabulous doing it. The key to their look is more than stellar makeup artists; it comes down to the technique.
The typical smokey eye requires a lot of dark colors all over the lid. However, sometimes that level of pigment can weigh down your lids and make the skin appear wrinkled. However, that doesn't mean you have to swear off the look entirely. With the proper technique and color match, you can make those baby blues pop right off your face.
Keep your look dramatic and mysterious by learning to craft the perfect smokey look on mature skin. Make sure that dipping your eyes into darker waters comes out victorious with a few expert tips.
For a seductive look, don't go too heavy with your shadow
Let's set the scene: You've pulled out the little black dress you adore and now you need a dark eye to go with it. Using the right color and tools is the key to looking marvelous vs. a hot mess. 
Start by selecting the right shade. Celebrity makeup artist Bruce Dean told Prime Woman one of the mistakes people make with a smoky eyes look is, "It tends to look too hard or heavy." Therefore, rather than starting with a rich black, it's best to opt for a burnt sienna, bronze, dark purples, deep pinks, or even gray. After selecting the right color, it's time to look at the applicator you're using. To apply the darkest color, @maturemakeupmadesimple recommends using the smallest end of a multitask brush. Get in there and apply the color to the top of your lid until you have a nice base. Follow the same steps for the bottom lash. Once you've got enough color, use the fluffy end of the brush to buff the color out from the crease using upward strokes.
It's easy to go in and darken everything as you need to, and you can personalize it by adding a bit of highlight on the brow bone or a wing. With the technique in the bag, try a few tips to ensure your eyes come out perfectly every time.
Tips to getting the perfect look
Smokey eyes take a bit of patience and blending to capitalize on that dark and messy look. For mature eyes, it's vital to make sure you prep your eyes with an eye shadow primer. In addition to filling in fine lines and wrinkles, the primer will ensure that your color stays where it should and doesn't venture out into unknown waters. 
Choosing the right type of color for your maturing skin is also essential. Dean recommends "to use a matte eye shadow for more mature skin." Just like matte paint can hide imperfections on your walls, matte eye shadow will hide any wrinkles in the skin or crepy appearance. LA makeup artist Jamie Greenberg also told The Zoe Report, "If you have really small eyes, place more of the dark shade on the outside corner of the eye with a small blending brush — the darkness there can also minimize texture and wrinkles." Anything you can do to minimize the look of the wrinkles is definitely going to be worth it.
Just because you've hit 40 or older doesn't mean you must put away those dramatic eye looks you love. Rock that smokey eye by learning the best way to work with your crow's feet rather than against them. And if you've got hooded, maturing eyes, this makeup routine can work too.