The Secret To Shifty, Multichrome Lips Is A Black Base - Here's How To Pull It Off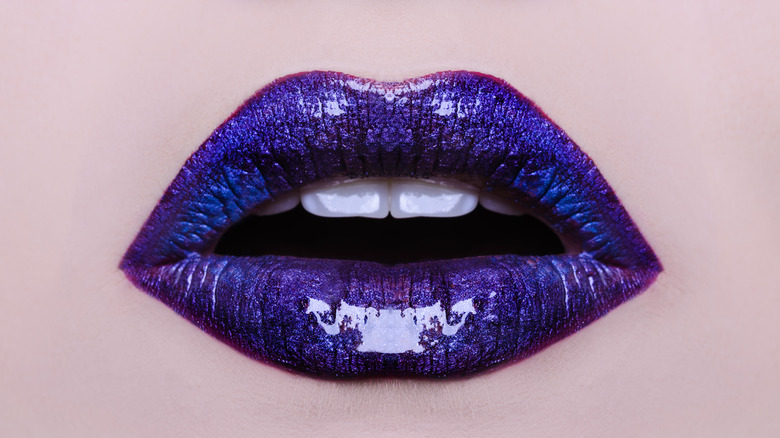 Stock_colors/Getty Images
While chrome nail art has been all over our social media feeds in the last few years, these metallic moments are moving into the cosmetic sphere for shiny, colorful makeup looks. From Dua Lipa's frosty eyeshadow to Gigi Hadid's holographic shine, we're living for all these reflective designs.
In addition to these eyeshadow looks, multichrome lips have become especially popular lately. Not only have we seen a ton of these designs popping up on our homepages, but some of our favorite makeup brands have also been releasing beautiful multichrome eyeshadows and lipsticks. For example, ColourPop recently debuted a new collection of duo chrome liquid eyeshadows, while the colorful lip gloss set from Chaotic Cosmetics has similarly been taking off.
If this sounds appealing, then you're ready to break out your own chrome products to recreate some of these stellar makeup designs. For a really killer multichrome lip look, using a black lipstick base is just the hack you need.
How to achieve multichrome lips
For the perfect chromatic lip look, a black base will really help your multicolor shine stand out. This is shown off in the Instagram video from @nikkietutorials, who uses a chromatic flake topper from Danessa Myricks Beauty and shadows from Terra Moons Comsetics on top of black liquid lipstick to create three really eye-catching looks.
A round eyeshadow brush is used to apply the pigment, and a clear lip gloss is used to finish off the design. If you want a truly dynamic effect, then you can try applying multiple pigments across your lips, which is a method shown off in the TikTok featured by @clionadhcosmetics.
As seen in the video from @sunsetmakeup, you can also use chromatic liquid lipsticks over a black base to emphasize the metallic look. If this is the route you're going, then you'll similarly need to trace your lips with either a black lip liner or eyeliner, fill them in with a black product, and then top it all off with your multichrome color of choice.
Ways to wear this look
So, now that you know how to use a black product to achieve a really stunning multichrome lip look, you may be wondering when and with what makeup you should wear the design. While this might not be the cosmetic style you reach for every day, there are definitely moments fitting for such a chromatic shine.
If you want to really go all out, then you can wear your multichrome lips with a matching eyeshadow look, which is the style that is featured in the TikTok from @glambymykaila. The double chrome really makes for a striking appearance that's perfect for those ready to stand out. If you'd rather let your chrome lips be the star of the show, then you can go for a more subtle eye look like TikToker @isabellamiaartistry, who shows off another look that we love.
As for when you should wear such a look, we think photo shoots and costume parties are obviously fitting occasions. Otherwise, multichrome lips would go great with an experimental festival look or a rocking nightclub ensemble. Either way, we can't wait to see what other looks metallic looks come out of this trend.