'Coconut Milk Nails' Are The Milky Transitional Manicure You Need To Try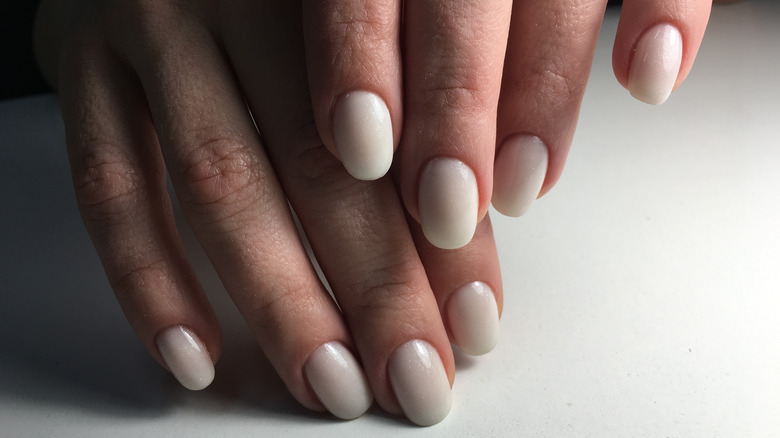 Bilous Maryna/Shutterstock
The beauty world has been absolutely obsessed with food-themed trends this year (strawberry and tomato girl aesthetics, latte makeup, glazed donut everything), and coconut milk nails are the newest trend to add to the list. You might have guessed from the name that this trend is, in fact, focused on achieving the color of coconut milk on your nails. By using opaque and milky-centric white polishes, you can achieve this perfect transitional look relatively easily.
Transitioning from summer to fall can be a rough time for not only figuring out what to wear, but also what nails fit the transitional nature of the season. While milk nails have been the go-to trend all summer long (and are definitely celebrity-approved) the trend is showing no signs of stopping come autumn. Creamy, milky nails were even spotted at New York Fashion Week (with Vogue Australia declaring white the official color trend for Spring 2024) meaning this trend is sure to be around until at least next Spring. To be honest, the versatility and easy wearability of the trend makes it easy to understand why it's sticking around. Whether you're already a milk nail believer, or you've yet to take the plunge into softer milky colors, the coconut milk trend could be worth exploring as we head into chillier months. Before your next manicure, here's the rundown of the latest food-themed beauty trend.
The coconut milk nail trend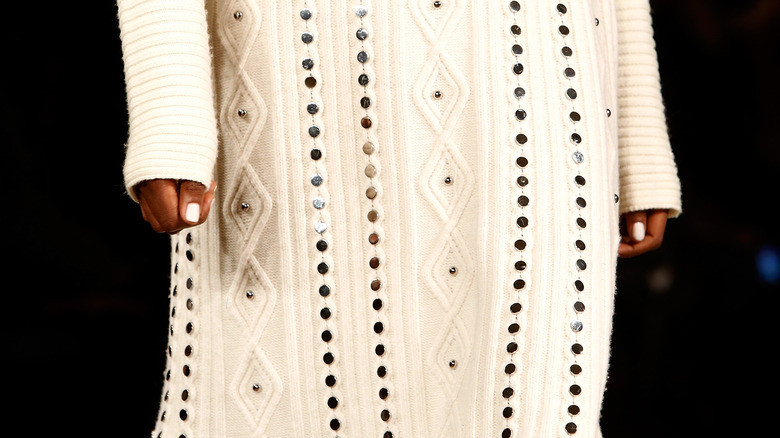 Thos Robinson/Getty Images
If you find yourself wondering how this trend differs from, say, the transitional naked nails trend, it comes down to your finish. Coconut milk nails contain zero of the pearlescent chrome elements seen in other trends like the glazed donut. Plus, they are also generally glossy as opposed to matte, which gives a different finish than other milky nails. Plus, white is the singular color star for the coconut milk trend, whereas naked nails and more Fall-oriented trends tend to have a wider variability of colors.
Of course, just because the trend only allows for one color doesn't mean that it's limiting. In fact, using white polish means that this trend is guaranteed to work with every outfit. This adds to the transitional element of the trend since the weather tends to be all over the place before fall truly settles in. With coconut milk nails, you'll never have to worry about your nails clashing with your half-shorts half-sweater outfit. It gives you one less thing to worry about while also being conservative enough for workplaces. White is also versatile in that it works on almost every skin tone, making this trend accessible to more people. Plus, the color naturally enhances the look of your late summer glow. While summer might be over, your glow doesn't have to be and coconut milk nails can help you get every last drop out of your summer tan. 
How to get coconut milk nails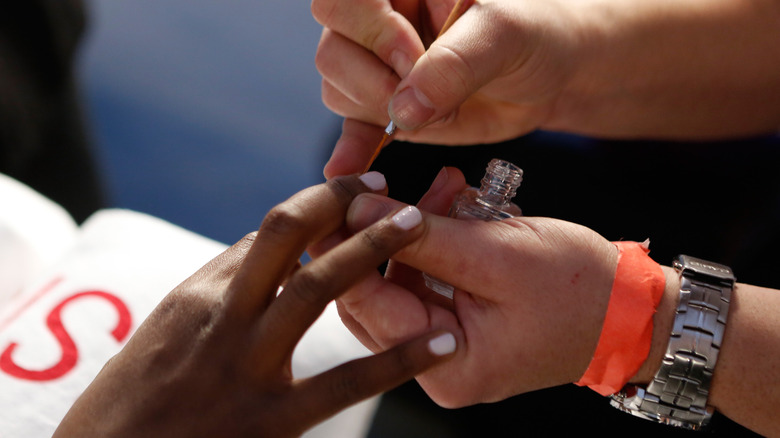 Thos Robinson/Getty Images
The next most obvious question is how to get your hands on a set of coconut milk nails (you're not alone — the tag #milkywhitenails currently boasts over 118 million views on TikTok). You're in luck because perhaps the greatest thing about the coconut milk nail trend is the simplicity of the look. You can easily create these nails at home with your favorite polish and save yourself the added expense of a nail bar visit. (This can be especially useful if you had a little too much fun this summer and went over budget.) Find a pure white polish shade that appeals to you and after applying it, shake things up with a mixed top coat. Basically, instead of a straight clear top coat, try mixing some of your polish with your top coat for a milky finishing effect.
If you're looking to get coconut milk nails done at a salon, specifically seek out their opaque white polishes. Make sure to stick to pure whites and avoid pink or blue undertones or you might accidentally end up following the strawberry or blueberry milk trends with your manicure. The key difference between the coconut milk nail trend and other milk and neutral trends comes down to the starkness of the white polish you use. There should be no sheerness to the color or polish, so you might need to request a couple of coats of polish depending on your salon's polish options.