We've Found The Perfect Transitional Nail Trend For Fall 2023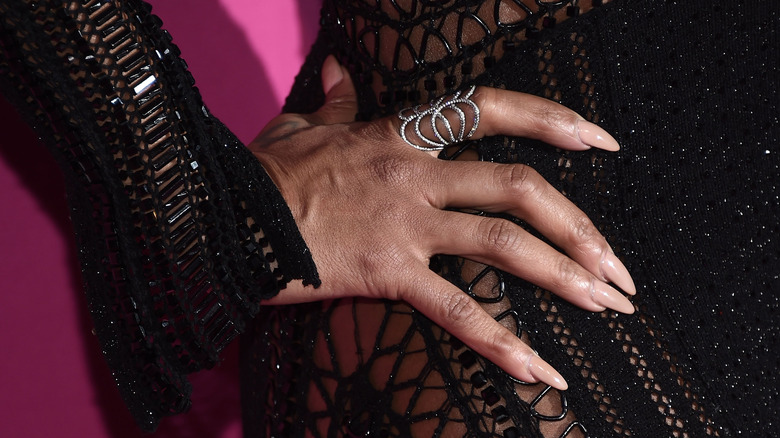 Amanda Edwards/Getty Images
As we move into Fall, new color palettes, designs, and inspiration can influence not only our makeup and fashion choices but also our nails. While some might take the seasonal change as a way to transition into dark reds, purples, and browns, we think sticking with the naked nails trend is the perfect transitional choice. Also dubbed the 'your-nails-but-better' trend, naked nails are rooted in being understated. By being neutral and barely there, the naked nails trend brings a subtle and restrained chicness to your hands while promoting a more natural look. 
Perhaps the best part of the naked nails trend is how well the neutral look pairs with a wardrobe — whatever that wardrobe might be. This is what makes it ideal as a transitional nail style since we are definitely at that awkward time of year when our clothing is still bouncing back and forth between Summer and Fall, sometimes even in the same day. Cold in the morning, but sweaty in the afternoon, your naked nails are guaranteed to shine regardless. Let's dive into the naked nails trend, and see if it might be the perfect transitional nail trend for you this Fall.
The naked nails trend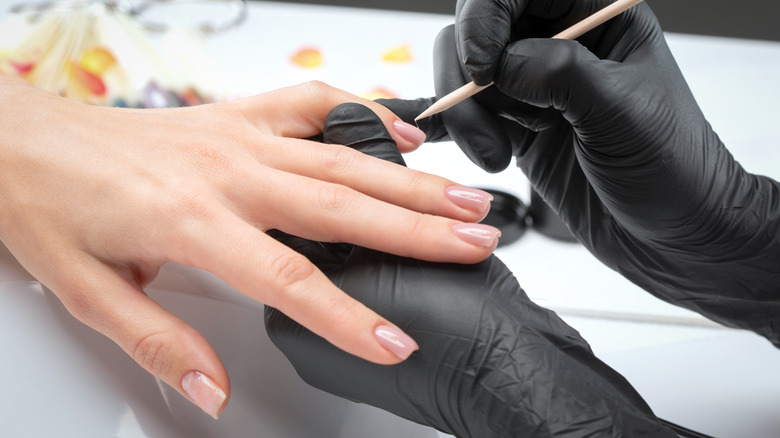 Dimid_86/Getty Images
Naked nails took off over the summer, as a nod to both summertime whites and also as part of the stealth wealth luxury look. While we can't say we love the unattainable ideal behind the stealth wealth aesthetic, we do love the versatility of naked nails. The subtlety of the color palette and, in some cases, even sheerness, make it an ideal choice for matching a wide variety of clothing styles and colors. This means you never have to worry about clashing with your outfit, and your nail choice will be appropriate for more conservative places like work, while still being fun at brunch.
Naked nails can mean everything from a manicure with no polish (dubbed a 'no-nicure') to a light creamy or sheer natural-looking polish color. The overall aesthetic, according to Juanita Huber-Millet (founder of nail-bar chain Townhouse) "is a great way to add to the 'clean girl' look." She further explained to Harper's Bazaar, "It's also just a healthy expression of natural beauty." By letting your nails shine in a neutral or non-existent color you can celebrate the beauty of your manicure without the added distraction of bright colors or designs. This is especially great for Fall as we move away from the bright and fun colors of wedding season, summer vacations, and warm nights, and get back to our daily routines.
What to ask for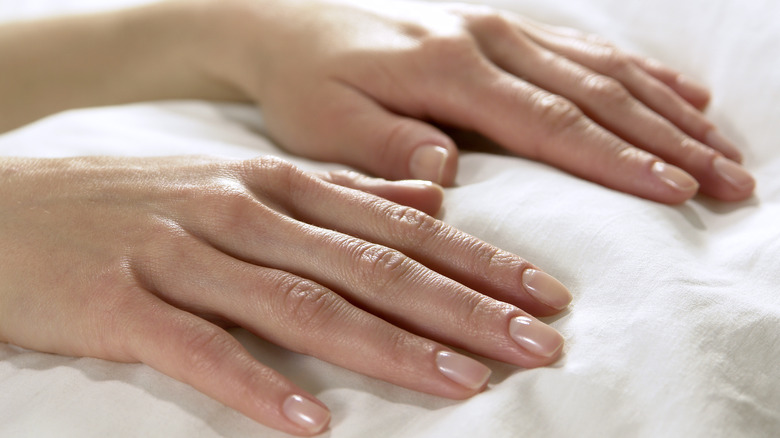 Domin_domin/Getty Images
Unlike the sheer summertime version, Fall naked nails have a slightly different aesthetic. Rachel Apfel Glass, founder of GLOSSLAB, told The Zoe Report, "Naked nails get an update with creamy polishes that are paired with a little something extra, like shimmer or high-shine top coats." This moves naked nails away from the more strictly nude or sheer shades of the summer and offers some additional room for flair within the minimalist trend.
Glass also said that one of the keys to achieving the look is to stick to shorter nail lengths, "Not only will your manicure require less maintenance but it will also add to the clean barely there look the naked nail trend thrives on." That being said, the trend looks great on any nail length, so feel free to embrace naked nails regardless of your length or nail shape (or, if you're still not sold on neutral minimalism, we also have other Fall 2023 nail trends for you to consider).
The most important thing to remember when going for the naked nail trend is that the aesthetic is rooted in your nails and hands looking well cared for. In order to achieve the understated chicness behind the neutral look, you should make sure to keep them clean and regularly maintained. This also means it could be worth considering adding cuticle oil and/or hand lotion to your daily beauty routine to help keep your hands and nails looking their best between appointments.