The 12 Worst Looks At The 2023 VMAs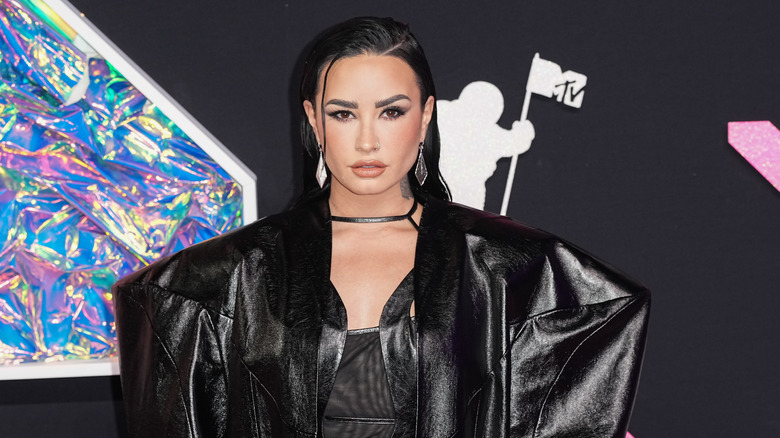 John Nacion/Getty Images
The 2023 MTV Video Music Awards are proving to be a night to remember. The televised event featured Nicki Minaj as a host, with some of the hottest stars making an appearance. Demi Lovato, who hasn't performed at the VMAs in six years, gave us a medley of her most iconic songs, Cardi B and Megan Thee Stallion debuted a new single, while Diddy and Shakira were honored with legacy awards. 
Awards and milestones aside, one of the biggest treats of watching the VMAs every year is catching the looks on the pink carpet — from the elegant and high fashion ones to the zanier and more creative takes on trends. At this year's event, we finally saw evidence of Barbiecore fading away, with celebs aiming for darker looks just in time for the fall. Megan The Stallion walked the 2023 VMAs pink carpet in a black corset dress and looked absolutely stunning. Her slightly see-through gown was bold and sensual, showing exactly how to ace the sheer clothing trend with fearless transparency. We also loved seeing the influence of metallics going strong, with Olivia Rodrigo's silver, low-cut column dress being a total win. Her dress was celebratory and festive. However, some of the other looks that we saw at the 2023 VMAs didn't leave us quite as impressed. From unusually placed fabrics to all-around uninspired dresses, here were the worst-dressed celebs at the 2023 VMAs.
Doja Cat wore a spider web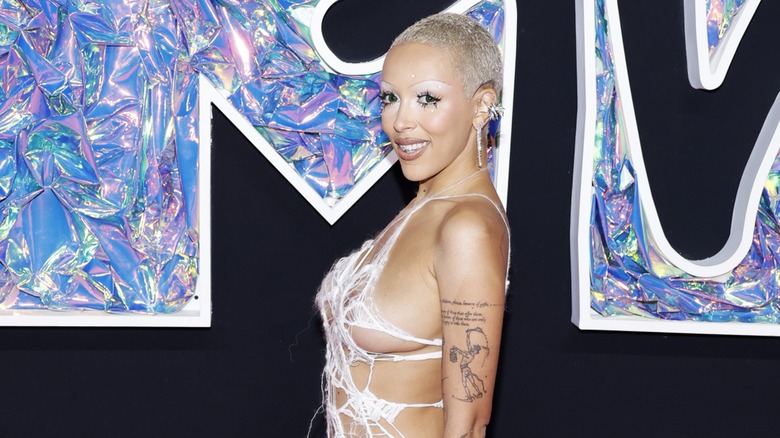 Jason Kempin/Getty Images
Doja Cat showed up at the 2023 MTV VMAs dressed as a spider's web, with a nude thong, and clear vinyl stilettos. The "Paint The Town Red" singer rocked a shimmery eyeshadow with a pencil-thin eyebrow and over-exaggerated lashes. While we're familiar with Doja Cat's daring NSFW looks at this point, this particular one reminded us more of Halloween decorations rather than a red carpet look. The spider like lashes didn't help! We love it when the rapper pushes the limits, but this one went in the wrong direction. 
Demi Lovato's giant jacket lost us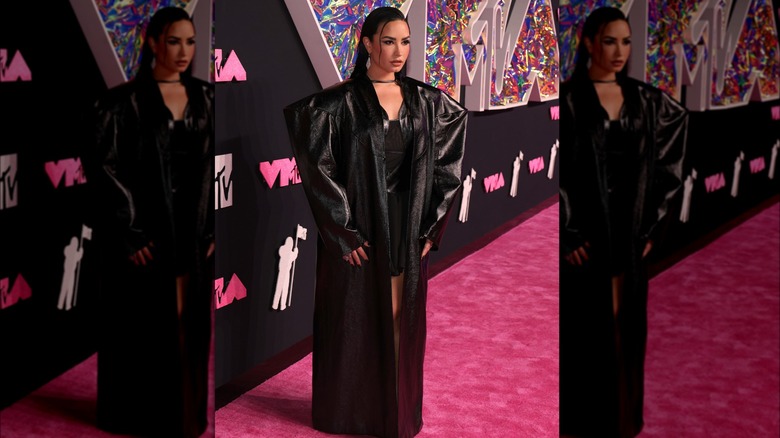 Kevin Mazur/Getty Images
While it was great seeing Demi Lovato at the VMAs, her rocker vibes fell flat with the dad-sized clothing. The monstrous structure of the coat swallowed up Lovato so much so that it was tough to see anything else. "Looked good but why the big a**shoulder pads," one person noted on X. "Tf is she wearing," another asked. "She should have just skipped the carpet," a third noted. To be fair, everyone online praised her face card, meaning that her makeup truly looked stunning. 
Tinashe's intense use of hockey tape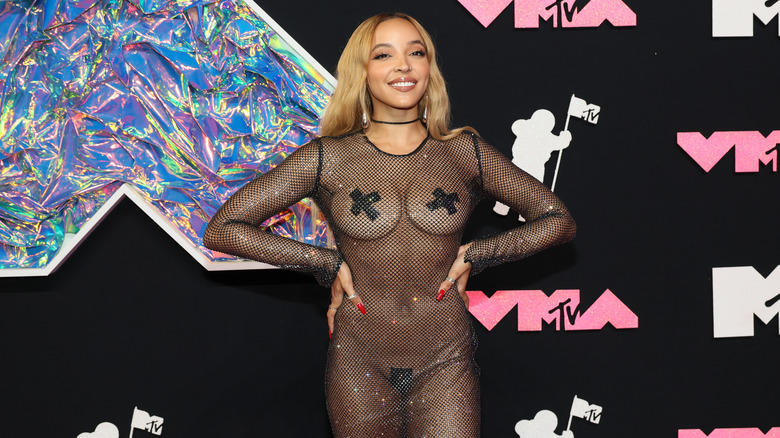 Dia Dipasupil/Getty Images
Singer and television personality Tinashe took the sheer trend to a totally new level, sporting a completely see-through, slightly shimmery dress to the VMAs with some strategically placed hockey tape covering the bits up top and down below. While she certainly looked daring, the lack of undergarments and distracting black tape made this otherwise trendy look quite tacky. Unsurprisingly, the outfit was roasted online. "Girl, where are your panties?" someone asked on X, (formerly Twitter). Others accused the singer of wanting some online attention for her look. "I've never witnessed Tinashe like this...she definitely wants to go viral," another wrote. Others pointed out the fact that the tape removal process is going to be painful. Yikes. You definitely don't want people thinking of pain when they see your look. 
Bebe Rexha's equestrian disaster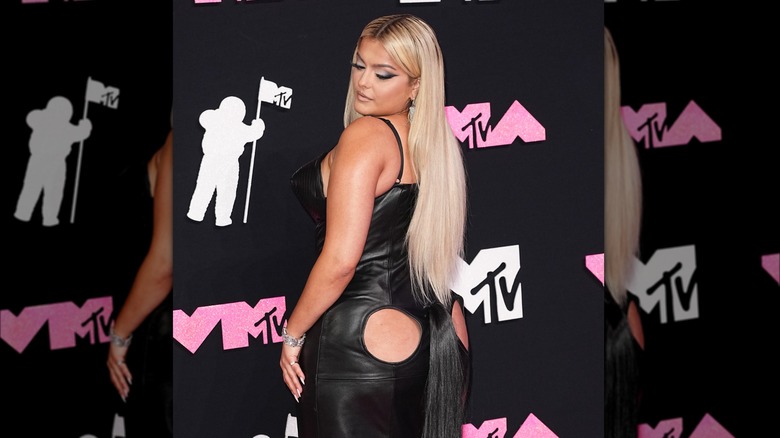 John Nacion/Getty Images
From the front, Bebe Rexha's dress looked totally fine. She rocked a black leather look with a cone-shaped bust, serving us with nostalgia vibes for 1990s Madonna. But from the back, Bebe Rexha's dress was an entirely different story. We were suddenly in the Wild West. There were two cut-out holes besides a horse tail for reasons we've yet to learn. People didn't know what to make of her look. "[T]hese are the new jockstraps?" one person asked on X. The butt cutouts might have been a notch too much. 
Jared Leto's hardware was a big miss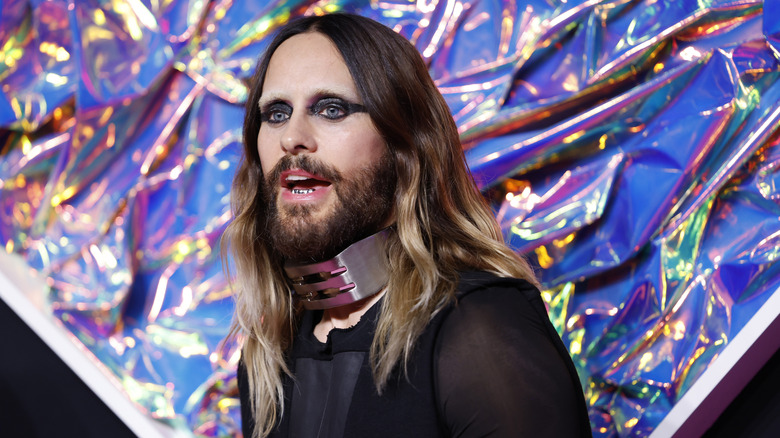 Jason Kempin/Getty Images
Is Jared Leto in his goblin phase at the moment? The VMAs are no stranger to unusual accessories, but the Thirty Seconds to Mars singer's choices for tonight left us all a bit perplexed. He wore a heavy, stainless steel choker along with a matching silver mouthpiece to complement a stark black look. His eyebrows, meanwhile were bleached out, while his dark, sparkly eyeshadow stood out like a kind of villain. The combination of all of these elements made the look too brutalist and severe. People on X weren't fans of this intensity, either.  "...As usual he's trying too hard and needs to lay off the eye makeup..." one person tweeted. While we tend to love Leto's more outrageous looks, this one wasn't it. 
Madelyn Cline's multi-layered dress had too much going on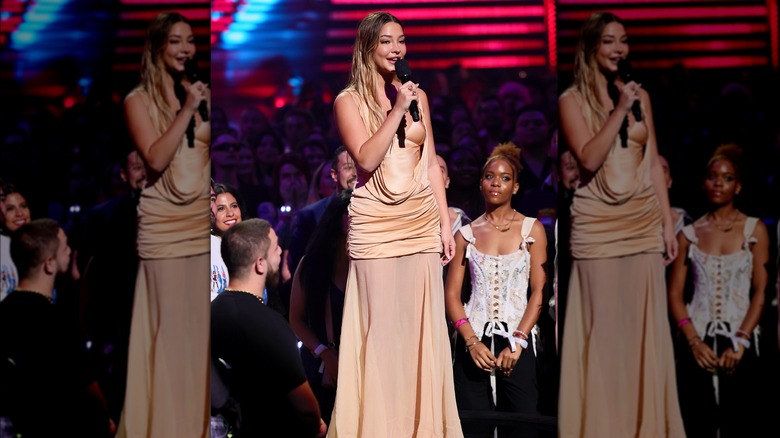 Theo Wargo/Getty Images
There were elements of Madelyn Cline's that were really beautiful. The peachy champagne color was great, and we're always a sucker for a long gown. However, the outfit as a whole was too much of a mashup of fabrics moving in different directions. The horizontal band around her waist was too bulky, while the sheer folds that hung down to the floor made the whole dress appear shapeless and frumpy. Plus, her long, beach-washed hair was too casual for what looked like an attempt at Hollywood glamor.  
Kathy Hilton's black boudoir ensemble missed the mark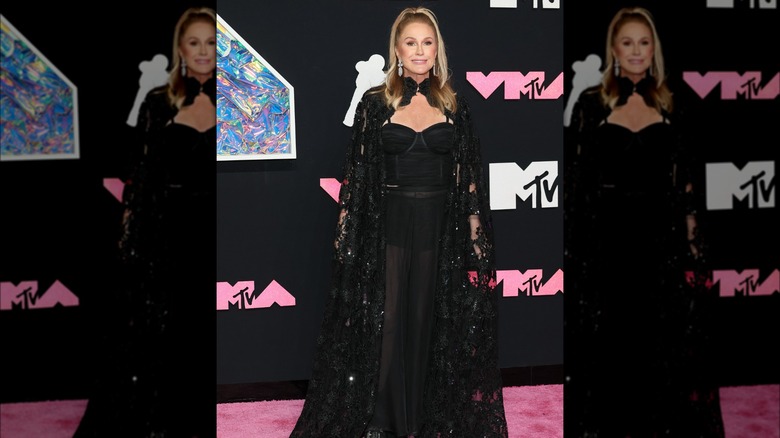 Dia Dipasupil/Getty Images
Kathy Hilton showed up at the 2023 VMAs in what can only be described as a boudoir ensemble in head-to-toe black. Much of the outfit was sheer, save for the solid black bustier top. While we loved the cape-like outerwear, the whole look was simply too intense. It was all flowy, and seemed to age her unnecessarily. Many found the color choice too drab for an award ceremony. "Whose funeral is she going to?" someone asked on X. "It looks like a vampire," another wrote. "Who invited batman?" another asked, clearly not a fan of the cape. Maybe Hilton picked out the look while drinking Red Bull in the middle of the night, but this isn't our favorite of her outfits. 
Chanel West Coast's maximalist design didn't fit the vibe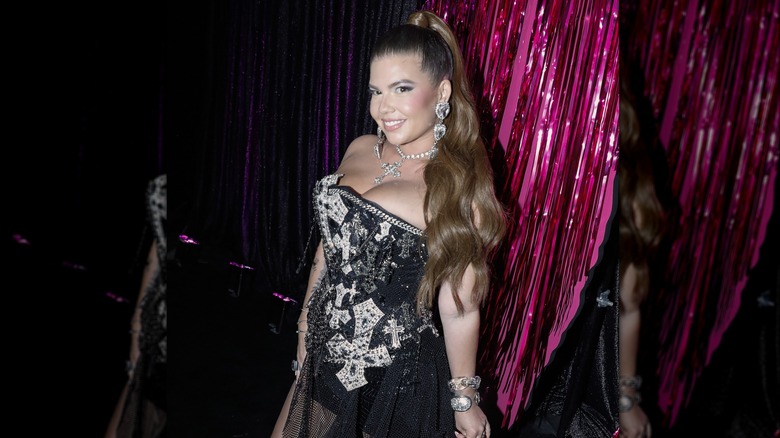 Johnny Nunez/Getty Images
Chanel West Coast, a host on "Ridiculousness," arrived at the 2023 VMAs in a very busy minidress, cluttered with crosses. Her oversized earrings were matched only by her oversized cross around her neck, which matched her big bracelets. People on social media weren't into the hectic look. "She should've stayed home cause she looks RIDICULOUS," someone wrote on X. Ouch! "kinda a mess idk," another wrote, commenting on the busy vibes. In fact, many people didn't recognize her. "...is this Chanel West Coast?" someone asked, repeating a vibe that came up a lot online about Chanel's appearance at the VMAs. 
People weren't feeling Chloe Bailey's throwback look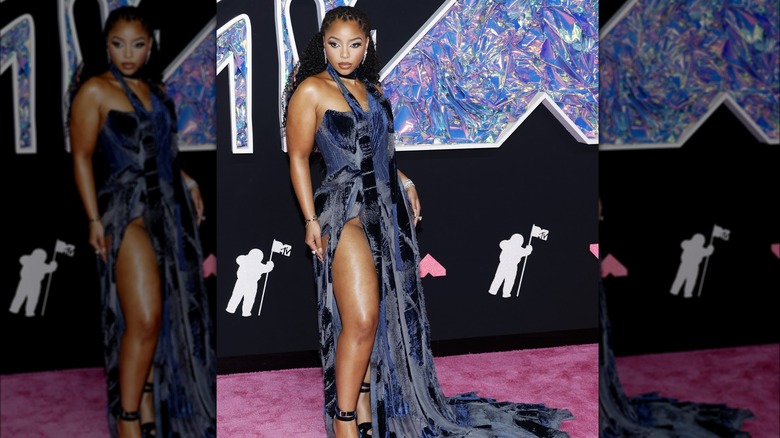 Jason Kempin/Getty Images
Although '90s vibes have been everywhere this year, Chloe Bailey's tiny scarf, along with her Roberto Cavalli denim strapless gown, didn't exactly have us missing the Y2k days. With it's unusual dark denim coloring and fabric, it called back to the days of denim-on-denim disasters. "[B]otched n bad," someone wrote on X. "Girl you're not on theme," another joked. While there wasn't a theme for the 2023 VMAs, Bailey's look stuck out as different from the pink, black, and silver sequins that we saw a lot of during the event. While it's not always a bad thing to veer away from what everyone else is doing, this wasn't the direction that people wanted to see her go. 
Emily Ratajkowski's dress was wrong for the event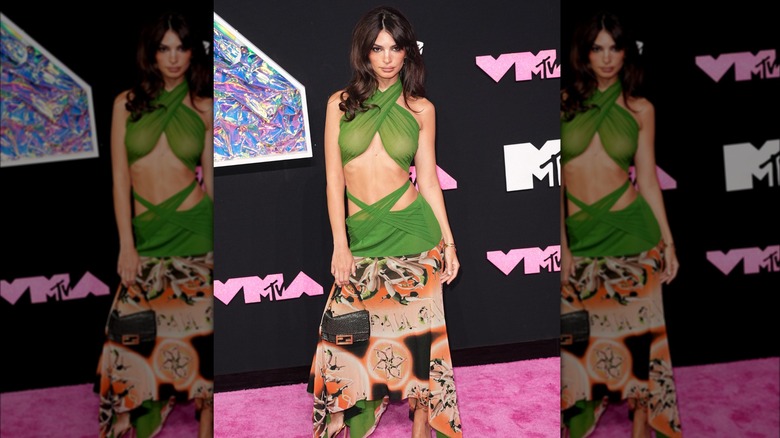 John Nacion/Getty Images
Emily Ratajkowski arrived at the 2023 VMAs in a multi-colored Jean Paul Gaultier dress that was heavy on the Y2K vibe. While her hair and makeup looked incredible, the green and orange-patterned dress felt wrong for the event. While the cutouts of the dress added to its va va voom, the mismatched skirt looked unusual among the sequins and glitz of the other attendees. But it wasn't just her dress that felt wrong at the VMAs. When she was presenting at the award ceremony, she came off as very indifferent and uninterested. "Emrata announces like she doesn't wanna be there," one person wrote on X. "Emrata winning the idgaf award," another added. 
Ashanti's look wasn't everyone's cup of tea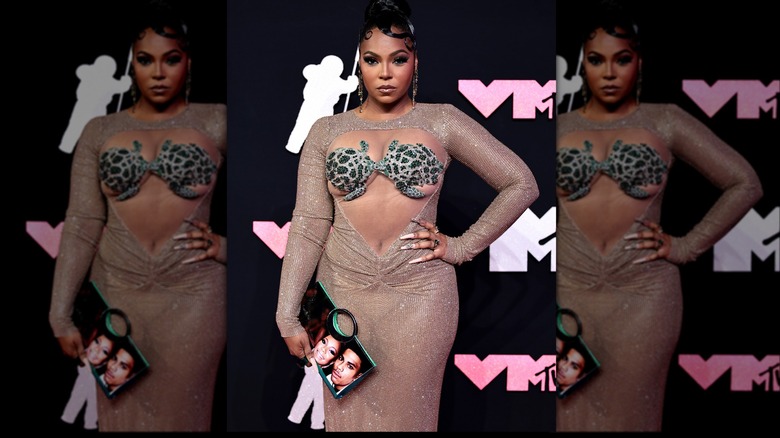 Dimitrios Kambouris/Getty Images
To say Ashanti rocked a really unique look at the 2023 VMAs is an understatement. Her look seemed like an attempt to tackle multiple trends at once, featuring a sheer, shimmery dress with a massive cutout right on the chest to show off a green patterned chest piece. And if that wasn't already a lot, her bag is what really has us confused. The singer carried around a clutch that featured a  photo of her and Nelly, seemingly confirming their relationship. While the personalized detail could be seen as sweet, people on Twitter weren't fans. "Her stylist hates her," one person wrote on X. "Ashanti has never had a look fail like this," another chimed in. Someone else poked fun at Nelly too, blaming him for the look. "Nelly bout to drag her down already and it's only been two days," they wrote. So Ashanti's look got roasted online. 
Justina Valentine's didn't pass the test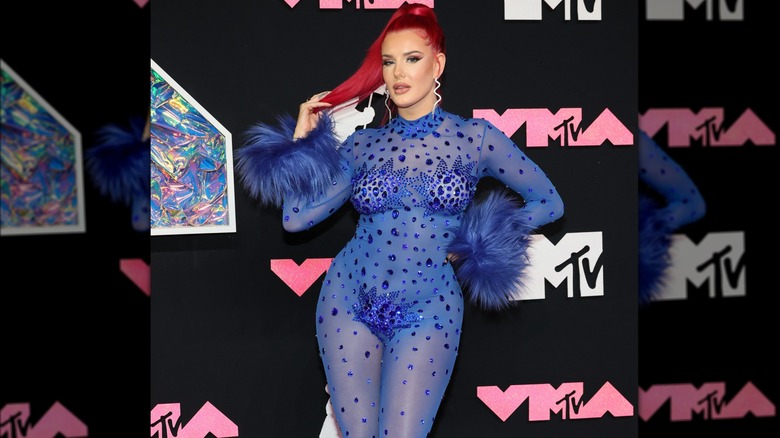 Dia Dipasupil/Getty Images
TV personality and rapper Justina Valentine came dressed up in a blue body suit with feather wrists and ankles. While the look was anything but boring (we'll give her credit for that), it was a lot of everything at once, with its head-to-toe cobalt blue coloring, fluffy sleeves, and blue bedazzling. "So is this the best she can dress?" someone wrote on X. Another person roasted the outfit, claiming that it looked cheap. "Looks like it was made on shein NEXT," they wrote.