The Hottest 2023 Bridal Fashion Trends Have A Flair For The Dramatic
Wedding dresses are already a dramatic affair — not just the styles, but the whole process. Shopping for your perfect wedding dress can be stressful, as you try to find something affordable, perhaps sustainable, that also speaks to you. At least 2023's new trends offer more ways to express your personality with flair.
Since the pandemic made big weddings impossible and imposed a movement toward elopements or smaller, more casual celebrations, wedding fashion followed suit with a more minimalist approach, featuring simple, danceable dresses, or forgoing the dress for a suit. Now that the pandemic is over and long-postponed weddings are rescheduled, 2023's wedding fashions — revealed during New York Bridal Fashion Week in 2022, and detailed below — are bigger, bolder, and more glamorous, for that wow factor on your special day. Now there are even more ways to express yourself through your wedding dress in a much more dazzling, edgy way than before. Today's trends will give you that dramatic flair, no matter what the dress code of your wedding is.
Embrace the Drop Waist
If you still want to embrace the traditional wedding dress look, you can't go wrong with a drop waist. This trendy silhouette was especially popular in the 1920s, so why not bring it back for the 2020s. But it's actually timeless as well as versatile, so it's perennially in fashion. A drop waist hugs the torso in the bodice, and then flares out at or below the hips, creating an elongated waist that accentuates your curves. You can achieve a more historic, Victorian-era aesthetic with a structured bodice and a long or ruffled skirt, or if you'd like a more modern look, try sheer fabric, a strapless or spaghetti-string bodice, or a short skirt. Some 2023 gowns even have pockets!
High-neck gowns, often with embroidery, exude sophistication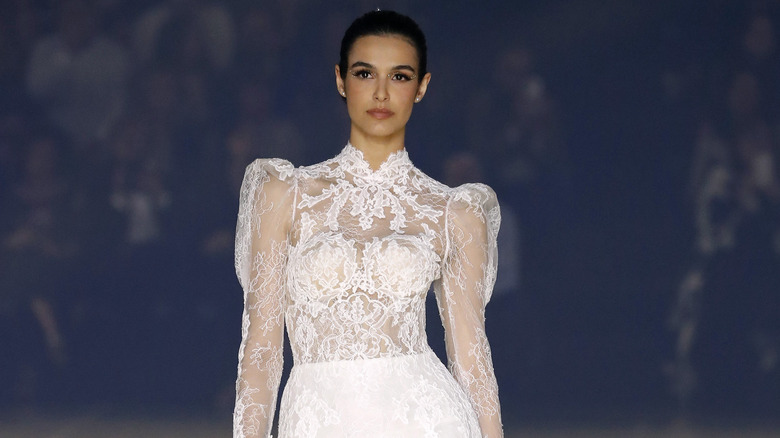 Estrop/Getty Images
Another classic, historic look bringing elegance and glamour to 2023's bridal trends is high necklines. Perhaps brought back into fashion thanks to Paris Hilton's Oscar de la Renta gown for her November 2021 wedding, a high collar, turtleneck, split-neck, or mock-neck is the latest in demure, sophisticated lines. It's versatile and can work with any waistline, be it a drop waist, empire waist, or an A-line dress. Especially popular are high necks made from elaborate flowery or glittery embroidered lace — a wedding staple — and often with long sleeves. But if you'd rather something different, a simple sheer tulle, organza, or chiffon neckline can look fabulous, even with short, mid-length, or no sleeves. A separate, button-neck shrug or a detachable bolero jacket can capture the high-neck look yet be adjustable for a more casual silhouette at the reception.
Opera Gloves bring the glam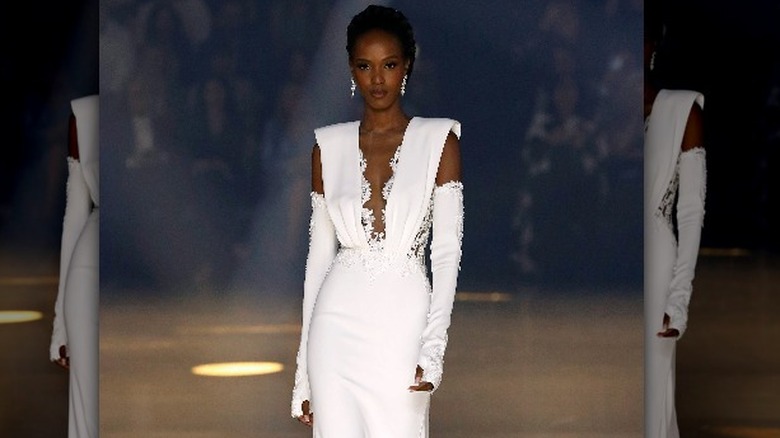 Estrop/Getty Images
If you'd like to wear sleeves without actually wearing sleeves, another of 2023's bridal trends will help: Opera gloves. The "Bridgerton" effect is still holding strongly to recent wedding styles, this time capturing the look of elbow-length or longer gloves. Whether with fingers or not, or even starting at the wrist, today's gloves are made from a variety of materials, from opaque satin or kid leather to sheer beaded tulle, embroidered lace, or sequin-studded organza. These gloves can give you a long, glamorous upgrade on your wedding dress, and you'll even see non-white colors like black, pink, or blue. If you'd rather keep your arms bare, capture an elegant look with a short cuff, wrist, or gauntlet-length glove.
Feathers are festive and flirty
While some of 2023's wedding designers experimented with edgy and unusual materials, like draped latex, swinging tassels woven together, or experimental silk that shimmers like saran wrap, many played with a material perhaps a bit more familiar: feathers. Whether turning up the Hollywood chic with shawls, boas, or strategic accents, or giving a flirty, festive look to a complete ballgown, feathers are everywhere (probably literally, as they tend to fly around). Soft, gentle feathers like marabou or ostrich add flutter to every silhouette, whether full or streamlined, separates or gowns, even pantsuits. Larger rooster or turkey feathers can also add drama and whimsey as the evening progresses and the party kicks into gear. Whether for your primary bridal gown or your secondary reception look, feathers add festive fringe to your formal frock.
Go for danger with a slit dress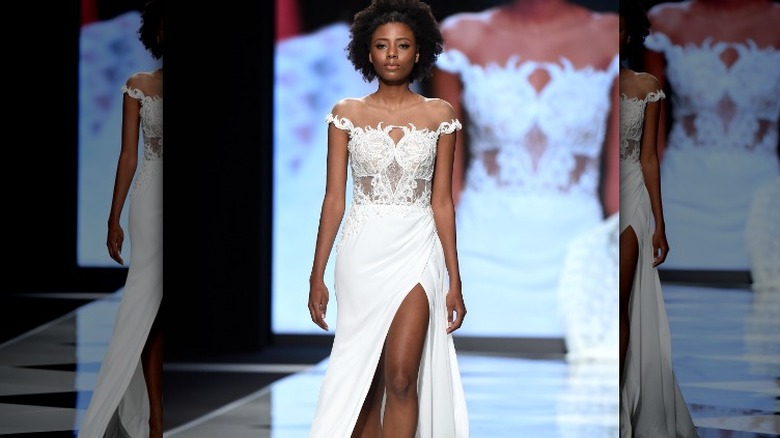 Stefania M. D'alessandro/Getty Images
Nothing brings on the drama like a carefully placed high slit, and the classic look has returned in a big way in 2023's wedding trends. From full ballgowns to narrow slips to sexy separates, whether in draped satin or billowing, flowy lace, a flash of leg can modernize any bridal look (and perhaps scandalize your parents). The side slit of course is king (or queen), whether knee length, mid-thigh, or hip height, but a wide cut or center cut can also capture an elegant line and a flair for danger.