No Idea Where To Start With Wedding Dress Shopping? We Have Some Insight For You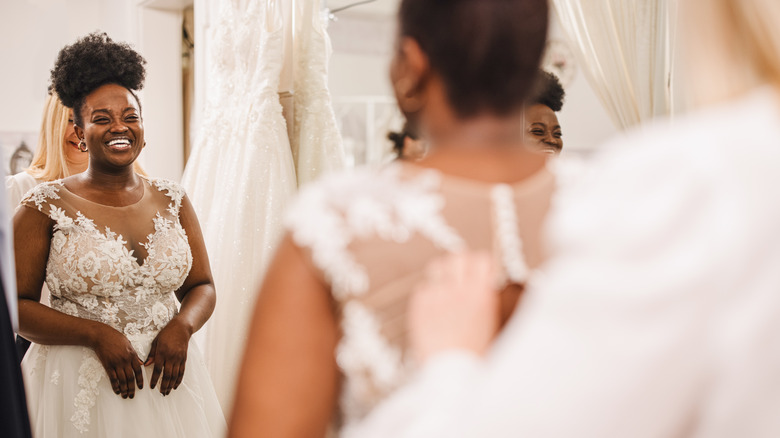 Anchiy/Getty Images
The happy day has come to start wedding dress shopping. While it's an exciting time, there's also a lot to keep in mind when choosing your dress for the big day. For many brides, there are several factors to consider that can feel overwhelming. There are so many bridal shops to choose from that it can be a process trying to narrow things down — plus, you want to start browsing with enough time to allow for alterations. The price point is another factor. Wedding dresses can be hugely expensive but, thankfully, they don't have to be. Have a very clear budget in mind before you venture forth. And don't forget about the cost of alterations, as well as your veil and shoes.
If you're going dress shopping in person, keep in mind a few vital points. Firstly, note who you want to bring with you. A few close friends or family members who will support you and give you honest feedback are a lifesaver. Also, bring the underwear and shapewear that you hope to use on your wedding day, so you can get a clearer picture of exactly how the dress will look. Nude is best since it won't show through. Bring the heels you plan on wearing, so you can gauge hem length. It's also advantageous for dress consultants if you bring some images of your ideal dresses. Those visual guides can be hugely helpful in narrowing down a suitable selection.
Where to buy your dress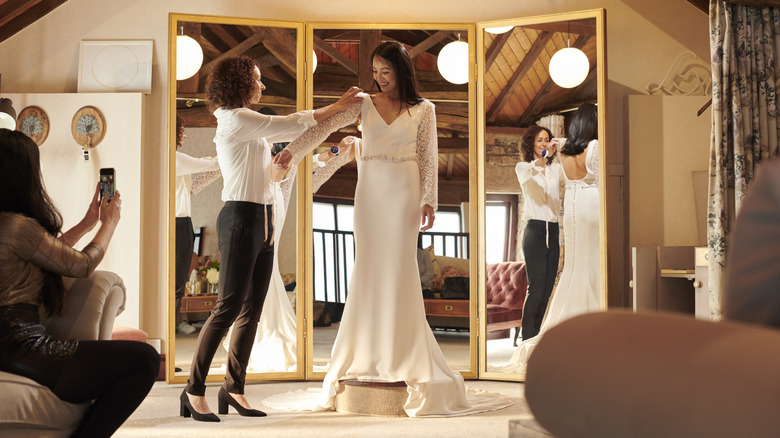 Sturti/Getty Images
There are several options when it comes to choosing where you buy your dress. Of course, there are brick-and-mortar bridal boutiques where you can go in person for the most traditional kind of dress shopping. Call bridal boutiques before you arrive to find out their particular schedule, and whether or not you need an appointment. In-person dress shopping can be a great way to start since you can try dresses on. One helpful tip is to try on the cheapest dresses first and work your way up to the top of your budget. Hopefully, you'll find your dream dress before you hit your financial ceiling. If you've found some dresses that seem like legitimate contenders, ask your friends or family who tagged along to take photos of you. Get a range of angles so that you can see how the dress photographs on your body. 
Thanks to the world of online shopping, though, sourcing your bridal dress can be an even easier process. There are endless brands that offer bridal looks online, and the prices can be even more affordable. For instance, Anthropologie has a line of wedding dresses, as does Reformation. The brand Eloquii offers a range of exquisite dresses online for sizes 14-28, so the online options have it all. These online stores also have return policies, so you can try on the dress and send it back if it's not right. 
How to save while still getting your dream dress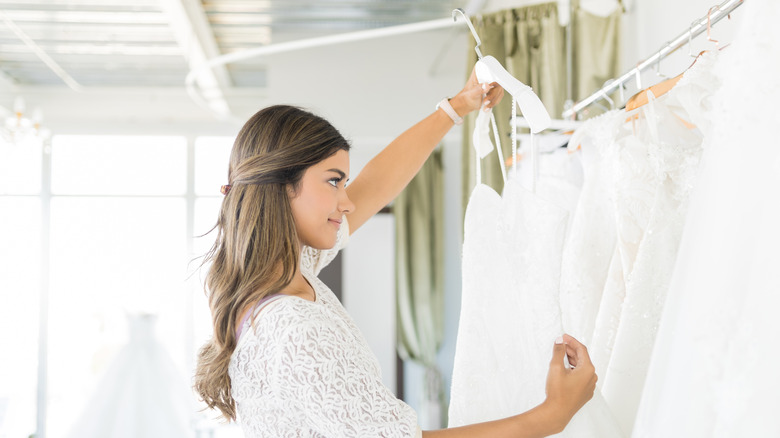 Antonio_diaz/Getty Images
Wedding dresses can be very expensive. For many women, a wedding dress is one of the most expensive pieces of clothing she'll ever buy, but this doesn't have to be the case. In fact, thanks to the range of dresses available online, a stunning wedding dress can be extremely affordable. The brand Lulus has a range of wedding dresses, with many falling under the $100 mark. The brand Needle & Thread offers a range of dresses that fall under the $1,000 mark, and many of their gowns are responsibly sourced.
There's also the option of buying a wedding dress second-hand. Not only is this a great way to grab an affordable dress, but it also eliminates the carbon footprint of a new dress. Sites like Still White and Pre-Owned Wedding Dresses give you the option of getting high-end dresses for less while being sustainable. You'll want to factor in the alterations and tailoring required when buying a pre-owned dress, but even new dresses require alterations.
Many bridal boutiques also offer sample sales where you can browse through gowns on sale that have been previously tried on by clients. It's worth noting that sample sales don't have a huge range of sizes. "The only downside is most sales are stocked with sample sizes—that's bridal 8 and 10, comparable to ready to wear size 6 and 8," Mark Ingram of Mark Ingram Atelier told Brides.
When to start shopping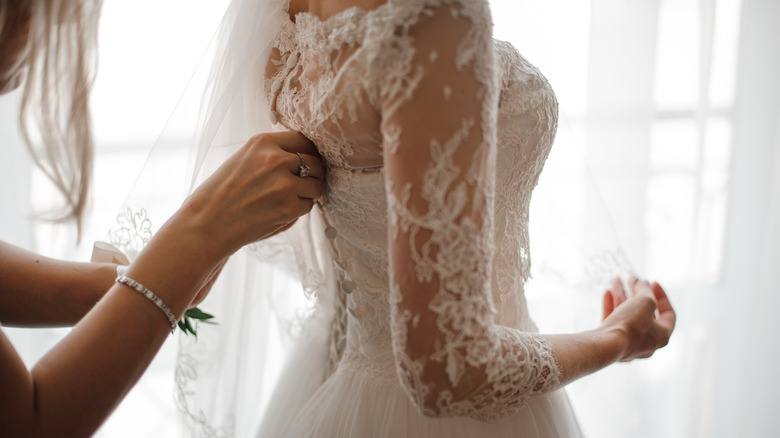 Maximfesenko/Getty Images
While there are stories of last-minute wedding dress finds, you want to give yourself a good window of time to start wedding dress shopping. Start shopping about ten months before your wedding, with the goal of choosing your dress about nine months before your wedding. This gives ample time to have your dress made and to get it properly fitted. Traditionally, there are three fittings for a wedding dress. The first happens six to eight weeks before your wedding. The second is four weeks before your wedding, and the last fitting is two weeks before your wedding to ensure that everything is just right.
If you've sourced your dress online, most brands offer free returns, which means you have flexibility. However, you'll want to factor in shipping time for each dress and then the alterations required when you do land on a dress from an online store. You don't want to rush the process if you don't have to, so give yourself and your tailor several months to allow for fittings. It's also worth noting that alterations can cost anywhere from $50-$1000, so keep that in mind when you're budgeting.
Considering shape and fabrics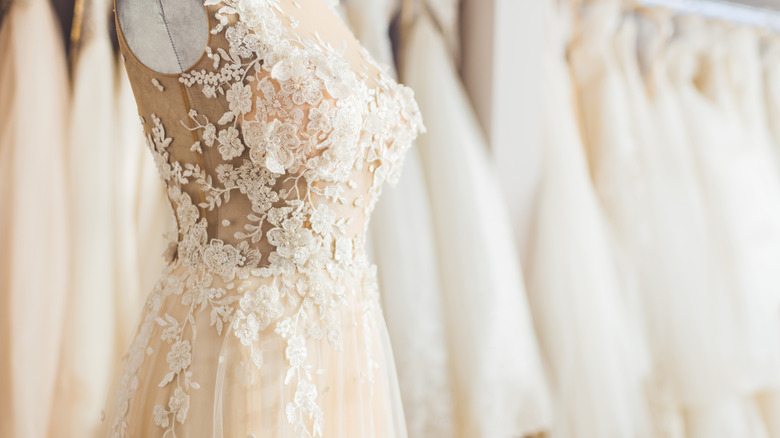 Lightfieldstudios/Getty Images
When it comes to the dress itself, there are several things to consider. First of all, the shape of the dress is important. There are five traditional shapes of wedding dresses. The first is the fit and flare. This dress is fitted around the bust, torso, and hips and then flares out around the thighs. It's easy to move and dance in while outlining your upper body. There's the ballgown dress, which is fitted at the top and billowy from the waist down. Then there's the mermaid dress, which is fitted from the upper body all the way down to the knees, and then flares out for a very form-fitting look. There's the column dress, which is fitted close to the body from the top down and creates a sleek effect. Lastly, there are mini-dresses, which end at the knees.
Fabrics are another element to consider. There's lace, the most traditional fabric because of how romantic it is. Silk is another classic, and one of the most expensive choices. Satin is another popular choice and comes in thinner or thicker weaves depending on the season, but it can wrinkle. Chiffon is a classic as well, usually used on the outer layers as it tends to be sheer, but it's very fragile. Organza, usually made from silk, works well in layering because of its sheer yet stiff structure. Taffeta, also made from silk, is a luxurious, plain fabric that has a rich shine to it.
How your venue and ceremony impacts your dress choice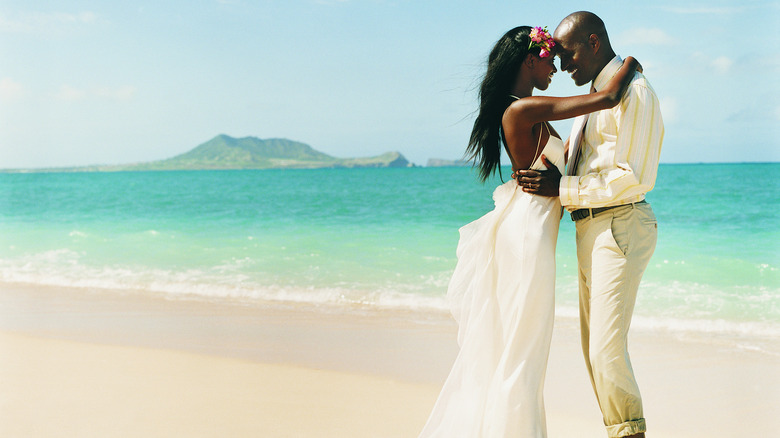 Digital Vision./Getty Images
Interestingly, experts often advise that you pick your wedding venue and season before you pick your dress. The reason is that the time of year you get married and where you get married seriously impact the dress you choose. For example, a column dress might appear too casual if your venue is an opulent ballroom at the St. Regis. If you've chosen a barn wedding, your best choice in dress might be a more vintage look with sleeker lines to suit the country chic location. If you're having a traditional wedding in a church, you may want to consider a more traditional style of wedding dress to suit the atmosphere. If your venue is a rooftop in Tribeca, consider a sleeker dress to suit this cosmopolitan vibe. If you're having a backyard wedding and your crew loves to have a good time, pick a dress that will work with this energy. Perhaps something with a shorter hem so that you don't have to worry about tracking mud while dancing the night away.
The time of year is also significant. If your wedding is in the winter, let this impact the way you choose and style your dress. You can choose to work with the season by accessorizing with faux fur, a cape, and white gloves. If your wedding is in the summer, you'll want a dress that's lighter so you don't overheat on the big day.