Calling All Disco Divas And Glam Queens - '70s Makeup Is Back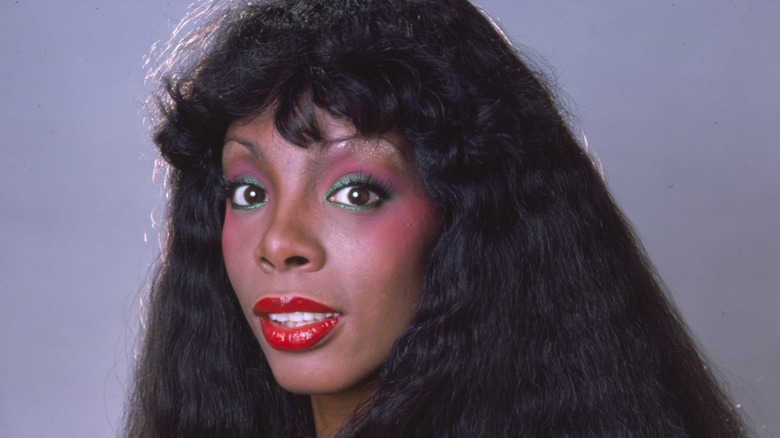 Jack Mitchell/Getty Images
With nostalgia as the primary commodity in today's television, it's not surprising that popular shows are bringing former fashion trends back into style. Just as Netflix's "Stranger Things" showed us that there's more to a perm than meets the eye, the Amazon series "Daisy Jones & The Six" is bringing back 1970s makeup and fashion.
With the 1970s representing an age of individualism and activism, and the rise of the countercultural movement and women's liberation, makeup trends in the 1970s took two divergent paths. On the feminist front, women wore natural, barely-there makeup (think the anti-foundation makeup look), while individualism was expressed through punk and total glam, with glittery eyeshadow, spider-like eyelashes, and bright bold lips. Pencil-thin eyebrows, dewy skin, and long, feathered hair completed the look. If you're hoping to capture the best of the '70s, here are your hints to hit all the makeup hallmarks of this fabulous decade.
Fresh, dewy skin
Whether you're going for barely-there or a full-on glam look, you want to start your 1970s makeup with fresh, dewy skin. "I think a super-clean and youthful-looking complexion is key to achieving a modern yet '70s-inspired look," beauty founder Huda Kattan told PopSugar. 
Prepping your skin with a moisturizer and a hydrating oil before adding makeup is key to capturing that look. Use a sheer foundation or tinted moisturizer to nail the no-makeup look and use a bit of concealer for any blemishes. Feel free to use a bronzer if you want a healthy sun-kissed look as well as a cream blush for a natural-looking glow.
Vibrant, shimmery eyeshadow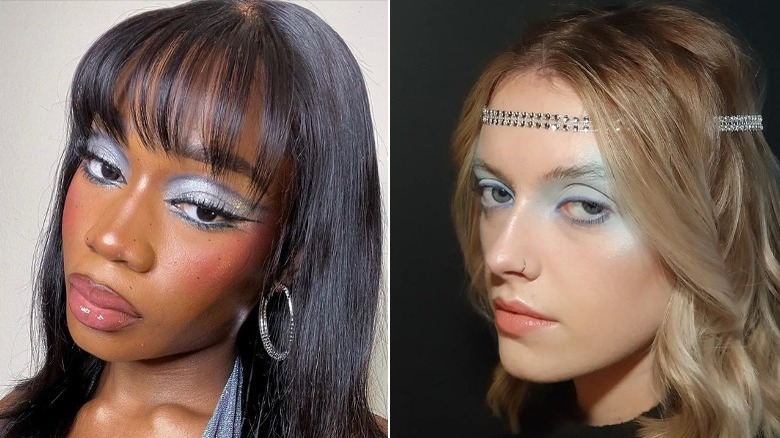 Instagram
With the eyes, you really see the two extremes of 1970s makeup. The glam look embraced vibrant colors and strong disco vibes while the au naturel look was a remnant of the 1960s pro-earth, anti-war hippie culture. But both looks enjoyed pastel eye shadows, especially ice-blue. Just as no disco is complete without a mirror ball, no '70's-inspired look is complete without eyeshadow. Dust both your lid and crease and even up to the browbone. You can play with different shades, and add a lighter shimmery or silvery frost to the middle of your eyelid for an extra pop.
Cat-eye eyeliner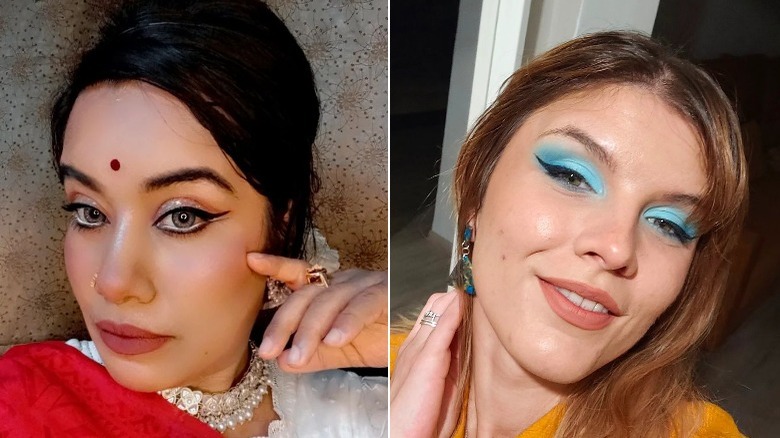 Instagram
Highly expressive, heavy eyeliner was one of the hallmarks of 1970s glam makeup. For a more natural look, you can use a charcoal pencil for a barely-there eye, or a smokey eye. Or use a liquid or gel eyeliner to create a thick, fluid line applied to the top lash for a more disco-inspired look. 
As far as hues, you can use basic black, or try a color that complements your shadow to create a monochrome or gradient appearance. The traditional winged cat eye is still popular, or play with different, nontraditional shapes for a modern twist. Achieve an extra highlight with white eyeliner directly behind the black.
Sticky mascara, and include the bottom lash
Thick, spidery, well-defined eyelashes were another staple of the iconic 1970s look — just think Cher, Diana Ross, or Liza Minelli. YouTuber Stephanie Lange has an awesome hack for thicker-looking lashes, no matter how inexpensive your mascara is. After applying a coat of mascara, Lange suggests coating your slightly damp lashes with face powder and then reapplying the mascara. Repeat as often as you like until you get the desired look.  
The resulting clumpy look could add to your '70s vibe, or use a clean spoolie to smooth out the clumps. And don't forget those bottom lashes too. "To make them really stand out, you can apply your mascara like normal, and then take tweezers to pinch together small sections of your lashes," Huda Kattan told Pop Sugar, who also suggests lightly coating the tweezers with mascara first.
A bold, shiny lip
Keeping your skin natural and your lips bold is a perfect homage to 1970s makeup. "In the late 70's, wearing a strong eye color and a strong lip was in fashion," Rebecca Watchel, "Daisy Jones & the Six" makeup department head told The Zoe Report. 
Popular '70s colors included fruit colors like cranberry, plum, fuchsia, and scarlet, as well as tones like peach, raspberry, and pink. Like the eyeshadow, glam lips were lacquered and high-shine. A separate lip gloss (sometimes flavored!) added extra sheen, and a lipliner defined the shape, but the outline couldn't be seen when blended with color and gloss, to keep it looking natural.