The Foundation Technique That Nails The No-Makeup Look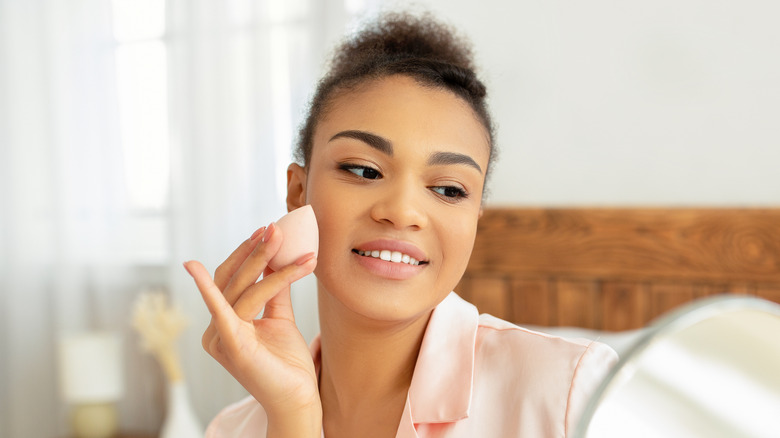 popcorner/Shutterstock
While we love a bold, full glam make-up look, sometimes cosmetics are most effective when it's hard to tell that they're there. Those days when we're craving a natural, easy look, we want our makeup to recede so that our faces appear fresh and healthy without evidence of heavy products. Of course, this isn't always as easy as one might think. We've all had moments where, to our horror, we see a stark foundation line across our cheek in a photo, or catch our reflection in mirror only to realize what looked snatched in the bathroom mirror is really heavy and cakey in the light of day.
So how can we utilize foundation as a tool for a flawless finish without it being too obvious? This seems to be a question on everyone's minds, as the no-makeup makeup look has become a growing trend. Well, we did a little research of our own and found the best techniques for working with foundation so that skin looks natural, light, and fresh. Best of all, it's a really simple technique, so it's easy to master no matter your experience. 
Start in the center of the face
Part of nailing the no-make up look is knowing the right areas to concentrate your foundation. Celebrity makeup artist Gucci Westman told Net-A-Porter that most people need a little extra coverage around the nose and mouth, as this area can often have the most discoloration. So if you want to achieve a that natural, clear skin look without looking totally painted-on, your best bet is to apply foundation from the center of your face and move outwards. This will result in less product concentrated on the outer parts of your cheeks and allow your actual skin tone to still be visible through the makeup. 
After putting on moisturizer and SPF, apply foundation using a sponge or brush from the nose and mouth, moving outward to buff the remaining product near the temples and hairline, if coverage is needed there at all. But by this point, there should be very little product left. 
If you're still finding discoloration is too visible, you can repeat the technique using buildable coverage. But be careful to not overdo it with too many layers. For many of us, only certain areas of our faces require a second layer of foundation, while the rest is fine without anything else. If you need precise spot-coverage, makeup artist Lisa Eldridge suggests using a tiny eyeliner brush for pin-point concealing to lightly cover blemishes or other small areas of discoloration. After this, a very light dusting of powder can set the products.
Add dimension with bronzer and blush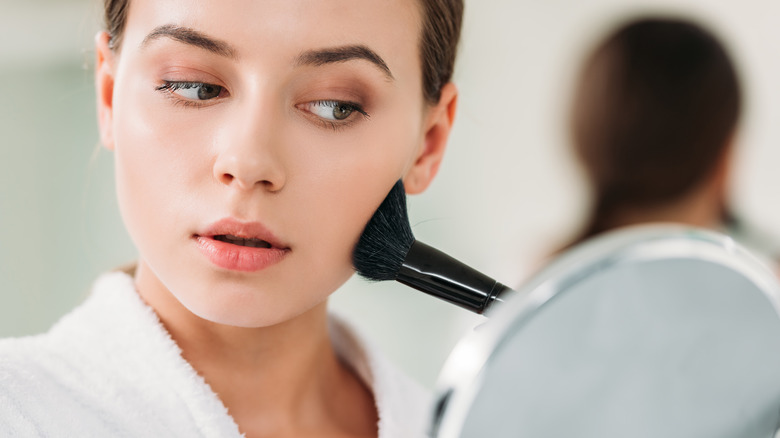 LightField Studios/Shutterstock
The danger of using too much foundation is that it covers the natural color variations in our face. This can make it appear flat and mask-like. Keeping foundation light and avoiding it in areas where we really don't need the coverage helps to keep the skin looking natural. Gucci Westman explains to Net-a-Porter, "If you're just one color, it looks like you're wearing too much makeup, so keeping the natural light or dark shades in this area helps your skin look more real as a whole."
The second layer of products is all about adding dimension and glow. Use cream or powder bronzer to give a sun-kissed warmth to the face. This technique can also help create some natural contouring, should you wish to achieve that chiseled cheekbone look. Then don't forget blush. A pop of blush mimics blood flow to the cheeks, making our faces appear young and healthy. To complete to the natural look, don't forget about your eyes. When applied lightly to the lids, blush can give the face a wide-awake, refreshed look. This muti-dimensional layer of varying browns and pinkish hues creates the perfect amount of depth and warmth to make our no-makeup foundation look as natural as possible.