We're Keeping Our Skin Natural And Our Lips Bold This Summer - Here's How You Can Too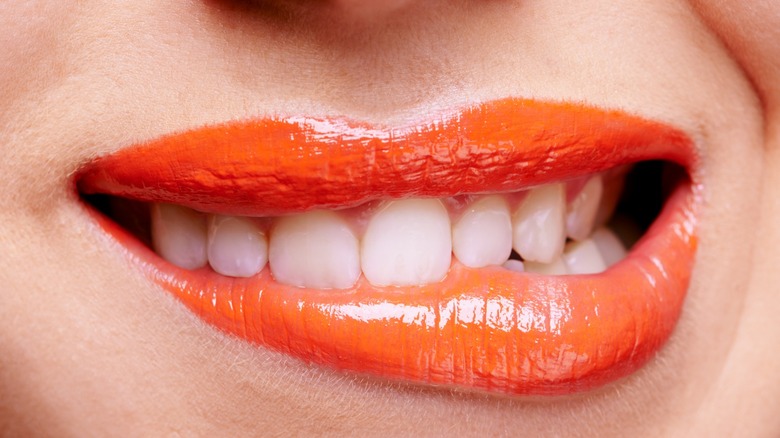 Peopleimages/Getty Images
Summer is one of the most refreshing times of the year, and we're eager to reflect this feeling with our makeup looks. Natural foundation has become a summer classic, and with the rise of the apropos cloud skin trend — which simply means a mattified makeup look — beauty lovers everywhere are perfecting their routines. But there's a catch to this season's summer look — do not skip the bold lip. Current fashion trends are centered around bold colors – and makeup looks are following suit. 
From delicious cherry reds to orangey coral shades, we're looking to emulate all of the brightness of the summer on our lips. Paired together, cloud skin and bold lips are a memorable combination, with each element enhancing the other. The best part of this look is its deceiving simplicity. When our goal is to spend more time outside enjoying the sunshine, and less time in front of the mirror, this combination will have you covered. Here's how to bring this summer makeup vision to fruition. 
Cloud skin on summer days
While glowy foundation looks have been held in high regard over the past year or so, we've noticed cloud skin appearing throughout our For You Page on TikTok, slightly overshadowing the former trend as of late. Where trends often oscillate between extremes, cloud skin is right on cue as the complete antithesis of a glowy foundation look. The more matte, the better. When you want to achieve cloud skin, first opt for a foundation with a matte finish. A matte primer might also assist in ensuring the makeup stays put in the summer sun. After concealing, go in with your favorite contour and blush. Powders or cream-to-powder products will blend best with a matte foundation. Then, with a matte powder, set the face as the final touch. 
In a TikTok video posted by digital creator @kriziaofficial, they demonstrate their take on the cloud skin trend. One trick they use is mixing their foundation and concealer with a matte primer, to ensure that the product sticks to their face and that their skin looks matte from every angle. The final result is a light-as-air foundation look that is suitable for all occasions. Another digital creator, Klaudia (or @klaudiasyd), walks viewers through their version of cloud skin in one of their own TikTok videos. Rather than use a cream contour, Klaudia uses a darker concealer to create gentle definition. Adapt the cloud skin look to suit your specific skin needs and vision. 
Bold lips for bright skies
When the sun is out, the skies are blue, and your cloud skin makeup looks polished, there is no better complement than to finish the look with a bold lip. Besides, who says bold lips can't be for everyday wear? When it comes to choosing a summer shade, you might choose to assess how well a lipstick matches your skin tone, or simply pick a lipstick shade that speaks to you most. After all, summer is about going with the vibes. 
While you might be familiar with your favorite pinks and nudes, think of picking out your favorite bold lipstick as picking summer strawberries. You want one that is the right color, the right texture, and one that makes you feel excited. This summer, opt for lipsticks in the realm of reds, peaches, and corals. One such example is a covetable coral shade worn by digital creator Ryan Bailey Potter (@ryanbaileypotter) in a video posted to his TikTok. 
Then, consider the comfort level of your lipstick. For example, cream lipsticks or lip stains can be almost unnoticeable on the lips, as well as easy to reapply. And lip products with special hydrating properties ensure that your pout stays moisturized in the sun. Before applying a shade, go in with a lip liner that is just slightly darker than your natural lip color, to add definition to your lips. Now, you're set to enjoy the summer day ahead, wearing fabulous makeup.