Color Correcting Doesn't Have To Be Intimidating. Your Guide To The Makeup Technique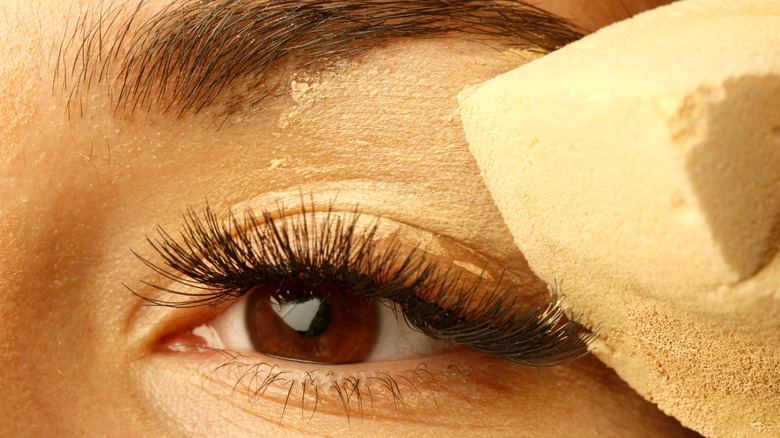 schafar/Shutterstock
We may receive a commission on purchases made from links.
Color correcting might seem like a technique reserved for the makeup pros — but with a bit of color theory knowledge, the right color-correcting products, and a dream, anybody can do it. No one's skin is all one color; some of us might have shades of green or purple around our eyes or redness on our cheeks due to inflammation. For those who are completely uninitiated, color correcting takes place after you use a makeup primer but before you apply foundation and (usually) concealer. Although even a foundation with sheer coverage can assist in reducing the appearance of certain discolorations, taking an intentional approach to balancing the colors of your skin can improve the overall appearance of your foundation, and of your completed makeup look. But even still, it can be intimidating to start painting your face all kinds of colors, especially when there are so many to play with. This is your step-by-step to the color-correcting technique. Soon enough, you will be calling yourself a true makeup artist. 
First, understand that color-correcting products are not a one-size-fits-all deal. Color-correcting products can both match your skin tone and reflect your skin's tonal value, where lighter shades tend to work better for lighter skin, and darker shades tend to work better for darker skin. But while certain color theories can be helpful, do not be afraid to experiment as you find which color correctors work best for you. 
Green color corrector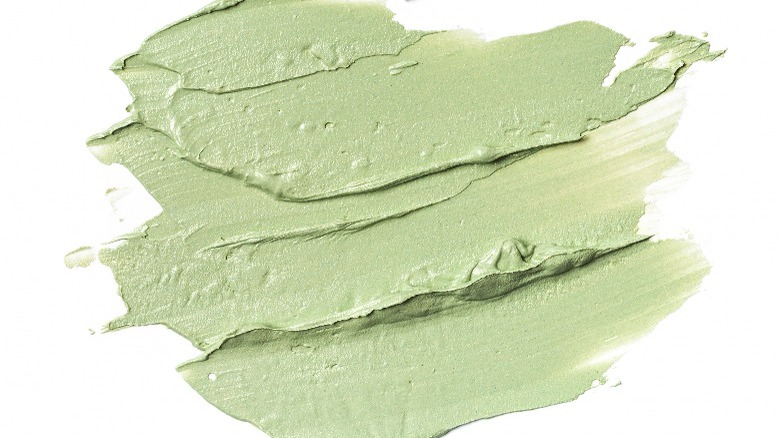 Chursina Viktoriia/Shutterstock
Because green is the opposite of red on the color spectrum, green color-correcting makeup is often used to cancel out the appearance of redness on the face. Where many struggle with acne, inflammation, or skin conditions including rosacea that can contribute to redness on the skin, a green color corrector can assist in balancing your skin tone for a more even application of foundation. 
Green color corrector comes in many different product varieties. For those looking for an all-over treatment, moisturizers that are formulated with redness-reducing ingredients can be a great first step in your routine, boosting the effects of color-correcting cosmetics, while also treating redness on the skin. For those who are looking for more immediate, all-over coverage, a color-correcting primer can be a fantastic product to incorporate green into your routine as the base of your foundation. Color-correcting primers are typically quite sheer and should not leave a super-pigmented mask on your skin. However, using the primer intentionally is recommended, where areas of your skin that are not red will not benefit from color correcting. And when you want to address specific areas of the face where redness is most prominent, for example, around the nostrils, on the cheeks, on the chin and forehead, or as a spot treatment for blemishes, a color-correcting concealer will be the most opaque product you can find. Here, it is worthwhile to start with a small amount, then build up coverage until the redness is neutralized to your liking. 
Purple color corrector
Purple color correcting is used to correct unwanted yellow tones on the face, typically in those with light to medium skin tones. Also referred to as having "sallow" skin, these yellow tones can pop up as a part of the aging process, and when you've been overexposed to the sun for prolonged periods. For some, this yellow tone can also appear slightly brown or beige. When addressing sallow skin, be sure to evaluate its potential underlying causes with a health professional to confirm the condition is just cosmetic.
Sallow skin could appear anywhere on the face, including around the eyes and around the lips. Digital creator Gloria (@glojaw) demonstrates how to use a purple color corrector in her TikTok video. She first identifies sallow areas of her skin, and goes in with a small amount of lavender color corrector. A lighter-toned purple such as lavender is ideal for those with light to medium skin tones, whereas a darker purple works well for those with darker skin tones. After blending the color under her eye, Gloria then sets the color corrector with a skin-toned concealer, to reinvigorate the area with some warmth. Depending on your preferences, this step can also be done after you apply your foundation. 
Orange color corrector
Orange color corrector is used to address hyperpigmentation, aka dark spots, on the skin. Hyperpigmentation is a common skin concern for those with medium to dark skin tones, and can be exacerbated by acne or other skin conditions that create inflammation. While hyperpigmentation does not pose any medical threat, it can take time to address with topical skincare or additional dermatological treatments such as chemical or laser peels, which makes color correcting a simple way to address dark spots in the meantime. 
Hyperpigmentation can be both widespread and concentrated in specific areas, so depending on your skin's needs, you might choose an orange color-correcting primer, or an orange color-correcting concealer. Again, be sure to evaluate the tone of the product to ensure it matches your own for the best overall effect. Digital creator Valdine (@missvaldine) demonstrates the results of a well-matched color corrector on areas of hyperpigmentation around her eyes, lips, and chin. She is careful to blend the concealer by dabbing it, rather than spreading it to other areas of her face, which would dilute the potency of the product in the places that need it most. Once she layers the color-correcting concealer with her skin-matched concealer, her complexion looks even and bright. 
Pink color corrector
Pink or peach color correctors are most often used to mitigate a mix of cooler hues on the face, such as those you would find around the eyes. Where the dominant color is a greenish hue, a pink color corrector could help neutralize and brighten the area. And where the color skews more purple, a peach color corrector could be your best bet. Depending on the value of the color corrector, a pink or peach shade could also assist in brightening the areas where it's placed. 
Pink and peach color correctors come in a range of shades. For example, Bobbi Brown offers its Skin Corrector Stick in 12 pink, peach, and brown shades that each cater to a different skin tone. Similar to an orange color corrector, pink and peach color correctors can be used to address dark circles, as well as the effects of hyperpigmentation, but for those with lighter skin tones. This doesn't mean that darker skin tones can't also use pink or peach concealer, however. One beauty TikToker, Tori Latise (@torilatise), demonstrates the effect of a pink concealer under her eyes. Where some may struggle with orange color correctors being too pigmented underneath their concealers or foundation, a pink or peach concealer might be a more subtle option to achieve a similar effect. 
Yellow
Where yellow is the opposite of purple on the color spectrum, a yellow color corrector can assist in balancing out purple tones on the face, which could show up under your eye, on the veins of your eyelid, or elsewhere. It can also assist in brightening up the skin's complexion. Yellow color corrector can also be used as an alternative to a green color corrector, in that it can also aid in covering redness. But unlike a green color corrector, a yellow color corrector gives your skin an added boost of illumination where the skin is dull. 
Identifying dullness in the skin can be tricky, though. Beauty creator Mathusa (@mathusa.thurai) gives her audience an idea of what a yellow color corrector can be used for in her TikTok video. She points to skin on her cheek that she describes as "kind of flat and gray." After applying a few dots of a yellow color correcting concealer, she dabs it into the dull area of skin. Though it appears to be lighter than her skin tone, when she applies foundation on top, her skin instantly looks brighter and more even. 
Another beauty creator, Dani, (@missmonolids), demonstrates how she uses a yellow color corrector on her under-eye in a TikTok video. "I think yellow works best for me," she says, instead of an orange color corrector that might most often be used to neutralize darkness on the skin. And in the end, this is what makeup is all about: Find what works best for you and make it your own.