Why An Oil-Free Foundation Will Be Your BFF This Summer (Or, Forever)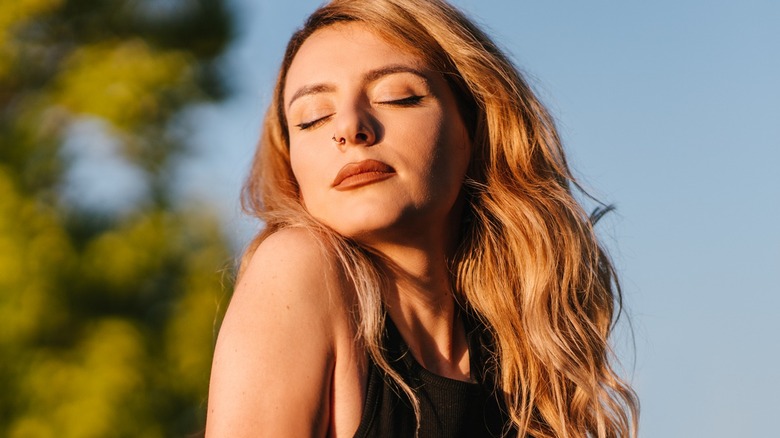 Vuk Saric/Getty Images
We may receive a commission on purchases made from links.
Few sensations are more uncomfortable than feeling your foundation break apart in the summer months. When it's so hot that you sweat from the heat, your makeup is sure to melt along with you. But aside from the sun or how humid your environment is, the composition of your foundation is also a factor in how well it holds up against warm weather. Oil-based foundations tend not to perform well in this regard. This kind of foundation tends to be thicker than others, and when its oils and pigments mix with your sweat and the water in the air — ew, but true — it can create fantastic conditions for a breakout. Even if you try to set your oil-based foundation with powder, for example, you might find that it is no match. Should you resonate with this dilemma, an oil-free foundation will be your BFF this summer. Or forever, when these issues last year-round. 
Oil-free foundations tend to be sorted into two groups: water and silicone-based. A powder foundation, however, is another option worth considering. Remember that these foundations could still contain oil ingredients. For this reason, look for products that specify they completely are oil-free. Let's break down your options to avoid another makeup meltdown.
Oil-free foundations last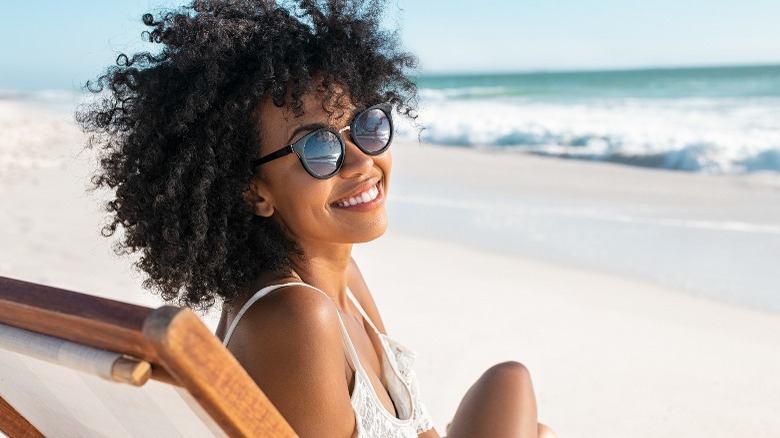 Ground Picture/Shutterstock
Without oils in your foundation, your foundation might last longer throughout a hot, summer day. But this doesn't mean your search for the right oil-free foundation is over. When minimizing shine is your main goal, look for a product that goes above and beyond to do so. Oil-free foundations with a matte finish will often address many of the issues that an oil-based foundation would otherwise exacerbate. A matte finish foundation can both create the appearance of soft, shine-less skin, and even assist in controlling shine to begin with. The Clinique Stay-Matte Oil-Free Makeup Foundation, for example, is a matte finish foundation that is widely acclaimed for its long-lasting wear, and ability to withstand hot weather conditions. Its first listed ingredient is water, but it also contains silicones, which can absorb oils and sweat. 
Silicone-based foundations are often recommended for hot weather for this reason, in addition to creating even coverage that an oil-based foundation might lose in the heat. Powder foundations are also known to be oil-free, and are wonderful at absorbing sweat and oils from your skin. Plus, you will never have to worry about it melting away! Because they are mostly made of talc, powder foundations can be another warm-weather option for those who would rather avoid using silicones, although both talc and silicone are safe to use on the skin. 
Oil-free foundations minimize breakouts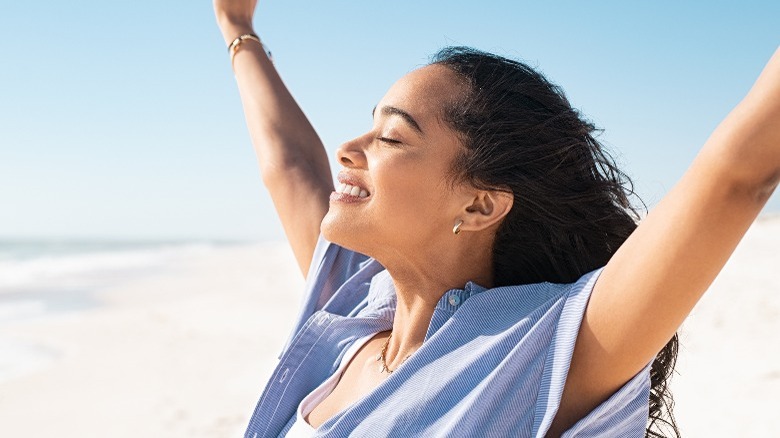 Ground Picture/Shutterstock
Oil-free foundations also tend to be lighter weight than their oil-based counterparts. And because there are no oils to trap sweat and dirt in the product, acne is less probable to develop as a result of wear. Therefore, oil-free foundations can place less strain on acne-prone skin on multiple fronts. In some cases, oil-free foundations tap additional ingredients that can calm acne during wear. For example, the Pro Filt'r Soft Matte Longwear Liquid Foundation by Fenty Beauty is oil-free, designed to withstand summer temperatures, and includes ingredients such as glycerin and papaya extract, which are both excellent ingredients for alleviating acne. A common ingredient in skincare, glycerin is an emollient that keeps your skin hydrated, and papaya extract is full of antioxidants that can soothe the effects of acne. Not all oil-free foundations include skincare benefits, but those that do can be useful for those who want more than just coverage. 
Of course, any skin type can use an oil-free foundation, though they might offer the most benefits to those with oily or acne-prone skin. Those with dry skin might find that oil-free foundations can make the skin appear flaky or rough in certain areas, if you are not already addressing skin concerns by incorporating oils into your skincare routine. An oil-free foundation might be your next summer favorite, but we wouldn't be surprised if it's more than just a fling.