Great News For Everyone Over Dewy & Glossy Beauty Looks - Matte Is Back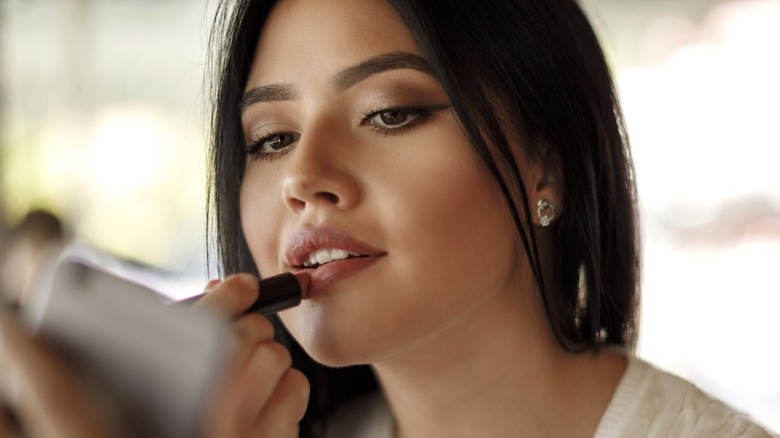 Damircudic/Getty Images
Over the past several years, products that promise "dewy," "glowy" and "glossy" skin have reigned over the makeup market. Now, there is good news for those who are finished with the high-shine look — matte is back. 
While dewy looks work wonders for some, they can have the opposite effect on others. When your skin is prone to creating excess oil, dewy makeup — and namely foundation — can quickly look greasy. No matter what your skin type, it also provides less coverage than matte makeup, requires frequent touch-ups, and can magnify imperfections on the skin. On the other hand, some makeup lovers might be averse to matte looks, claiming that the effect is too "cakey" or "powdery." Furthermore, matte makeup can be less forgiving than its dewy counterpart when it comes to masking certain imperfections. With the proper techniques (and of course, good products), acing the matte makeup look requires minimal effort and skill, and it might even be easier to maintain throughout the day. 
The foundations of matte makeup
When it comes to the perfect matte look, two products are essential: a foundation with a matte finish and a setting powder. Depending on your skin type, you might choose to apply a moisturizer or moisturizing primer before applying your matte foundation to avoid creating or emphasizing any dryness on the skin. Makeup with a matte finish can also be a favorable option for those who live in humid climates; where dewy products tend to slide or melt. Matte products tend to stay in place, especially with a good setting spray. 
If your makeup kit is full of dewy products, you don't have to run out and replace your collection. You can still use your cream blushes, bronzers, and dewy concealers, as long as you use them before you apply your matte cosmetics. Keep in mind that cream products do not blend well with matte foundations, either.
If you want an airbrushed look, try dabbing a makeup brush into a cream product, rather than applying it directly onto your foundation — this can slightly diffuse the product. Powder products, however, tend to be superior when it comes to creating a matte look. TikTok creator Deborah Ruiz (@deborahruizglam) demonstrates the difference between a matte and dewy finish using creams versus powder products in her TikTok video. 
Creating a cloud makeup matte look
Creator Aalia (@_aaliaaaa) demonstrated her everyday matte makeup routine on TikTok. She used the Makeup Forever HD Skin Foundation as her base, blending it into her skin with a brush. Then, she used a concealer and a cream blush, and blended both products into her skin. Aalia used a finishing matte powder on top of the products and layered another powder blush for a pop of pink. She then set her face and applied matte eyeshadow, simple winged eyeliner, and matte lipstick, finished with gloss for a flawless result. This tutorial is a fantastic example of how to incorporate both cream and powder products into a matte look. 
As per TikTok tradition, the hashtag #cloudmakeup is also being used to describe what is essentially a soft, matte look, complete with fully blush cheeks, a neutral eye, and not a drop of dew in sight. Demonstrating how to achieve the perfect #cloudmakeup eyeshadow look, creator Gisele Ayora (@giseleayora) used just three shades of shadow on her lids in a TikTok video. She broke out her Makeup by Mario Master Mattes palette (though any matte palette will do) and used light brown, medium brown, and dark brown shades to gently add definition to her eyes.
When you want to complete the look with a perfect lipstick, look no further than this matte combo from creator Azra (@azramian) on TikTok. Matte lipstick tends to emphasize the volume of the lips, which ideal for those who want extra lift.