We're Kicking Off This Sandal Season With Bold Pedicure Trends In Every Color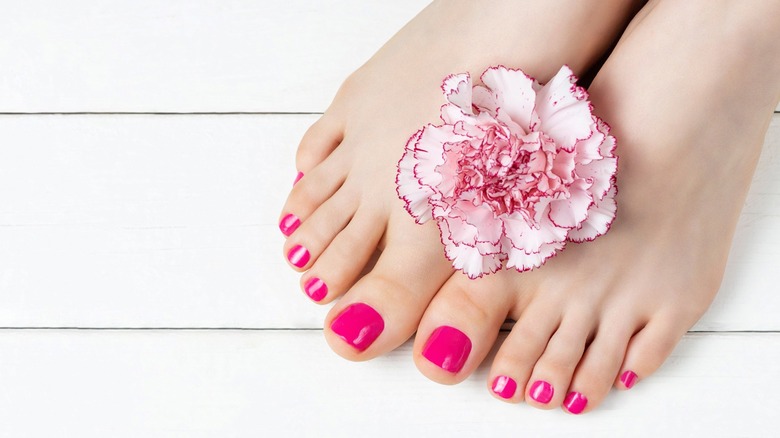 TanyaKim/Shutterstock
Nail trends tend to get a lot of attention, but pedicures never seem to share the spotlight. Now that the sun is out, so are our toes, and it's time they get the moment they deserve. Sandal season is commencing with hot pedicure trends to match the hot weather, and the brighter, the better. This is the moment to make summer's bold color trends work for you, and a statement-making pedicure is a fun way to bring color into your summer looks. 
While pinks and reds tend to take over during the summer months, there is an entire color spectrum to choose from when it comes to creating your perfect pedicure. Do not be afraid to experiment with something new, and most importantly, have fun with your summer look! 
Vivid nail art
Who says nail art has to be reserved for our hands? Your toes are just another canvas for beautiful art to be showcased this summer. Nail artist Vee (@smallnailcanvas) transforms toes from plain to picture-perfect in their TikTok video. The first set of nails includes two-toned, blue designs including swirls, stars, tiger stripes, and even a few embellishments for extra flare. The second set of nails includes metallic green, neon yellow, and pink shades to create summery designs, including a sun crafted with rhinestones! Of course, nail art is completely customizable to your liking. When you're ready to break out your favorite pair of open-toe heels on a summer night out, a nail art pedicure could be an exciting complement to your look. 
Radiant red toes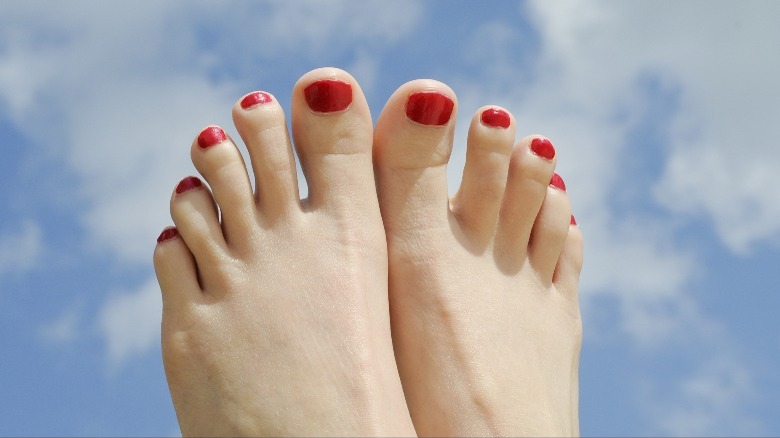 Sstop/Getty Images
Another classic nail color is bright, cherry red. Red is the color of passion, confidence, and love — all traits that you might want to embody this summer, and beyond. Even though red can feel like something of a bold color choice, it fits right in with the brightness of the summer months. Plus, something around red toes has a simple, vintage charm to them. When you want to go forth into summer ready to reign in all of its potential, consider bright red toes your hidden superpower. 
Glowing orange pedi
Orange is a nail color that should get more love than it does. Styling orange nails might feel challenging at times, where orange can be hard to match. But on your toenails, it's a different story. Bright orange is a color that can really bring out the brightness in one's skin tones, where the right orange shade picks up on the warmth of your skin. Julia's Kosmetic Studio (@julias_kosmeticstudio) flaunts an orange pedicure in its TikTok video. While this shade errs on the cooler side — it has more yellow than red — you could also look into a warmer-toned orange, depending on the look you're into and that you feel suits you. 
Bold blue pedi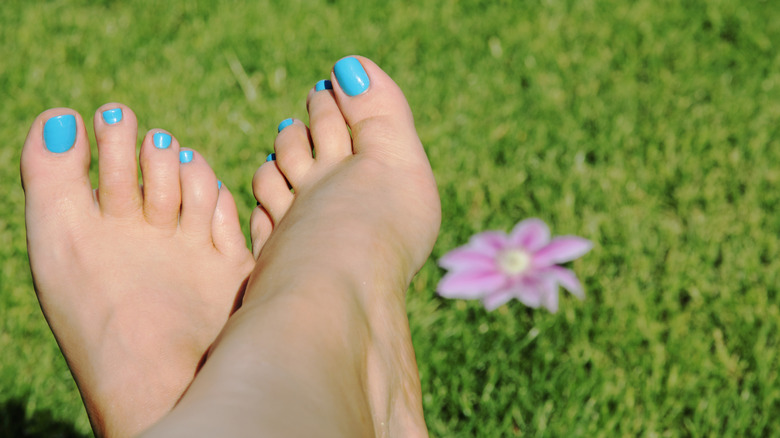 tkemot/Shutterstock
Pretty pale blue toes have long been a summer hit. They make our skin look brighter by contrast, and you can stand the color for weeks, if not months, on end. But should you tire of looking at a pastel pedi all summer, consider switching to bright blue toes. This color looks stunning in all skin tones and brings about true beachy vibes. In fact, it's one of the best ways to embrace this summer's mermaid core look that's trending in a big way.
Lemony yellow pedi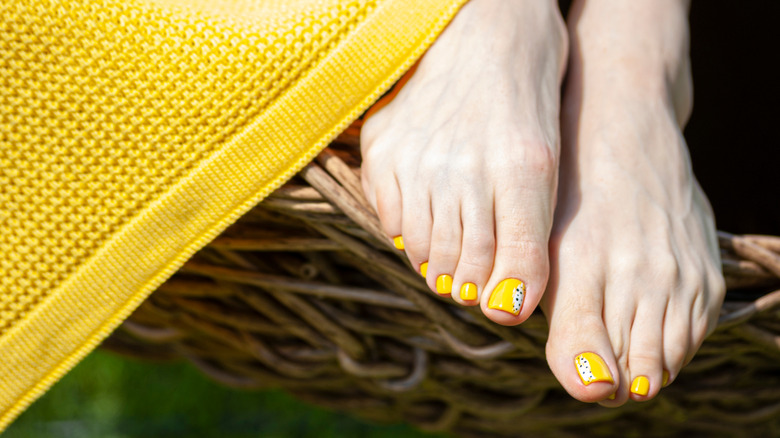 Denys R/Shutterstock
What says summertime more than a sunny yellow hue? A citrusy yellow pedi screams warm weather fun from brunch to the beach. Giving every outfit a cheerful vibe, this nail look can look stunning on a wide variety of skin tones. It's also the perfect way to show off sunkissed feet. Plus, it's a great statement-making nail color with neutral sandals in all hues. Those looking for a little more of a toned-down look can opt for vivid yellow tips or select a slightly butterier shade.
Bright pink pedi
But for those who want to make a statement with their summer toes, a hot pink pedi is another way to go. This color is the epitome of summer fun. A hot pink mani has sass, style, and sweetness, all in one. It's an eye-catching look that would pair well with playful silhouettes and summer dresses. Nail tech The Digital Detailer (@thedigitaldetailer) shows off a hot pink pedi in a TikTok video. We're intent on making lifelong memories this summer, and this fuchsia is unforgettable.