Bye Barbie Pink, We're Going Bold Blue This Summer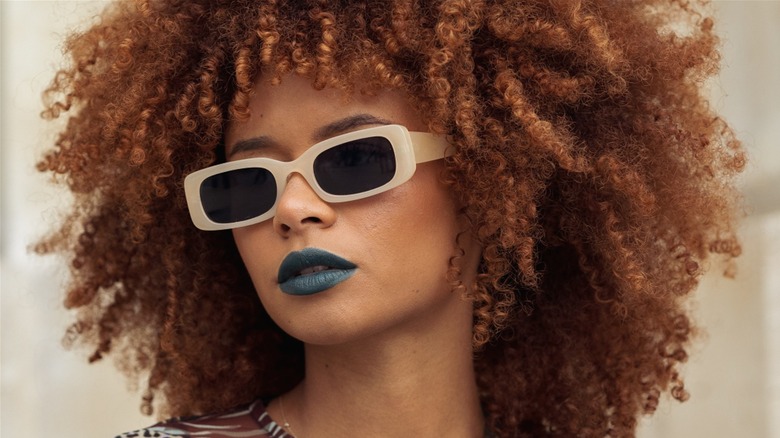 Raimonda Kulikauskiene/Getty Images
Although Barbie pink is a classic summer shade that makes the rounds each season, this year, we're going bold blue. Akin to our favorite pair of denim jeans — and denim is definitely trending this summer — blue is a cool, versatile color that makes a statement in certain contexts. For example, Megan Thee Stallion recently sported icy blue lips to a Louis Vuitton show, and pale blue nails are replacing white as this summer's freshest nail shade. 
This blue trend can be what you make it, from as light and bright as the summer skies, to as deep and saturated as the ocean. Blue is often perceived as a calm, ethereal, even healing color — the thirst-quenching antidote to burning hot weather. But an electric blue can also be invigorating and unconventional. To put it simply, blue has many moods. It's no secret that this summer's mermaidcore look is the drippy fashion, hair, and makeup aesthetic of the season. So, incorporating blue into your looks is a natural way to get into the trend. Here's how to float blue into your summer looks. 
Bright blue lip
Blue lipstick is a highly original look that you may think you simply cannot execute. We're here to tell you to think again! This summer is all about making the boldest color trends work for you, and blue lipstick is a cool way to experiment. Digital beauty creator and makeup artist Emily Wood (@emilywoodmakeup) demonstrates how to put on a blue lip in an Instagram reel. 
First, use a lipliner to sketch out the shape of your lips, and lightly fill them in. Wood uses the Makeup Forever Artist Color Multi-Use Pencil in the shade 260. Haus Labs also has a similar electric cobalt lip liner available at Sephora. Then, Wood uses the Byredo Colorstick in the shade Ultramagnetic, a sparkly blue pigment that can be used on the lips, eyes, and face, to further build the lips. 
As a last step, Wood uses the Makeup Forever Color Matte Eyeshadow in the shade Ultramarine. While this shade might be tough to find, the MAC pressed eyeshadow in the shade Atlantic Blue on Selfridges & Co is a good dupe, though in a slightly deeper shade. Wood pats the eyeshadow onto the lips, rather than swipe it, for a more saturated pigmented. This lip will instantly elevate your look to the realm of high fashion.
Cobalt blue nails
Another simple way to infuse blue into your summer hues is to wear blue nail polish. Digital creator Julia Perfetto (@juliaperfetto) shares in a TikTok video that she's received a lot praise for her cobalt blue nails. "I can't even tell you how many people complimented me on this nail color, it was actually crazy," she said. "The color is blue. Not just any blue, but it has to be this electric, cobalt blue," she said. 
There you have it: if you're looking to garner some attention this summer, cobalt blue nails could be your secret weapon. Although Perfetto does not divulge the exact shade, one commenter suggested the gel shade Butler Please by Essie, which appears to be similar. 
But if cobalt blue just isn't for you, there is a spectrum of blue nail polish shades to choose from. Another delightful blue Essie shade is Blue-La-La, which can be found on Amazon. The light blue adds a bit more interest to the nails than perhaps a bright white nail polish would. For those who feel teal would be best suited for them, Is That a Spear In Your Pocket? by OPI is a sparkly jewel tone. And, if you're a chrome aficionado, Blue Rhapsody by Essie is a unique metallic blue, reminiscent of a sparkly summer storm.