Tom Sandoval's T-Shirt Sex Comment Was A Worse Betrayal Than The Affair Itself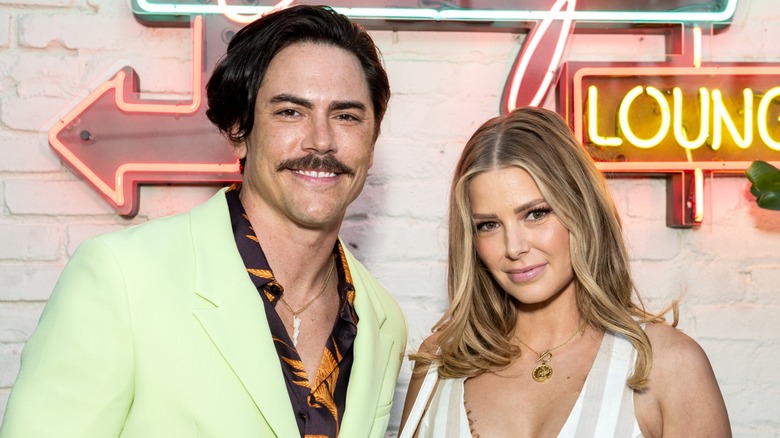 Amanda Edwards/Getty Images
Ahead of the third and final part of Bravo's "Vanderpump Rules" Season 10 reunion on June 7, Andy Cohen, longtime host of "Watch What Happens Live" and seasoned mediator of Bravo's reality TV reunions, teased on Sirius XM's RadioAndy that Tom Sandoval made a comment during filming that would "upset every woman in America." Now, given the mountain of troubling comments that Sandoval has made in the aftermath of the scandal in which he cheated on his partner, Ariana Madix, of nine years with her then-best friend, Raquel Leviss, we were preparing for the absolute worst. Madix has been through enough. And then, came the comment. 
Cohen asked Sandoval if he had slept with anybody else since he started sleeping with Leviss. When Madix chimed in that Sandoval had still been sleeping with her, Sandoval sardonically replied, "Yeah, she kept her t-shirt on, it was really hot." The immediate silence in the room, and outright explosion from the cast in the moments following, is evidence that the comment was simply excruciating to behold. Shall we get into all of its problems? 
Sandoval selfishly centers himself
Showing once again zero regard for the pain and damage he has caused Madix and their shared friends, Sandoval centers his experience over the hurt he has caused others. We assumed Sandoval would say anything about his former partner to justify his cheating after his PR stint on Howie Mandel's podcast, during which he publicly weaponized Madix's mental health struggles as proof of his victimization. Madix then clarified on the "Call Her Daddy" podcast that she never threatened suicide; she told him that her life in Los Angeles would end. But we digress. No matter what, it is entirely unjust for Sandoval to continue using Madix's most sensitive pain points to make his case against her, especially when he is so blatantly in the wrong. 
First, Sandoval is reinforcing the misogynistic pretense that sex should cater to men's pleasure more than anything else. It should go without saying that women are not sex objects to be valued based on how they look or act in bed, with a trusted partner, no less. That Sandoval appears not to grasp this is further evidence of his apathy toward the pain he has caused Madix. It's also hard to fathom that someone would use a once trusted partner's most vulnerable moments against them to gain ground during an argument, but Sandoval also went there. And this disclosure — to a national audience of millions — knowing that Madix has struggled with her self-esteem after a previous relationship, is just plain cruel. 
Ariana gives a brilliant response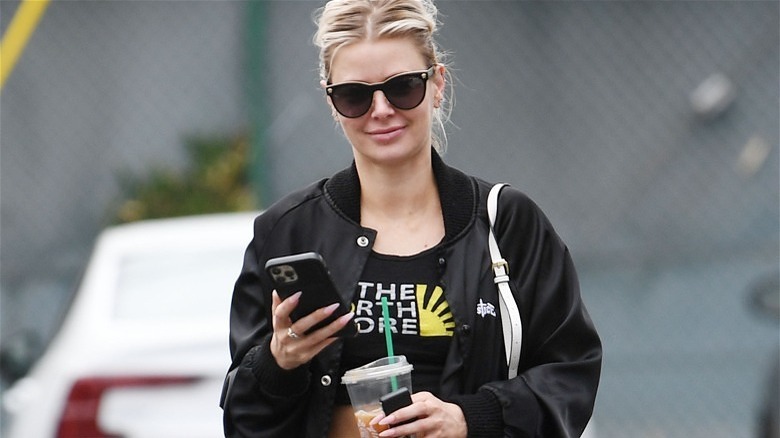 Mega/Getty Images
Where Sandoval has taught the nation a masterclass on what not to do after you cheat on your partner with her best friend — lesson number one, don't cheat in the first place — Madix has written the handbook for fighting back against gaslighting from an ex. And her response to the comment that Sandoval made has been nothing short of genius. Madix released a line of merch that says "F**k Me In This T-Shirt," with a depiction of a woman who is presumably Madix pulling apart a melty grilled cheese, both to promote the opening of her sandwich shop, Something About Her, with fellow cast member Katey Maloney and to normalize wearing a f***ing t-shirt when you're having sex — because sex is not all about what men want. 
Shall we also mention that Madix graced the cover of Glamour the day after the reunion finale? The publication reported that Madix has made somewhere in the ballpark of $1 million following the fallout of her relationship, to which we say she deserves every dollar. To top it off, she perfectly summarized what many of us have felt but didn't have the words for: "The way that so many men act like they are entitled to your body and entitled to sex because you're in a relationship with them. I am not your Fleshlight. I spelled out what I needed, but hello. It's a two-person situation." Amen.